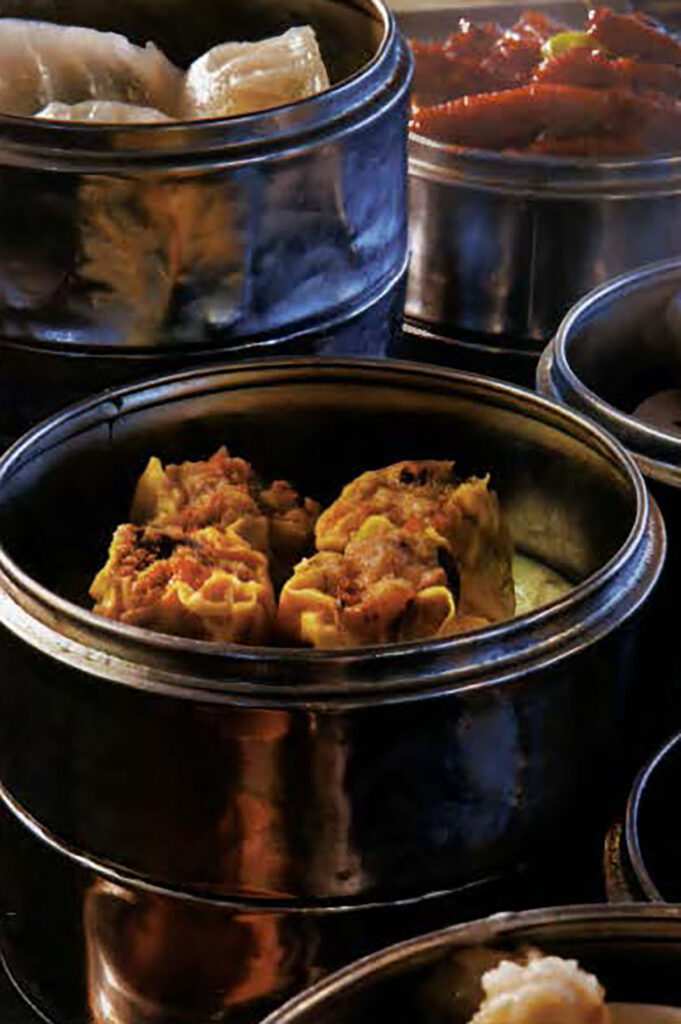 If the essence of a culture can be discovered through its food, no ethnic cuisine fits this notion better than Chinese. The consummate guide to all flavors Chinese—at least in Texas—is Dorothy Huang, who has hosted food tours of Houston's Chinatown, along with her legendary cooking classes, for more than 35 years.
Chinatown, an eight-mile section along Bellaire Boulevard between US 59 and Texas 6, originated downtown in the early 20th Century as a tiny, three-block section with a few restaurants, grocery stores, and curio shops. The area later migrated to the southwest suburbs. These days, businesses from acupuncture clinics to video stores add to the mix, with Hong Kong City Mall as the flagship. The restaurants have multiplied, and small grocery stores are now supermarkets. In addition, the population has expanded to include more Asian cultures, especially Vietnamese, who now outnumber Chinese-Americans here.
Born in Canton, China, and raised in Taiwan, Huang came to Houston with her husband in the late Sixties, when the city's Asian population was small but growing. Trained as a nutritionist, Huang worked for a year as a hospital dietitian. Instructors with the University of Houston's adult-education program convinced her to teach Chinese cooking, which quickly caught on with Houstonians hungry for more diverse culinary experiences. At the urging of her students, Huang started her first Chinatown tour in 1974, in "old Chinatown" downtown. The tour moved to Hong Kong City Mall on Bellaire Boulevard after the center opened in 1998. Ten years later, Huang expanded her tour guide expertise to Austin's Chinatown Center, where I took in a tour last fall.
The Houston tour meets on a Saturday at Ocean Palace restaurant (adjacent to the mall) for dim sum, the traditional Cantonese weekend brunch. Dim sum, which literally translates as "touch the heart," consists of an assortment of mostly steamed dumplings or fried pastries, generally filled with pork, chicken, or shrimp, and is served with hot tea. The dim sum ambiance is usually boisterous. Groups of mostly Asian families or friends often meet to catch up, and servers circle the tables with rolling carts filled with different varieties of dim sum for diners to choose from.
Huang orders for us, selecting typical favorites like har gow (shrimp dumpling) and char sui baa (pork bun), and lesser known items such as stuffed fried eggplant with shrimp, and sticky rice-and-sausage wrapped in lotus leaves—sometimes referred to as a "Chinese tamale." We sit at two round tables, and Huang holds court at both, carefully describing the ingredients of each dim sum item as it is served, explaining how it was prepared. "This is shrimp rice noodle," says Huang. "The steamed noodle, in sheet form, is filled with cooked shrimp, then rolled up and served with soy sauce and sesame sauce."
We sample about a dozen dim sum delicacies. Huang also orders two heaping platters of chow fan, flat, wide noodles topped with beef, bean sprouts, and green onions. The distinctive flavors of ginger, star anise, and sesame, mingled with black bean sauce, create a seamless segue from dumpling to bun to rice noodle. Between nibbles, we sip steaming cups of jasmine tea.
After an hour of noshing and socializing, we go into the bustling mall, and to Hong Kong Food Market We stroll by shops and kiosks selling women's fashions, electronic gadgets, toys, and jewelry, interspersed with Vietnamese sandwich cafes, noodle shops, and bubble tea emporiums.
As we enter the market, Asian tchotchkes as well as everyday kitchen essentials line the front counters; among the items are shiny Buddhas of varying sizes and stances, finely-detailed Bruce Lee figurines, and lucky bamboo plants. There's also a bakery, not common in Chinese markets but popular in Vietnamese cuisine. Next to the bakery, the roasted-meats section displays the calling card of Chinatowns everywhere—crispy ducks hanging in the glass warming-enclosure. We skim through these areas to explore the mammoth produce section. "Bok choy- did you know it translates to 'white greens' in English?" Huang quizzes me on what few Chinese words I know. "Here—this is ong choy, Chinese water spinach. Easy to wash, unlike regular spinach. Use it in stir-fry," Huang instructs. With each selected item—"Tong ho (edible chrysanthemum leaves )—good for soups. Gai choy (Chinese mustard greens)—you blanch this"—we get a mini-cooking lesson as we shop.
Rows of rice, wheat, cellophane, and egg noodles—fresh or dried—as well as numerous variations of dumpling wrappers and dozens of oyster, hoisin, and fish sauces can be daunting, particularly when labels contain few English words. Huang comes to the rescue and makes recommendations for the bedazzled but bewildered students, some who have shopping lists, and now carts filled with new discoveries.
The seafood section also impresses by sheer size and variety. Long rows of tanks brim with lobsters, blue crabs, and clams, as well as many types of fish, from amberjack to tuna Huang's tips for buying fresh: "Make sure the fish's eyes are clear, not cloudy or recessed. Clams should close tight. Crabs are good if you see them moving." The tour continues through canned goods, beverages, and household products, and winds down at the cookware and utensils section.
En route to the checkout line. I spot a three-cup rice cooker, sale-priced at $13.99. "That's a good price," says Huang, as I consider it. Many Asians believe no kitchen is complete without a rice cooker. Having done without one for years, and despite perfecting the saucepan-cooking method, I give in to a good bargain-and to Chinese tradition.
From the January 2010 issue