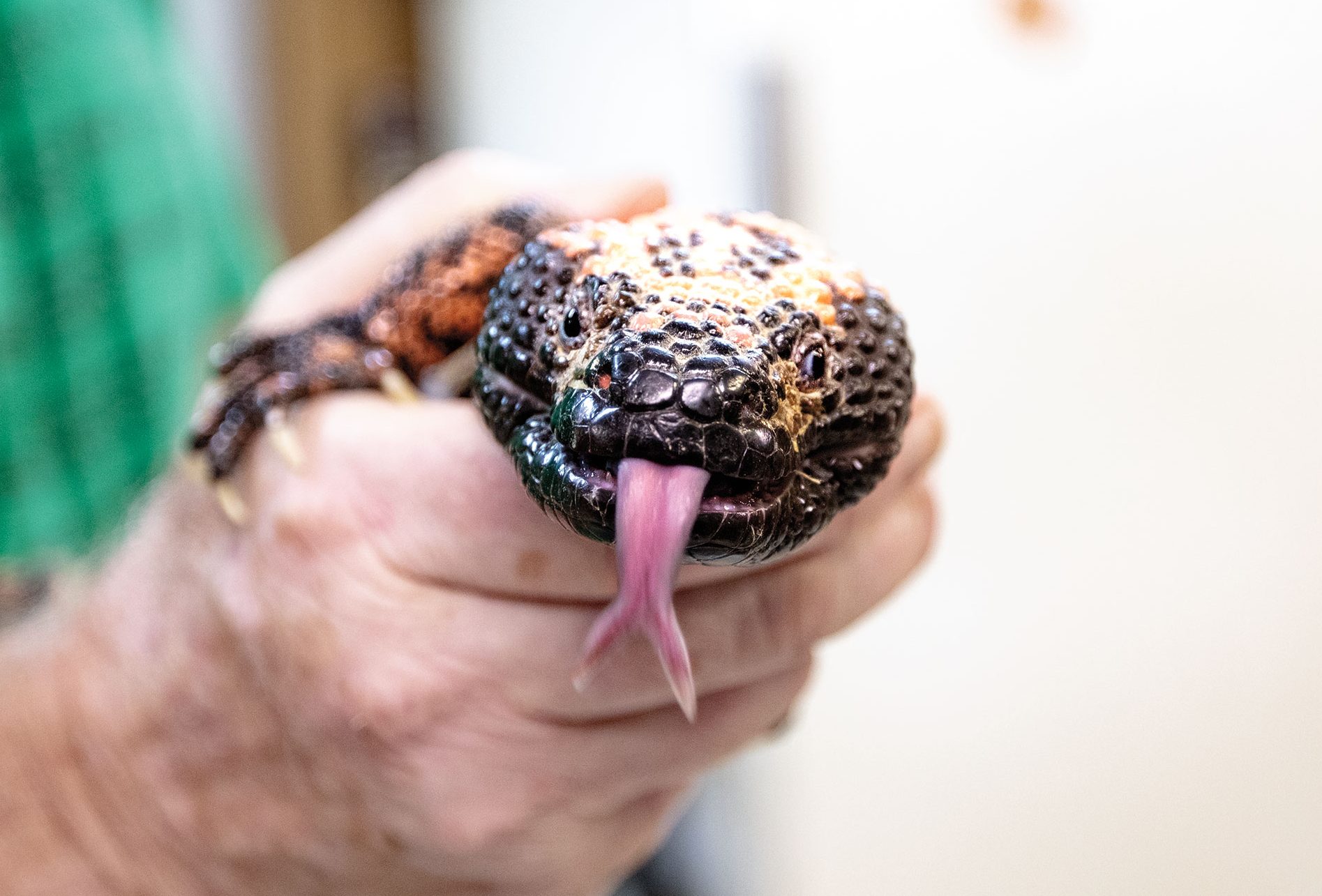 The hills outside of Sanderson teem with snakes: long-nosed snakes with rusty stripes; rock rattlers and diamondbacks; tiny, cat-eyed nightsnakes; and coachwhips like swift red racers. Walk the right roadside bluff at the right time, and you might see the most sought-after prize of all: the gray-banded kingsnake. The West Texas town is a treasure trove of desert reptiles, and the Outback Oasis Motel holds many of its finest jewels.
Roy and Ruth Engeldorf operate the Outback Oasis. It's one of the only motels in Texas that caters particularly to reptile lovers. The property has snake photographs and posters on the stucco walls of its office, metal imprints of little horned lizards on its porch, and a whole room of live, local snakes on display. The guest rooms, meanwhile, are forgivably free of reptilian decor.
"Fully 20 percent of our clientele comes to Sanderson for snakes," Roy says.
A lifelong "herper," or reptile enthusiast, Roy is a garrulous talker who first came down to Sanderson from Kansas in the early 1980s, in pursuit of animals like the Trans-Pecos rat snake and the gray-banded kingsnake. He returned every other summer, walking the roadcuts and sailing along the desert roads at night, looking for snakes on the margin. In the summer of 2002, he noticed that a motel was for sale in Sanderson. Casually, he mentioned the business opportunity to Ruth. To his surprise, she was interested. The Engeldorfs sold their house and specialty pet store, and they moved down to Sanderson in 2003.
"When we bought the motel, I just knew that I could double the volume just from the reptile people who would come to this area," Roy says. "I pretty much knew how to market it."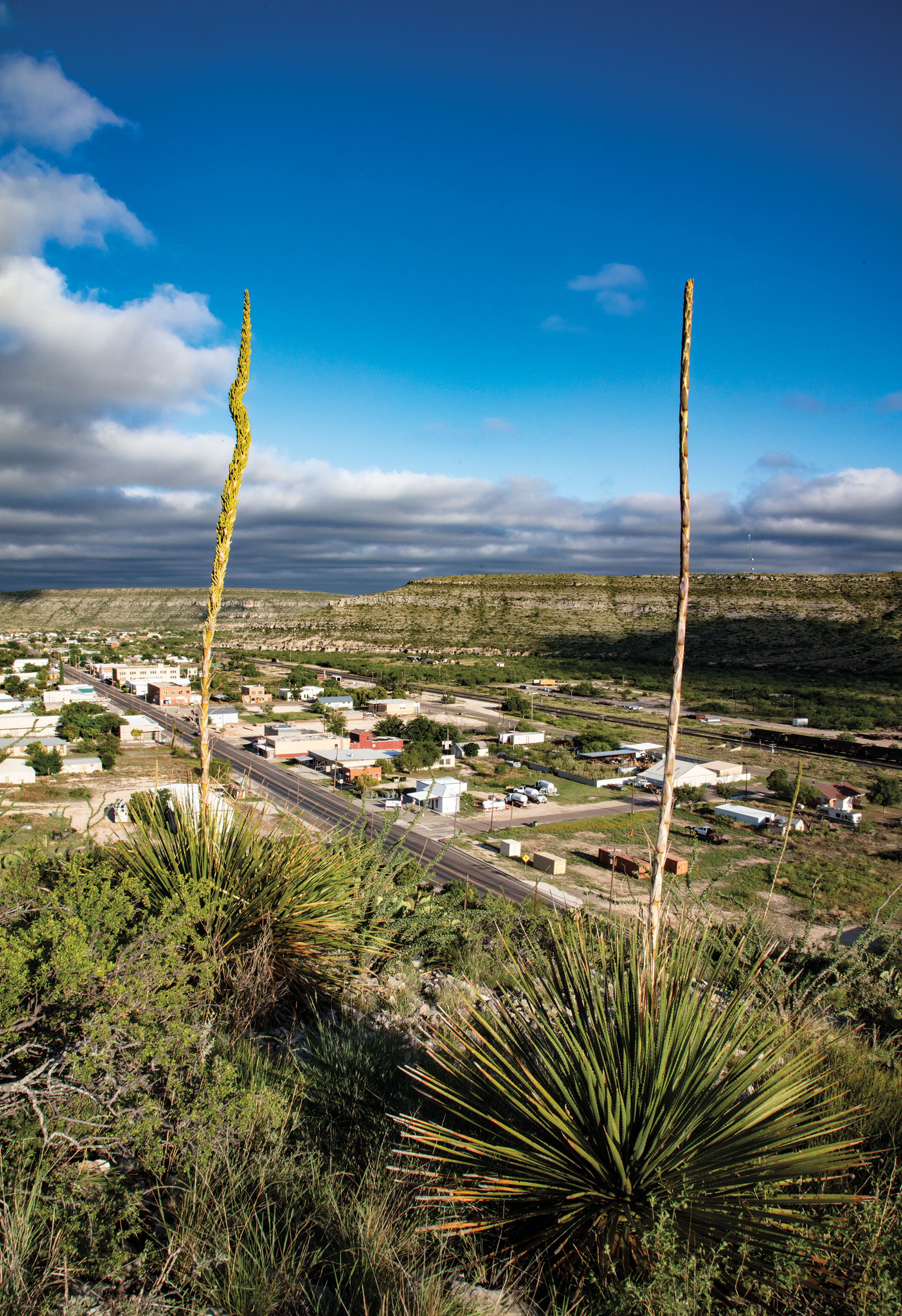 While the hills outside the town are rich in reptiles, its inhabitants originally took a kill-first, ask-questions-never approach to any snakes they found in their yards. But Roy changed that. He kept collecting local snakes—kingsnakes and racers, rattlers and copperheads—and set them up in his live animal display in a side room of the motel office. He took the snakes to events at schools and volunteered to remove dangerous rattlesnakes from people's properties.
Snake Days, which takes place in late summer, draws remarkable crowds for Sanderson. Reservations at the Outback Oasis fill up faster than you can say anti-venom.
"People found out that I had reptiles, and they would come by and look at them," Roy says. "Even the locals would come by and bring their kids."
Educational and economic opportunities led the Engeldorfs to get involved with Snake Days, an annual festival in Sanderson that San Antonio reptile enthusiast Jeff Adams founded in 2012. Unlike the larger snake showcases, like Rattlesnake Roundup in Sweetwater, which can average around 30,000 visitors for an attraction that critics have called ecologically and ethically dubious, Snake Days takes a lighter approach. There are talks from visiting academics, field trips, and fundraising events that in a single weekend have raised as much as $25,000 for conservation efforts.
Also, Snake Days draws remarkable crowds for Sanderson, and reservations at the Outback Oasis fill up faster than you can say anti-venom. While the 2019 event was held 85 miles away in Alpine, in August, the 2020 iteration is scheduled to be back in Sanderson.
"We get people from all over the world who come to see Snake Days," Roy says.
When not working at the motel, Roy gets back out into the desert to look for snakes in the wild. On a recent cloudy evening, he visited his favored roadcut. He walked beneath the craggy limestone, shining his flashlight at the rock cracks. Eventually he gave a whoop. He was near a fold of sandstone, where a lithe gray-banded kingsnake slowly poked its way along the stone, scales winking like little gems under a spotlight.
"Lots of people come down here for 10 years trying to find one of these," Roy says excitedly. "Sanderson is like Christmas morning. You never know what you're going to get."
From the September 2019 issue