"Everything's bigger in Texas"
How often have you heard that? The New-York Tribune is said to have coined the phrase more than a century ago. Though not quite everything in the Lone Star State qualifies as the world's largest, tallest, longest, or widest, plenty do. Hitting the road to find them is a gargantuan trip in itself.
The world's largest rattlesnake statue? Behold the coiled serpent in the South Texas town of Freer. The largest mosaic of the Virgin Mary? Gaze up at a 40-foot-high representation of the Virgin of Guadalupe by artist Jesse Treviño on San Antonio's West Side.
Guinness World Records recognizes at least a dozen Texas claims, ranging from a fly fishing pole exceeding 70 feet in Port Isabel to the largest commercially available pizza ("The Bus," a behemoth rectangular pie measuring 8 feet by 32 inches, at Moontower Pizza Bar in Burleson).
Other Texas venues boast of being the world's biggest without Guinness' affirmation, like the 14-foot, 6-inch jackrabbit statue in the South Plains community of Ralls. It eclipses Odessa's 8-foot version, which was the previous record-holder.
Some claims have an obvious connection to their location—the largest mule shoe in Muleshoe and the largest Bowie knife in Bowie, though the world's tallest spur is in Lampasas and not in the Dickens County town of Spur. Some are disputed—Purdue's "Big Bass Drum" and the University of Missouri's "Big Mo" are alleged to be larger marching band drums than the University of Texas-Austin's Big Bertha, though Purdue once asserted its dimensions are a trade secret.
Texas icons populate the All-World list: Big Tex, the largest cowboy statue, is displayed 22 days a year at the State Fair of Texas; the largest Texas flag, 100 by 150 feet, unfurls at Texas Longhorns football games; San Jacinto Monument, the largest masonry shaft, is taller than the Washington Monument by 15 feet; and a size-328D pair of leather cowboy boots sits at El Paso's Rocketbuster Handmade Custom Boots, which attracts drop-ins like actor Ethan Hawke and visitors from Australia and Russia.
"People want to see everything about Americana," Rocketbuster owner Nevena Christi says. "They are interested in cowboys in general, and boots are so much a part of that."
When travelers spot the 5-foot hulks, "We also get a smile."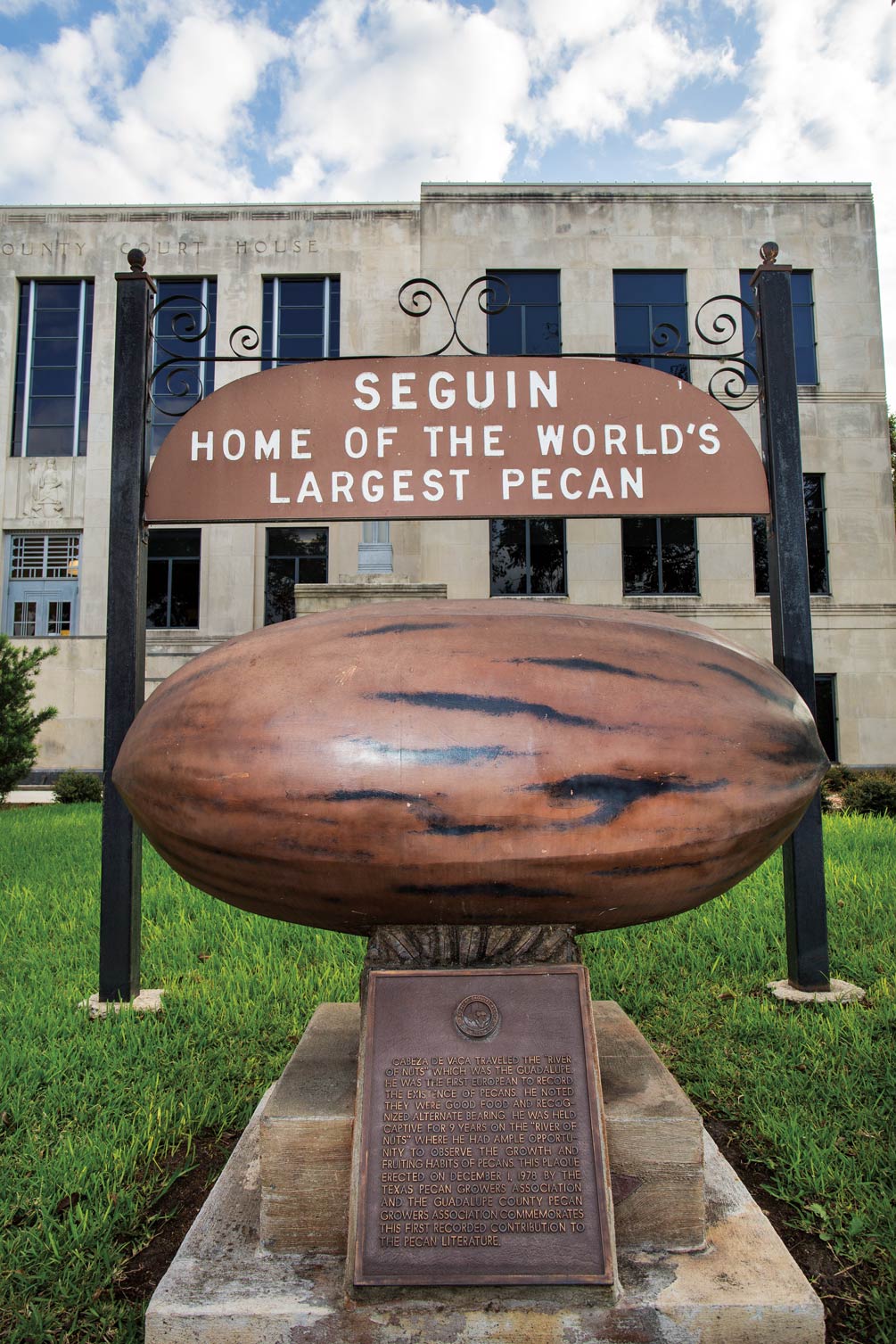 Tale of Two Pecans
"We had it, we lost it, and we got it back."
So says tourism director Kyle Kramm of Seguin's quest for the world's largest pecan sculpture. The first rendition, 5 feet long and still on display at the Guadalupe County Courthouse, was erected in 1962, honoring settlers' reliance on wild-growing pecans.
Along came farmers in Brunswick, Missouri, who built a 7-by-12-foot
concrete pecan, but Seguin wouldn't be denied. An 8-by-16-foot whopper constructed of fiberglass debuted in 2011 north of town at the Pecan Museum of Texas.
That's not all. Pape Pecan House has what it claims is the world's largest collection of nutcrackers—more than 8,000—in its store on State Highway 123. Outside, Pape displays what it says is the "world's largest mobile pecan"—
a 10-foot-long version on wheels.
As many as 3 million pounds of pecans are harvested annually in Guadalupe County, making it one of the largest producers in the country.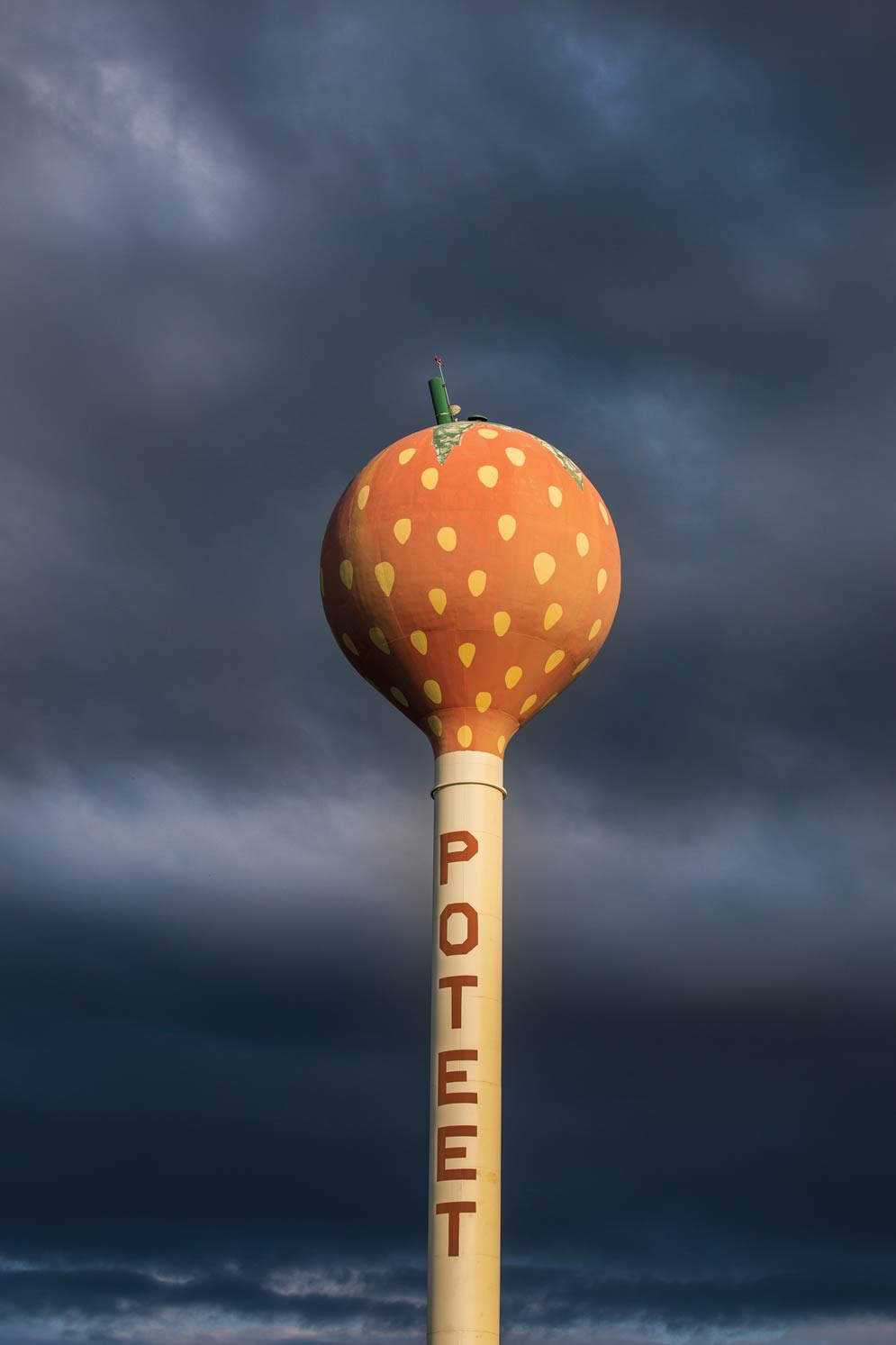 Tower Ploys
Outdone by a larger strawberry statue in Strawberry Point, Iowa? No problem for Poteet, whose first tribute to its cash crop has stood for years in front of the volunteer fire station. The solution: paint Poteet's water tower to resemble a strawberry, thus becoming the world's tallest strawberry at around 130 feet tall.
Luling's competitors for celebrating its watermelon heritage include an elongated propane tank in the Midwest painted like a watermelon. So Luling's public works department had the top of its 154-foot water tower painted to resemble a ripe green beauty, becoming the world's tallest watermelon. In the Hill Country's unincorporated community of Oatmeal, its 20-foot-tall water standpipe portrays a Three Minute brand canister, and without any competitors to speak of, it's quite likely the world's largest oatmeal box.
Paris, Texas, can claim the world's tallest cowboy hat rack because a shiny red model tops its 65-foot copy of the original in Paris, France, though Las Vegas' Eiffel Tower, sans hat, is eight times higher.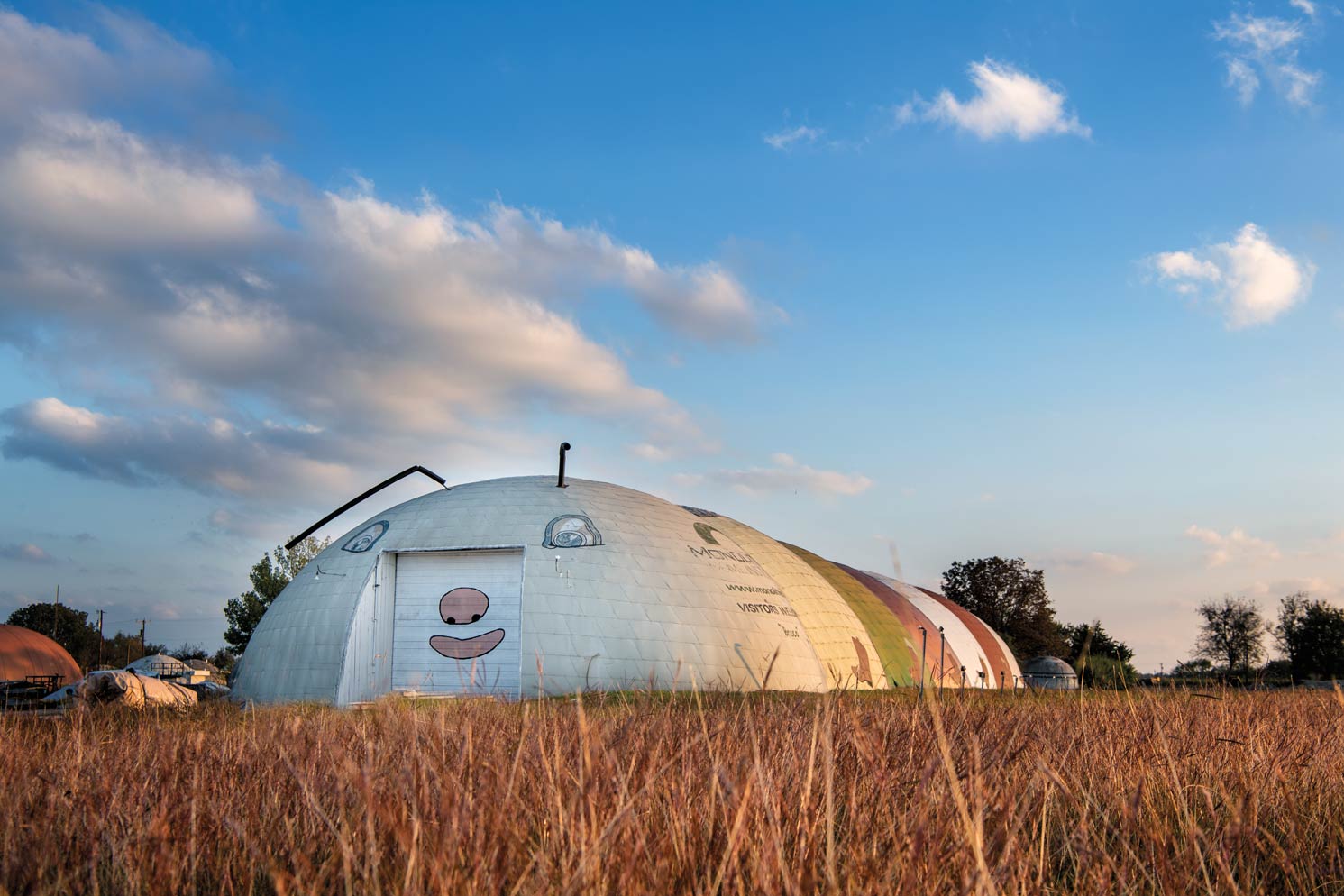 Driving By
You don't have to leave the interstate to experience three of Texas' "World's Largest" venues. Along I-35E near the Italy exit looms Bruco, no doubt the largest structure resembling a caterpillar. The headquarters of a manufacturer of domed buildings, Bruco's connected orbs stretch 240 feet, decorated with antennae and painted feet wearing cowboy boots.
Guinness recognizes the car wash at mega-travel center Buc-ee's location on I-10 in Katy as the world's longest at 255 feet. Pulled by a conveyor belt, vehicles pass through 25 brushes in about five minutes. Buc-ee's also claims its 68,000-square-foot outlet on I-35 in New Braunfels is the world's biggest convenience store.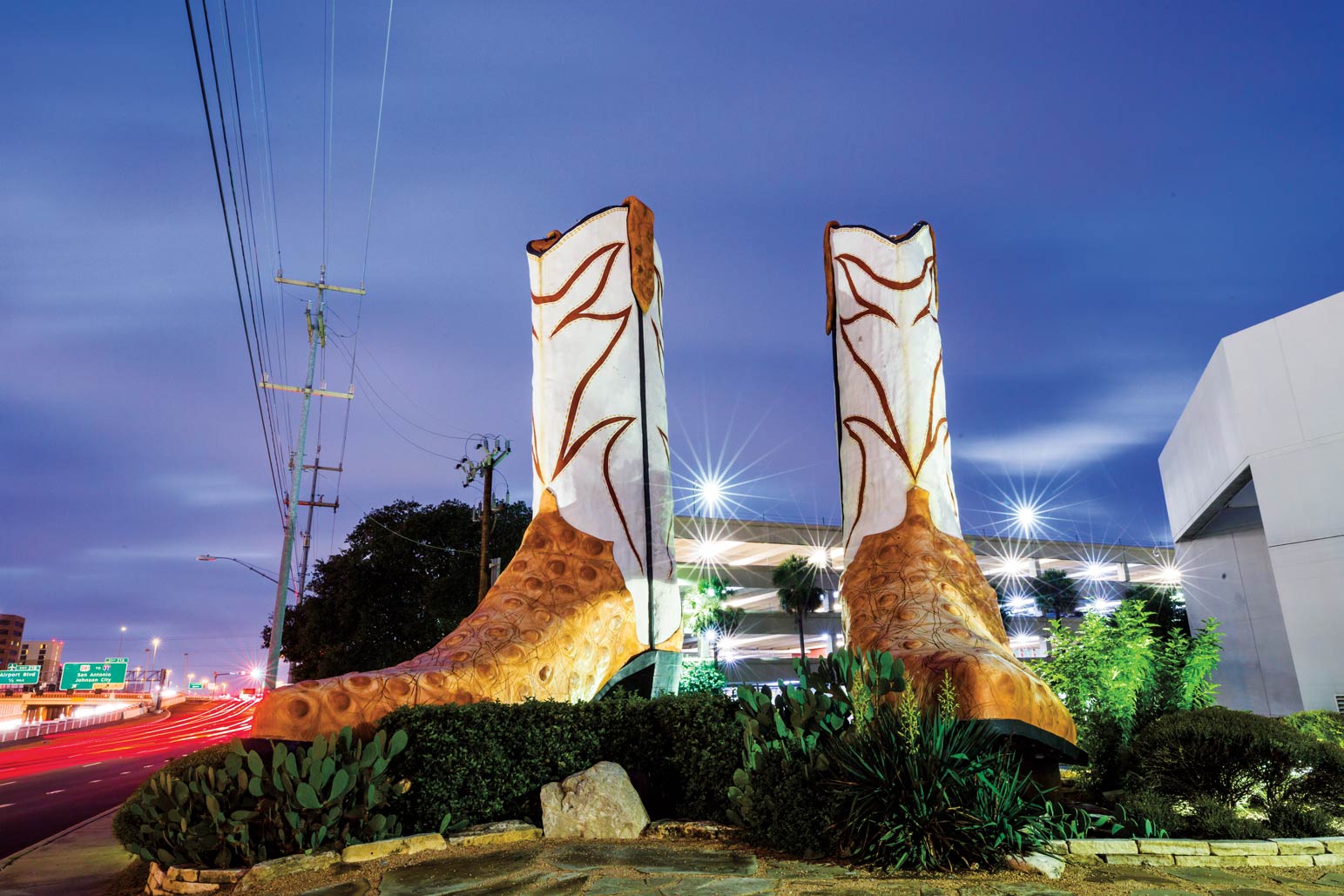 A Boot Story
The world's largest cowboy boot sculpture first stood in a vacant lot in Washington, D.C. Artist Bob "Daddy-O" Wade constructed the boots in the nation's capital in 1979 to emulate his Lone Star Iguana statue he built the year prior in New York City.
Neither locale worked out. Wade's 35-foot-tall boots, recognized by Guinness World Records, moved to San Antonio's North Star Mall in 1980. The world's largest iguana statue, nicknamed "Iggy," took longer to migrate to its Texas home, the top of the Fort Worth Zoo's Reptile House.
"There are a lot of good-looking public art structures, but they're abstract," says Wade, who notes the boots and the 40-foot-long iguana "have recognizable qualities, so you relate to them."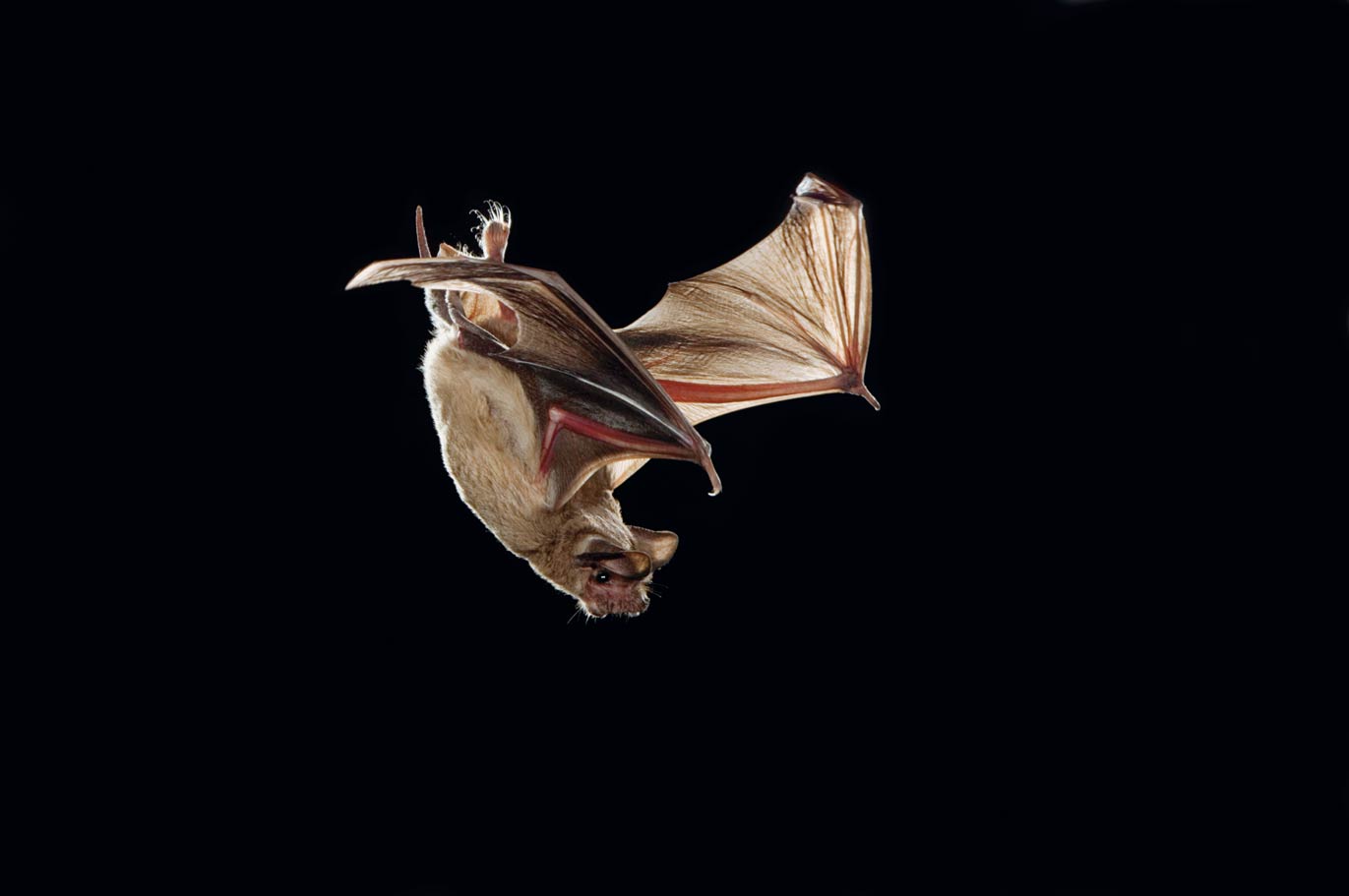 Batting for Texas
Recognized by Guinness World Records, the world's largest bat colony resides in Bracken Cave near San Antonio. Home to up to 15 million Mexican free-tailed bats, it is off-limits to casual visitors. But with a $45 membership to Bat Conservation International, the cave's owner since 1991, enthusiasts can attend members-only nights at Bracken during the summer.
Austin sustains the world's largest urban bat colony—an estimated 750,000 to 1.5 million of the creatures—under the Congress Avenue Bridge. No cost is required to view their evening exodus by standing on Lady Bird Lake's shores.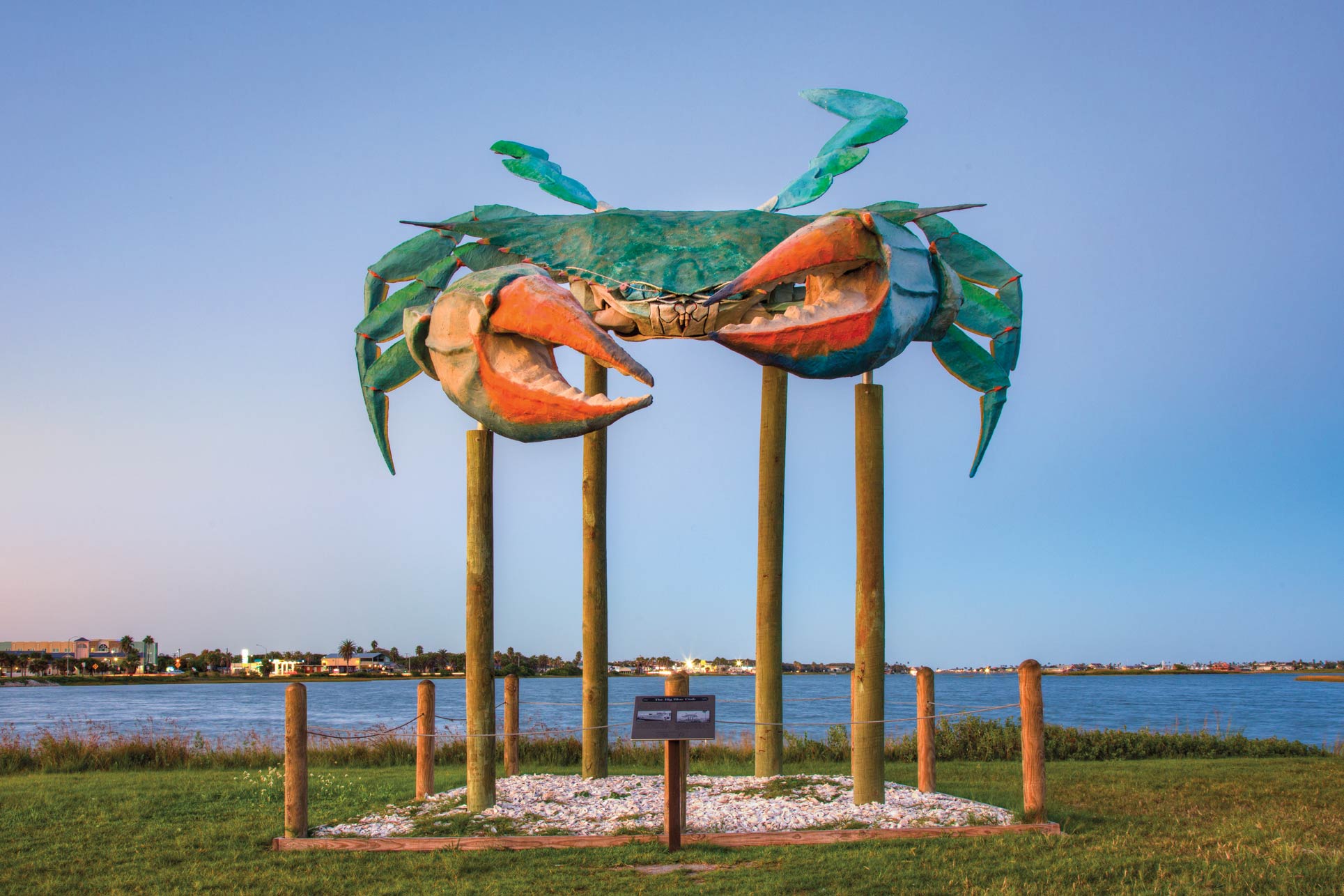 Down But Not Out
Rockport's Big Blue Crab statue, the world's largest, fell victim to Hurricane Harvey, while another Texas "World's Largest" designee, Balmorhea State Park's spring-fed 1.3-acre pool, closed in 2018 after years of erosion.
Balmorhea's recovery will cost an estimated $2 million, complicated by the presence of endangered desert fish. Repairs commenced last August and should be complete in early 2019.
The resurrection of Rockport's Big Blue Crab is less certain­. Residents have organized fundraisers for its restoration, with an estimated $85,000 or more needed.
What a Pizza!
Patrons ordering "The Bus" at Burleson's Moontower Pizza Bar must give 48 hours notice, though it takes only 30 minutes to bake. Cost for a one-topping 3,072-square-inch pie is $299.95 plus tax. Cheese and toppings can weigh 10 pounds or more.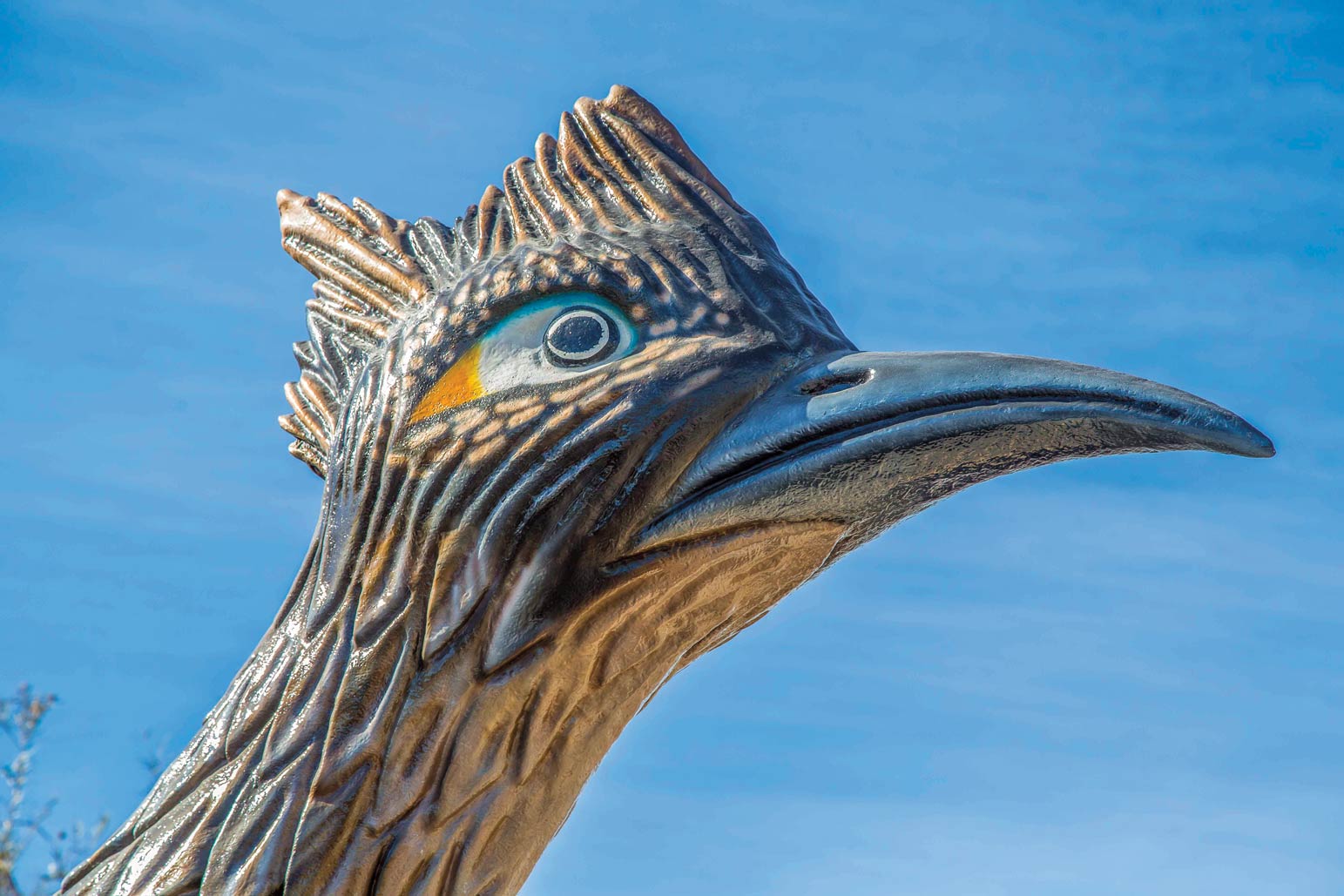 Honorable Mentions
Paisano Pete, the popular 22-foot-long roadrunner that serves as Fort Stockton's mascot, was once the world's biggest roadrunner statue, only to be outdone by a 40-foot version in Las Cruces, New Mexico. Rocketbuster Boot Co. in El Paso retains the distinction of the world's largest pair of cowboy boots, though a cobbler in Addis Ababa, Ethiopia, fashioned a single boot three feet taller from the hides of five cows. When Columbia, South Carolina, built a fire hydrant statue that was taller than Beaumont's by roughly 16 feet, Beaumont's supporters renamed the town's Dalmatian-spotted structure as the world's largest working hydrant. Guinness reports India has the world's largest horseshoe, about eight feet wide, but the Chinati Foundation's Monument to the Last Horse appears to exceed that. Longhorns, real or fabricated, strive for All-World designations: a rusty steel Longhorn statue in Throckmorton; a 12-foot-high fiberglass rendition of UT-Austin's mascot behind the University Co-Op; and an extensive collection of the breed's characteristic horns at a resort in Lajitas.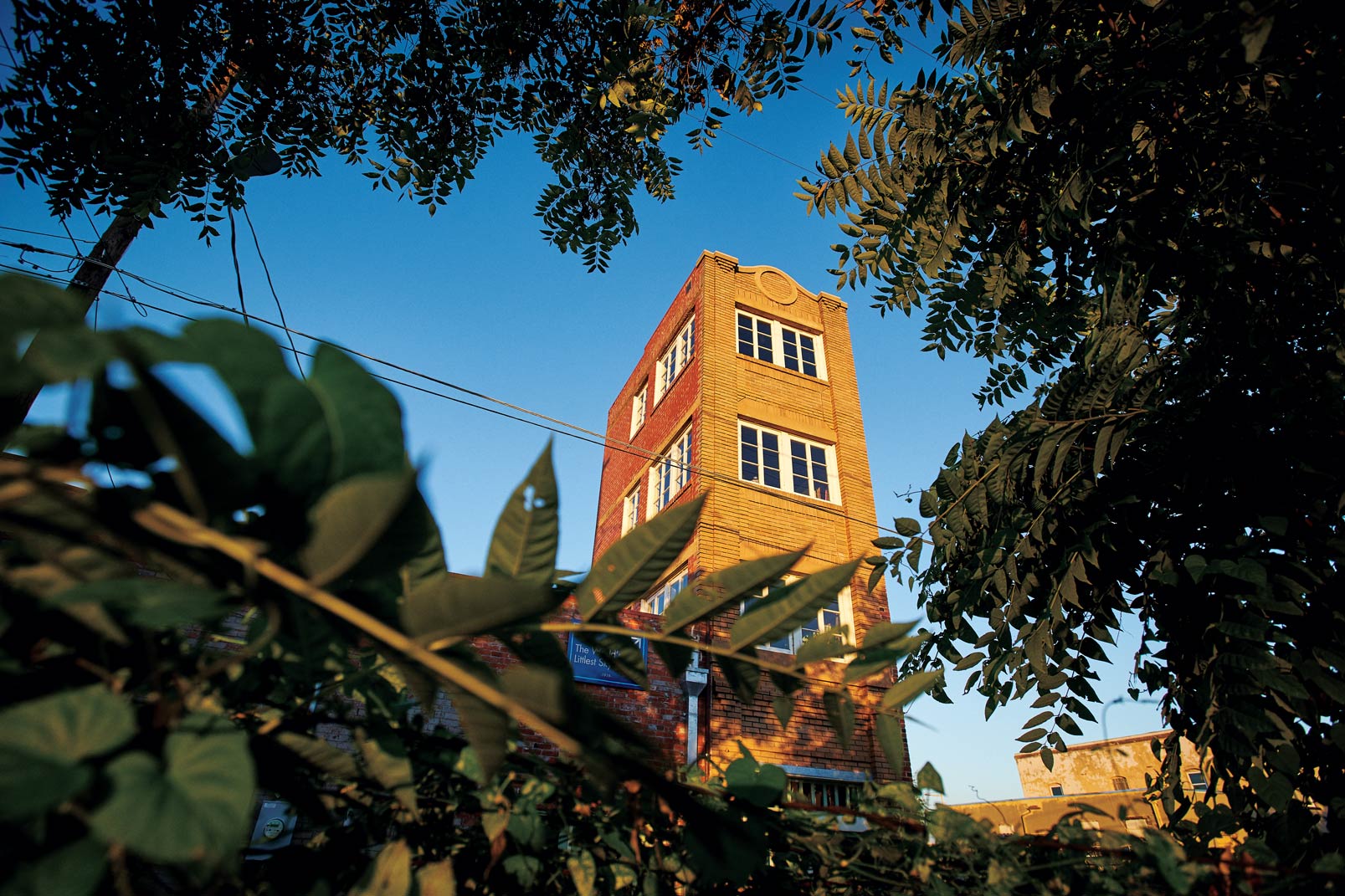 Small Talk
Bucking the everything's bigger trend, a phony 40-foot "skyscraper" in Wichita Falls strives for the opposite. Constructed in 1919, it was designed to attract unwitting investors with scaled images of the edifice. The swindle embarrassed residents, but travelers from around the nation now seek it out.
Texas also claims a connection with the world's tiniest roadworthy car, which was constructed by Austin Colson, a temporary resident of the Dallas suburb of Carrollton. The Texas Department of Motor Vehicles certified its size in 2012 at 2 feet,
1 inches high and just over 4 feet long. Colson took it back to his home in Phoenix, Arizona, but kept its Texas license plates, which read, "IM BIG."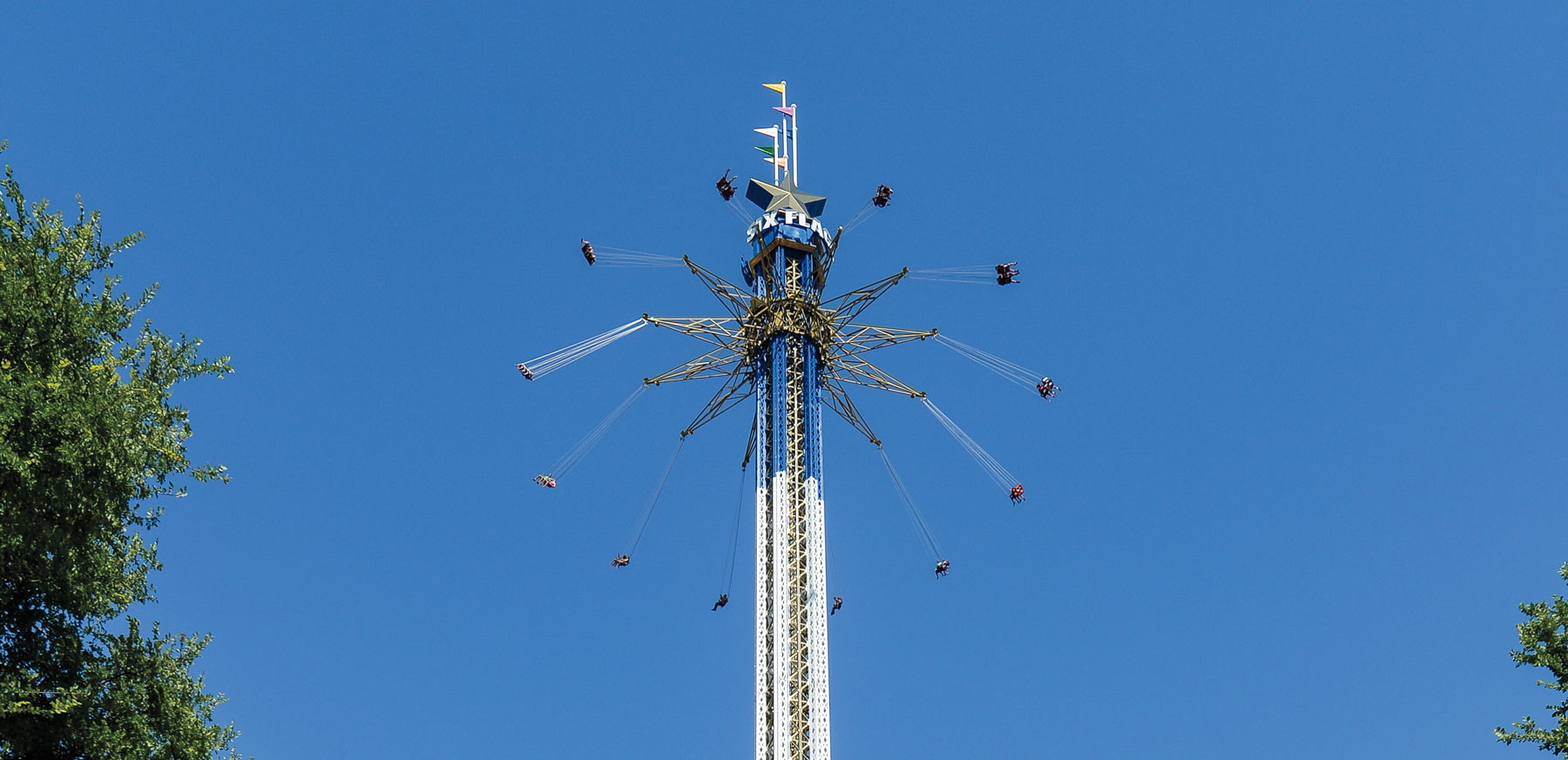 Best of the Rest:
The World's Largest in Texas
Swing Carousel
The Texas SkyScreamer at Six Flags over Texas in Arlington is nearly 403 feet high and pulls riders in a 124-foot circle at its widest extension.
Beer Can House
Adorned with 50,000 flattened beer cans by its now-deceased occupant, the Houston domicile has been preserved by a foundation dedicated to visionary art.
Killer Bee
Worried that actual killer bees would hurt the city's reputation, Hidalgo commissioned a $20,000 20-foot-long statue instead.
Armadillo Sculpture
Welded by artist Marc Rankin, Killer is 48 feet long, visible to passers-by at Fall Creek Farms near Granbury.
Foam Finger
The Guinness record-holder at 1 foot thick and 20 feet tall, it stands in the Dell HQ lobby in Round Rock, celebrating being "No. 1" among privately held technology companies.
Garden Spade
Garden-ville, supplier of organic garden products, displays the 40-foot-high shovel at its San Antonio location.
Jute Bag
Fabricated at Woolsacks Inc., the bag is kept at the Fredericksburg Fairgrounds. "We had a lot of fun doing this with our 4-H kids," Woolsacks owner Timothy Koock says.
Water Coaster
Schlitterbahn Water Parks' Galveston location debuted the 82-foot-tall MASSIV Monster Blaster in 2016.
How We Determined the List
Our sources included Guinness World Records, news media, the Bullock Texas State History Museum in Austin, local chambers of commerce, and online searches like the website, roadsideamerica.com, which describes itself as "a caramel-coated nutbag full of odd and hilarious travel destinations."
We found numerous competing claims and resolved some by noting distinctions. An example: Freer's serpent is challenged as the world's biggest rattlesnake by a winding edifice in Tucson, Arizona, covering a walkway to simulate being inside the snake. We say Texas wins because Freer's is the world's biggest statue and Tucson's much larger structure is public art but not a statue.
From the January 2019 issue