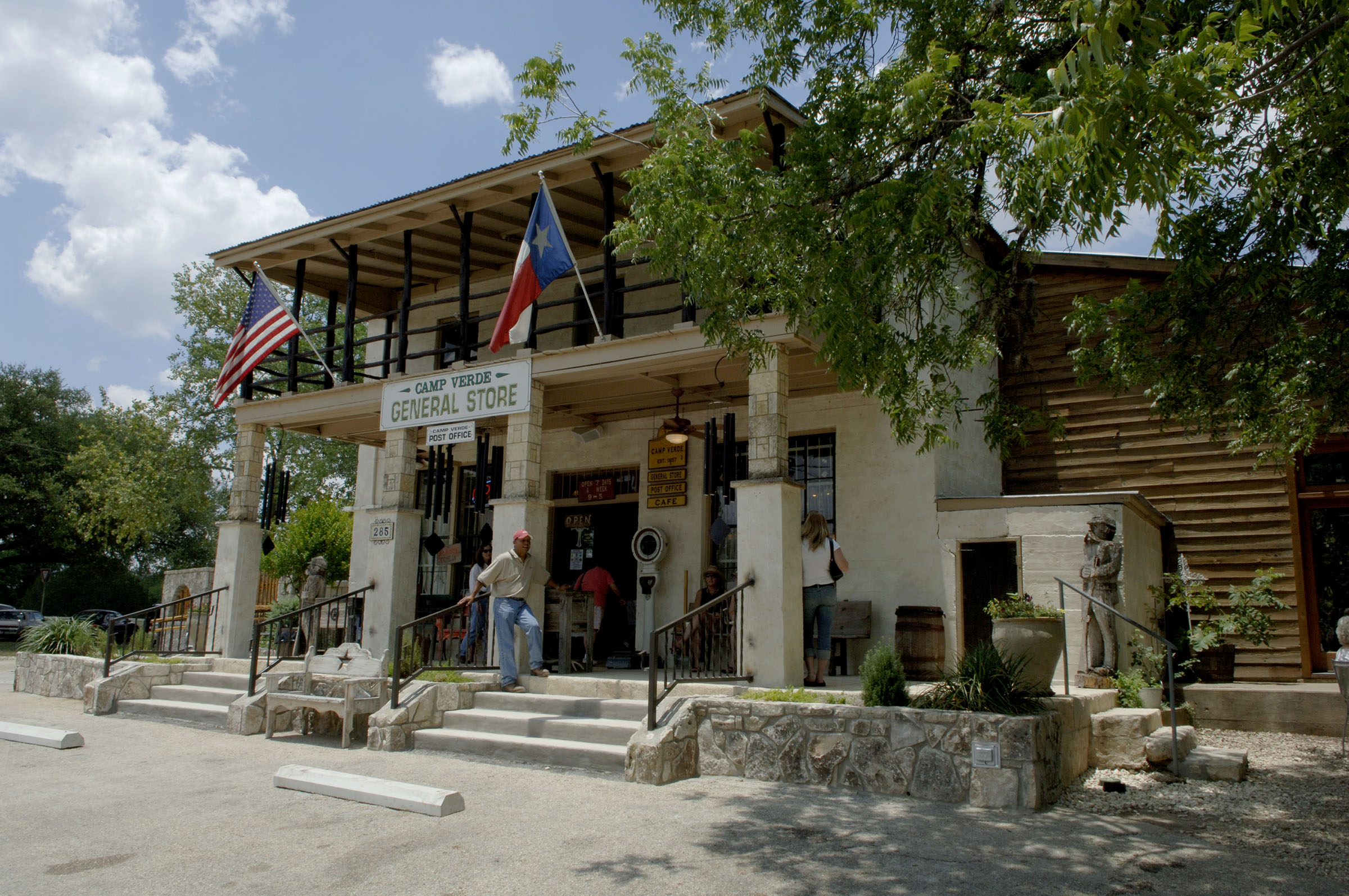 The choice came down to two items: Ultimate BLT and Ooh La La. Both beckoned to me on Camp Verde General Store and Restaurant's menu, if only to determine if the sandwiches lived up to their billing. I chose the BLT, anchored by an oversized portion of thick strips of smoked bacon and savory mayo between slices of sweet jalapeño bread. The Ooh La La's hot roast beef slices topped with grilled onions and provolone cheese with a side of au jus would have to wait for another visit to the historic venue in the heart of the Texas Hill Country between Kerrville and Bandera.
A glance through the tall windows of the store's dining room revealed a sun-drenched lawn and treescape across the road next to Verde Creek. Five Texas Historical Markers (see sidebar) at the store or in the vicinity tell Camp Verde's place in Texas' past—the most intriguing being an experiment to use camels as a messenger service launched before the Civil War. The dining room, added in 2012, is the latest expansion of the enterprise, first known as the Williams Community Store when it opened in 1857 to serve troops at the U.S. government's adjacent camp.
The text of Marker No. 4748, erected in 1936 a half-mile from the store, succinctly describes the unusual project: "Established as a frontier post by the United States Army, July 8, 1855; headquarters in 1856 for 40 camels, sent by Secretary of War Jefferson Davis, to be used in a system of overland communication with the west, which proved impracticable. Surrendered to the Confederate government in 1861; reoccupied in 1865 by the United State Army; abandoned April 1, 1869."
Camp Verde General Store and Restaurant
Intersection of State Highway 173 and Camp Verde Road
830-634-7722
Mon-Sun., 8 a.m. to 5 p.m.
Restaurant closes at 4 p.m.
campverdegeneralstore.com
Restaurant serves breakfast and lunch. Reservations at peak hours are recommended.
The current two-story Camp Verde General Store offers more than 12,000 items—personal accessories, designer handbags and clothing, housewares, gourmet condiments, handmade candies, and rotating specials touted in the store's daily Facebook updates, like an Italian stovetop expresso maker or a Cuban-inspired men's cologne. "Most customers are amazed at the selection and diversity of products," notes Peter Jewett, who handles marketing for Camp Verde's current owners who purchased the property in 2003. "We routinely hear from 'big city folks' about product selections they can't find in their own hometown."
That's quite a leap from what historians suggest was an attribute of the original Williams Store—selling alcohol to Camp Verde's soldiers who were prohibited from imbibing on the post. Iced tea appears to be the preferred beverage today at Camp Verde, though you can order a Shiner or some other beer with your meal.
Another fixture of the store's early days is a U.S. post office. About 90 boxes on one of the store's walls serve nearby residents, slightly outnumbered by a collection of more than 100 cowboy hats that are not for sale.
"Many years ago, local ranchers and cowboys started gifting the store with their 'gently used' cowboy hats as a sign of respect for our participation in the community," Jewett recalls. "We display them proudly in a special place in the store and promise they will have an honored resting place for years to come."
The present-day store's stone edifice "was constructed after a flood swept away the original building around 1900," according to the store's online history. It has display cases, uneven wooden plank floors, and tin ceilings from that era. Outside, a 10-foot-high iron sculpture of a camel evokes Camp Verde's history, as does the store's logo. The sculpture was commissioned to commemorate the 150th anniversary and reenactment in 2007 of the first shipment of camels from Egypt to the Texas Gulf Coast. Live camels recently have been part of annual Christmas events at Camp Verde Store as well.
If you order dessert in the restaurant, a miniature chocolate camel adorns a slice of banana cream pie or the "apple basket" with ice cream, a favorite of friends Candy and Mike Stewart from Kerrville who treated me and my spouse to our Camp Verde lunch this spring. Some of Candy's German ancestors are buried close by on a small ranch cemetery. Though she grew up in Houston, her visits to the Camp Verde General Store go back almost four decades—long before the 82-seat dining room opened.
Back then, she remembers, "a traveler could stop in the store for a sweet tea, Dr Pepper, Barq's, button candies, licorice ropes, or a bag of Lays and make the kids happy."
Today's more extensive offerings include creative specials like stuffed chicken cooked sous vide with roasted poblano and corn risotto, marinated fried pork bahn mi with Asian slaw, or summertime watermelon gazpacho, in addition to Texas staples like huevos rancheros for breakfast or steak fingers for lunch. Candy's husband favors the Build Your Own sandwich with choices from a list of 11 breads, six meats, seven cheeses, and six vegetable toppings.
In the fall, the couple said they will turn to what may be Camp Verde's most popular standing entrée, Donna's Meatloaf, named for a food manager in the 1990s when a takeout kitchen was at the rear of the store. Shaped in ovals on a baking sheet instead of inside a loaf pan, it is flavored with a spice blend and chopped onions sauteed in garlic oil, comes heavy on ground beef and light on the panko breading, and is served often with garlic mashed potatoes.
Last spring, I promised myself to try the juicy Ooh La La sandwich with extra napkins on my next Camp Verde visit, after I decided the Ultimate BLT menu claim was justified. I have since changed my mind—make that Donna's Meatloaf and keep the iced tea coming.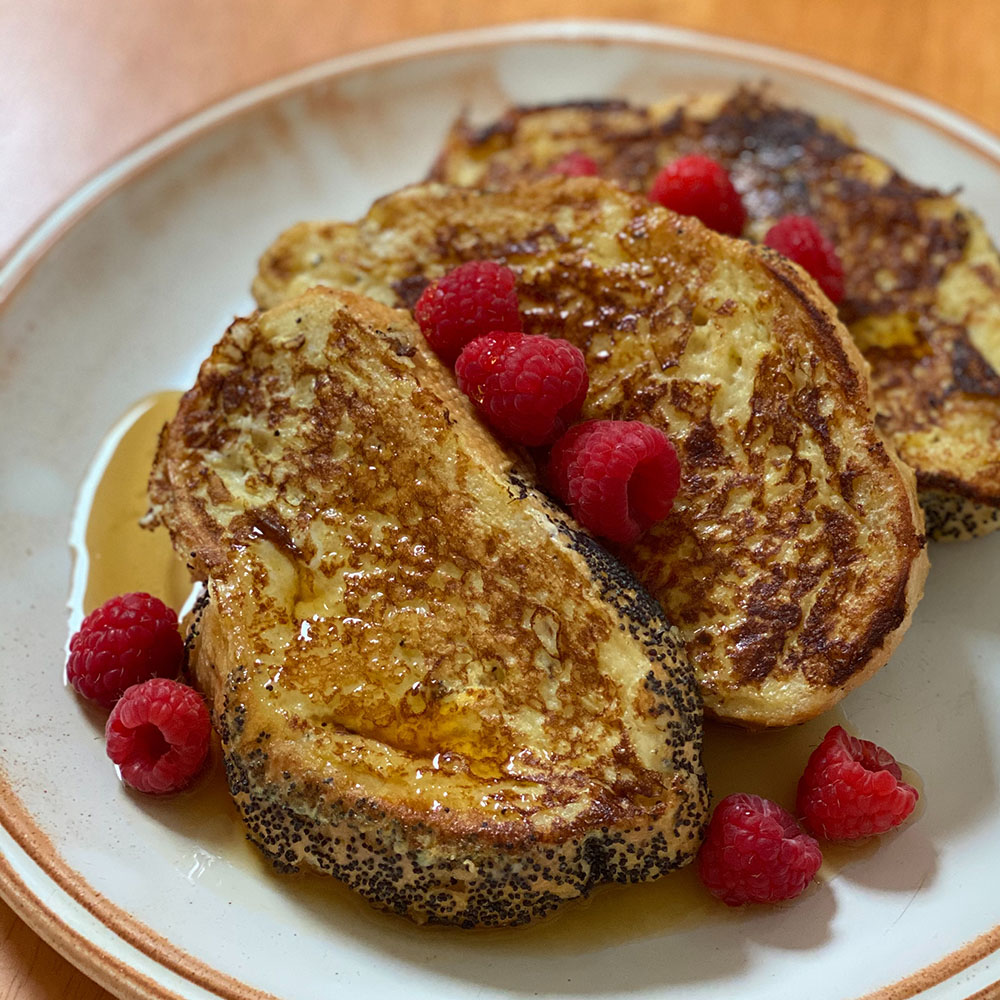 Camp Verde French Toast
Thick Texas toast makes this a breakfast favorite.
Batter ingredients:
6 eggs
½ quart of heavy cream
¼ cup warm honey
1 tsp salt
Directions:
Mix batter together. Camp Verde recommends using 1-inch-thick Texas toast. Dunk bread into batter and fry in pan on each side for 1 minute and serve with warm syrup. Dust with powdered sugar. Serve with fresh fruit and sausage patties or bacon.
Recipe courtesy Camp Verde General Store and Restaurant
Historical Markers
Learn the story of Camp Verde General Store and its intertwined legacy with the Camp Verde military post.
Camp Verde General Store and Post Office
Recorded as a Texas Historic Landmark in 1971 for the U.S. War Department's camel experiment, with the marker on store grounds at the intersection of Camp Verde Road and State Highway 173.
Camps Verde, C.S.A.
Located on the grounds of the Kerr County Courthouse in Kerrville, its lengthy text provides details of the military post that was captured by Confederate forces after Texas seceded at the start of the Civil War.
One Mile to Ruins of Camp Verde and Site of Camp Verde
Across the road from the Camp Verde store marker in a picnic area, the One Mile of Camp Verde marker describes a brief history of the military post from its establishment in 1855 to its closure in 1869. The second marker, placed in 1936, is a mile from the store off Verde Creek Road. The sparse remains of the post are on private land and not accessible by the public.
Penateka Comanches
Erected in 2010 across from the store, the marker explains the major trail of the Penateka, the southernmost band of Comanches, who crossed the area—hence, the establishment of posts like Camp Verde to push them westward.
Bandera Pass
Placed 3 miles south of Camp Verde Store on State Highway 173, the marker notes that "[a]rcheological evidence indicates that the site is along an ancient path dating back thousands of years." Comanches and others before them used the trail through the pass, which influenced the site of the military post and became SH 173.