Ready to take the roads less traveled? Among this group of spring road trips, you have an option to avoid the traffic of Interstate 35 from DFW to the Hill Country and discover a different route to journey out to Big Bend. There are also drives that take you along Texas' version of the Pacific Coast Highway and an enjoyable trip along Farm to Market roads. If you want to see the variety of vistas that Texas has to offer, then load the car, buckle up, and get ready for these fun spring drives.
The Coast Highway

Trip Mileage: 217
Overall vibe: Seafood and seaside breezes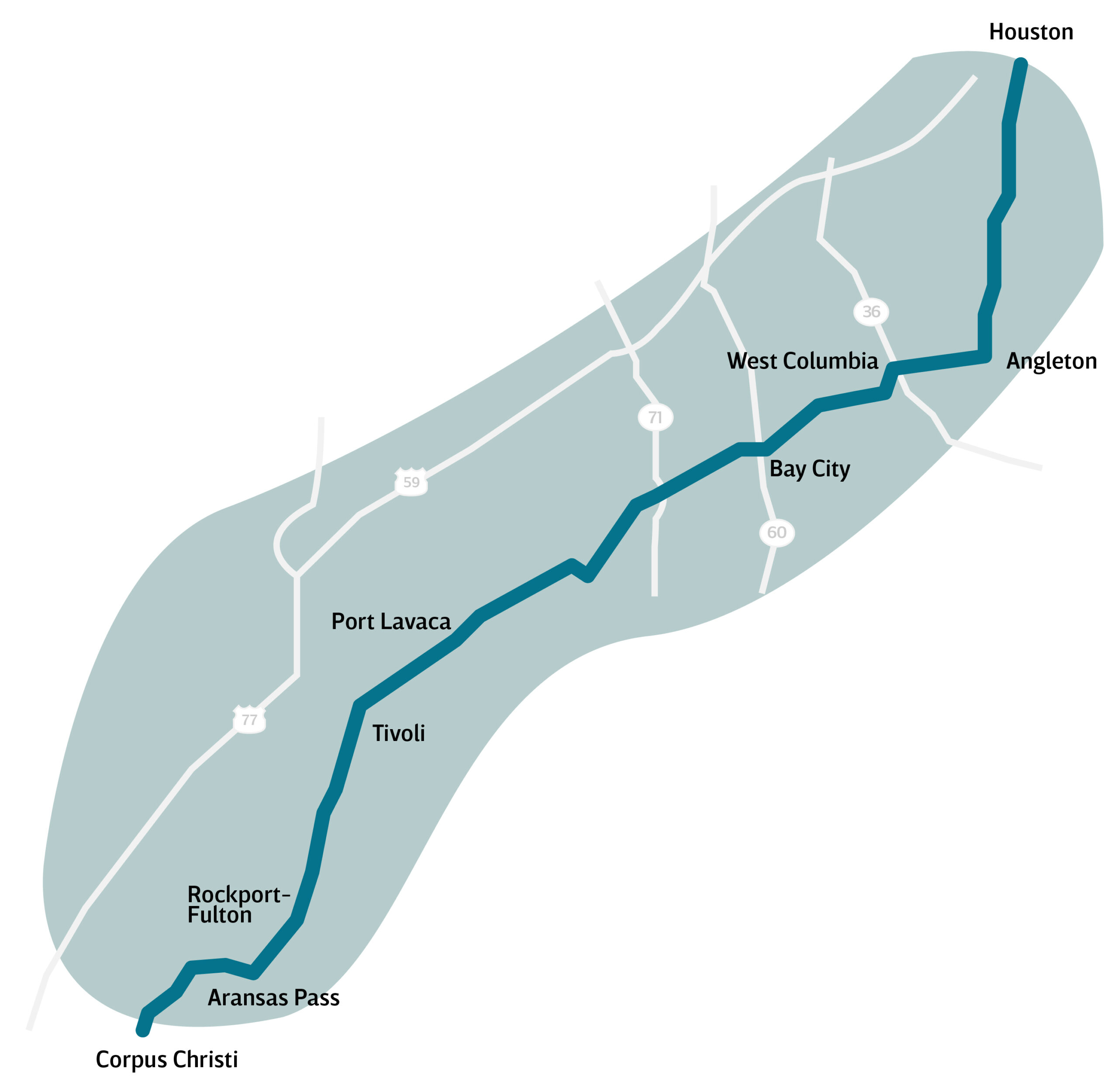 State Highway 35 and Corpus Christi will not be confused for the Pacific Coast Highway and Big Sur, but this back route between Houston and Corpus offers glimpses of bays and estuaries along the Texas coast thick with waterfowl and other wildlife, accompanied by soft steady winds and whiffs of salt air.
The designated highway technically begins in Houston at Loop 610 and Telephone Road, a once grand avenue with blue collar entertainment that was celebrated in songs by Rodney Crowell and by Steve Earle. Now it's dominated by small strip centers and pawn shops. But if you're not tracing the road, then take State Highway 288 South to Angleton, and pick up SH 35. This is where the road enters Texas' version of the Lowcountry, with long stretches of marshy plains and prairie woven between creeks and rivers interrupted by dense thickets of tall hardwoods and mottes of mighty oaks sculpted by a lifetime of steady Gulf breezes.
The country opens up after clearing East and West Columbia and Van Vleck. By Bay City (where it's 22 miles to Matagorda and the beach), Houston's solidly in the rearview mirror.
Palacios, on the edge of Matagorda Bay and 57 miles from West Columbia, offers the first waterside views, the City by the Sea Museum, and a string of seafood joints including Danny's Seafood House and Tran's, and the lovely Hotel Luther, a genuine artifact built in 1903 that's well worth a stop. Port Lavaca, 29 miles down the road, has some interesting ruins in its old downtown. For fresh oysters and seafood to go, stop at Miller's or bayside at Captain John's, which offers a sweet view.
Historic Indianola, Texas' first port, is 14 miles south on State Highway 316. Continue south on SH 35 for 18 miles to Tivoli (Tie-Voh-Luh, please), then detour 11 miles east across the flats via Farm to Market Roads 239 and 2040 to Aransas Wildlife Refuge, one of the best places to view whooping cranes from land during winter months and guaranteed good gator viewing anytime of the year.
Back on SH 35, cross Copano Bay onto Lamar Peninsula and the turnoff to the Big Tree, the 1969 state champion Virginia live oak, as well as dozens of other outstanding twisted, gnarled and sculpted coastal oaks. Fulton and its historic mansion and the seaside resort town Rockport are worthy stops, especially for dockside seafood at places like the Boiling Pot or Charlotte Plummer's.
From Aransas Pass, the Corpus Christi Bay Bridge and the "Sparkling City By the Sea" are about 20 miles away. Houston to Corpus by US 59 is 208 miles, about the same distance as the SH 35 route. The latter offers a whole other kind of overland travel, a purposeful mosey. Take the time and see some old coast, the part of Texas that the first Spanish and French explorers thought would be fine enough to colonize and linger around for a while.
The DFW Metroplex-South Texas Scenic Workaround
Trip Mileage: 370 miles
Overall Vibe: Pretty as a picture
No matter where you are or the time of day, Interstate 35 is a crap shoot. You never know when traffic is going to back up, or why. For a north-south road trip, there was an alternative: US 281, running between the western Dallas-Fort Worth metroplex and greater San Antonio. It was less travelled, less billboarded, and less congested—and usually worth the extra hour whenever I-35 was jammed up.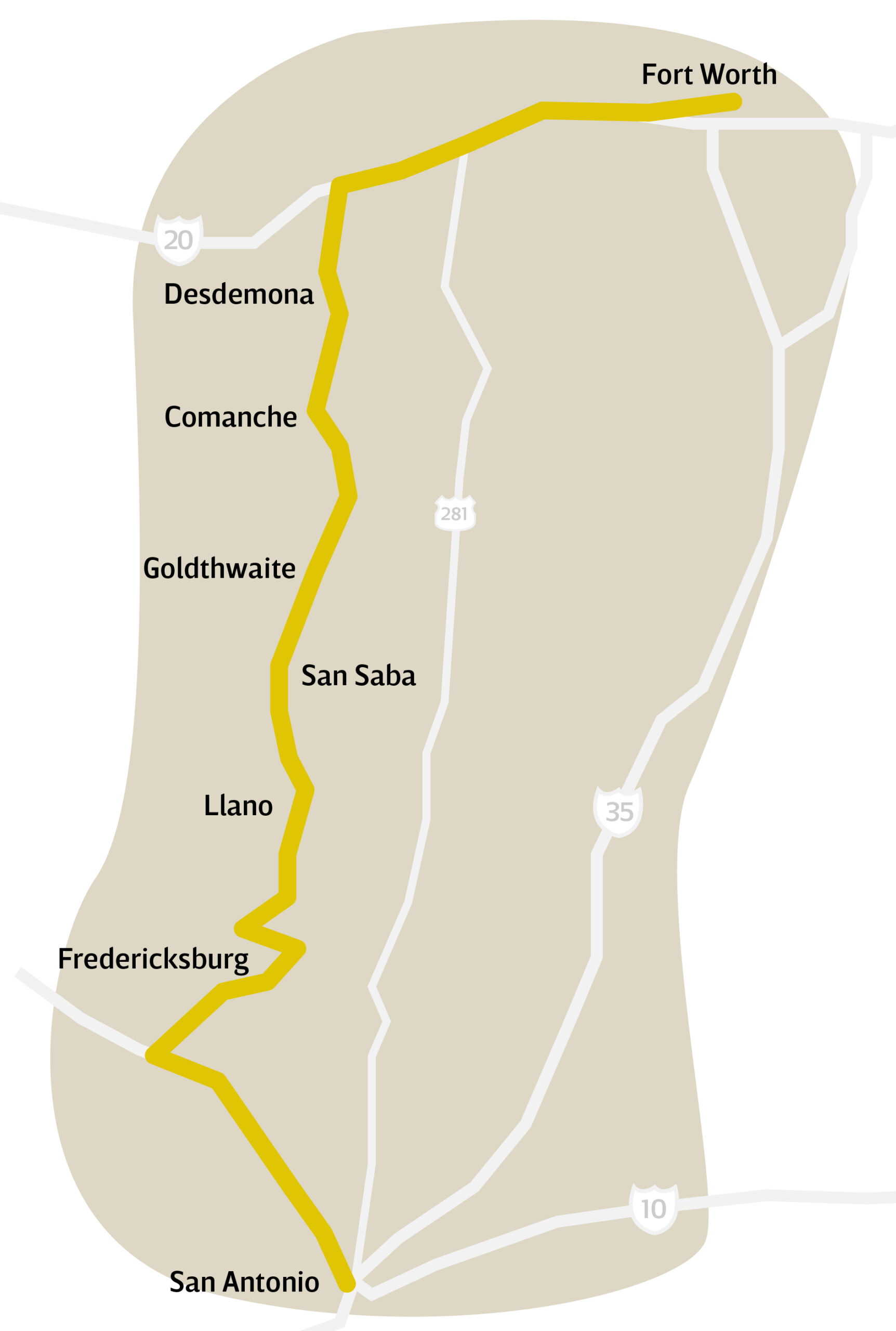 Alas, US 281 is no longer a secret, having been outed by Google Maps and Waze. The route, which goes through Hico, Hamilton, Lampasas, Burnet, and Marble Falls, now has unpredictable bumper-to-bumper, stop-and-go traffic. To bypass these conditions, the time has come to suck it up, factor in at least two more hours of drive time, and take the long way to South Texas. Fortunately, you'll be passing through some of the prettiest western landscapes Texas has to offer.
After leaving Dallas, make your way to downtown Fort Worth, then drive 75 miles west on Interstate 30 and Interstate 20 to Exit 361, south of Strawn. Head south on State Highway 16. The two-lane road starts in the Big Country and transects the Hill Country. If you're relatively new to Texas, this is a fine introduction to some of the state's finest natural beauty. Plus, you'll be avoiding the horrible, interminable interstate highway construction in Waco.
Granted, SH 16 is a longer way and posted speed limits drop below 55 passing through small towns. But since each one justifies stopping for one reason or another, depending on your level of curiosity, slow down at least and enjoy the scenery.
On this route you'll pass through the boomtown ghost town of Desdemona to Comanche, where you can stop for a bite to eat at the "steeped in heritage" Stone Eagle Beer Garden. If in need of a beautifully crafted custom pair of boots, set up an appointment at the family-owned and operated Kimmel Boot Company.
Drive past the wind farms of Priddy on your way to Goldthwaite, home to the Texas Botanical Gardens at Legacy Plaza and Mills County Historical Museum (note, the museum is only open Monday through Friday).
Continue on SH 16 until you hit San Saba, the Pecan Capital of the World. If you have some time, park your car and take a walking tour of downtown and the lively main drag. Then, head to Cherokee, where the bluebonnets should be in full bloom this time of year. If hungry, make a pitstop at Cherokee Corner Cafe.
Next up is Llano, the heart of the granite part of the Hill Country and a traditional barbecue town with options that include the original Cooper's Old Time Pit Bar-B-Que and Inman's BBQ and Catering (known for turkey sausage). Take the Farm to Market Road 965 junction to see the bulging pink granite mountain known as Enchanted Rock, within Enchanted Rock State Natural Area. From here, you'll drive to Eckert, a ghost town at the western end of the Willow City Loop wildflower drive, and Fredericksburg, where all the action can be found on its charming Main Street.
From here, you have the option of cutting away at Fredericksburg onto US 290 and going to Austin or taking US 87 and Interstate 10 for a more direct route south to San Antonio.
The Alt Route to Big Bend
Trip Mileage: 397
Overall Vibe: The westernmost way out west
Interstate 10 is the way west for most folks headed to Big Bend, mainly because the posted 80 mph speed limit west of Kerrville is a timesaver. US 90 is actually more direct—397 miles from San Antonio to national park headquarters at Panther Junction, compared to 438 miles via I-10—but it takes longer due to lower speed limits and a string of small towns and one small city to pass through.
Either route from San Antonio can be done in under seven hours if you drive straight through. But the US 90 drive merits at least an additional four hours for looking around, or an overnight stop along the way, because there is a deep history that I-10 lacks.
The two- and occasional four-lane highway follows the original route west for stagecoaches and railroads, passing through the Alsatian community of Castroville, and the wintergarden communities of Hondo (be on the lookout for the famous "This Is God's Country. Please Don't Drive Through It Like Hell" sign), D'Hanis, Sabinal, Knippa, and Uvalde.
By the time you hit Brackettville, you might be ready for a road break. Cool off in the 68-degree water at Fort Clark Springs Pool (open to the public starting Memorial Day weekend; $5 per person admission) and visit the Seminole Indian Scouts cemetery, 3 miles south of the highway on Farm to Market Road 3348. The scouts were escaped slaves who allied with the Florida Seminole and found their way to Fort Clark.
About 30 miles up the road is the "Queen City of the Rio Grande," Del Rio (pop. 35,000), offering more cooling waters at San Felipe Springs, the recreated frontier village at the Whitehead Memorial Museum that gives you an idea of what this area was like 150 years ago, and the last H-E-B heading west.
For a quick excursion, drive by the pink Brinkley Mansion, once the home of Dr. John Brinkley, the quack medical doctor who moved to Del Rio after getting chased out of Kansas in 1933. His surgical technique, transplanting goat glands into men's scrotum to rejuvenate their sexual drive, was advertised on XER across the Rio Grande in Ciudad Acuña and other powerful radio stations broadcasting from Mexico.
The town's traditional taste of the border is Memo's Restaurant, on the banks of San Felipe Creek. The Calderon family established their Mexican restaurant in 1936 and the business remains in the family today. Blondie Calderon, Ray Price's pianist, vibes player, and bandleader for 34 years, is enshrined here.
Driving west beyond Del Rio, views of the brilliant blue water of Lake Amistad provide a dazzling contrast to the raw Chihuahuan Desert landscape on the northwest side of the highway. To the south, in Mexico, craggy mountains rise from the land mass. The ancient people who roamed this land get their props in Comstock at the Shumla Archaeological Research and Education Center and at the Fate Bell Shelter rock art site at Seminole Canyon State Park, located just before crossing the Pecos River bridge. Texas legend meets Texas reality in Langtry, the settlement in barren canyon country where Judge Roy Bean, a mythic character known as the "Law West of the Pecos," dispensed justice in his saloon, another must-see pullover.
About two hours from Del Rio, the landscape shifts again around Sanderson, the one-time railroad town and motel, gas, and food stop perpetually on the verge of a comeback. Low, flat-topped mesas and buttes give rise to real mountains in all directions by the time you reach Marathon (pop. 386), home of the Gage Hotel, the Marathon Motel, and other accommodations. At the French Co. Grocery, load up before turning south onto US 385. Persimmon Gap, the gateway to Big Bend National Park, is 60 miles south.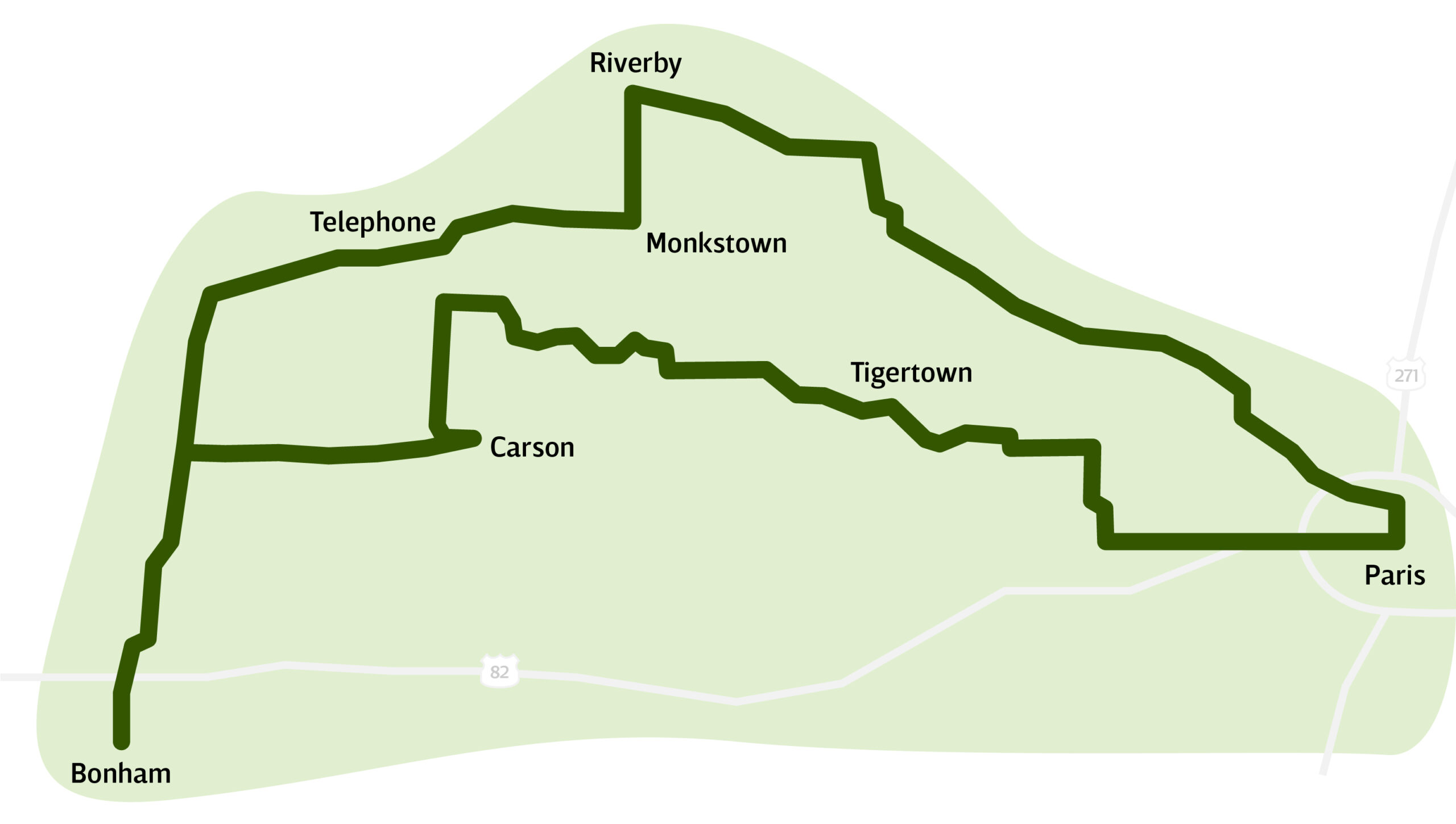 Bonham-Paris Loop
Trip mileage: 115
Overall vibe: East Texas mellow
For most folks in the Dallas-Fort Worth metroplex, getting away to the wide-open spaces usually means heading west. We've been south (see above), so now you can really be a contrarian and head northeast to do the Bonham-Paris Loop.
These two towns in near Northeast Texas are only 39 miles apart via US 82. But stay off 82 and take the farm to market roads to the north, going through the Caddo National Grasslands and three nearby lakes, and enjoy an honest country drive.
Start in Bonham, a classic East Texas town of 10,000 with an abundance of late 19th- and early 20th-century architecture. This was the hometown of Sam Rayburn, the 43rd Speaker of the United States House of Representatives and an area congressman from 1913 to 1961. Rayburn's legacy remains so large, they gave visitors two sites to see. The Sam Rayburn House State Historic Site has tours of the home he lived in, and the Sam Rayburn Museum, as massive and sprawling as a presidential library. "It's gold for a political junkie and history buff like me," reports fellow roadtripper Chuck Williamson. Bonham is also home to the Fannin County Museum of History in the old train station, and the Fort Inglish Village. Just west of the Sam Rayburn Museum, this is a recreated wood fort on the site where Bonham was first settled by European immigrants. Tours are by reservation.
From Bonham, take Farm to Market Road 898 North, and Farm to Market Road 273 North for 17 miles to Telephone, a crossroads on the northern border of the Caddo grassland. Telephone's star attraction is the Bois D'Arc General Store at Nana's Place. Nana Whitley and her son Dustin offer a menu that is massive for such a small unassuming café, with daily lunch specials, 10 different kinds of Angus burgers, pork tacos, breakfast burritos, subs, wraps, homemade pies, jams, and desserts. Plus, they have kayak rentals to paddle the nearby lakes.
Continue east on 273 for 5 miles to Monkstown, then north on Farm to Market Road 100 and go 3.5 miles to Riverby. The road becomes Farm to Market 79 and dives southeast towards Paris, 58 miles away. You'll pass through settlements with cool names like Direct, Unity, and Globe. You're also going through some of those much sought-after wide open spaces, land long ago cleared for farming and ranching.
Like Bonham, the old train station in Paris is a museum, the Valley of the Caddo Museum and Culture Center. Since you're in Paris, you might as well pick up a baguette, croissant, or other baked goods at the Paris Bakery, which also serves small plates for lunch and dinner.
Five blocks south on Main Street, the Paris Public Library features four murals by Jerry Bywaters painted for the Public Works of Art program in 1934. Bywaters, a Texas renaissance painter, art critic, historian, and professor, painted depictions of the Great Paris Fire of 1916 and the town's subsequent reconstruction on two panels. The two other Bywaters panels are portraits of Davy Crockett and cattle trailblazer John Chisum. Across the street from the library is Bywaters Park, its 1931 Corinthian peristyle centerpiece. The park is a memorial to the victims of the 1982 tornado that devastated Paris.
Both the park and library are within the Paris Historic District, a neighborhood worth cruising for the picturesque large homes from a century ago. One home, the Sam Bell Maxey House at 812 S. Church St., was the residence of the U.S. Senator and Confederate Army general and is today an official state historic site.
The community's big attraction is the Paris Texas Eiffel Tower, a 65-foot-tall replica topped by a big red cowboy hat that reminds me more of a huge irrigation pivot or a transmission line tower than the icon of the city in France. Unfortunately, you cannot climb or take an elevator to the top of this Eiffel Tower.
Loop back from Paris on FM 79 for 5 miles, then west for 12 miles on Farm to Market roads 2820 and 38 to Tigertown, another cool-sounding community that is actually a convenience store at a crossroads. Tigertown is the undisputed capital of car, truck, and boat trailer manufacturers with at least seven factories nearby.
Head 3 more miles west on Farm to Market Road 2216 back into the Caddo National Grasslands. Continue west on to Farm to Market Road 409 for 10 miles through the grassland, passing Lake Crockett, Coffee Mill Lake, and Lake Fannin, a wilderness area where a historic lodge is being rehabilitated. Here, the landscape is defined by large pine groves within dense hardwood forests full of mature eastern red cedars.
Stargazers come to the grassland for the dark skies. "I mean really, really dark," says Bonham native Lee Leatherwood. Want to see the Milky Way on clear nights? This is the place.
If interested in camping, Bois D' Arc Trailhead Campground, close to Telephone, opens to 30 miles of trails shared with equestrians and hunters.
To head back to Bonham, from the western terminus of FM 409, go south on Farm to Market Road 2029 for 6 miles to Carson. Then it's west on Farm to Market 1396 for 7 miles to Farm to Market Road 898, and Bonham is 9 miles south. The whole trip can be done in an afternoon, or into the evening at a leisurely pace.