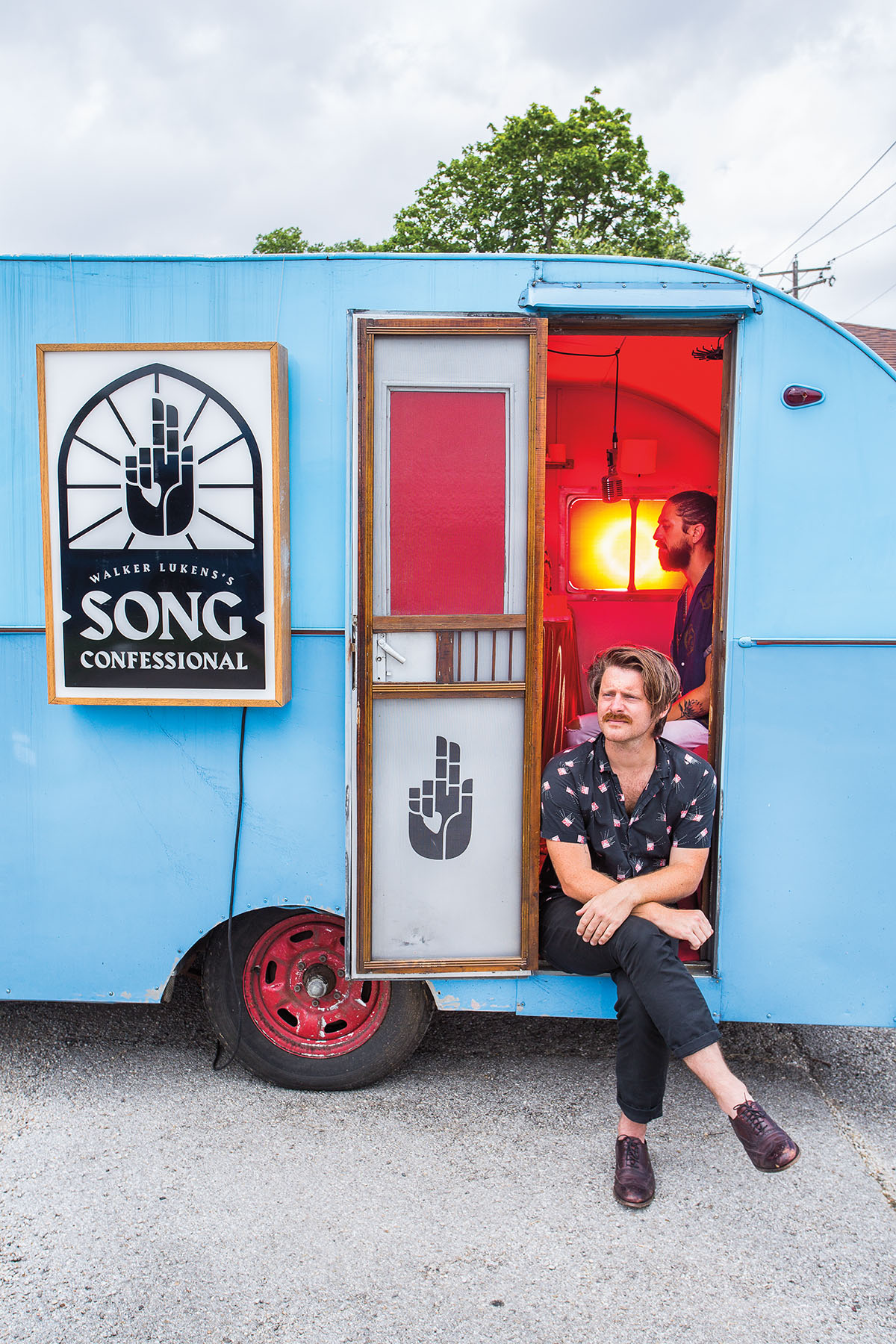 Adam's girlfriend, friends, and family came from all over to the Newport Folk Festival in Rhode Island last year to celebrate his birthday in his absence. They were excited to catch the scheduled acts, but some of the best music they ended up hearing, they made themselves. It started when they saw a bright blue trailer called "Walker Lukens's Song Confessional." One after another, all weekend long, they climbed into the red-lined confessional booth—a creation of Walker Lukens, an Austin-based singer-songwriter, and his drummer, Zac Catanzaro—and told their stories into a microphone. On the other side of the wall that divided the trailer in two, an unseen interviewer asked questions and recorded their confessions.
On the third day of the festival, Adam's girlfriend, who gave her confession on the condition of anonymity, told the story about the love of her life. "I saw his picture and I knew," she says in the recording. She was a planner, and he was spontaneous. He got her to say yes to things. "It was like discovering a new side of myself that I just never knew," she continues, her voice cracking.
"I could tell it was going to be something serious," says Catanzaro, who was taking the confession that day.
Texas Highways exclusive

Listen to the premiere of "Where I Am", available on streaming services Aug. 28
In 2018, Catanzaro and Lukens came up with the idea of turning a camping trailer into a hybrid confessional booth and recording studio because, frankly, they weren't seeing the fame and fortune for all the work they were putting in as recording musicians, and they wanted to try something new. After two minor hit songs (2015's "Every Night" and 2016's "Lifted"), touring to support their second full-length album, Tell It to the Judge, left them exhausted and depressed.
"We were like, we should be able to record in a cool vintage trailer," Catanzaro says. "We should try to travel around, hear some stories, and record songs." They found the little blue 1948 LintzCraft camper in Denver in January 2018. On the drive back to Austin, they workshopped the idea. What if we had other musicians join us in the trailer to record? What if we had people come in and tell stories, and we used their stories as songwriting prompts? Ooh, what if we put up a wall so the storyteller couldn't see the musicians? Like a confessional booth. Yeah! What do we call it?
"The reason that I liked the name was when you go to confessional, you get Hail Marys or something," Lukens says. "I'm not Catholic. I have no idea. They give you like a sentence."
"Right," adds Catanzaro, a former altar boy. "You have prayers and absolution."
"Yeah, a sentence," Lukens counters. "I just liked the idea that you went in and you told something, and you got a song out of it. That was the exchange."
Walker Lukens's Song Confessional (the name changed to just Song Confessional about a year ago) debuted at SXSW in 2018, parked on a side street in downtown Austin. Different musicians took turns hearing confessions in the studio portion, while total strangers told their stories for free in the confessional booth. Musical acts including Riders Against the Storm, Har Mar Superstar, and Jackie Venson lined up to create songs. A few weeks later, the confessor got a free, 7-inch vinyl record in the mail—a song about their true confession.
Lukens and Catanzaro thought this was just a collaborative songwriting exercise. What they didn't expect was how quickly it became about the stories.
After nine months of bicoastal romance, Adam and the anonymous woman started talking about kids and marriage. They even picked out their wedding song, "This Must Be the Place" by the Talking Heads. But four days after he moved in with her in New York, he stopped sleeping and became increasingly anxious. "Things just got worse and worse and worse," she says in her recording, "and eventually one day he didn't know who I was anymore." She took him to a psychiatric hospital for treatment for bipolar disorder. If they could get the treatment right, the couple was assured, they could still have kids, a life. There was no reason to call off his annual trip to the Newport Folk Festival.
"I felt really hopeful," she says. They got a bottle of wine from a vineyard they'd visited in Napa. "We ate Taco Bell for dinner one night because it was our favorite guilty pleasure, and I just thought that meant, 'You know what, he's getting better, and he's feeling more like himself'—so much so that I went back to work. I worked a full day for the first time in four months."
In 2019, Lukens, Catanzaro, and producer Aaron Blackerby turned the song confessional into what all storytelling ventures inevitably become these days: a podcast. They joined forces with Austin radio station KUTX 98.9, in partnership with NPR, and started taking the trailer on tour. They took the trailer to Dallas, Houston, San Antonio, Los Angeles, and Newport, calling on fans via Twitter to come tell their stories.
Usually Lukens and Catanzaro match the confession to the singer, but for Adam's girlfriend's confession, Jim Eno, drummer for the rock band Spoon and an Austin producer, was in on the gig. They all heard the Newport confession and thought of Kat Edmonson, a jazzy pop singer with an ethereal voice, formerly of Austin and now in New York. Eno emailed her the recording.
Adam didn't answer her texts. His best friend called. He hadn't been able to reach Adam, either. She rushed home. "I walked in, and he was hanging in our bedroom," she says in the recording. "You know, all those things we did, the Taco Bell and s—, it was like his last meal." In the recording of her confession, you can hear a bluegrass band on the tented stage cover Cher. Do you believe in life after love?
Should she go on Adam's annual trip to Newport in two months with all his friends and family? She decided to go on the trip as planned, and told her story of love and loss. She ended it by talking about how they would play "This Must Be the Place" in happy and sad times. "I haven't heard [that song] since he died," she says.
The next spring, Edmonson stood in a glass booth in Eno's Austin studio to record the vocals for the song she
wrote on the plane from Phoenix earlier in the day.
"What I learned from it is that she's very courageous," Edmonson says. "It's not just sadness. When I wrote this, I knew I'd have to write this for her."
The song, "Where I Am," sounds like a metronomic dirge. There is no chorus, no hook. The chords build a hymn of redemption. Edmonson wrote dialogue set to music that opens the only way it could. She opens her mouth and sings, and it sounds like a memorial.
This must be the place I'm supposed to be/ but you're not here with me.
If you or someone you know is struggling, please contact the National Suicide Prevention Lifeline at 1-800-273-TALK (8255), text "STRENGTH" to the Crisis Text Line at 741-741 or go to suicidepreventionlifeline.org.

Just the Hits
Walker Lukens on his favorite episodes from the Song Confessional podcast. Hear the songs at songconfessional.com.
"Lost My Head" by Odessa
This is the only song produced by the Song Confessional that is a genuine tear-jerker.
"Don't Let Me Die in Waco" by Croy and the Boys
I think in another universe this would be a massive country hit.
"Don't You Go Forgetting About Me Now" by Har Mar Superstar
It sounds like it's from a past that didn't exist, and it's really peaceful and great.
"I Can't Wait" by Kam Franklin (of The Suffers)
It was 100% remotely recorded during quarantine, with Kam singing into an iPhone.
"Things That Make Me Happy" by Royal Teeth
This is the first song that the Song Confessional has ever produced that sounds like it could be a commercial hit.
From the September 2020 issue