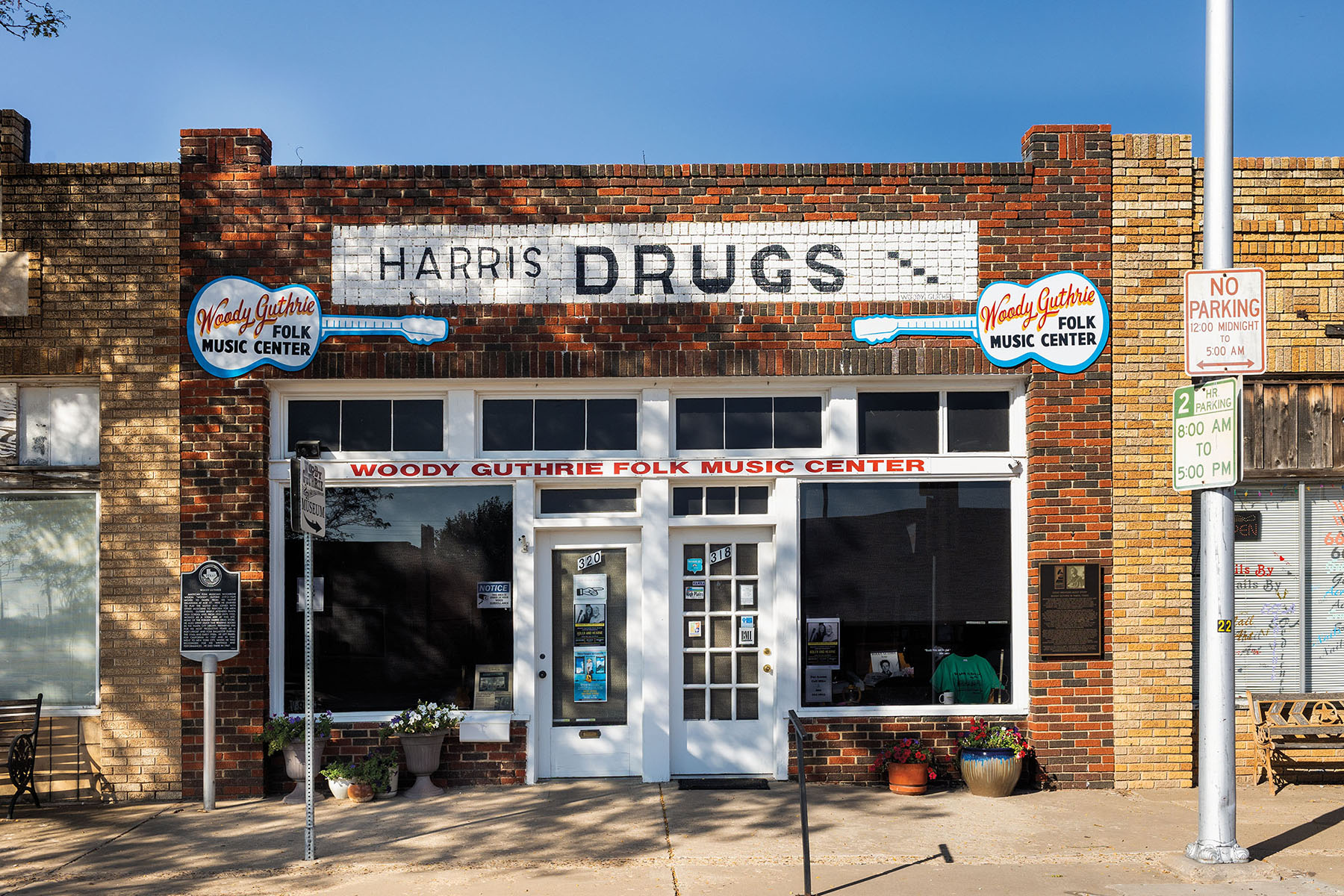 Thelma Bray had lived in Pampa for almost 60 years when she first heard that America's greatest folk singer, Woody Guthrie, was a resident of the former oil boom town from 1929 to 1937. Pampa is where he learned to play guitar, wrote his first songs, married a local woman, and experienced the "Great Dust Storm" of 1935. Guthrie was born in Oklahoma in 1912 but became a man in Texas.
How could Bray, a civic leader who embodies Pampa pride and promotion, not know until 1991 that a musical icon—Bob Dylan's hero, author of singalong anthem "This Land Is Your Land"—once walked the same downtown streets she was trying to revitalize? She found out why Guthrie's history in the community was overlooked when she proposed that the city officially honor him. Her presentation was interrupted by a man who stood up and said, "Woody Guthrie was an atheist and a Communist," to random nods in the audience.
That accusation is refuted by the authoritative Woody Guthrie: A Life, which Bray read after she discovered the Pampa connection. Joe Klein's 1980 biography portrays Guthrie as strongly pro-union and anti-establishment, but not a member of the Communist Party. He was a Christian who wrote songs about Jesus but scorned organized religion. This didn't exactly jibe with residents of the conservative, church-going small town.
Bray and her cohort Glenna Lea Miller left the meeting without support from city leaders, so they produced Pampa's Tribute to Woody Guthrie themselves on Oct. 3, 1992, the 25th anniversary of Guthrie's death. The festivities started with Gov. Ann Richards proclaiming it "Woody Guthrie Day" in Texas. Six markers on US 60 from the Oklahoma border to New Mexico were installed to designate it the "Woody Guthrie Memorial Highway." A program at M.K. Brown Civic Auditorium featured a talk by Guthrie's sister Mary Jo Edgmon, followed by 100 Pampa grade schoolers singing her brother's songs. The highlight of the day was the unveiling of a 142-foot-long sculpture by welder Rusty Neef, who forged the musical notes of "This Land Is Your Land" in carbon steel. Located in East Coronado Park, the 10-foot sculpture used to be visible from State Highway 70 at night, but vandals smashed the floodlights. Not everyone had thought embracing Guthrie's legacy was good for Pampa, but increasingly that sentiment has changed.
"Being associated with Woody Guthrie would be good for tourism," says Michael Sinks, longtime director of the Woody Guthrie Folk Music Center. "That message won over a lot of people."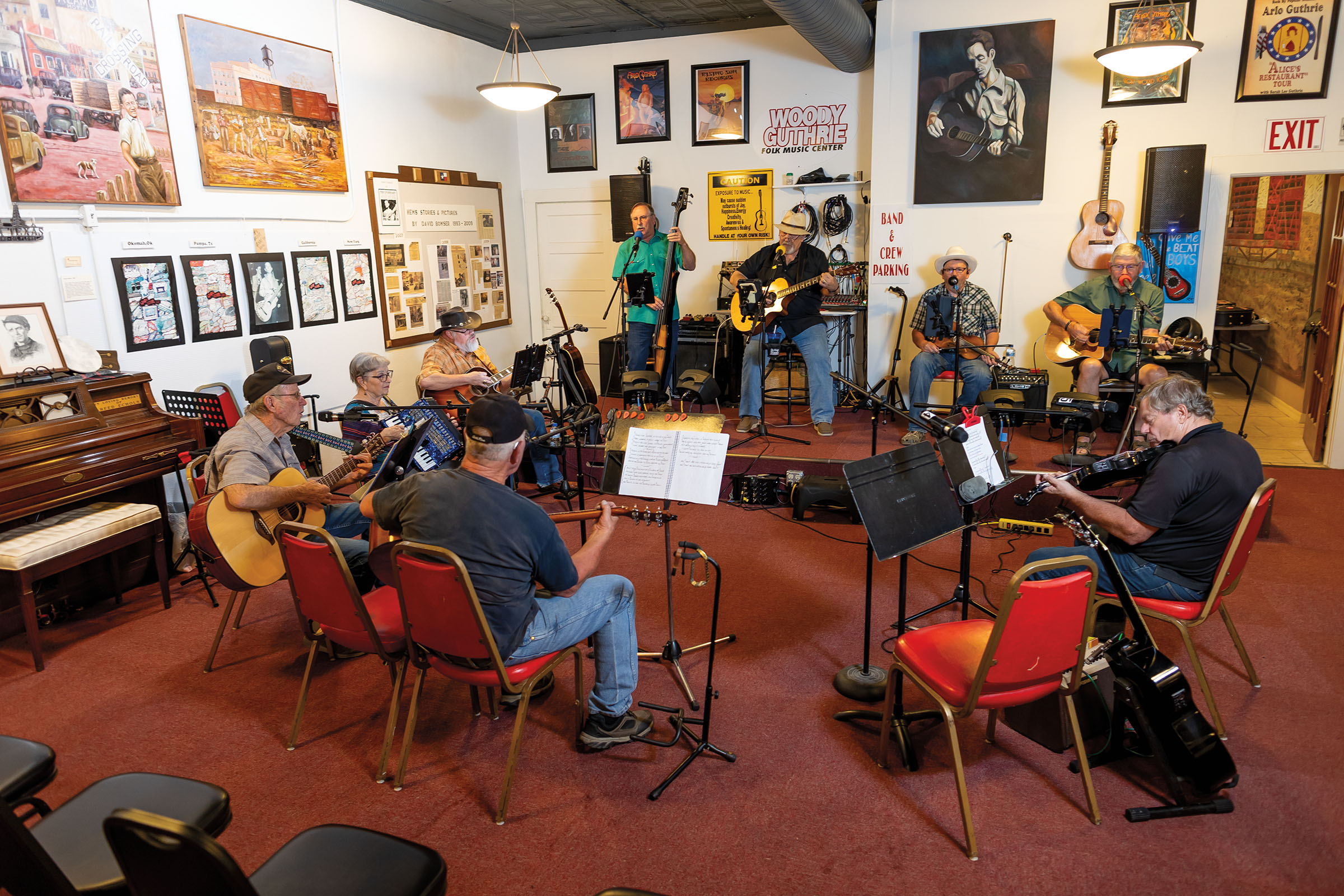 Bray turned 100 in June and was not up for an interview, but Sinks credits her with educating Pampa on the life of the folk hero. Bray opened the Woody Guthrie Folk Music Center in 2003 with a benefit concert by fellow protest singer Pete Seeger to help fund the restoration. The privately funded center is in the former Harris Drug Store, where Guthrie worked part time as a soda jerk for a couple of years. "The only Woody Guthrie artifact we have is the building," Sinks tells visitors, who come from as far away as Japan and France. The centerpiece is the Pampa section of a touring exhibit on loan from the singer's daughter Nora Guthrie. Photos, letters, lyrics, and paintings tell what Klein calls the "sad and triumphant and utterly unique" story of the musical genius who died in 1967 of Huntington's disease.
Guthrie arrived in Pampa a somewhat lost 17-year-old, summoned by his father to help him run a "cot house" for roughnecks and working girls on Cuyler Street. He left as a 25-year-old with a sense of purpose.
The town gave as much to Guthrie as he gave back, for it was there that the Pampa High dropout educated himself at the public library, checking out as many as 12 books at a time. The Prophet by Kahlil Gibran was especially revelatory because it mirrored Guthrie's philosophical outlook and conveyed the sentiment that every living thing has value. Guthrie studied psychology, religion, art, literature, philosophy—anything he could get his hands on from the library.
He sucked up knowledge, then found a creative exhale in music. He claimed a guitar that had been abandoned in the storage room of Harris Drug and got his father's brother Jeff Guthrie, a deputy sheriff who was one of the best fiddlers in Gray County, to teach him a few chords.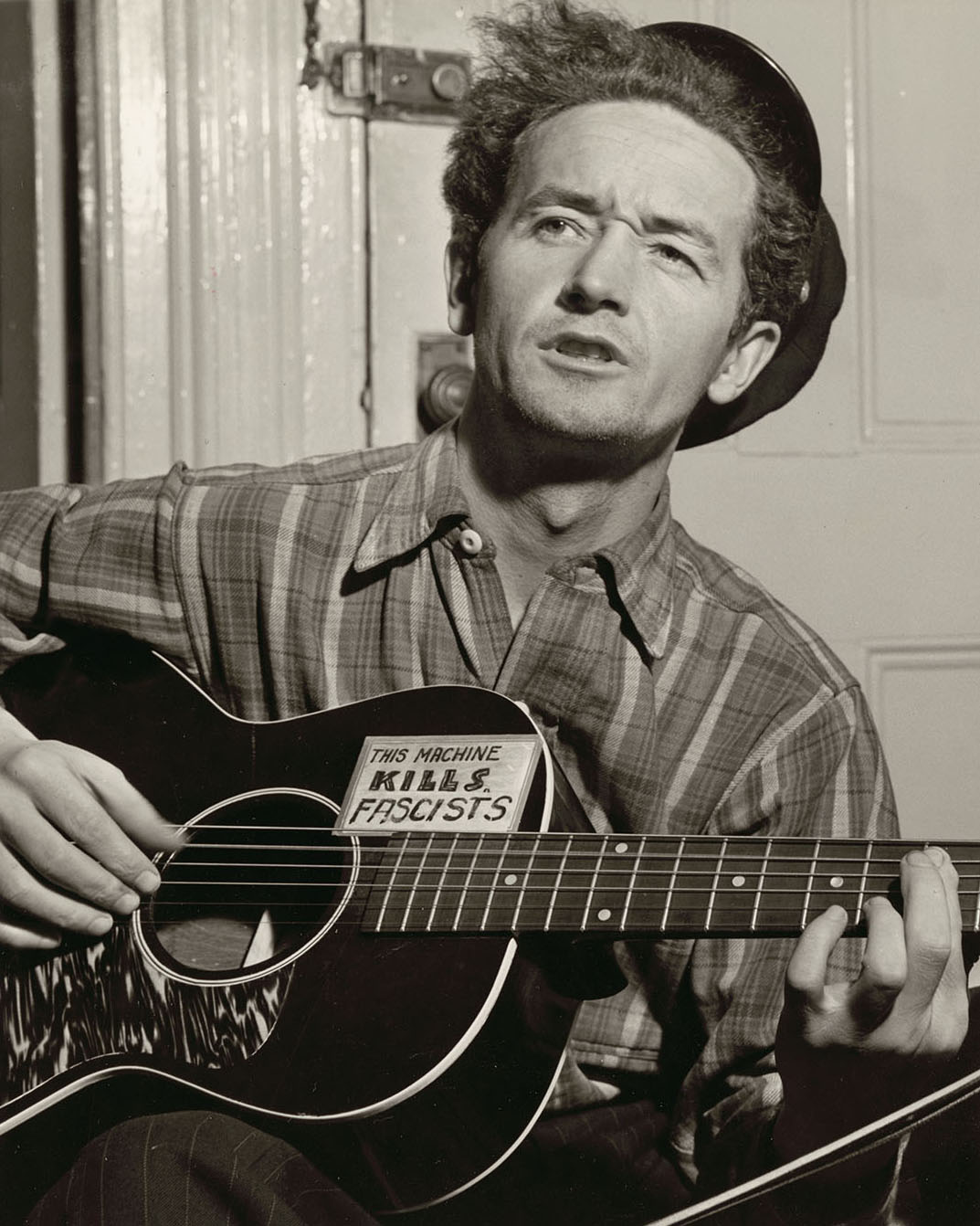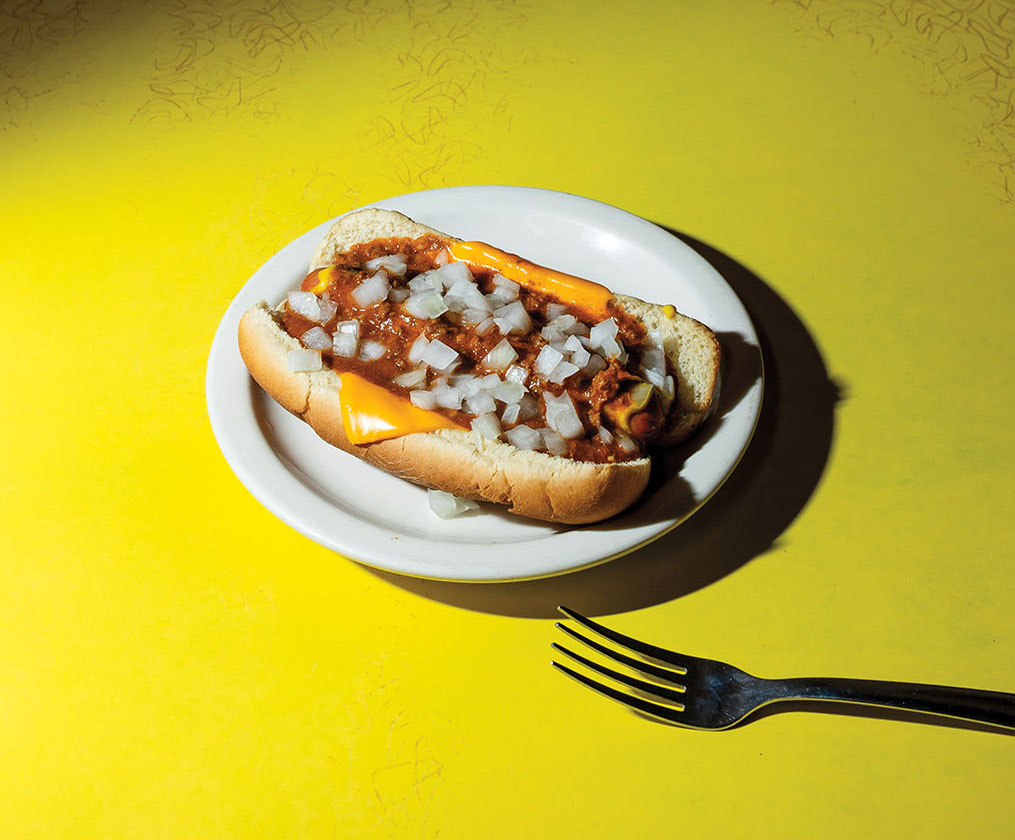 Woody, You Dog
Most of Woody Guthrie's Pampa is long gone. But you can still get a chili dog ($1.75) at the Coney Island Cafe. Opened in 1933 by Greek immigrant Bill Coronis, this throwback diner features counter service at a yellow Formica countertop with red swivel stools. It was Guthrie's favorite place to eat in Pampa, and the tube steak affinity he developed there followed him in 1943 to Brooklyn, where no trip to the beach at Coney Island was complete without a hot dog at Nathan's Famous.
114 W. Foster Ave., Pampa.
806-669-9137
An artist since boyhood, Guthrie painted signs in Pampa for extra money and saw a possible career as a visual artist until he and Uncle Jeff started performing at country dances. They'd play old folk songs, updated with lyrics Guthrie usually made up on the spot, to great response. Guthrie then formed the Corn Cob Trio with his best friend, Matt Jennings, whose sister Mary married Guthrie in 1935.
"A painting, you buy it once and it bothers you for 40 years," Guthrie wrote in his offbeat autobiography, Bound for Glory. "But with a song, you sing it out, and it soaks in people's ears, and they all jump up and down and sing it with you. … You can tell tales of all kinds to put your ideas across to the other fellow."
Guthrie found inspiration on the Texas Plains, "right in the dead center of the dust bowl," he wrote, with the oil boom over and farming destroyed by drought. "I seen there was plenty to make up songs about."
Guthrie's first great composition, "So Long, It's Been Good to Know You," was written during the mass exodus to California after the windblown topsoil from as far away as the Dakotas turned the Panhandle sky dark with dust on April 14, 1935. He'd join the migration west for a better life two years later, looking back at Pampa in the bright sunlight. "I felt like I was leaving one of the prettiest and ugliest spots I'd ever seen," he wrote. Guthrie's 1940 debut LP, Dust Bowl Ballads, spearheaded a folk revival.
In addition to the facade of the old Harris Drug, another good photo op for Woodyphiles in Pampa is the replica of the old Guthrie shack, located at the corner of Craven and Russell streets, near where he lived with Mary and the kids. When the shanty was once used as a concession stand for a music festival, it was named Alice's Restaurant after Guthrie's son Arlo Guthrie's epic song, and the sign was left intact. The structure is also recognizable by a banner that says, "Woody Guthrie Bound for Glory."
The spirit of Guthrie's "music is communication" mantra can be found every Friday night at the Folk Music Center, when musicians of varying ages and skills get together to sing and play. On a visit in May, the ages ranged from 18-year-old Arieon Keller to 86-year-old Betty Crawford, who played a rollicking "Beer Barrel Polka" on her accordion.
The angelic voice of Keller, who'd recently received a music scholarship to the University of North Texas, is the antithesis of Guthrie's scruffy style, but she'd been singing his songs since first grade. "If you live in Pampa," she says, "you know about Woody Guthrie."
From the November 2023 issue