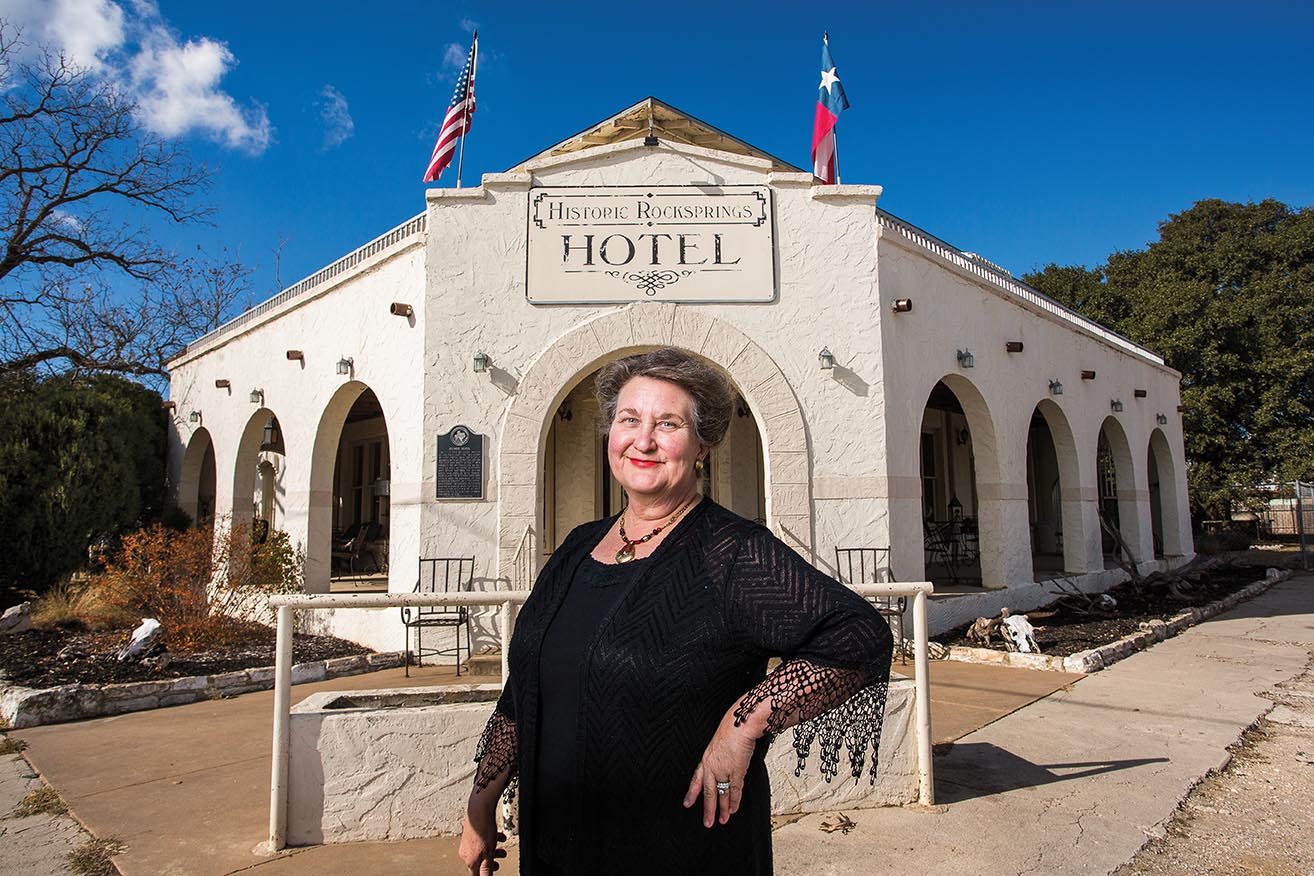 Perched on top of the Edwards Plateau, Rocksprings dates to the 1880s, when natural springs lured ranchers to the area. As the town grew, so did the prevalence of sheep and angora goats, which are suited to the region's semi-dry climate. In the 20th century, Rocksprings became known for producing wool and mohair, fibers valued for their quality and durability. The sheep and goat industry has declined from its peak in the mid-1960s, but Rocksprings remains a popular destination for tourists visiting the Devil's Sinkhole cavern; hunters of deer, quail, and turkey; and bikers and cyclists riding the Three Sisters Loop. The winding route along state highways 335, 336, and 337 offers canyon vistas and fields of wildflowers in the spring. Many visitors stay at the 105-year-old Historic Rocksprings Hotel, co-owned by Debra Wolcott. Wolcott and her husband, Craig, bought property outside of town in 2004 and made a permanent move from Houston in 2009 when they acquired the hotel. Wolcott also owns the Texas Miniature Museum, across the street from the hotel, where she displays her vast dollhouse collection.
Top of the World
"I had heard people refer to Rocksprings as 'on top of the world,' and I thought, 'Well, isn't that pretentious.' But the phrase came from an article written in the 1920s [referring to the town's 2,400-foot elevation]. It was in Grinstead's Graphic [a Kerrville monthly magazine from 1921-1925]. Then they used to have a festival here, and they called it Top o' the World."
The Courthouse Square
"I remember my first visual of seeing this town, and what really stood out to me was the courthouse square. I thought, 'This is the perfect town square.' You have the old court-house, the old jail, the city hall, the old hotel across from the courthouse."
Angora Goats
"At one time there were more angora goats in this region than anywhere else in the world. There's a goat sculpture on the courthouse lawn, and an angora goat is the mascot of the high school football team. It's all honoring what used to be a huge industry based on the fiber the goats would produce, known as mohair. It was used to make soldiers' uniforms. A lot of these ranches counted on the mohair production. If you are interested in having a registered angora goat, you're going to be calling the American Angora Goat Breeders Association here in Rocksprings."
Hotel Hauntings
"In the first couple of months we owned the hotel, I went upstairs and was outside room 221. I felt all this cold air coming around the door. I opened the door, and it was just as warm in there as it could be. Then I looked over my shoulder, and I see this white foggy cloud thing. I looked back and it was gone. People have had experiences and told me about them. I'm not scared. I hear things, but they're not dark at all."
Local Eats
"There were no restaurants except King Burger when I first started coming here in 2004, but now we have the Jail House Bar and Grill. They serve steaks and hamburgers. Up on the highway you have Vaquero, which is a Mexican food restaurant, and King Burger. Then we have Lotus Thai Café. The owner, Aisika Davidson—people call her 'A'—is from Thailand. She used to work as a sous chef in Vegas, but her dream was to own a Thai restaurant."
Natural Attractions
"We have two state natural areas here: the Devil's Sinkhole and Kickapoo Cavern, which is off the road to Brackettville. Both of these parks have Mexican free-tailed bats. Birding is also popular, and I've had groups of ornithologists stay at the hotel. Also, one year I had a group of spelunkers. They said that some of the best caves in the world are here in Edwards County."
In Miniature
"In the '90s, I picked up an old produce crate that had been made into a doll-house. I decorated it, just as a whim. It was really fun, and I ended up seriously collecting. All the decades are represented in the museum, from 1900 to 2000. I stopped inventorying a couple years ago, and I had over 100 doll houses."
Town Trivia:
Population:
1,135
Number of Stoplights:
0
Year founded:
1891
Nearest City:
Kerrville, 77 miles east
Marquee Event:
Slick Rock Challenge Professional Bull Riding, June 25-26
Map it:

Historic Rocksprings Hotel, 200 W. Austin St.
From the March 2021 issue