A motorcycle sits atop Papa Joe's Texas Saloon, one of the last holdouts of old-school outlaw bars in Texas. Located off Interstate 35 in Lorena, Papa Joe's is infamous for a real-deal cowboy shootout in 2007, when outlaw country singer Billy Joe Shaver shot Billy Bryant Coker in the face with his .22. (He survived and Shaver was acquitted of charges of aggravated assault.) The moment is immortalized by Shaver's song "Wacko from Waco."
But don't let that event define this local institution. The regulars are a mix of farmers, country folks, bikers, and truckers. And they embody the community-serving role Papa Joe's and similar establishments across the state play for their regulars.
"Talk about family atmosphere. We have such an extended family: birthday parties, baby showers, weddings," says Rita Wilson, a longtime patron of Papa Joe's. "After funerals, we're going to come up here and have a meal." Despite their aesthetics and legendary if not unsavory reputations, these establishments function primarily as wholesome social hubs. "Oh, I can't even say how many benefits we've had," owner Lisa Tambling says.
Papa Joe's has pool tables, cold beer in koozies, an assortment of neon lights, and various items of cowboy idolatry. Several paintings of the Coors cowboy, wrapped in plastic to prevent damage from cigarette smoke, hang on one wall. Décor depicting the facade of a Wild West brothel—with silhouettes of busty women in the window—occupies another wall. The music shuffles between real country and classic rock, with the occasional nostalgic pop hit thrown in to encourage singalongs.
"One of the appeals for the new people who come in is that it always reminds them of their grandpa's place," Tambling says. Wilson's mother, Pat Mace, is a longtime patron of Papa Joe's and was present for the Shaver shooting—she even testified in the trial. "I'm probably the oldest person who comes in this bar right now," Mace says. She saw the business change hands from her late friend Gloria Tambling to Gloria's daughter Lisa. She's known the place through the eras. "Back in the '90s, when Gloria first opened this bar, it was a pretty hot place to be," Mace says.
Outlaw bars like Papa Joe's aren't your typical nightclub. "This is what I call a beer joint, a honky-tonk," Wilson says. "These kinds of places are fading away." The "outlaw" distinction relies on an embrace of biker and cowboy sensibilities. Wilson's attribution of "beer joint" and "honky-tonk" distinguish old-school establishments like Papa Joe's from modern bars and align their histories, clientele, and business practices with a Texan ethos of raising hell. Wild West saloons, honky-tonks, and country bars with an outlaw aesthetic date to the early 1900s. Today's patrons say the golden era for these bars was in the 1980s and '90s. That's when people would drive down county roads to drink a beer for a buck, play darts, and support their friends in local country bands. (Tambling still plays drums on occasion.)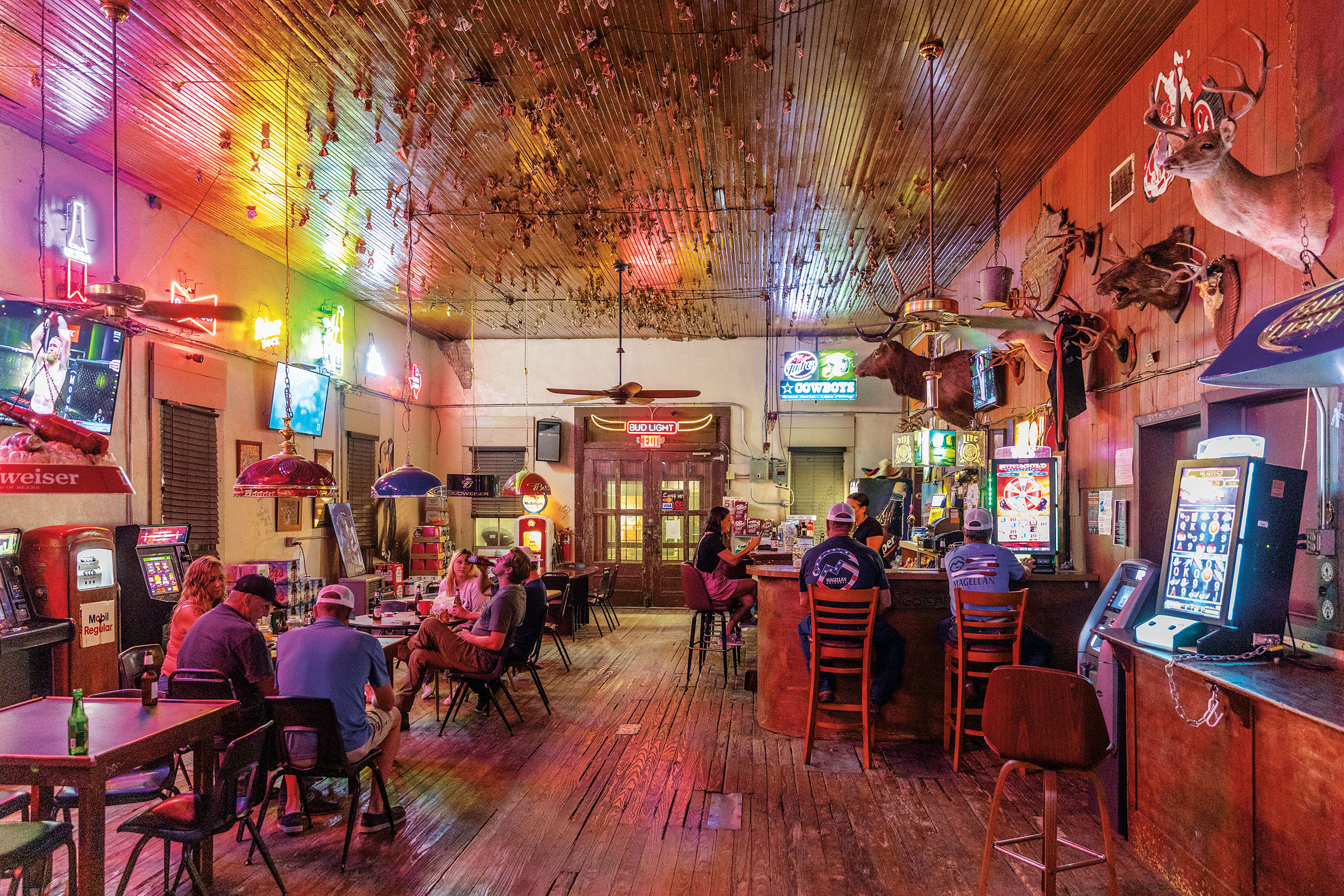 North on I-35, a thoroughfare where bikers build up a thirst, is the town of West. Wolf's Sports Bar and Mynar's Bar sit on opposite sides of the street in the small Czech village's historic downtown. Papa Joe's, Wolf's, and Mynar's have survived the golden era—outlasting dozens of bygone local beer joints whose doors have closed. They remain in regular rotation for many Central Texas denizens and their children. The same paths are retraveled through each successive generation, sons and daughters drinking in the very seats their grandparents did and still do.
The Mynar family opened their bar in 1923. Owner Rick Mynar runs his joint in the spirit of his late father, Felix, but with some deviations. Rick's dad was religious and only opened the bar six days a week. Rick asked him, "How come you ain't open on Sundays?" His dad replied, "If you can't make it in six, why try seven?"
The edge of the bar nearest the bartender has had its neutral-colored linoleum worn into a single brown streak due to Felix's habit of passing a mug between his hands while walking and talking across the bar. The brown scar now etches his memory. Rick hung his cousin Joe Mynar's elk head trophy above the bar, with one antler eternally dangling Felix's Stetson hat. "There's a lot of history here," Rick says. "A lot of memories, you know, a lot of good times."
Mynar's and Wolf's don't have a history of shooting violence like Papa Joe's, thankfully, but most of the other quintessential outlaw components are there. They do not sell liquor, only beer and wine; bikers share the bar with cowboys.
Other classic qualities include regular crews of older gentlemen who give their bar-based clubs a name—for instance, the "Table of Knowledge" at Wolf's. James Miller, who has been a patron of Wolf's since 1986, says, "You know everybody. It's like Cheers. You get cussed when you come in, or you might not get cussed. Usually, I get cussed."
Wolf's is more sports bar than honky-tonk and has its walls painted with various Texas teams' logos. Considering this is deep in the heart of the state, it's surprising to see a big red University of Oklahoma logo on one wall, even if it's in memory of a past patron. The televisions in the bar—and the one above the urinal in the bathroom—play whatever sport is on, from football, basketball, and baseball, to golf and rodeo. The regulars show their allegiance to either Mynar's or Wolf's in a friendly rivalry, though patrons commingle on occasions such as during live music performances.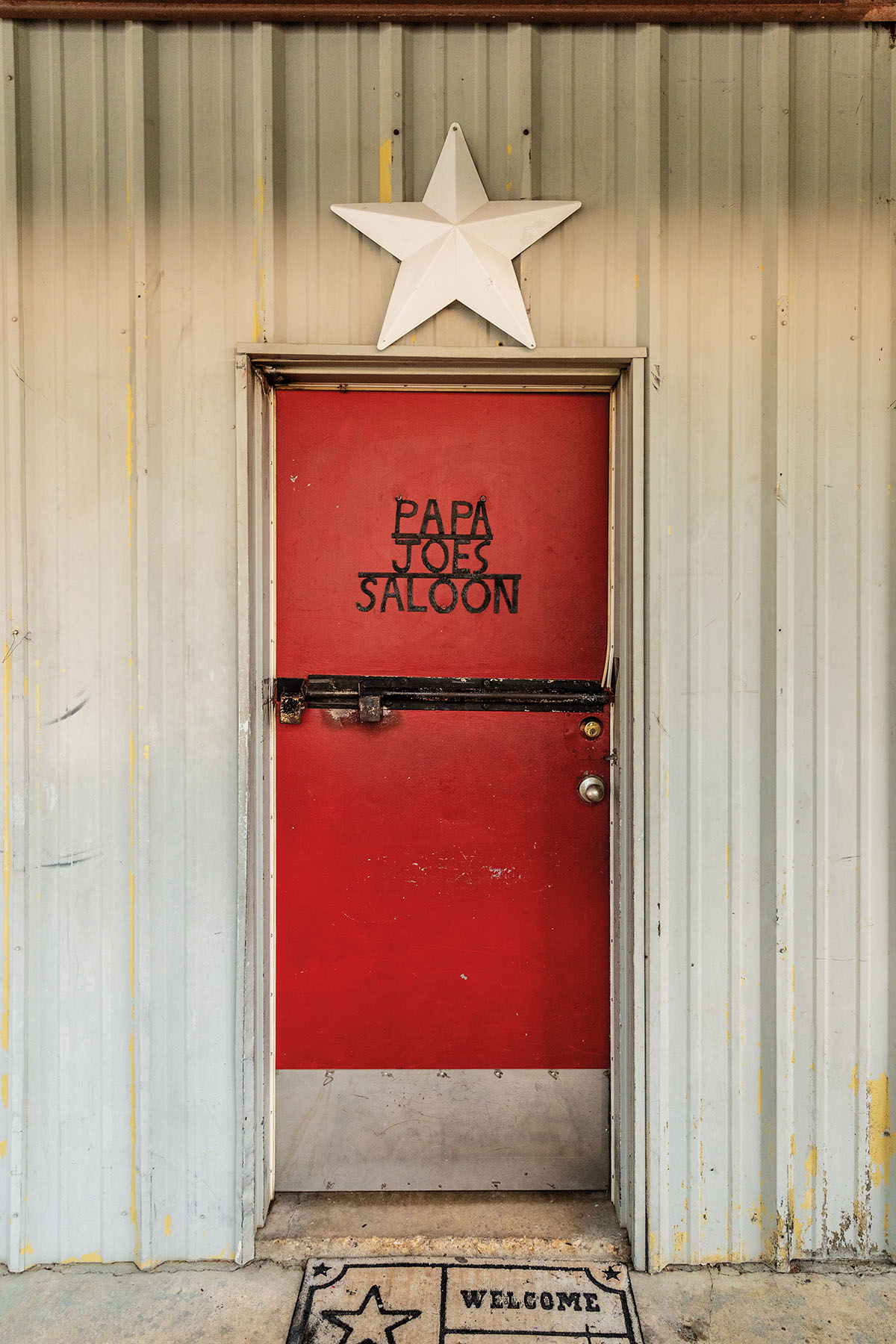 Outlaw-Abiding
Toss back a cold one at these other fine establishments
Western Place Bar
A faded billboard with a smiley face sporting a cowboy hat welcomes highway wanderers into the honky-tonk beneath it.
837 N. Burleson Blvd., Burleson.
817-295-9787;
facebook.com/western.p.bar
One Eyed Jack Saloon
Bikers and locals enjoy cheap beer inside this joint with a facade of a cowboy boot on a Southwestern background.
501 US 69, Whitewright.
903-364-2200
Horny Toad Bar and Grill
Though this spot sits on an empty road, the interior is filled with mounted moose, cow skulls, and cowboy hats.
319 3rd St., Cranfills Gap.
254-597-1100;
hornytoadbar.com
Like Papa Joe's, Wolf's prioritizes fraternity. "We cook usually on Easter Sunday for people who don't have anywhere to go," owner Stephanie Gray says. "Same for Thanksgiving. We always try to have food because there are a lot of older men who are widowed."
Community defines these joints, empowering them against the rapid changes sweeping rural Texas. Locals maintain strong connections to their beloved watering holes. "It's in my blood, man," Mynar says. Papa Joe's, Mynar's, and Wolf's are united not merely in their appreciation of the outlaw vibe, but in the love the owners pour into their bars. Tambling points to the stained glass window that reads "Papa Joe's" above an outline of Texas. "I made that for Mom after my brother died," she says. After her mom's passing, in a continued act of love, she keeps the bars' doors open to the usual suspects and wanderers alike.
From the September 2023 issue