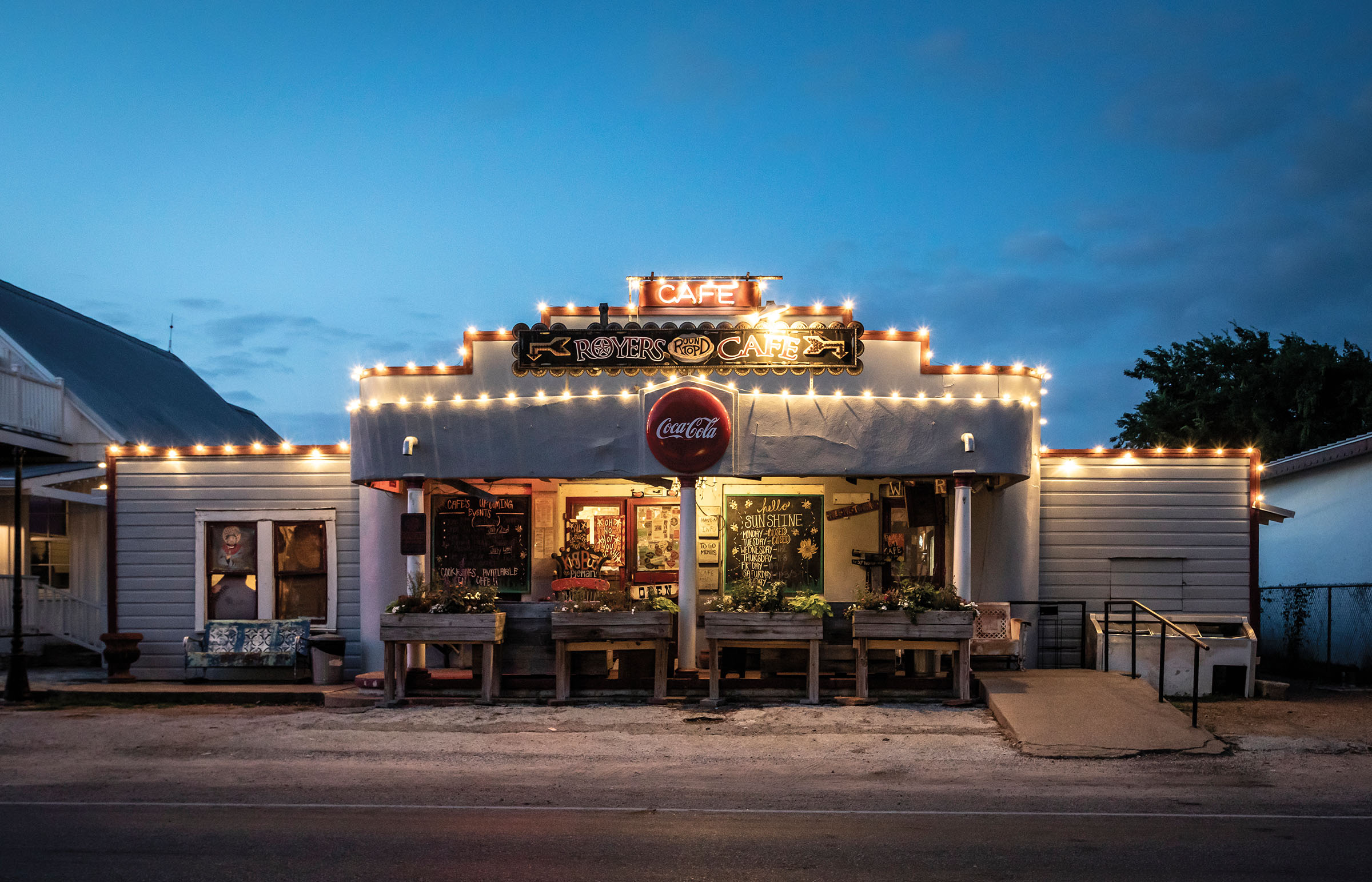 Despite Round Top's tiny population of 93 residents, it's become an oasis for antique lovers across the country. Located about 80 miles outside of Austin, the quaint town is home to the renowned Round Top Antiques Fair, which caters to those looking to treasure hunt for rare relics and fanciful finds.
Twice a year for a week in the spring and fall, a swarm of shoppers descend upon Round Top needing dining options to keep them fueled for the task at hand. Thankfully, visitors can experience some of the tastiest fare in the state at Royers Round Top Cafe on Main Street.
Royers Round Top Cafe
105 Main St., Round Top.
Open Wed-Sun, hours vary. 979-249-3611;
royerscafe.com
Helmed by married couple JB and Jamie Royer, the town's mainstay café offers a welcoming atmosphere that combines the familiar feel of a dive bar with the reliable fare of a local diner. Royers specializes in contemporary comfort food. The café's interior is full of retro signs and memorabilia with a dash of eclectic diner décor. Some of the eatery's most popular pies include the sweet and salty chocolate caramel pie and the lemon blueberry with granola topping.
The café, founded in 1987 by JB's parents, Bud and Dr. Karen Royer, originally served as a grocery store and restaurant called Birkelbach's from 1947 to 1981. Bud, Karen, and their four children moved to Round Top from Houston in 1987 and took over the 40-seat café. "When my dad started, he had a good palate. He was not a cook or chef at all. But, over the years, he knew what he liked," JB says.
Though Bud was self-taught, he had a vision of evolving Southern-style cuisine. "He reasoned that since the eatery was in 'the middle of nowhere,' they wanted to be known for something unique," JB says. Thus, gourmet comfort food became their staple.
Diners can kick off their meal with the shrimp BLT, followed by the cuts-like-butter steak fillet, and finish with the staple Texas Trash Pie—a blissful blend of caramel, chocolate chips, graham crackers, coconut, and pretzels.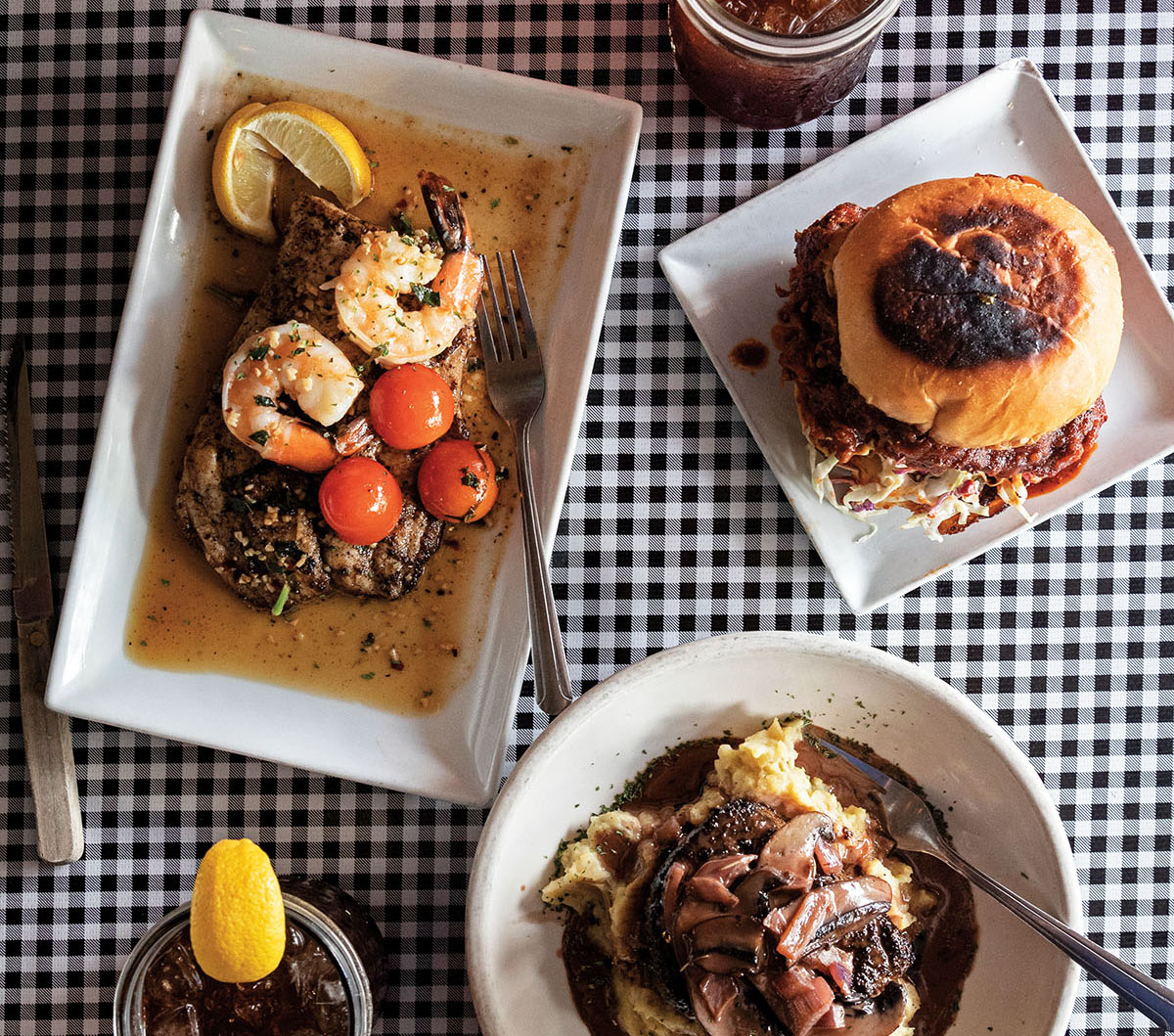 JB grew up working weekends at the eatery while attending the University of Texas and took over as owner nearly seven years ago. Though the café has garnered national attention and praise from the Today Show, CBS Sunday Morning, and Eater, the Royers' success hasn't come without challenges.
In 2020, the café had to amend operations and lost out on the big antique show crowd due to the pandemic. "Jamie had to pick me up off the ground outside crying because I didn't know how we would make it," JB says. "We bought the food and prepped, and it's canceled. I was like, 'How are we going to survive?'" Jamie adds, "It's a huge week for us. We buy and prep a lot of extra food."
Immediately, the café created casseroles for curbside purchase. Then, they donated 10% back to churches in Houston and Brenham to promote the café's new drive-thru initiative. The Royers also hosted virtual cooking classes where customers could buy a food kit in advance and attend "Cooking with JB and Jamie" online.
It was a stressful few years, so after the 2022 holiday season, they closed for a week to give everyone time to recuperate and relax with their families.
One unexpected benefit of the pandemic was the friendships forged between the staff and their customers. "Seventy-five percent of the people who walk through the door are repeat customers. We've found some of our best friends here who we knew but didn't really know until they came in," Jamie says. "Being a close, tightknit group here means everything."
This year, the Royers hope to take their cooking classes on the road. The couple has traveled to different culinary hot spots over the years, which inspired them to create versions of the foods they've tasted. These inventive dishes are in their cookbook, Cooking with JB & Jamie: Royers Round Top Cafe, released last spring. "We come back a lot of times from these places and choose one item that we ate while we were there," Jamie says. "So, we've got a handful of things on the menu and in the cookbook, like our Nashville hot chicken sandwich." The cookbook also contains signature Royers dishes and desserts including the popular lavender chicken salad and Not My Mom's apple pie.
Stay and Play in Round Top
The Frenchie Boutique Hotel
Each of the 14 rooms (starting at $250/night) at this revamped 1800s farmhouse has a distinct personality. Guests can access the pool atop a sprawling green landscape and book an in-room massage to unwind.
roundtoptxhotels.com
Blissful Folly Farm
Sip mead on an open-air patio at this hilly 30-acre organic farm. Home to honey-based boozy libations, the farm hosts live music and game and movie nights under a large pavilion. blissfulfollyfarm.com
Junk Gypsy
No Round Top excursion is complete without visiting Junk Gypsy. Whether you're searching for unique antiques, the perfect handcrafted necklace, one-of-a-kind clothing, or other unexpected finds, this boutique offers a variety of distinctive wares.
gypsyville.com
Texas Cotton Gin Museum
This museum and National Historic Landmark has three buildings: the Wehring Shoe Shop & Residence, built in 1916; the cotton warehouse; and the 1914 farmers cotton gin—the oldest operating cotton gin
in America.
texascottonginmuseum
.org
The Royers want to continue strengthening their focus on community. "We're centered on food and helping kids and families," JB says. "There are more than people just on the streets needing food. There are people living in houses who don't have food. So, we really want to get a foundation started."
Longtime Royers diner Stephen Puckett can attest to the warmth of the establishment and the family behind it. He has witnessed the Royers pray over a meal at the table or for a specific need of a family. "Their genuine concern for you and your family is something to behold," Puckett says.
The Round Top Antiques Fair is the largest of its kind in the country, stretching more than 11 miles on either side of State Highway 237. This year's Fall Show is Oct. 23-28. Tickets go on sale Aug. 1. General Admission is $10 while VIP is $25. One ticket is good for all six days.
From the August 2023 issue