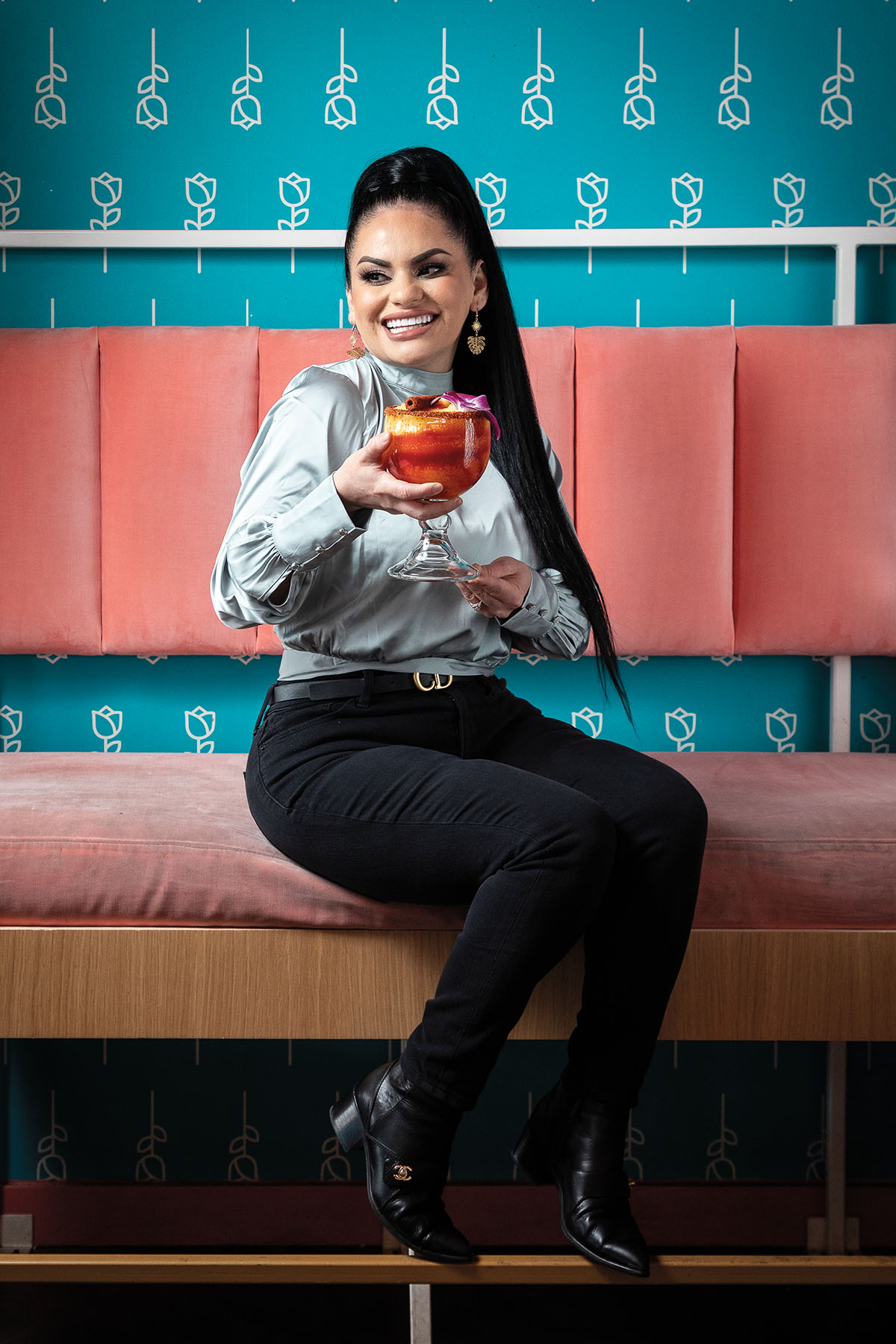 "Pink," everyone intoned. "Everything is pink." Pink drinks, pink napkins, even pink tortillas. Pink, pink, pink. But no one really captured the atmosphere and experience of going to a restaurant created by Gabriela Bucio, an Austin entrepreneur whose mini empire of local eateries has thrived during the pandemic. No one told me the pink wasn't obnoxious. No one told me to look out for the sly humor evident in neon signs proclaiming TACO DIRTY TO ME or DAME MÁS CAFEÍNA (a reference to the Daddy Yankee song "Gasolina"). No one told me I'd love the music so much I'd want to either dance or throw gritos.
Gabriela's Group
Austin establishments
include Gabriela's, Taquero Mucho, Seareinas,
Mala Vida, Mala Santa,
and Revival Coffee.
gabrielasgroup.com
"I describe it as 'Mexillennial,'" Bucio said of her décor's distinctive personality and vibrant aesthetic. "It's modern. It's what young Latinos are into."
My first experience with a Bucio restaurant was Gabriela's at Southpark Meadows in South Austin, which focuses on Michoacán-inspired dishes. Of course, there was the ubiquitous pink, but it was balanced with a soft turquoise and the palms, ivies, monstera plants, and fiddle-leaf figs I'd come to see at Bucio's other places. White and purple Christmas lights twinkled in century-old oak trees, brightening the generous outdoor seating area. Flat-screens displaying sports vied with speakers playing a blend of new and old conjunto and banda music. On the drink menu: Bad Bunny kiwi margaritas, peach Moscow mules, and piña loca Jarritos with Alto tequila, lime, pineapple, and agave. On the food menu: fish ceviche, shrimp quesadillas, and huaraches—blue corn masa cups filled with steak, queso asado, and pico de gallo.
Groups of diners, mostly in their 20s and 30s, were taking selfies in the highly Instagram-able space featuring novelty wallpaper and stacks of play money. I'd see this again at other locations—Bucio's Taquero Mucho, a hip taquería downtown that boasts a flower-festooned telephone booth in the back patio, where I witnessed four young friends cramming themselves in for a quick photo. Bucio's favorite color is everywhere.
"I was drawn first to the pink," said Vanessa Salinas, who attended the soft opening of a second Taquero Mucho location, across from The Domain in North Austin, in February. "Yes, it's feminine, but it's also fierce, and I love it."
We're used to seeing Mexican restaurants with atmospheres that are Cinco de Mayo festive, family friendly, bare bones, or upscale. We're used to an ambiance that's neutral in color, all off-whites, beiges, browns, or grays. So, it's a pleasant shock to see someone confidently offering their own distinctive take—and it's resonating with the Latinx crowd.
"I've always said I am my followers," Bucio said. "I don't want to have to go to the outskirts of Austin. I want to Uber downtown. And I want to bar hop and go to other clubs. That option didn't exist before. We wanted to bring banda [a genre of Mexican music featuring brass instruments], bring our culture, to the historic Sixth Street District."
Born in Michoacán, Mexico, Bucio moved with her family to McAllen when she was 5. She spent her childhood and teens alternating between McAllen and Austin before settling in the capital city. Employed as a family law paralegal, Bucio started bartending nights at an Austin Tex-Mex restaurant to make extra cash. It wasn't long before she and her brother Arturo Bucio, who was running kitchens at the time, quit their jobs to chase their dream. "We just thought we could be doing a lot better for ourselves," Bucio said. In February 2018, they scraped together every penny they had and poured it into their first restaurant, Gabriela's in downtown Austin, serving modern Mexican cuisine.
Their success has been a family affair. Gabriela and Arturo co-own Gabriela's Group; their brother, Salvador Bucio, is a regional manager; and their mother, Maria Elena Bucio, assists with development of new dishes and quality control. In less than four years, Gabriela's Group has opened five restaurants (two Gabriela's, two Taquero Muchos, and seafood and sushi spot Seareinas), as well as two live music venues (Mala Vida and Mala Santa) and Revival Coffee. All are in Austin, but there are plans for expansion into Houston this spring.
"Gabriela's unique story serves as an indicator of what the future looks like: diverse, female-led, exciting, impactful, but considerate of the backs upon which our paths to success have been established," said Brittney S. Rodriguez, Interim CEO & COO of the Greater Austin Hispanic Chamber of Commerce.
In 2020, Bucio reopened the old Revival Coffee on Seventh Street, where she used to stop most afternoons for a latte. At the new Revival, customers will find the soul-sustaining abuelita latte—Mexican hot chocolate with a shot of espresso—and a deep rose-pink concha that's unusually soft and dense with a topping that tastes like cinnamon-flavored gum. Bucio's love of pink is on full display at the café. It took me a minute to see the tongue-in-cheek message on a wide expanse of pink that read, "This wall intentionally left pink."
Bucio's feminine imagery is meticulously cultivated. She's especially proud of the logo for Seareinas. "When you think of a seafood restaurant," Bucio said, "the logo is always a captain or a sailor or a pirate. For us it's a mermaid. She's the queen of the sea, so it is very feminine. All my businesses are female friendly, so a lot of people want to come. Once the women make something cool, then everybody wants to be there."
I admitted to Bucio I love the wordplay in the names of her businesses. Change one vowel sound in the name of Taquero Mucho and you get te quiero mucho, or "I love you very much." At its most innocent, Mala Vida can be interpreted as a "life of drinking, dancing, and flirting." Mala Santa translates to "Bad Woman/Saintly Woman," and the venue's sign features devilish and angelic imagery. Seareinas is both a play on sirena, meaning mermaid, and a bilingual version of "queen of the sea."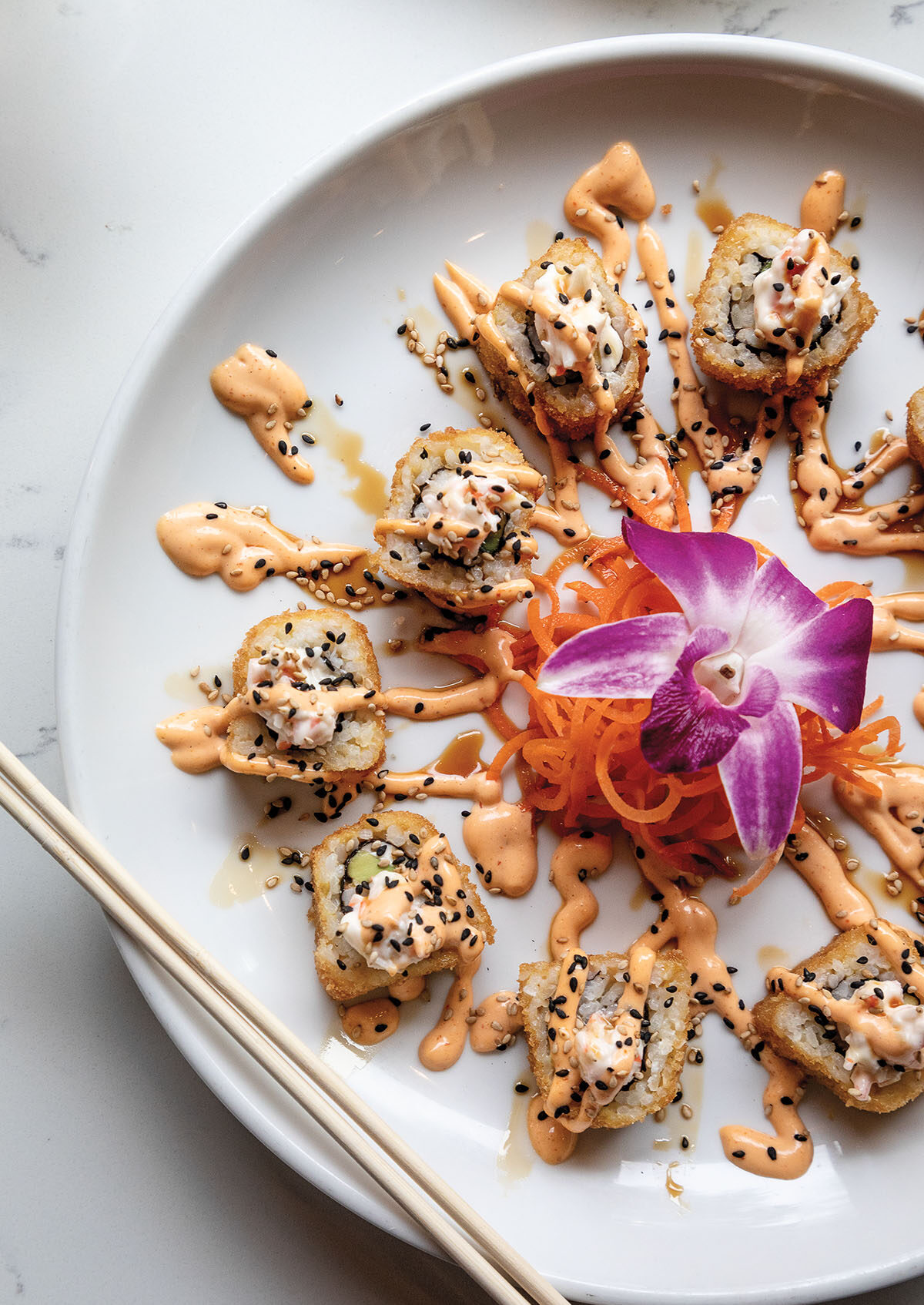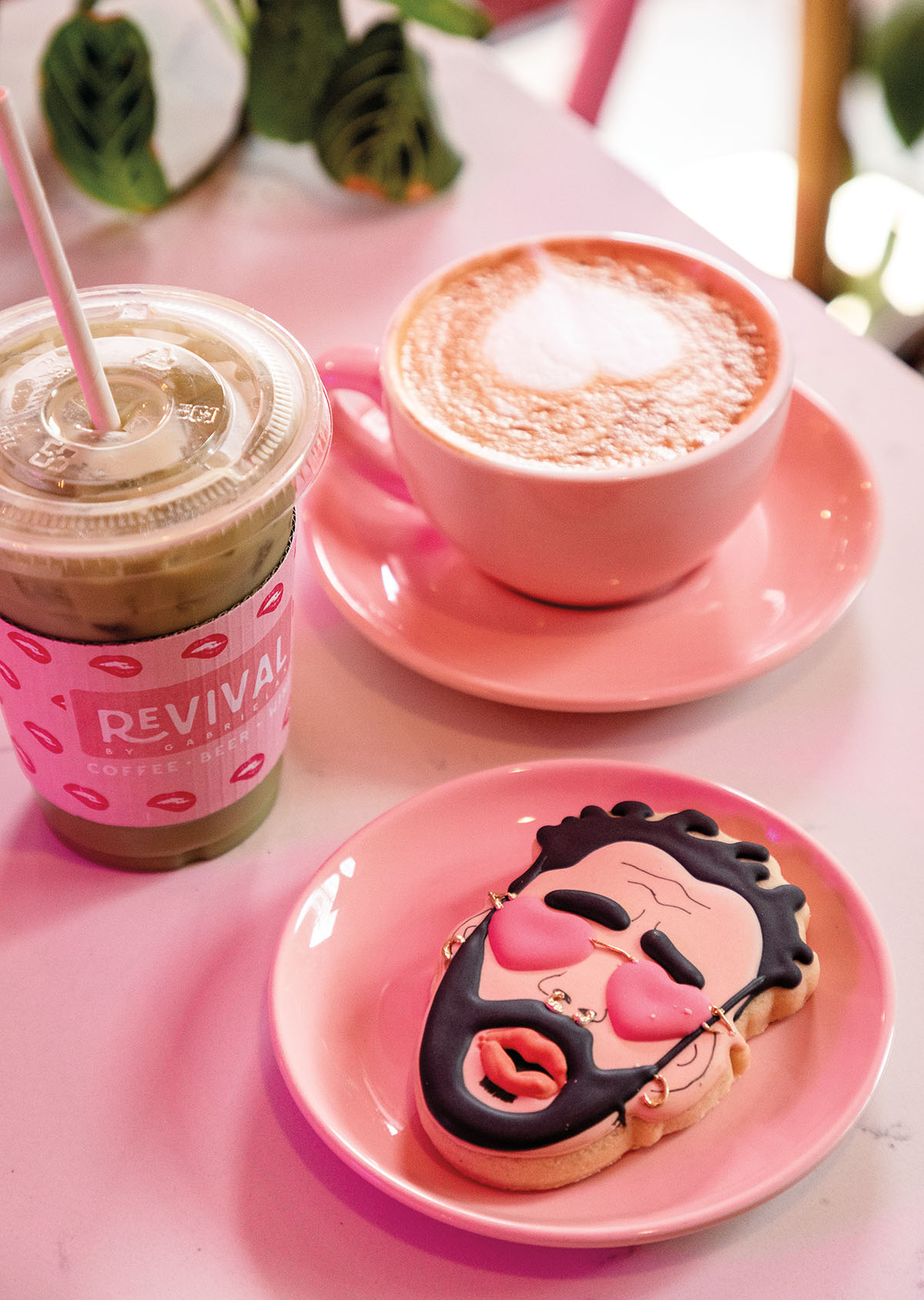 Later, on the back patio of Taquero Mucho downtown, amid papel picado (decorative cut paper), strings of lights, and big pink and silver ball-shaped ornaments, I enjoyed carnitas that nearly reduced me to tears. A simple-seeming plate of shredded pork, rice, charro beans, green salsa, and pico de gallo felt like a long-lost meal with the tastes of my mother's South Texas kitchen. I was surprised to find the freshly made corn tortillas were pink. I've had white corn tortillas, yellow corn tortillas, blue corn tortillas—I think I've even had green—but I've never seen corn tortillas come in such a deep rose pink. I wrapped my taquitos of carnitas tenderly and closed my eyes to make sure I didn't miss a single moment.
"Gabi and her family being Mexican—they want to give a little bit of their home to people who come in," said Abel Ibarra, a former manager at Taquero Mucho. Ibarra told me he loves the idea of Mexillennial. "Millennials are in tune with technology, but we're also into the next generation, Generation Z. People come here and connect to the food and connect to the music. It's very beautiful and empowering."
From the April 2022 issue