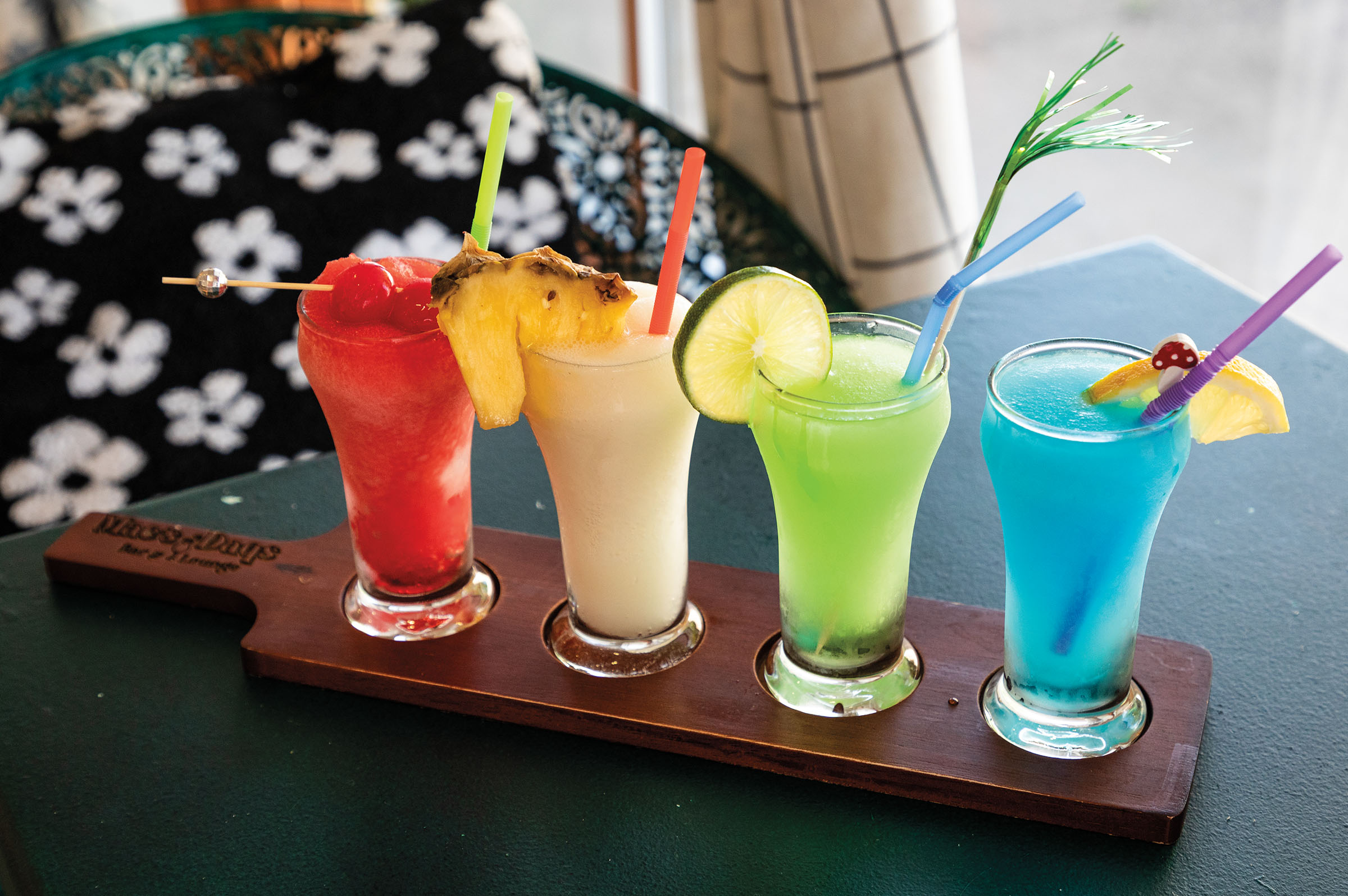 I'm sitting at a bar in La Grange with my dad, watching a band made up of guys I vaguely know from high school. They're playing a cover of "So Close" by the Eli Young Band on 9 p.m. on a Friday night in March. I've got a flight of frozen daiquiris in front of me: A "pina bahma" (piña colada), a strawberry, a peach Bellini, and my dad's favorite—a White Russian. I never imagined country music and tropical drinks could work so well together.
Mac's Daqs Bar & Lounge
Open Tue-Thu
3-10 p.m., Fri-Sat
3 p.m.-midnight
108 W. Colorado St., La Grange.
979-206-2089;
macsdaqs.com
Mac's Daqs Bar & Lounge feels like a fever dream. Opened last November, it's in a former Chevrolet dealership, with tall ceilings and gleaming white floors. Concert posters cover the walls, an overhead disco ball greets visitors, and vintage furniture brings a homey vibe to a space that would normally feel like, well, a car dealership. A back wall displays melty, woozy smiley faces painted by the owner's little brother and serve as a photo booth backdrop, where a ring light ensures Instagrammers look their best.
The brick-and-mortar location serves as a funky gathering space for La Grange residents young and old. Co-owner and town native Kelsey Parchman says she didn't want their business to be just another beer joint in town. "There are plenty of those around here," she says. "We wanted to bring something that's not here yet."
As the name implies, Mac's Daqs specializes in frozen daiquiris. The cocktail lounge is just one of many daiquiri bars across Texas that have popped up in recent years. The daiquiri, most traditionally made with rum, is thought to have been created in Cuba in the late 1800s by an American named Jennings Cox. The drink reached the U.S. in the early 1900s and quickly rose in popularity.
These days, daiquiris are sold in Texas through many methods. Brick-and-mortar bars like Mac's Daqs offer liquor- and wine-based versions of the cocktail. The latter are more commonly stocked in grocery stores and drive-thru daiquiri bars. In Brownsville, you'll find Chelas and Drinks to Go, a drive-thru that sells daiquiris drizzled with Tajín and chamoy. Dallas-Fort Worth is home to the Southern Classic Daiquiri Factory, a Cajun-inspired haunt that serves over 50 mixes with fun names like Cow Town and the French Quarter.
But there's nothing else like Mac's Daqs in La Grange. Opened last year by Parchman and her fiancé, Mac Brooks, it's the kind of place that makes you wonder, "Is my hometown cool now?"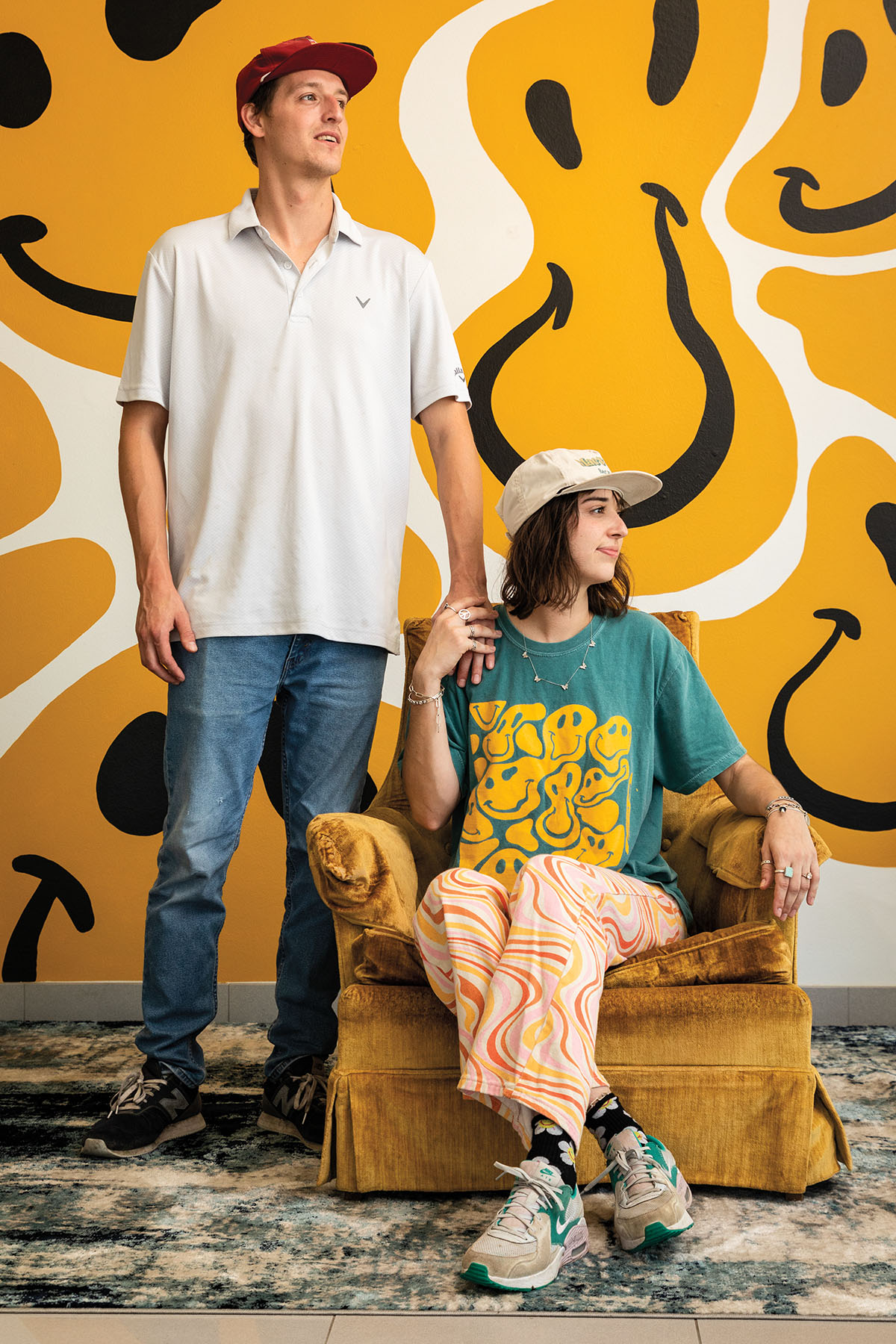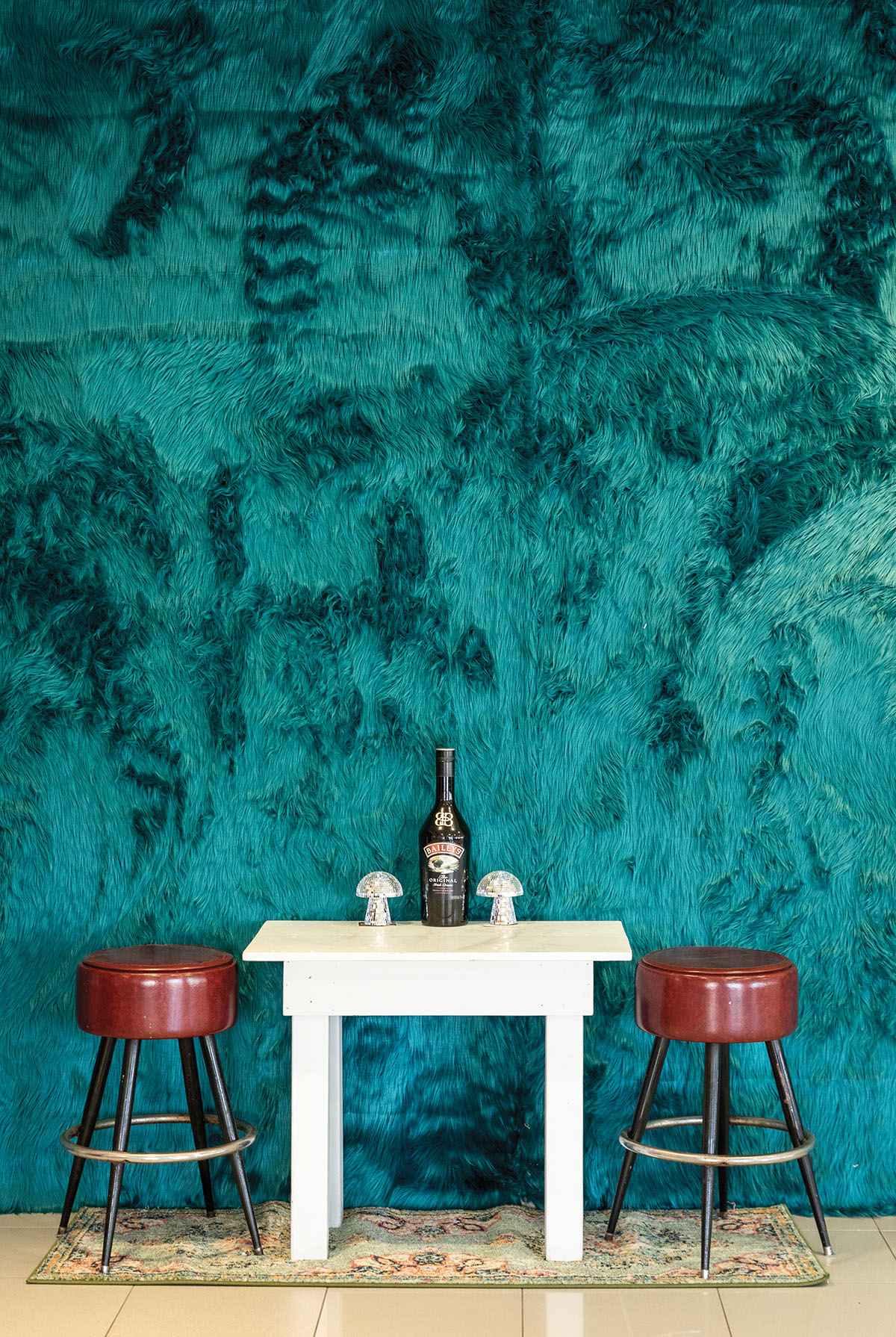 Aside from what's in my flight, the bar's popular flavors include blue Hawaiian, red raspberry, and the hurricane—Mac's Daqs' take on the iconic New Orleans drink. Parchman and Brooks got the idea to specialize in daiquiris after their time in Louisiana, where they met and attended college. Drive-thru daiquiri bars have been a staple in Texas' neighboring state since at least the 1980s. After Parchman graduated in 2019, the couple purchased a bus during the height of the COVID-19 pandemic, outfitting it with frozen drink machines and taking it to events.
"We set up at the [Warrenton] antique fair, I think three years ago, and it just kind of took off from there," Brooks says. "Everyone loved the daiquiris."
Though Mac's doesn't yet offer to-go drinks, plenty of daiquiri places do. It's one reason daiquiri bars are becoming so popular. In May 2021, Gov. Greg Abbott made to-go alcohol permanently legal in Texas. According to the Texas Alcoholic Beverage Commission, drinks just need to be sealed in a tamper-proof container. Meaning once a drink has been sealed, a law enforcement officer should clearly be able to tell if you've opened it.
On a recent drive to Elgin, I spotted three daiquiri joints within 20 minutes. I visited The Daiquiri Hut, housed at a gas station on US Highway 290. The drinks had names like Call Me, Maybe (a Big Red margarita) or Stop Moving to Texas! (a blue raspberry daiquiri) and came in Styrofoam to-go cups. I also stopped in to Third Coast Wings and Daiquiris, a low-key joint on the edge of a mostly residential neighborhood. Third Coast offers traditional Louisiana-style wine-based daiquiris. While there weren't any other patrons dining in, the bell above the door rang numerous times as folks walked in to pick up their to-go wings—and drinks.
As the business continues to grow, Mac's plans to start serving food and is considering joining the to-go trend, which seems here to stay.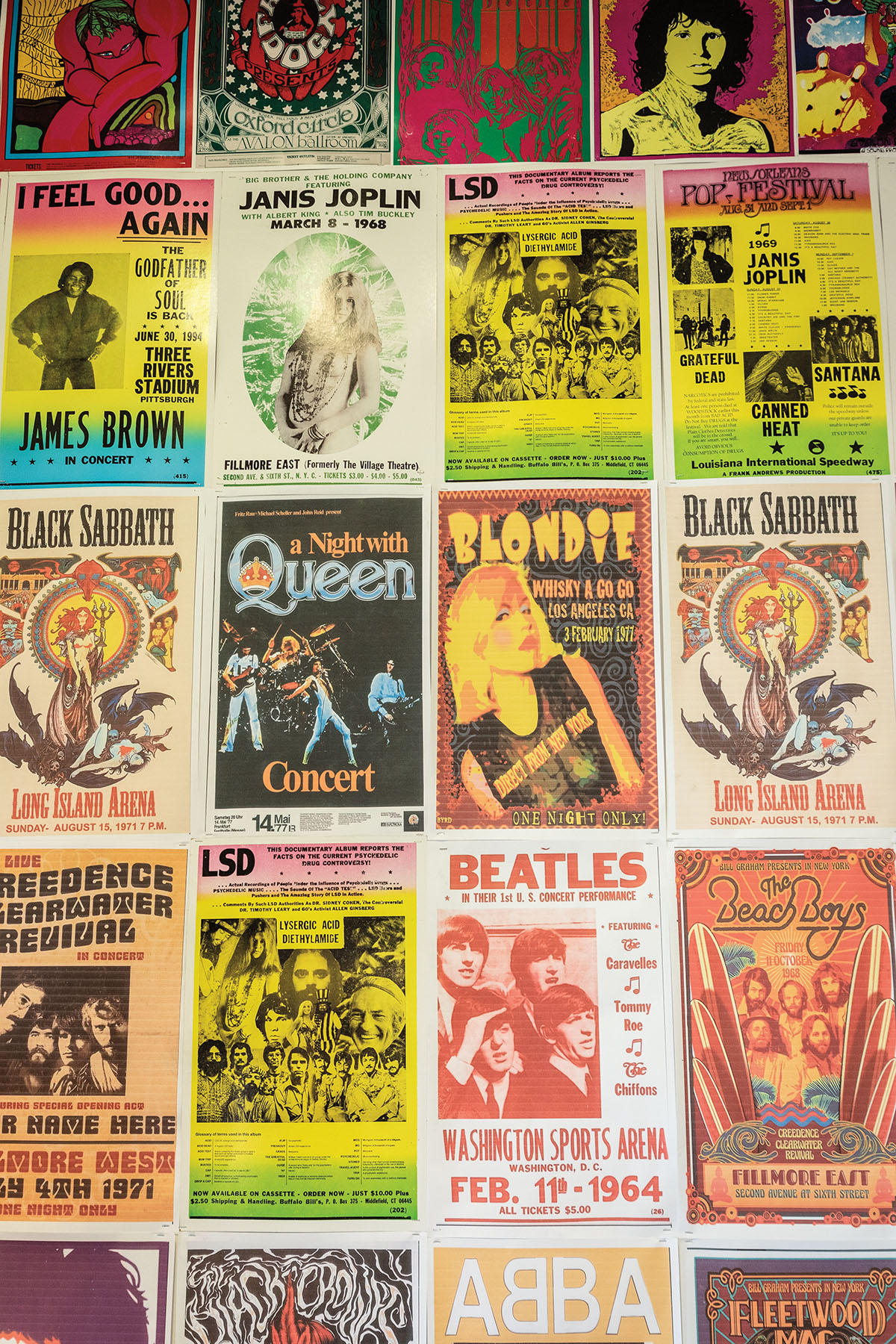 Another Round
Here's where to find daiquiris around the state
La Palma Azul, Edinburg
Bottled frozen cocktails made with chamoy and Tajín; raspas; micheladas; and more are sold at this
converted car wash.
lapalmaazul.shop
The Daiquiri Shoppe, Grand Prairie
This Dallas-Fort Worth
bar serves New Orleans-inspired daiquiris with
alcohol levels ranging from regular to strong.
thedaiquirishoppe.com
Chill Nac, Nacogdoches
Daiquiris, herbal iced teas, and coffee abound at this East Texas drive-thru.
facebook.com/chillnac
Iesha Griffin, the co-owner of Austin Daiquiri Factory, agrees. In January 2021, she opened the business inside the same building as Sam's BBQ, a historical Black-owned barbecue joint in East Austin. She says daiquiris are a part of Southern culture.
"I couldn't tell you exactly what makes them the bomb," Griffin says. "They pair well with seafood, and we tried to do a Texas spin on it with the barbecue. They just pair well with Southern food."
As I made my way home, I spotted a sign at an empty business along Ben White Boulevard. It read, "Daiquiris to-go coming soon."
From the July 2023 issue