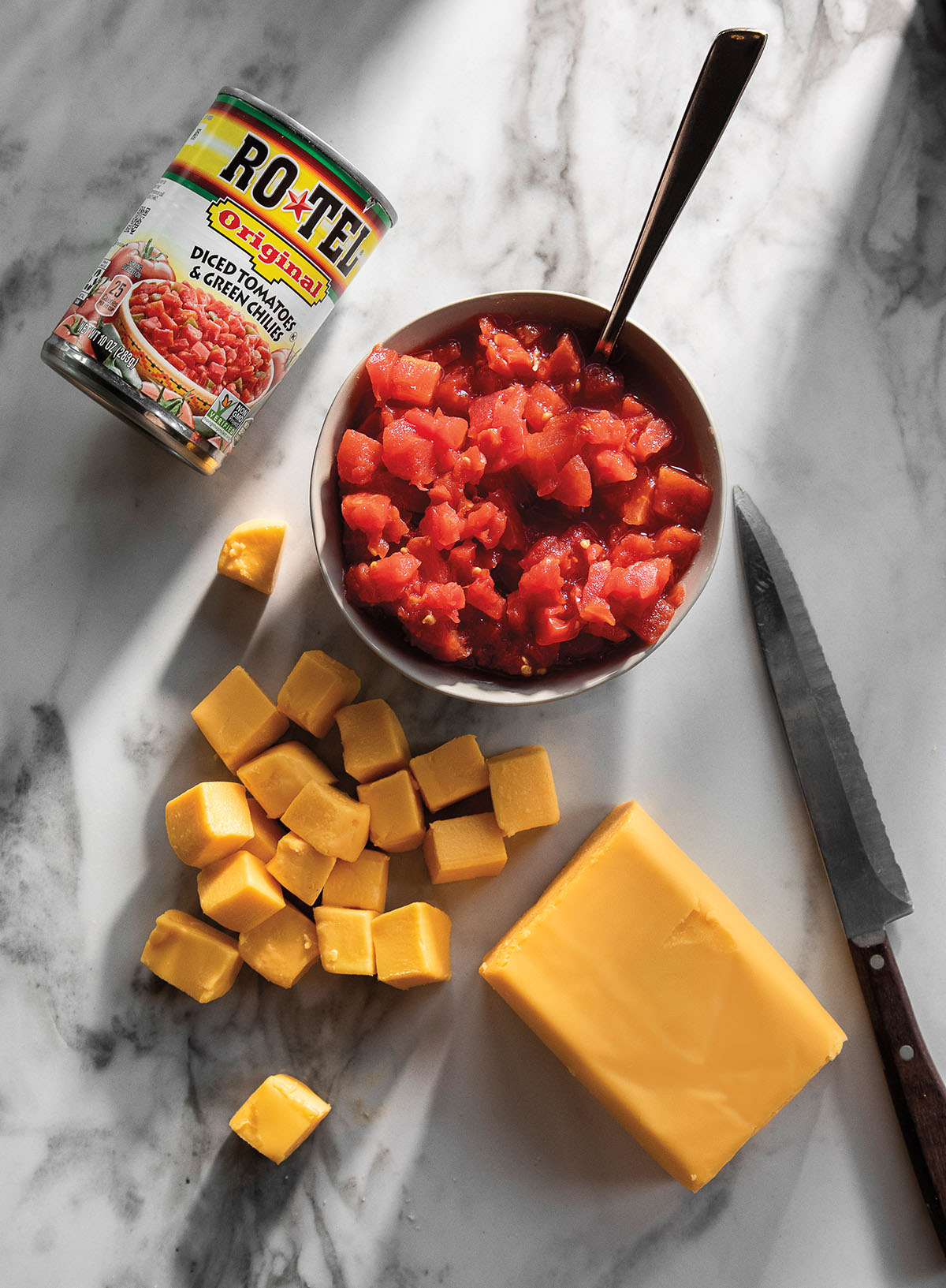 A small South Texas town of about 5,700 may seem an unlikely birthplace for a brand synonymous with Super Bowl parties and Southern casseroles.
But Elsa, about 25 miles north of the U.S.-Mexico border, is where Ro-Tel's popular canned tomatoes and peppers originated. Though production moved out of state in the late 1990s, the popular brand persists, producing tens of millions of cans each year. Ro-Tel (stylized as RO*TEL on the cans) was founded by Elsa's Carl Roettele in 1943. The vegetable canner-turned-entrepreneur combined locally grown tomatoes and green chiles and canned them for decades in two area factories—one in Elsa and the other in Donna. Roettele helped simplify the process of roasting, peeling, chopping, and cooking the vegetables for many home cooks who were making chili recipes and cheese-based concoctions that were popular throughout Texas midcentury.
The ties to the South Texas town were strong in those early days, says Jaime Gutierrez, a grant coordinator for the City of Elsa who has been researching Ro-Tel's local roots. "It was canned by the Elsa Canning Company, and for a long time they were one of the major employers here in Elsa," he says. "If you were downwind from it, you could smell the jalapeños cooking."
Though the Elsa area was settled by ranchers before the 1800s, the town itself was incorporated in 1930 when the population was only around 400. Named after Elsa George, the wife of a local landowner, the town was a railroad company city, laid out on the Texas and New Orleans Railroad in the late 1920s. "We grew the tomatoes and the onions here," Gutierrez says. "Everything that went into that sauce, we grew it here, and they used the railroad to transport it."
Ro-Tel began to reach larger Texas cities including San Antonio, Houston, and Dallas. But it exploded in popularity in 1963 when Lady Bird Johnson included it in her Pedernales Chili recipe published in The Washington Post.
"She talked about Ro-Tel being the secret ingredient in her recipe," says Dan Skinner, the brand communication manager and Ro-Tel historian at Conagra Brands, the company that has owned Ro-Tel since 2002. "By that time, it was being sold in border states like Arkansas and Oklahoma. That was its first national exposure, and then the brand really took off and grew from there."
Johnson's recipe called for chili meat, garlic, onion, chili powder, cumin, oregano, a dash of hot sauce, and, of course, canned tomatoes.
Elsa's canning factory was still in operation well into the 1990s, but ties to the Roettele family disappeared as Ro-Tel changed ownership over the years. Companies including International Home Foods and American Home Products owned Ro-Tel before Conagra bought it. Conagra is not in touch with descendants of Roettele, Skinner says.
Over the years, Conagra has added new varieties to the product line, including hot and mild. Today, the tomatoes and peppers in Ro-Tel are grown in states outside of Texas.
Still, Ro-Tel remains a staple in Texas households, where queso and salsa are mainstays of the state's Tex-Mex cuisine. The high-profile product is also used in recipes for mac and cheese, burgers, pasta dishes, and many slow-cooker meals. Searches for Ro-Tel recipes have had risen sharply in the last five years, coinciding with the popularity of the Instant Pot cooker and home cooking during the early days of the COVID-19 pandemic, Skinner says.
Ro-Tel-based queso recipes have a dedicated website at quesoforall.com. In 2013, and for a few years after, the brand debuted its "Quesobago" truck (think a blockier version of the Oscar Mayer Wienermobile) that traveled to states like Florida, Michigan, and Iowa. Though the Quesobago is not currently touring, the queso website still offers recipes and meal ideas.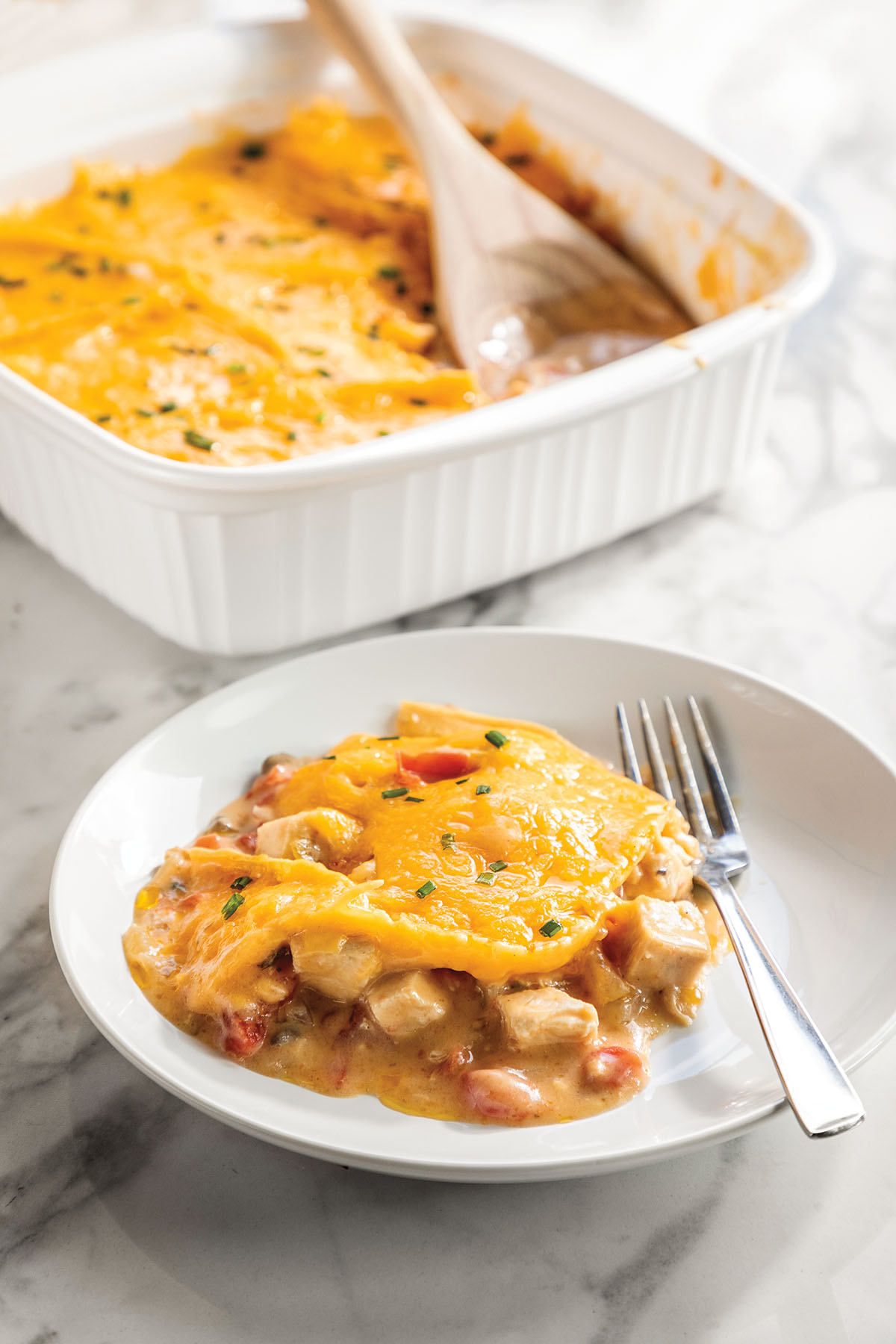 Get the recipe
Presidential Plate
After mentioning Ro-Tel in an interview, Lady Bird Johnson is credited with putting the canned tomato brand on the U.S. map in the early 1960s. The former first lady was known to use Ro-Tel in a few recipes, including her King Ranch Casserole. This simple dish, which serves six, comes from Johnson's recipe archives at the LBJ Library and Museum in Austin.
Meanwhile, Elsa officials are working on plans to honor the town's ties to Ro-Tel's origin story. As part of the redevelopment of an abandoned railroad site into a park, a small water tower will be painted to look like a can of Ro-Tel, Gutierrez says.
"Elsa was the birthplace of the Ro-Tel product," he says. "People should know about it."
From the February 2023 issue