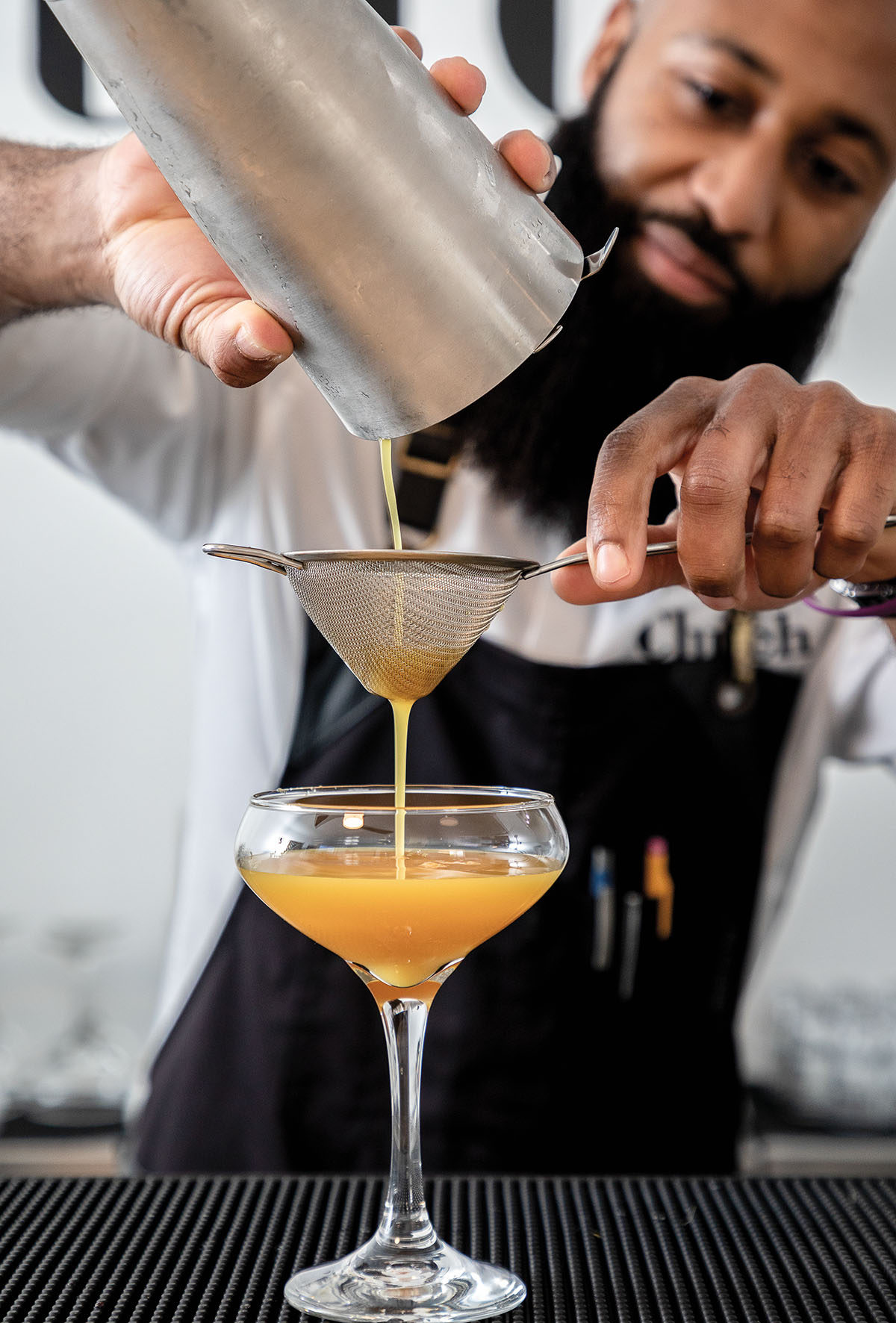 Nestled within Houston's Greater Heights neighborhood, a simple white building covered in bespoke murals houses Clutch Distilling. Opened in November 2020, the rum-centric business is Texas' first Black-owned distillery and tasting room.
Clutch is the brainchild of Eric Worrell, a luxury car parts manager and, now, distiller. Drawing on his Barbadian heritage—Barbados is known for its rum—and inspired by his travels to the Caribbean, Worrell offers an innovative cocktail menu using rum distilled on-site. In the short time Clutch has operated, the business has become a popular local spot, received a Denver International Spirits Competition award, and achieved distribution in Spec's and Total Wine & More.
Clutch Distilling
2222 Studewood St., Suite A, Houston.
Open Fri 4-9 p.m.,
Sat-Sun 2-9 p.m.
281-352-4572;
clutchdistilling.com
"My goal is to bring Barbadian-quality rum to Texas," Worrell said.
Worrell created Clutch as a homage to his late fiancée, Andria Stevens, who passed away in December 2019 of lupus, an incurable autoimmune disease that affects nearly 1.5 million Americans. Now, Worrell uses Clutch to bring attention to the disease. Each table in the taproom has a display of lupus awareness information, and he collects donations for the Lupus Foundation of America and promotes Lupus Awareness Month in May. Clutch even has its own merchandise to directly support the charity and has raised over $3,000 to date.
The couple met on Bumble in January 2016 and spent their first date at 8th Wonder Brewery, just a 15-minute drive from Clutch. Worrell and Stevens had planned to marry and see the world together, but her lupus diagnosis—which she had received as a teenager—restricted her ability to travel. In November 2018, they were able to take a precious short trip to the Cayman Islands, where a chance visit to a rum distillery provided the spark that would propel Worrell into the world of rum-making. "When we arrived, there were six guys in a warehouse with a big still, having fun and exuding passion for what they were doing—and they were making great rum," Worrell said. "As I watched them, I wanted to learn."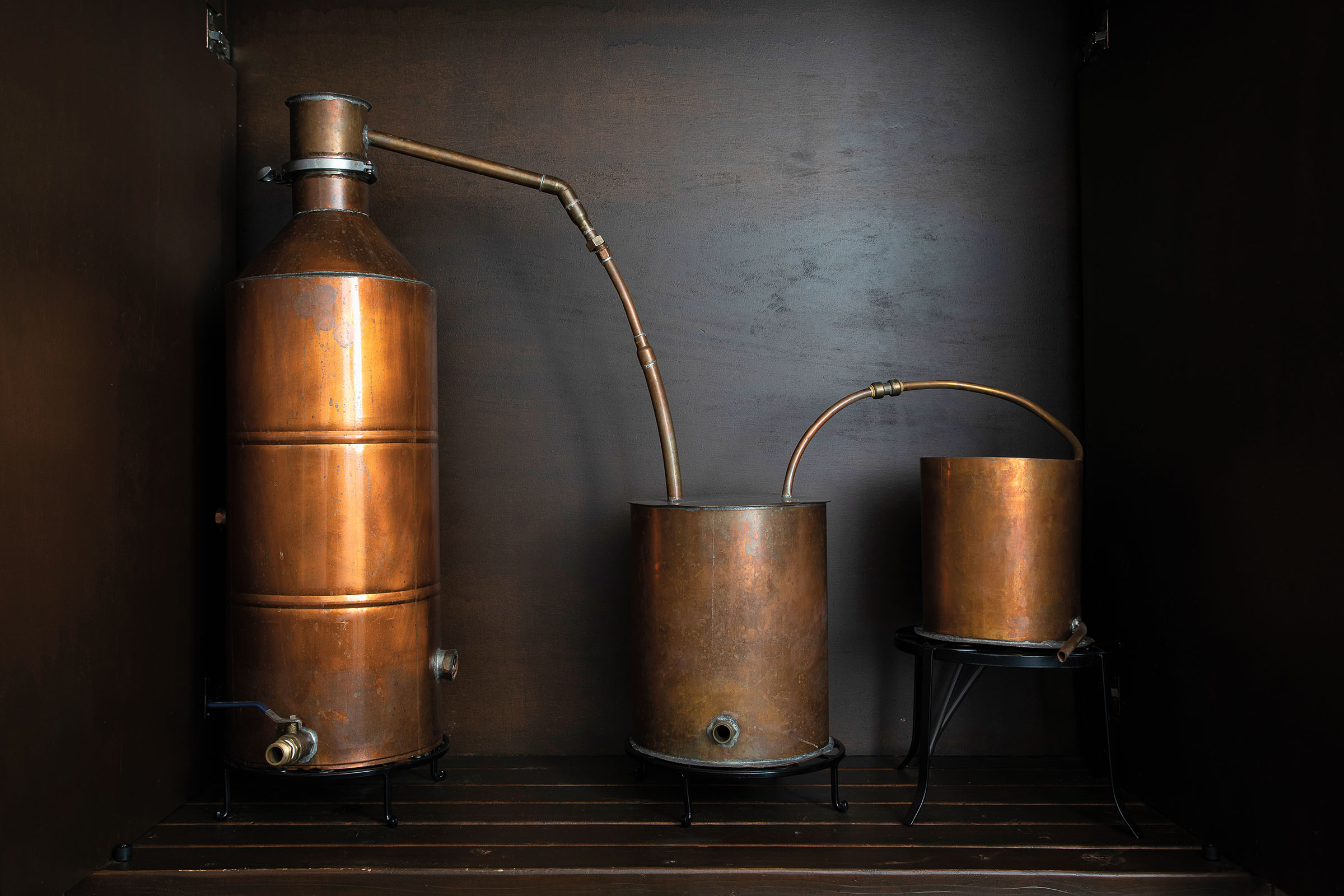 Worrell was no stranger to rum when he visited the Cayman Islands; he had already acquired a taste for it with the childhood Barbadian treat of ice cream topped with falernum, a rum-based liqueur syrup. When Worrell began the process of creating his own rum, he looked to these experiences for inspiration. Worrell had a set of goals in planning his flavor profile. "I wanted it to be good on the rocks but also in cocktails," he said. "I'm not into sweet flavors, so I was after something earthy, floral, and aromatic with a lightness to it."
With Stevens in the hospital in late 2019, Worrell spent most of his time at work or visiting her. After she passed away, experimenting with recipes after work became a way to fill the void created by her absence. With the support and encouragement of his father, Eric Worrell Sr.—"He's the 'clutch' part of Clutch," Worrell said—he eventually crafted his ideal rum. It was a steep learning curve. "I read, listened to audiobooks, watched YouTube videos, and learned as much as I could," he said, "but it took time and effort to get the recipe finessed. We did have to drink a lot of bad rum." The results paid off when Worrell submitted his flagship Chandelier white rum to the Denver International Spirits Competition for feedback and was stunned to receive a silver medal. "Winning the award solidified the recipe," he said.
Worrell wanted his cocktail menu to showcase the full flavor profiles and versatility of his rums, from the Chandelier white rum to the 24 Karat spiced rum. "Rum is traditionally served in tiki-style cocktails, but I'm a classic cocktail person and I wanted my menu to reflect this," he said. The Gold Rose cocktail is made with blood orange cordial, fig reduction, and rose water, while fresh ginger and turmeric are incorporated into The Good Spirit. Served with a tasteful garnish, these are drinks to be savored, and the Clutch taproom is a great space to relax and enjoy them.
Nothing about Clutch's vibe is accidental. Worrell approached his branding and décor with the desire to reflect the tastes and flavors of his rums; he refers to the Clutch blue as a "shipwreck blue," referencing rum's mythology as the drink of sea pirates. Worrell had the opportunity to design the space as he wanted it and reached out for an artistic collaborator.
"I looked all over the city for the right artist," he said. "I wanted someone who wanted to be part of the process of creating the distillery." He employed Clear Mind, a local graffiti artist who has been working in Houston since 2012, to craft the distillery interior and exterior's striking aesthetic. "The distillery just had such a beautiful energy," Clear Mind said. "It just felt so right to have my pieces there." In keeping with Worrell's emphasis on community, Clear Mind curates a quarterly show at the distillery for other local street artists called CREAM: Culture Rules Everything Around Me.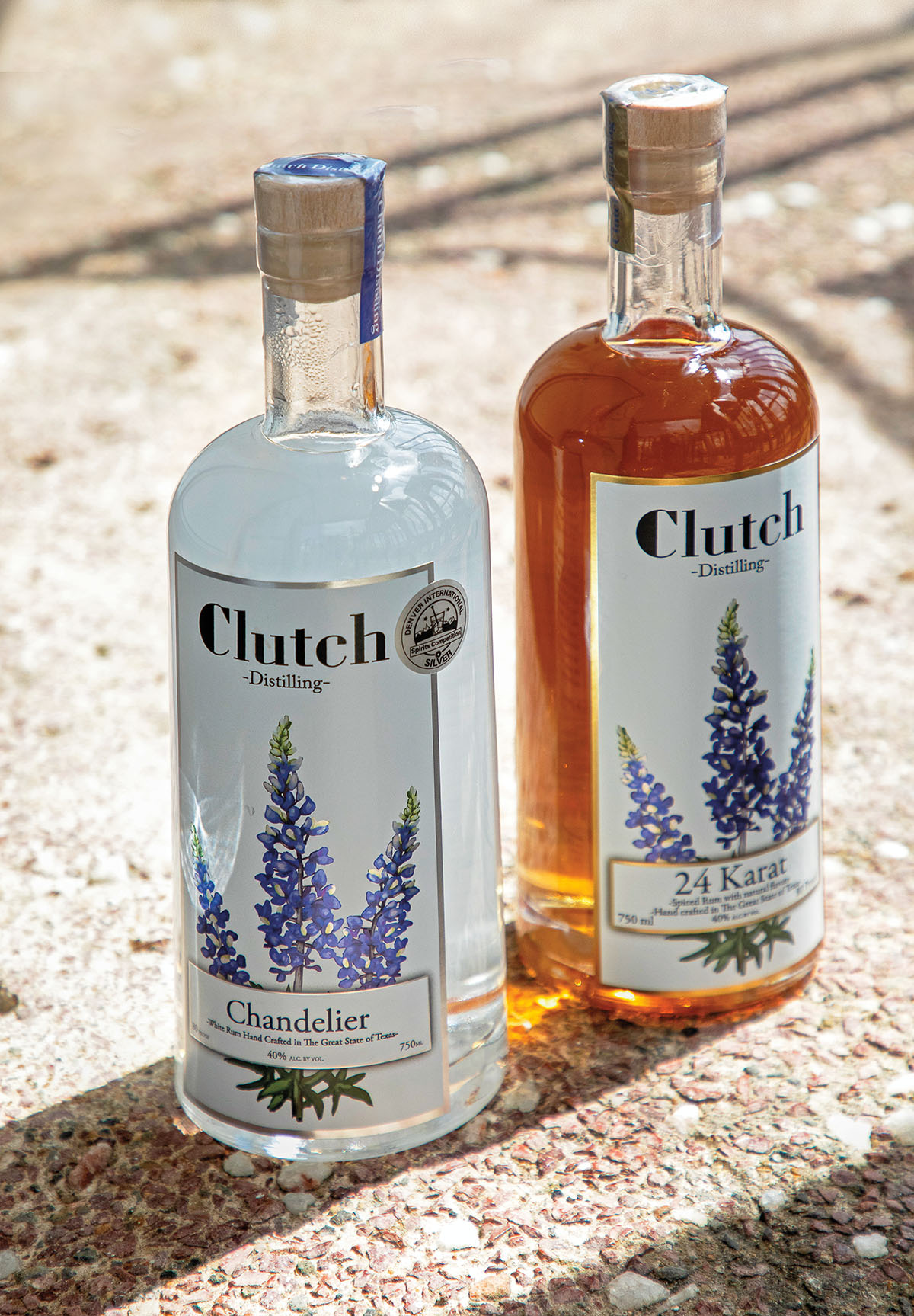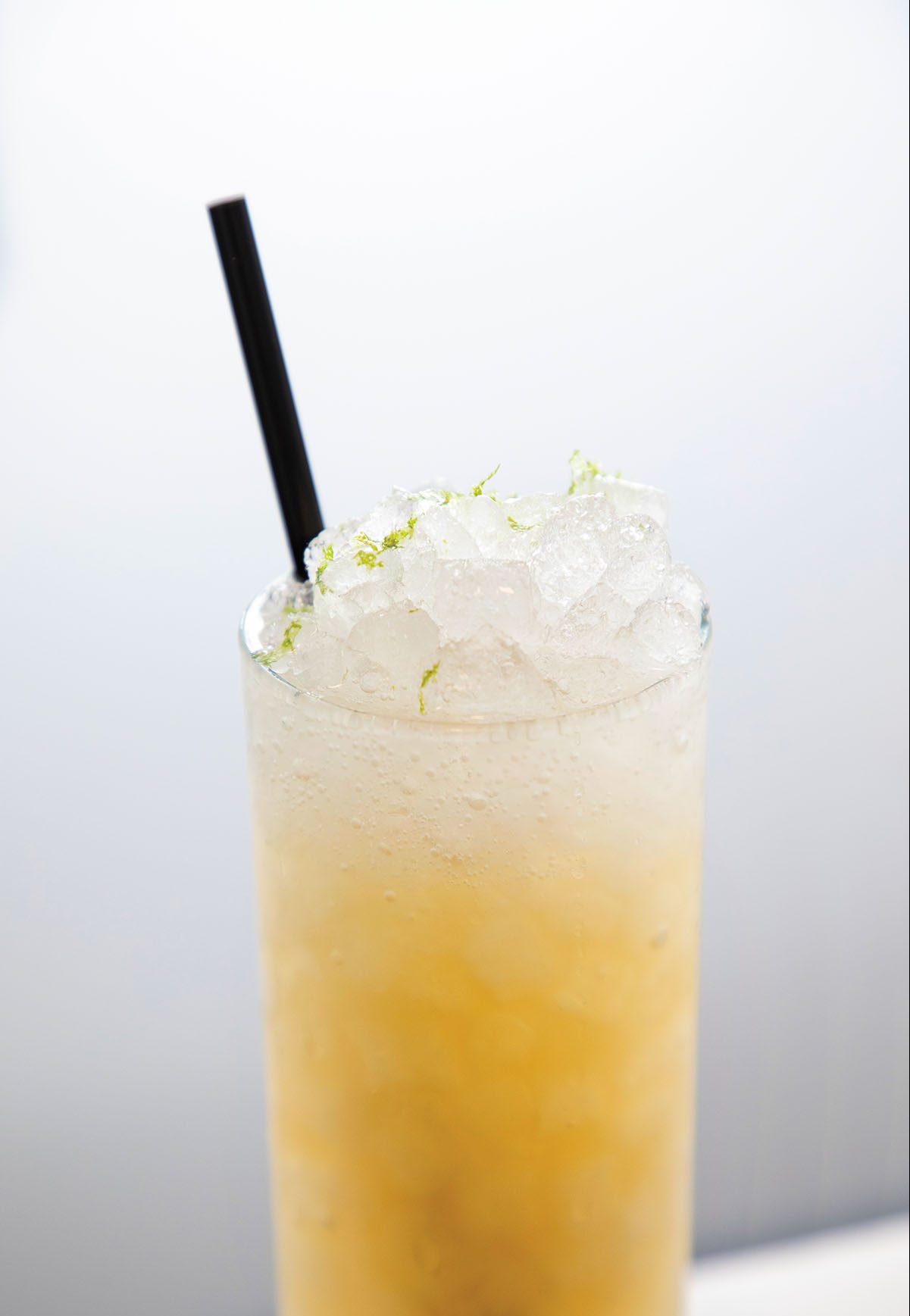 Worrell Sr. is a familiar presence at Clutch, helping with everything from recipes to distilling to collecting deliveries. He quietly moves from table to table, chatting with patrons and ensuring everyone is having a good time. A realtor and home inspector, Worrell Sr. can't help but dedicate his spare time to his son's business. "When Eric decided this was what he wanted to do, I was all in—I wanted to be there to support him," he said. "It's great to see Clutch busy and getting recognition."
The laidback family feel is a big part of what makes Clutch so appealing to visit. Among Greater Heights' spacious family homes, bustling taprooms, and up-and-coming restaurants, the sleek, modern Clutch tasting room stands out and blends in all at once. On entering the building, guests are greeted with a display of Clutch products and merchandise, traditional distilling equipment, and Clear Mind's artworks, some of which are for sale. Worrell offers hourly tours of the ground-level distilling room before showing guests upstairs to the cocktail bar and wraparound patio. There's also a private events space that hosts parties, classes, and community groups.
Having already secured mainstream distribution, Worrell is considering expanding his offerings to include coffee rum and barrel-aged rum. "Eventually I'd want to distill bourbon, whiskey, and gin and move into a bigger space," he said. Worrell's forward-thinking attitude has proven pivotal in bringing Clutch to fruition. "This was a passion that became a business," Worrell says. "That's what you do when you have a passion."
From the July 2022 issue