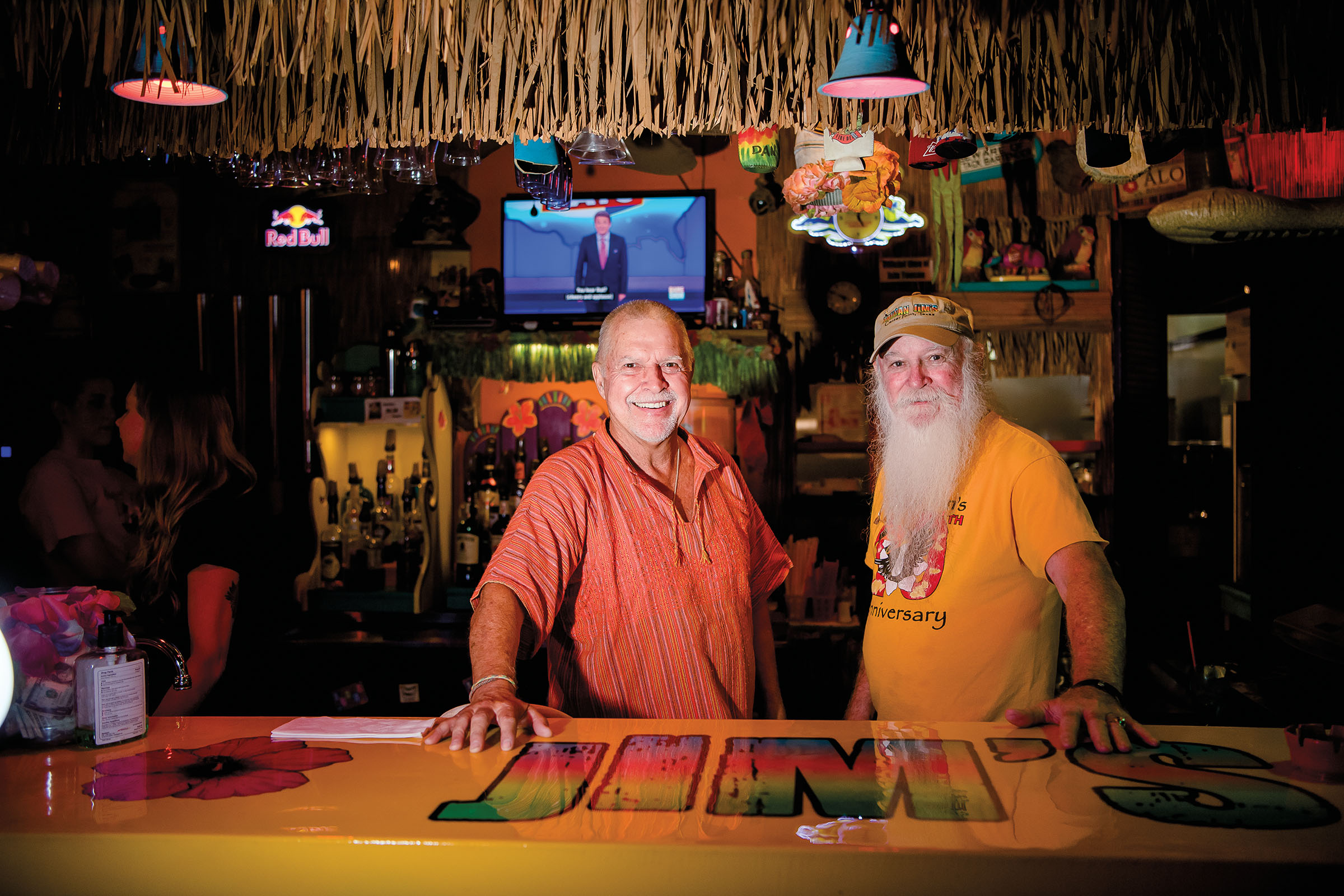 The Hill Country town of Center Point is about 200 miles from the Texas coast, but that didn't stop Jim Lackey from bringing the beach to his hometown near Kerrville. His restaurant and bar, Toucan Jim's, evokes a Caribbean vacation with island-inspired architecture and décor. A dry-docked boat and nautical flags greet guests at the entrance, and amid the lushly landscaped outdoor area, diners can sit beneath 27 different palapas, each emblazoned with the name of an exotic locale like Oahu, Jamaica, and Dominica.
Trips to the beaches of Belize, Mexico, and the Florida Keys inspired Lackey to open his restaurant in 2010. "The first time I saw that blue water, it reeled me in," he says. He aims to give his customers a sense of island time, providing a place to relax and unwind. "If it makes you feel that for five minutes, I've done my job," he says.
The restaurant's grounds offer a variety of amusements and amenities: an outdoor fire pit, a fake pillory for photo ops, a Bimini ringtoss game, and a watering station for customers' canines. Bands perform a variety of musical genres, including reggae, contemporary country, and Jimmy Buffett covers, on indoor and outdoor stages every Saturday night from March through October.
Lackey spent nearly three years building the establishment. The main structure used to be his childhood home. After inheriting the property, he knocked down walls and transformed the building from the ground up: The former living room is now the kitchen, and what was once a bedroom currently serves as the women's restroom. His business partner, Mike Blackledge—a carpenter and cabinetmaker—helped construct the palapas, tiki bar, and brightly painted furnishings. Lackey drew upon his own talents as a landscaper to tear up the St. Augustine grass and remake the lawn into a tropical oasis. He filled the approximately 1-acre site with crushed granite paths that wind through oleanders, palm trees, and other flora.
"You walk through those doors and you feel like you're in Mexico or Central America," says Scott Rouse, a regular customer. "You meet interesting people there who are drawn together by the quasi-tropical experience. The people there are more relaxed and friendly, like they're on vacation." Rouse especially likes to visit on Fridays, when the restaurant serves grilled tilapia; fried cod and catfish; and fish tacos.
In addition to such weekly specials, the standard menu offers crowd-pleasing fare like burgers, tacos, boneless wings, and pulled-pork sliders. Above all, Toucan Jim's is known for its specialty drinks: piña coladas, daiquiris, and other concoctions that provide a taste of the tropics. Because Center Point is a dry municipality, guests can only imbibe on the premises if they have a membership; however, the restaurant issues membership cards for free, and they are good for 99 years.
"We wanted a signature drink and settled on a rum punch," Lackey says. "We tried different drinks in the Florida Keys, Mexico, and Costa Rica, but we liked the one in Belize the best." It took six to nine months of taste-testing to figure out the recipe that most closely duplicated it. "We stretched it out five months longer than we needed to," he confesses with a sly smile.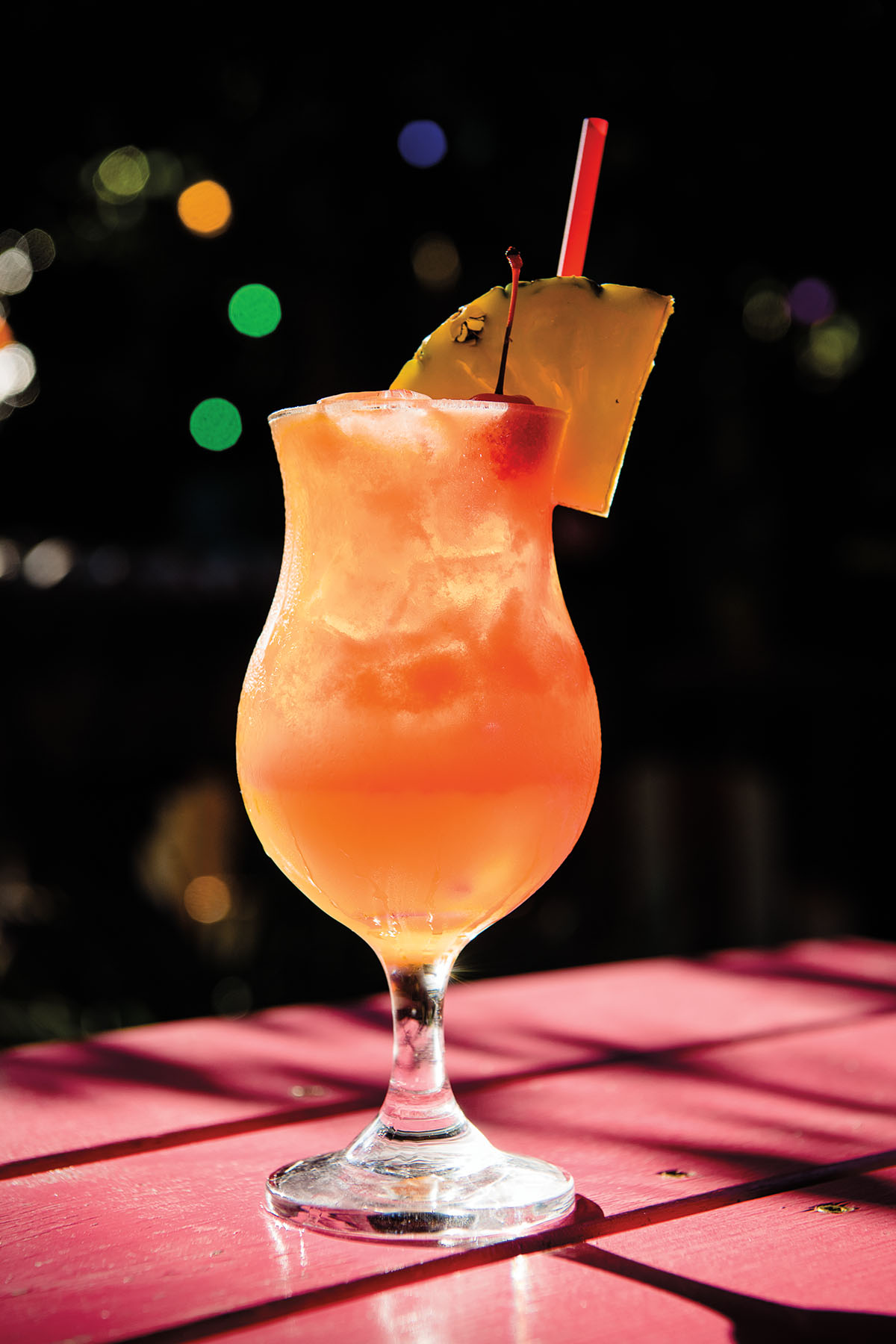 Rum Punch
Ingredients:
• 1 ½ ounces Bacardi mango rum
• 1 ounce passion fruit juice from concentrate
• 4 ounces pineapple juice
• Splash of grenadine
• A maraschino cherry
Directions:
Stir all liquid ingredients and pour over ice in a 12-ounce glass. Top with a cherry.
From the May 2021 issue