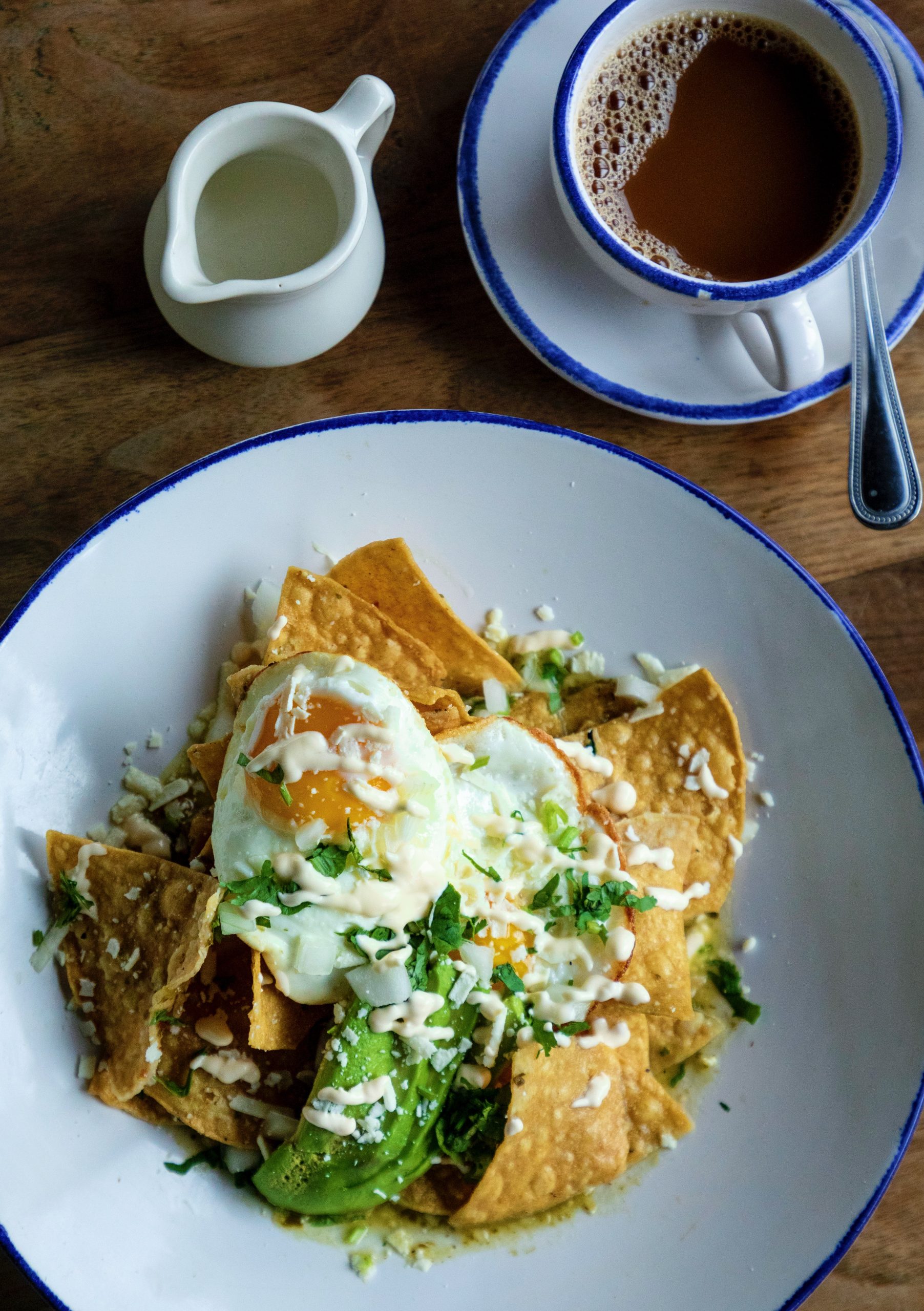 The critical component of chilaquiles? Crunch.
Chilaquiles, a Mexican dish nowhere near as well-known as tacos or enchiladas, are becoming increasingly popular as diners discover the delight of a kind of crispy breakfast casserole (or a "Mexican Frito pie") that can easily be adapted for lunch and dinner, too.
Often confused with migas, which also use fresh tortilla chips or strips to provide a satisfying texture, chilaquiles are less about being mixed with eggs to make a breakfast taco or main ranchero-style entrée than standing out on their own. Chilaquiles are made up of corn tortillas cut into quarters that are lightly fried or baked. Whether topped with sunny-side-up eggs or adorned with chicken or steak, chilaquiles are often drizzled with cream and loaded with white Cotija cheese that contrasts against the red or green salsas the chips are sautéed in. Chilaquiles can be stacked like a mound of nachos or, if the restaurant is using round tostada-style chips, they can look like a stack of savory pancakes.
Restaurants across the state serve them in a variety of different ways and they can be truly eye-catching on a plate, says Angel Aguirre, who has owned the breakfast-and-lunch spot Los Chilaquiles in Seguin for the last four years. They serve chilaquiles with bright roja or verde sauce (red or green) or ranchero style. The chilaquiles are accompanied by avocado, delicious refried beans, home fries, as well as a roasted pepper and green onion that all look as good as they taste. Aguirre says when they named the restaurant, they were looking for something that would "awaken the appetite."
"We thought about professional platters of chilaquiles, how great they look on a plate," he says. "We're Mexican, we grew up in Mexico, we wanted to bring a special touch of Mexican style with this dish." The small restaurant in Seguin, which also serves fresh-fruit drinks, agua frescas, is one of several popular breakfast spots in the area. Los Chilaquiles serves about 10 plates of chilaquiles a day, sometimes 20 on weekends. Aguirre says that he differentiates migas from chilaquiles this way: migas are mixed with scrambled eggs; chilaquiles have the eggs separate or on top, at least the way he makes them.
Some restaurants may only serve chilaquiles as a breakfast dish, while others seem to be taking the dish in new and interesting directions, such as Austin's Chilakillers, which serves at least 10 varieties of the dish. Aguirre says his restaurant's chilaquiles are definitely in the style of Guerrero, Mexico, where he grew up and they have found a lot of fans in the small Central Texas town of Seguin. "Chilaquiles are very popular and we stay very busy," he says.
Texas Chilaquiles
Not all Mexican or Tex-Mex restaurants serve chilaquiles, but here are a few serving the traditional dish across the state.
Los Chilaquiles Mexican Restaurant, Seguin
This family-owned restaurant serves its chilaquiles in the style of Guerrero, Mexico, cuisine. Don't forget to pair your meal with a tasty agua fresca. facebook.com/
loschilaquilesseguintx
The Original Ninfa's on Navigation, Houston
Ninfa's, which has served Houston since 1973, offers chilaquiles verdes at its original location on the brunch menu. They include fried eggs, onions, cilantro, and tomatillo salsa. ninfas.com
Forti's Mexican Elder Restaurant, El Paso
Visitors rave about the restaurant's green and red specialty breakfast chilaquiles. One diner on Tripadvisor called them, "The Best Chilaquiles Ever!" fortisrestaurants.com
Latin Deli, Dallas
Latin Deli's take on chilaquiles is a verde-sauce dish with scrambled eggs, avocado, mozzarella, sour cream, and a choice of chicken, fajita beef, or chorizo. latindelidallas.com
Los Chilakillers, Austin
A whopping 10 varieties of chilaquiles are on the menu at Los Chilakillers. Each dish comes with names like "Old 183" and "SOCO" and are made with ingredients that include smoky chipotle sauce and Monterrey jack cheese. loschilakillers.com
Los Chilaquiles Mexican Buffet, Pharr
You can load up for $6.99, including drink, during special times at this Rio Grande Valley buffet restaurant. Build your own chilaquiles dish and pile it high. facebook.com/
loschilaquilesmexicanbuffet