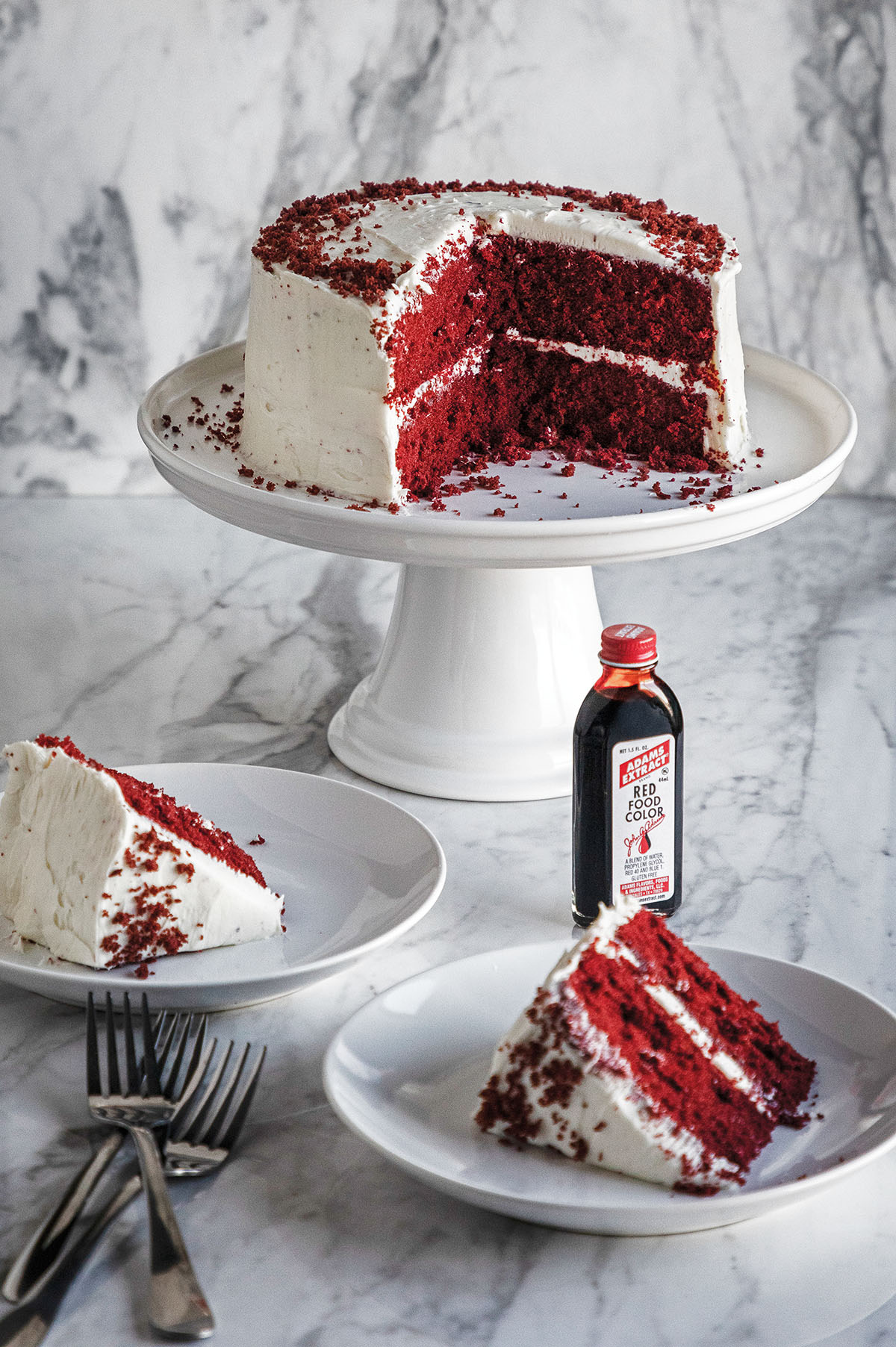 Red velvet cake makes a fitting treat for Valentine's Day, with its traditional white frosting and brilliant red interior. But the cake didn't used to be so vibrant—not until one Texas company, Adams Extract, gave it its signature crimson hue.
John A. Adams launched his namesake food flavoring company in Battle Creek, Michigan, in 1888. He initially produced a sarsaparilla extract and eventually expanded his product line to satisfy his wife's desire for flavoring that could endure baking or freezing. He formulated Adams Best, a potent vanilla flavor, to do just that. Seeking a better climate, he moved his family and operations to Beeville in 1905, at first selling his wares door to door. Eventually, his son Fred Adams took over the business and relocated it to Austin in 1922. It was his son, John G. Adams, who created its popular four-pack of red, blue, green, and yellow food colors in 1947.
To promote this new product, the company printed a recipe for red velvet cake (developed by John G.'s wife, Betty Adams) on cards to be distributed in stores, recommending its red food coloring to produce a bright ruby tint. Previous iterations of the cake tended to be a mahogany shade, said to derive from a chemical reaction between the cocoa powder and acidic ingredients like vinegar or buttermilk; some recipes called for beets to enhance the effect. With the introduction of Adams' food coloring, a truly bright red became possible, and the company's promotional efforts led to a boost in the cake's popularity.
"At the time, red velvet cake wasn't one of those items you could just whip up in the kitchen," says Dan Shannon, president and CEO of Adams Extract. "When you wanted to have one of these cakes, you went to a great hotel or fine restaurant. It signified a high-level eating experience, something people are always looking to replicate at home. Adams brought the modern-day recipe for red velvet cake to the masses."
Get the recipe
Adams "Original" Red Velvet Cake
This recipe was created by Betty Adams—the matriarch of Adams Extract—in the 1940s.
The business stayed within the Adams family until 2002, when it moved to Gonzales under new ownership. Today, Adams Extract products are available in grocery stores across the nation. The company honors its long history by posting many of its classic recipes on its website. Several of those recipes, like the one for red velvet cake, originated with Betty. She concocted an elaborate five-flavor pound cake (combining vanilla and lemon extracts and butter, coconut, and rum flavors) in celebration of the company's 75th anniversary. A simpler version (minus the rum and coconut favoring) nabbed the grand prize in the baking contest at the Texas State Fair in 1965.
"We have a bunch of great recipes that we're known for, but by far the red velvet one is the most popular," Shannon confirms. In the past few years, the company has created a plant-based version of its food colors to meet consumer demand for more natural ingredients—the red color is derived from beet juice. Shannon says these natural options are part of Adams Extract's efforts to keep up with changing tastes and to keep recipes like red velvet cake relevant for generations to come. "Quite frankly, I still think it's the greatest cupcake flavor ever made," Shannon says.
From the February 2022 issue