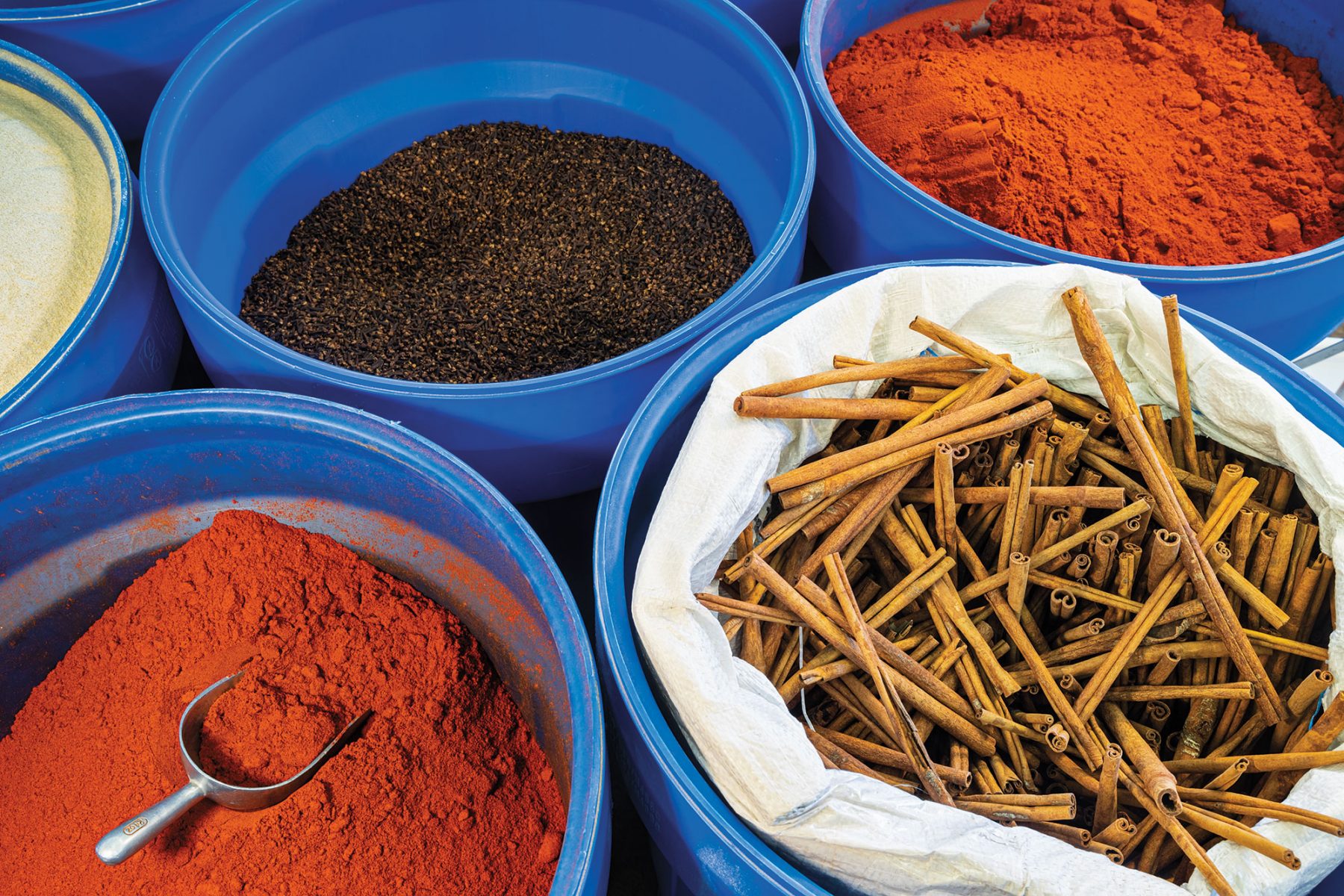 Step beneath the top hat logo gracing the dormer over the front porch of Pendery's World of Chiles and Spices in Fort Worth, close your eyes, and breathe deep: Intermingled fragrances from exotic lands flood your olfactories—perfumed Sri Lankan cinnamon; pungent Iranian cumin; sultry Jamaican allspice; smoky Spanish paprika; and chiles, lots and lots of chiles.
"I've been coming here since I was a kid," says David Hollister, the Fort Worth born-and-bred executive chef at Dallas' Gas Monkey Bar and Grill. "I have them make a lot of my proprietary blends such as barbecue rubs, chili powder blends, and creole seasonings. Every restaurant I've ever worked for, I've tried to get them to switch to Pendery's."
Pendry's World of Chiles and Spices

1407 Eighth Ave., Fort Worth.

Open Mon-Fri 8:30 a.m.-5:30 p.m.;

Sat 9 a.m.-5 p.m. 817-924-3434;
Not just restaurant chefs, but throngs of Texas chiliheads   and home cooks favor Pendery's chiles and spices for their freshness and purity. Chili cook-off participants rely on Pendery's fresh-ground chiles for a competitive edge, including Dallas dentist Ted Hume, who won the Tolbert Men's State Open in 1995 and 2001, the Tolbert Texas State Open in 2001, and the Original Terlingua International Chili Cookoff in 2003 and 2012. Hume's "Root Canal" chili blend remains popular with Pendery's clientele.
The Pendery's story began nearly 150 years ago when aspiring spice merchant DeWitt Clinton Pendery came to Texas. "He'd been working in the family tea and grocery business in Cincinnati and decided to join his brother in then-untamed Fort Worth," says Clint Haggerty, the company's general manager and Pendery's great-great-grandson. "He cut a fine figure as he disembarked the stagecoach in his long frock coat and silk top hat, with his carefully waxed handlebar mustache. The cowboys jeered at him, and one sent a bullet whizzing through his top hat. DWC casually picked up the hat, dusted it off, placed it back atop his head, nonchalantly gathered his belongings, and continued on his way. According to family legend, this earned him immediate approval and respect."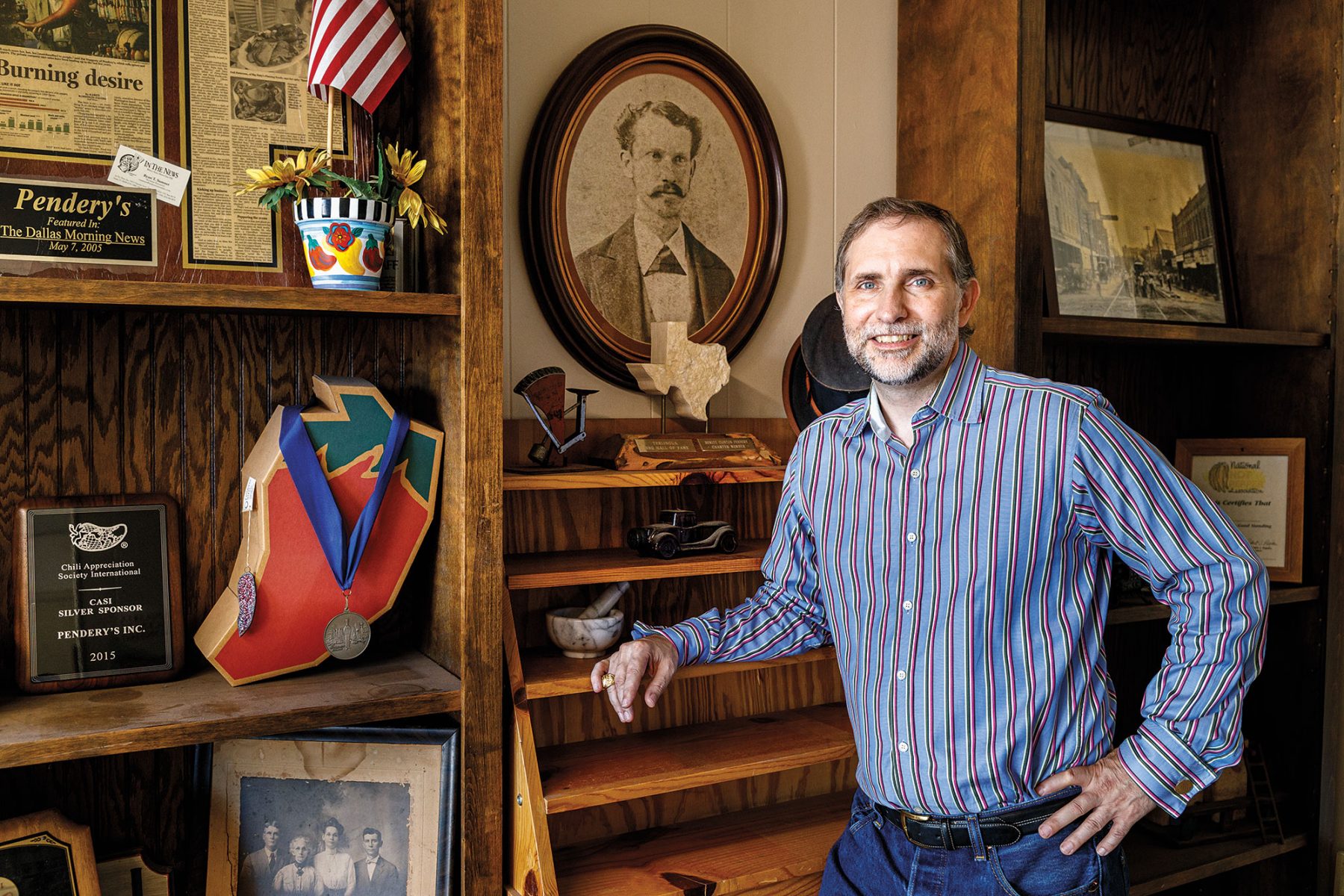 Look again at the top hat logo, emblazoned with "1870," and you'll see the hole where the bullet sailed through.
Pendery grew his fledgling dry goods business, specializing in "fancy groceries" like preserved, bottled, or canned foods, spices, teas, and other delicacies prized in a frontier town. He also developed a keen interest in regional Texas seasonings, especially the dried-and- ground chile peppers used to impart flavor to tough, range-fed beef. He experimented with ways to dry and     grind the fiery chiles and developed his own proprietary blend of chile spices, christening it "Chiltomaline." By 1890, Pendery was advertising Chiltomaline via handbills on stagecoaches            and in cafés and hotels, extolling its medicinal benefits. "The health-giving properties of hot chile peppers have no equal," he wrote. "They give tone to the alimentary canal, regulating the functions, giving a natural appetite, and promoting health by action of the kidneys, skin, and lymphatics."
"With an international appetite for 'all things Texan,' our products sell all over the world."
Each generation of the Pendery family followed in their patriarch's footsteps, making Pendery's one of the oldest family-owned-and-operated businesses in Texas today.
"Each successive generation has faced its own unique challenges, having to adapt to changing times and tastes," Haggerty says. "I can recall when ground chipotles were considered exotic. Asian and Indian immigrants, bringing their cuisine with them, have also created new demand for spices endemic to their food."
Haggerty has also leveraged the chef-driven aspect of Pendery's business. Proprietary blends of chili powders, barbecue and steak rubs, creole seasonings, and even bulk marinades for restaurants and other institutions account for about half of its business. Pendery's brisk wholesale trade has delayed the opening of its long-anticipated second retail store in Dallas, where its factory and warehouse are located.
Have no fear, however, that the retail side languishes. "The world's become a smaller place, thanks to the internet," Haggerty says. "We used to print more than 100,000 catalogs at a time, and now it's down to about 60,000, since most folks order online. With an international appetite for 'all things Texan,' our products sell all over the world—I'm working with a rabbi to create a kosher barbecue rub to be sold in Israel."
Pendery's currently sells many hundreds of types of herbs, spices, and chiles, plus highly sought-after items such as pure vanilla extract (with a whole Madagascar Bourbon vanilla bean tucked inside), powdered Worcestershire sauce (to give chili blends and barbecue rubs that umami kick), and chile threads (a traditional kimchi ingredient). Still, it's chiles that brought 'em to the dance, and Pendery's remains locked in their fiery embrace, with about 30 unique ground chiles, more than a score of whole dried chile varieties, and a couple dozen chili blends.
The "granddaddy of 'em all"– the original Chiltomaline still graces Pendery's lineup. Since it predates when garlic was able to be successfully dried and powdered, a version based on the original recipe but with the addition of garlic and other flavors joins the array of blends.
Its name? Top Hat.
From the August 2019 issue