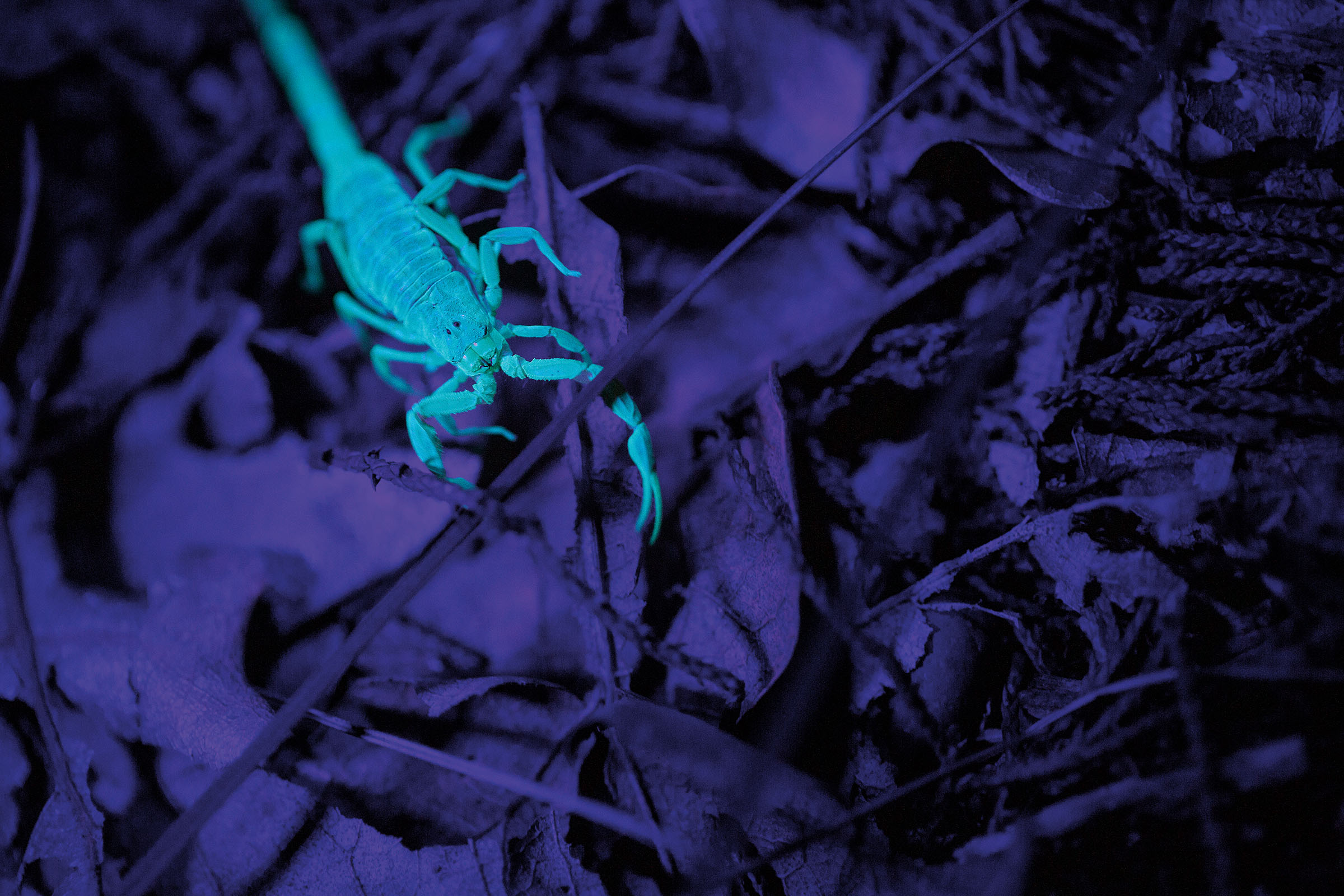 I'm following Trevor Francke down a twisty trail at Muleshoe Bend Recreation Area an hour after dusk, sweeping a black light along the ground in front of me with every step. A glowing green scorpion pops into focus, and then another. Soon I discover spiders lurk everywhere, too. Add to that a cacophony of whippoorwills and some coyotes yipping in the distance, and it quickly becomes apparent the night shift has reported for duty on this cloudy, still evening in late May.
Muleshoe Bend
2820 CR 414, Spicewood.
512-473-3366; lcra.org/parks/muleshoe-bend
Two-hour hikes cost $20 per person, $25 per couple, or $50 per family.
"I've seen a scorpion every time I've done this trek—sometimes 50 of them," says Francke, who is leading us through the 654-acre park that skirts the shores of Lake Travis northwest of Austin.
The Lower Colorado River Authority launched its series of after-dark hikes here last fall and now offers about one a month year-round. A program coordinator leads each excursion, sharing a little information about the local flora and fauna and encouraging participants to relax under the cloak of darkness. Most of us have been conditioned since childhood to fear things that go bump in the night, but this eye-opening walk reminds me we're never alone out here in the woods—and, for me, that's comforting.
My husband and I were looking for a new way to explore the outdoors. I'm familiar with most of the daytime inhabitants of Central Texas parks, but I wanted a better sense of what prowls the brush at night. So, we booked one of the park's 42 campsites. En route, we picked up brisket and sausage from Opie's Barbecue in nearby Spicewood. Upon arrival, we parked our new adventure rig, a 2021 Ford Transit nicknamed Vincent VanGo, next to the mesquite trees in Site 13 and watched a pair of Canada geese flap overhead while we waited for the sun to sink in the sky. Ten minutes before 9 p.m., we grabbed our headlamps and struck out for the designated meeting spot at a trailhead along the park's main gravel road.
The threat of rain must have scared off some hikers because just one other couple showed up for the nocturnal walk, down from the regular nearly dozen people. Francke, the parks program coordinator for LCRA's Western Parks District, gives each of us a handheld black-light flashlight and an infrared thermal imaging monocular to help us spot creatures while we walk. First, though, he reminds us to stay alert and watch for stinging critters. "They're not going to jump out of the grass and get you," he assures us. In addition to scorpions, centipedes and rattlesnakes also call this park home.
Fireflies blink on and off like a string of holiday lights hung in the scrub as Francke finishes his briefing. He pulls out his phone and fires up the Audubon Bird Guide app. He wants us to hear the sound of an Eastern screech owl. "Quite often, I'll get one to talk to me," he says. We don't have any luck with a real screech owl, or with the deeper, more resonant call of a great horned owl, which he plays next. "Nobody's talking to me tonight."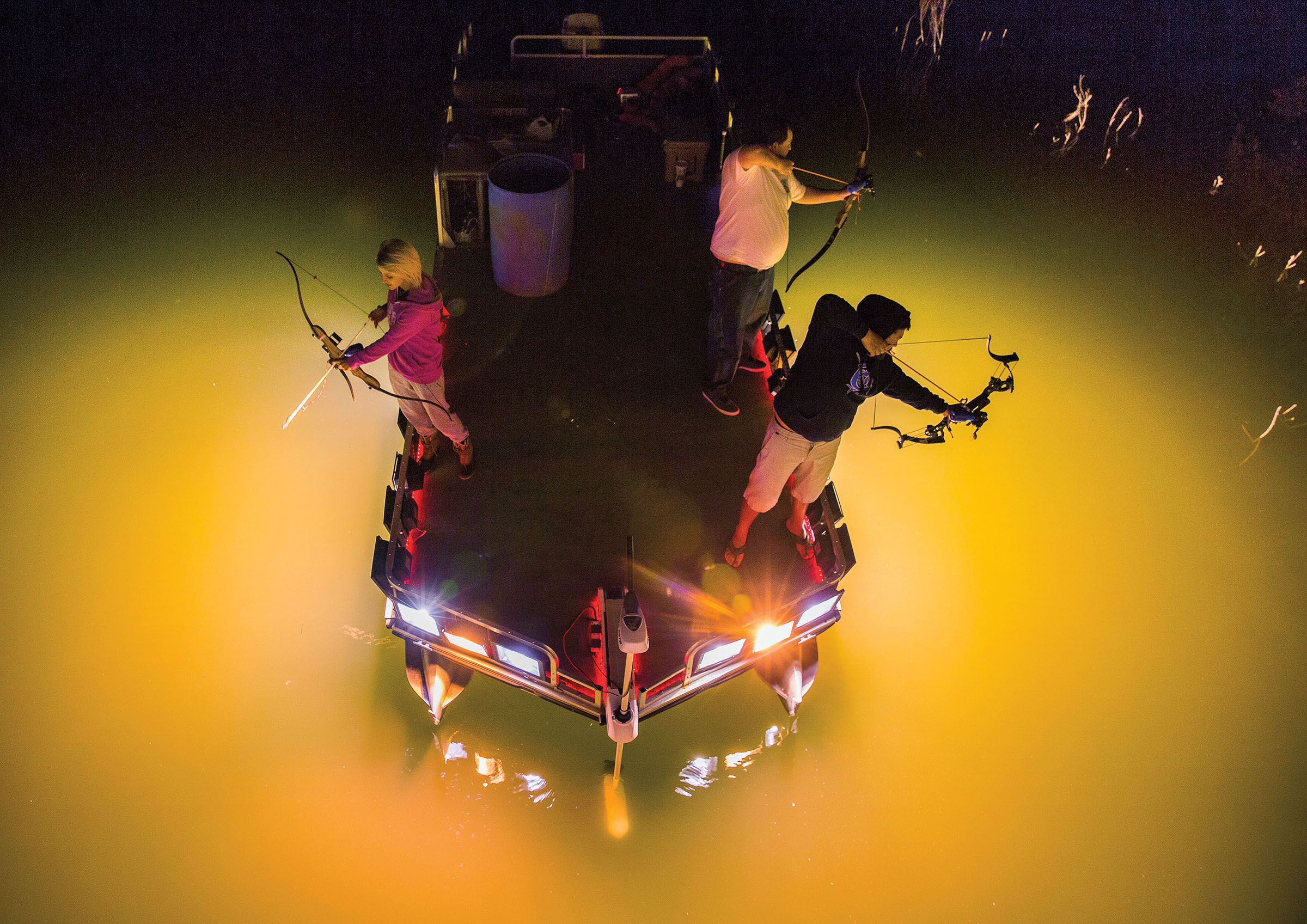 We flick off our headlamps, switch on our black lights, and head down the trail. It's fairly flat, but it takes my eyes a few minutes to adjust to the darkness, so I move slowly. It doesn't take long before we realize we're surrounded. Less than 25 yards down the trail, Jon Zmikly, one of the hikers and a senior lecturer in the School of Journalism and Mass Communication at Texas State University, sweeps his black light over the ground, illuminating a 2-inch arthropod as bright as a green anole: a bark scorpion, or Centruroides sculpturatus.
Scorpions are groovy. Females give live birth to litters of about 30 scorplings that climb onto their mother's back soon after birth, where they stay until they molt. They live, on average, three to five years, according to Texas A&M Agrilife Extension. Treat them with respect because stings are painful and cause swelling that can last for several days. Within a few minutes we've spotted a dozen more scorpions, some of them no bigger than a quarter, others as big as a fat thumb. "The sense of awe people get when they see their first scorpion—especially when it's a little kid who finds one—it's just great," Francke says.
For two hours we prowl the woods, looking into shadows and listening to the low buzz of crickets and the occasional twig cracking underfoot. We point our infrared sensors into the murk, hoping to spot an armadillo, raccoon, fox, or nesting deer, but they're staying hidden tonight. We amuse ourselves by pointing the devices at each other to see how it highlights warm objects. "Let's walk as quietly as we can," Francke says. "Think about why we're here. The important part about being in nature is just finding yourself."
We pause in front of a labyrinth of carefully placed stones. One by one we tiptoe through it, admiring the little mound of treasures carefully arranged at its center—a fishing lure that glows in the black light and someone's bandana. We stand a few minutes, focusing on the breeze that's whispering against our skin, the rustling of leaves overhead, and the feeling of solid ground beneath our feet. "Remember to breathe," Francke says quietly.
Make a Night of It
Recreate in the dark at these parks and lakes across the state.
To get a glimpse of moonlight streaming through cypress trees—casting light on the alligators, beavers, minks, and owls that live on Caddo Lake—book a night tour with Caddo Outback Tours in Karnack. caddolaketours.com
Overnight guests at the Canyon of the Eagles on Lake Buchanan can attend programs led by a qualified astronomer every Wednesday through Sunday, weather permitting. canyonoftheeagles.com
Two LCRA parks, Lake Bastrop South Shore Park and Jessica Hollis Park on Lake Austin, offer full-moon paddle tours. lcra.org/parks
Bowfishing is legal for taking non-game fish in Texas public waters, and it's a popular nighttime activity in the Highland Lakes region and at Martin Dies Jr. State Park in East Texas. highlandlakes.com; tpwd.texas.gov/state-parks/martin-dies-jr
Other state parks offer an array of nighttime activities, including stargazing programs at Enchanted Rock State Natural Area, Lake Whitney State Park, and Bentsen-Rio Grande Valley State Park. tpwd.texas.gov/state-parks
We make our way back to the trailhead then continue across the main road. There, next to a grove of oaks and ashe juniper, we flip the white lights of our headlamps back on. "Sway the light back and forth and look for green dots," Francke says.
We scan the ground 10 feet away, and a constellation of green dots jumps into view, nature's glitter clinging to tall grasses and low-hanging tree branches wherever we look. "It's all kinds of spiders," Francke says. "They're everywhere." Part of me wishes I didn't know just how many spiders are training their eyes on us on this humid night, but I remind myself they are beneficial predators that keep other insects in check.
Zmikly likes hiking at night because it forces him to use senses he doesn't always use, instead of relying solely on vision. Tonight, he noticed the smell of cedar trees and paid attention to chirping and croaking that normally fades into the background. "I just think the night provides a different view of life," he says. "Totally different creatures come out that we don't often see, and the adventure of getting to see what's around the next curve is accentuated."
Margo Richards, LCRA's vice president of community resources, says the hikes have been popular, especially as more people head outdoors for socially distant recreation. At Muleshoe Bend alone, visitation numbers are 60% higher than they were before the pandemic began. If positive feedback about the night hikes keeps rolling in, they could be scheduled at other LCRA-operated parks.
"The fun doesn't end when the sun goes down," Richards says. "It's just a way to let people see a park in a different light than they typically would."
Or, perhaps, a different dark.
From the October 2021 issue