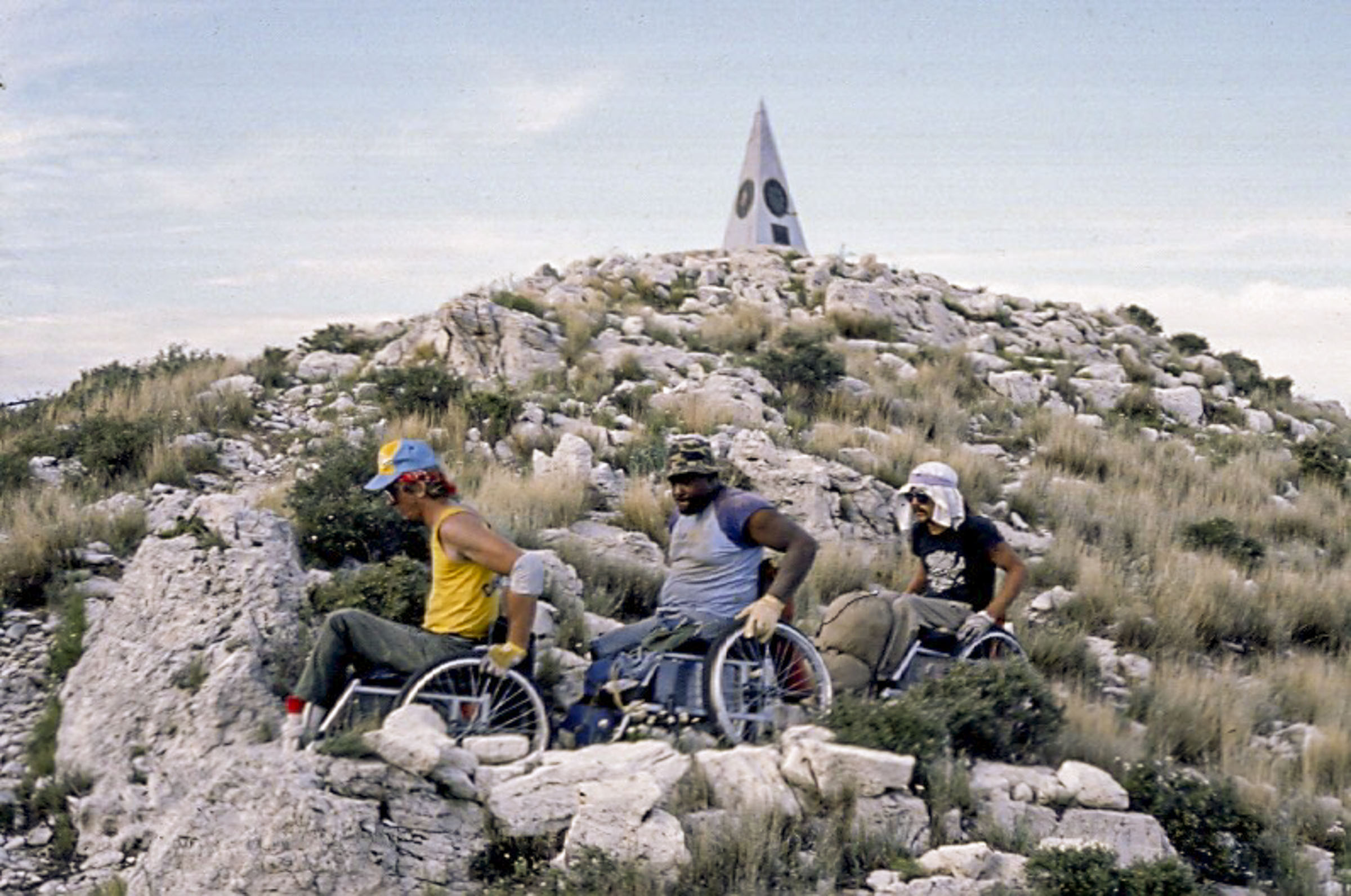 A mile above the West Texas badlands, a desert thunderstorm is unleashing its fury on the Guadalupe Mountains. Amid the storm-battered summits, three men—David Kiley, Joe Moss, and Don Rogers—find sanctuary beneath a rock overhang. They'd set out four days earlier, in July 1982, to ascend 3,000 feet to the state's highest point, an obelisk at the top of Guadalupe Peak. And they were doing it in wheelchairs.
"I've never been that close to the power of thunder, echoing through those peaks," Kiley says. "You knew how small you were and how powerful Mother Nature was. But I was beyond the point of no return. You couldn't have dragged me off that mountain without getting to the top."
In their Guadalupe Peak ascent, the members of the nonprofit Paraplegics On Independent Nature Trips (POINT) undertook an immense physical test. Their goal was to challenge the perceptions of what people with disabilities can do in the outdoors. And four decades later, their achievement has influenced policy and opened doors for people of all abilities.
The catalyst for the climb was one man's forceful personality. Michael "Shorty" Powers, who died in 2016, was an "extra-extrovert," his wife, Nance Baumann Powers, says. An avid fisherman from North Texas, his passion for the outdoors intensified after he lost the use of his legs in a car accident at age 17. "He couldn't stay away from the outdoors," Baumann Powers says. "There was such healing power there for Shorty, and he wanted to spread that to other people."
Powers founded POINT in 1979 to empower people with disabilities through outdoor adventure. He drew together young athletes he knew from the world of wheelchair basketball. The organization was part of a growing disability rights movement, but its activism took a distinctive form. "We wanted to be able to demonstrate what was possible," says Rogers, who played wheelchair basketball with Powers. "Not just talk about it—we wanted to get out and show people."
For their first trip, the group rafted California's American River. In 1981, they backpacked into Utah's Uinta Mountains. By 1982, the group was looking for what Rogers called "the next big thing." An Abilene nonprofit proposed POINT's next challenge, and a consensus emerged: the "top of Texas" would be the destination.
A friend of the group scouted the trail to Guadalupe Peak in advance and shared photos with Powers, who declared it to be nothing but a "dusty old road" that the men would conquer with ease. It would be two days up, one day down, he assured his friends.
The climbers headed west to confront the obstacle. Guadalupe Mountains National Park officials had safety concerns, but a young ranger named Jonathan Jarvis eventually gave POINT the green light. Official resistance only seemed to encourage the men, he says. "Once they'd decided they were going to do it," Jarvis says, "all there really was for me to do was figure out how to make it successful and safe."
Five climbers—originally six, but John Galland fell ill and wasn't able to join—set off on July 12. The difficulty became apparent immediately. The trail crosses an arroyo before it begins to rise, and wheelchairs tipped and toppled on the creekbed's loose stones. Later that day, Powers developed muscle spasms and had to turn back. Another climber, Bobby Leyes, reached his limit the next day.
By the third day, only three climbers remained—Rogers, Kiley, and Moss, a Vietnam veteran who'd lost his legs in combat. Their companions' departures humbled the trio. "When it got down to Dave and Joe and me, we spoke about it," Rogers says. "We said, 'This is it. It's us. And we are going to make it to the top.'"
Kiley was in the lead. Rogers, the only one with climbing experience, guided from the rear. The going was grueling as they inched up the steep, exposed, and rugged trail. When the way became impassable by chair, they would sit on the path and, with ropes, pull their wheelchairs uphill with their teeth. As a double amputee, Moss could more easily move in and out of his chair, and he would leap to the ground to push or pull a companion over an obstacle. "It was the most difficult mobility I've ever faced," Kiley says. "Just in terms of physical exertion, it's in a world of its own."
Low dams on the trail became ordeals. The climbers teetered over them, next to cliffs that dropped thousands of feet to the desert floor. "There were close calls," Rogers says. "There were times up there where we were walking a really narrow line, in terms of safety and making it."
The climbers didn't want support. They refused assistance and carried all their gear except water, which Jarvis insisted a support team provide. Jarvis, along with his wife, Paula, visited them each day. Paula brought baked goods and, on one occasion, a six-pack of beer. Rogers and Kiley say those beers were the best of their lives.
While they didn't know it, the climbers were drawing widespread media attention with news outlets across the country tracking their progress. "I was getting phone calls from my relatives saying, 'Hey, I'm reading about your boyfriend!'" Baumann Powers says. "It reached so many more people than Shorty was expecting, and of course that brought him joy. He was making his point."
The climbers experienced more than one false summit—a demoralizing phenomenon every hiker knows, of cresting a high point only to discover the goal remains far above and out of sight. But at dusk on the fifth day, the summit of Guadalupe Peak, 8,751 feet above sea level, came into view. The sense of triumph was overwhelming, Rogers says. The climbers pushed themselves, and their chairs, up the final incline, where a support team waited with champagne.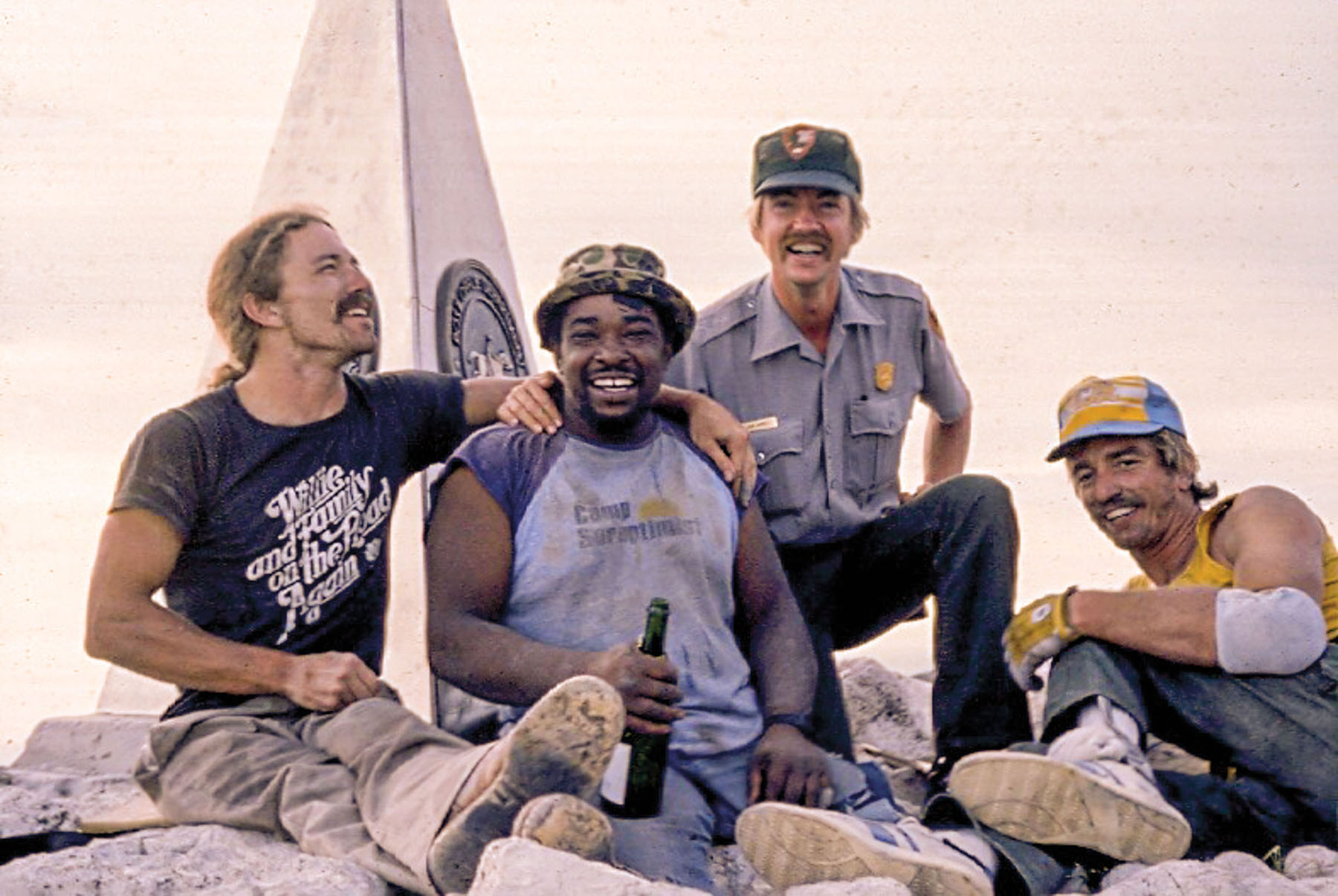 After five exhausting days on the mountain, the men spent a quiet night on the peak and the next morning flew back to the trailhead on an Army chopper. Reunited with their supporters, the climbers basked in their accomplishment. Carlsbad, New Mexico, was holding a rodeo, and the climbers were invited as honored guests. Then, the group received a call from President Ronald Reagan. Kiley says it was the only time he saw Powers at a loss for words.
The experience altered the trajectory of their lives. Rogers left a path in engineering for a PhD in recreational therapy instead, building a program at Indiana State University centered on sports and the outdoors for people with disabilities. Kiley was already a recreational therapist, but the climb changed his focus. "I knew exactly what I was going to do when I got back," he says. "This kind of outdoor experience, though not as extreme, was going to be part of what we provided." Kiley went on to have a singular athletic career, winning 13 Paralympic medals and earning induction into the Olympic and Paralympic Hall of Fame in 2022. With Powers at the helm, POINT pioneered new programming—fishing tournaments, hunting trips, and sports events for people with disabilities.
The Americans with Disabilities Act of 1990 established new accessibility requirements for public facilities, including national parks. The POINT climb loomed large as the ADA was implemented, influencing park-service leadership "in ensuring we met both the letter and intent of the law," Jarvis says.
While the climbers struggled on the mountain, a team member at the trailhead invited Jarvis to tour the park's campground—in a wheelchair. It was a revelation, showing Jarvis the obstacles in this place meant to serve "all people." Jarvis carried that experience into his park service leadership—he went on to serve eight years as National Park Service director in the Obama administration—where he made accessibility a lodestar. "I think this is one of those lynchpin events that changed a lot of perspectives," Jarvis says. "They were there to prove something. They showed that it wasn't a disability, but a different ability."
The Highest POINT
The nonprofit organization POINT was renamed Turning POINT in the 1990s, and it expanded its scope to include not only paraplegics, but also others with physical challenges. The organization's mission remains unchanged: to support people with disabilities in developing confidence and community, through outdoor activities. One marquee event is Shorty's Big Bass Battle, a fishing tournament named for founder Michael "Shorty" Powers, which is held each spring at Caddo Lake. Turning POINT also sponsors camping, boating, trap-shooting, and hand-cycling events both at Caddo Lake and in Dallas.
turningpointnation.org
From the June 2023 issue