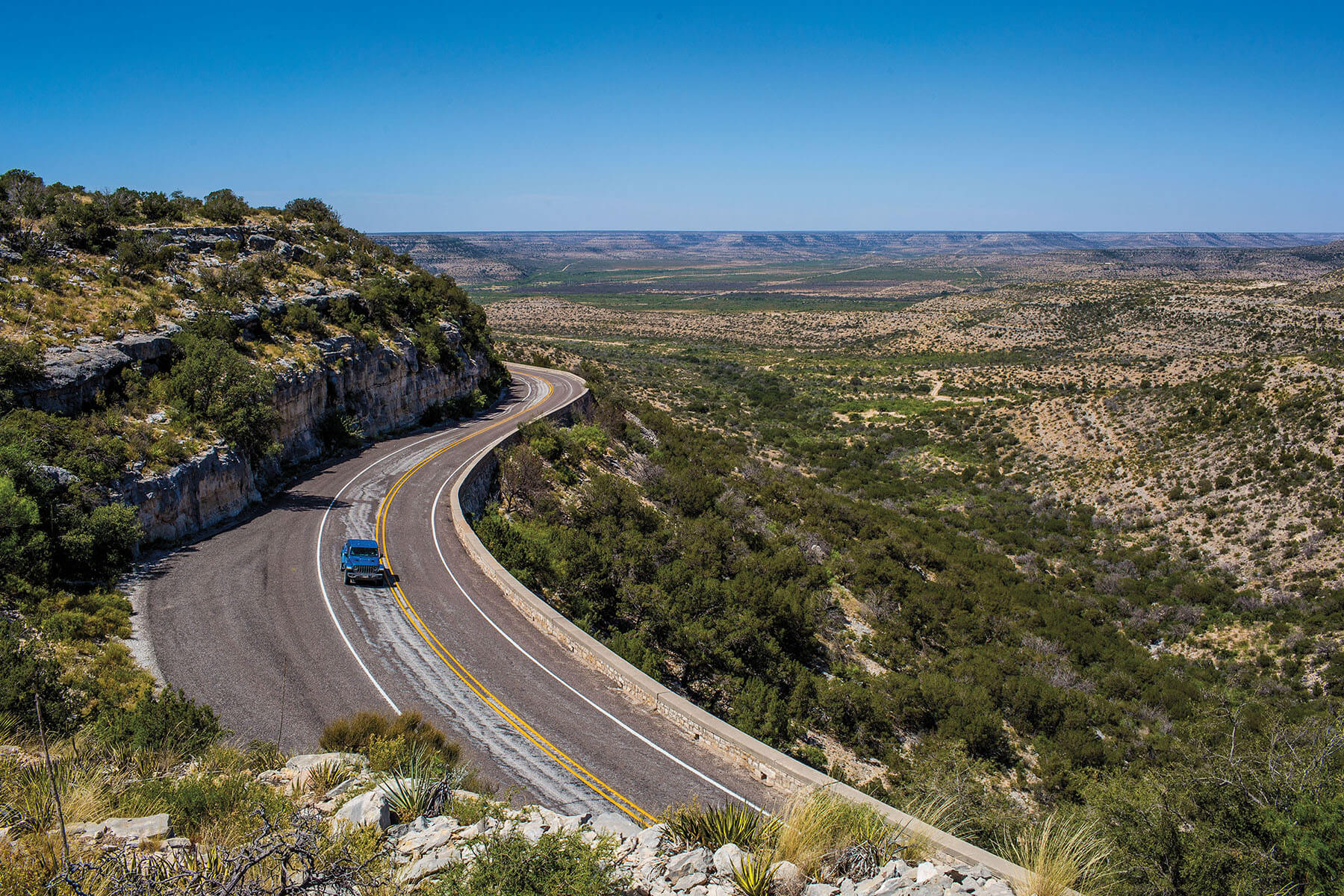 Drive west of the Hill Country on Interstate 10 and the limestone trades its coat of live oak for scrubby juniper and mesquite. As you approach the border of Crockett and Pecos counties, you'll find more pumpjacks and goats than people. Still, the region's tiny towns of Ozona, Sheffield, and Iraan are home to a few friendly folks who appreciate the space. Businesses here are often closed on weekends, but with some planning, there is plenty to enjoy. Delicious home-style cooking and quirky roadside attractions merit a quick stop, but it's worth sticking around a little longer to explore. The many hardscrabble mesas are ripe for discovery and conceal frontier artifacts, but visitors should be wary of mountain lions. Cutting south through the mesas is the wild Pecos River, which is fed by the multitude of springs in Independence Creek. Along its banks, you'll find zero cell phone reception and a peaceful desert oasis you may never want to leave.
San Antonio
3 hours
Austin
4 hours
Dallas
5.5 hours
Houston
6 hours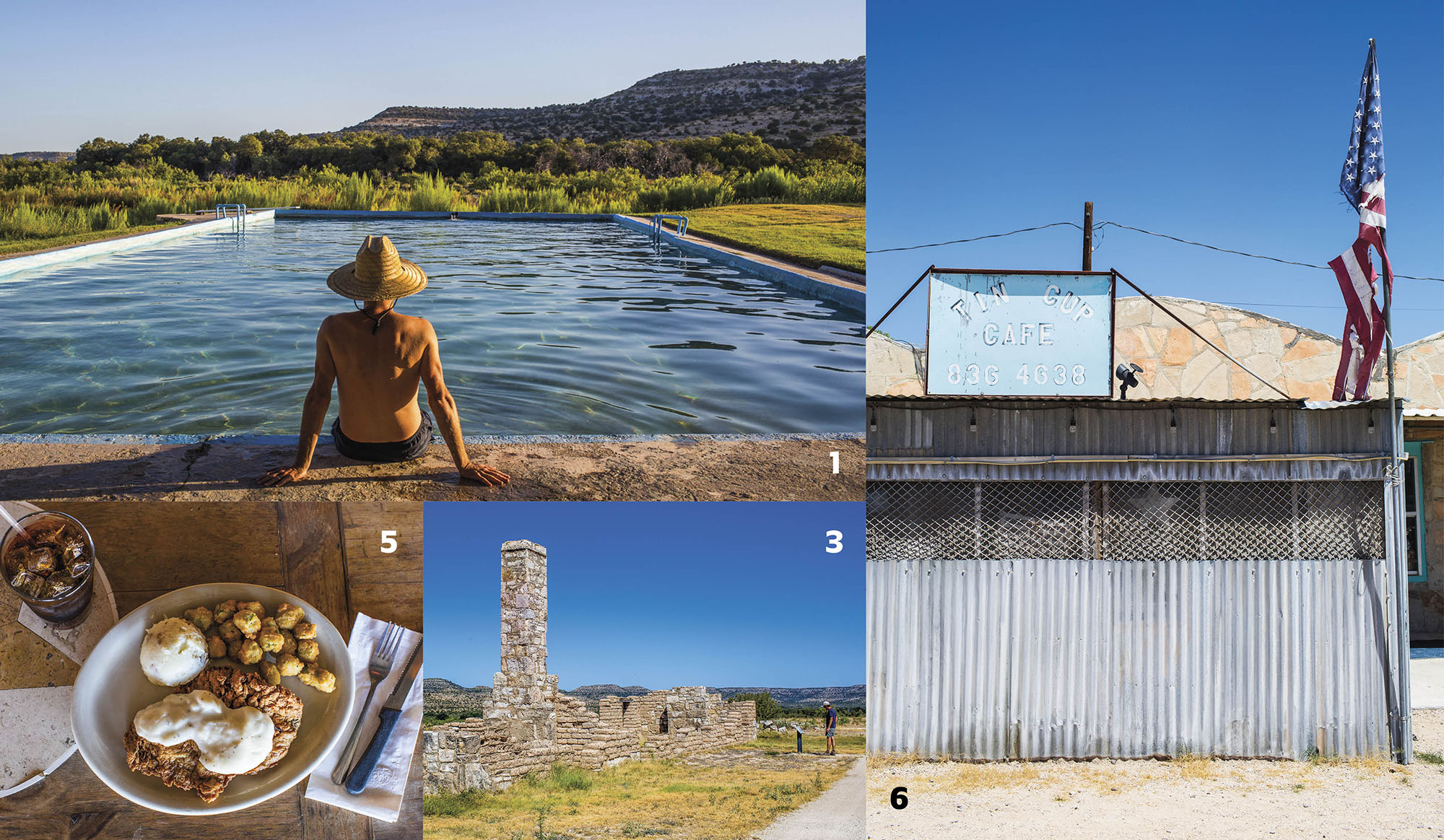 Stay

Eat

See

Learn

Shop

Drink

1 / Chandler Ranch
Located on Independence Creek in Dryden, this family-run guest ranch is a regional favorite. Rent one of the charming 1950s-era cabins (starting at $400/night) and spend a few days relaxing in the spring-fed pool, fishing in the Pecos River, or exploring the 1,500 acres by four-wheel drive. Perfectly cooked ranch cuisine, served by host and chef Richard Jasso, completes the experience.

2 / Twistflower Ranch Nature Retreat
This remote ecolodge in Ozona is perched on the edge of a mesa beside a wind farm. Stay in one of the cabins (starting at $125 per person per night, which includes meals) and enjoy nature, history, and leisure activities, including heritage or botany tours. Birders can experience the 5,800-acre property's healthy population of painted buntings and other birds.

3 / Fort Lancaster State Historic Site
In the 1850s, Fort Lancaster was one of many posts established to patrol the road between San Antonio and El Paso. It's the only U.S. Army fort in Texas attacked by Native Americans. In 1867, a band of Kickapoo and their allies captured most of the U.S. Army's horses. The site now includes the ruins of the original fort and a museum.

4 / Crockett CountyMuseum
This small museum in Ozona's town square houses an eclectic collection of artifacts detailing Crockett County's past and present. There is a sizeable collection of arrowheads and frontier artifacts, but you will also find replicas of a teenager's room and a hair salon from the 1950s. A striking statue of Davy Crockett stands in the shade of pecan trees in the park out front.

5 / Hitchin' Post Steakhouse
This popular classic roadside restaurant and bar is worth a stop when passing through Ozona. Originally a sheep barn built in 1950, the restaurant has an extensive menu, but the delectably crispy chicken-fried steak and okra are sure to power your road trip. Ozona is the original location, but there is now a popular iteration in Fredericksburg.

6 / Tin Cup Cafe
The sole restaurant in the hamlet of Sheffield, this friendly family-run establishment is located in a vintage extended-stay motel on Main Street. Check Facebook for the restaurant's irregular hours. It's worth planning your trip around a stop here. Try the Poncho Burger loaded with green chiles and served with a side of warm tortilla chips and homemade hot sauce.

7 / Mike Capron Gallery
Artist Mike Capron's gallery on Sheffield's Main Street isn't always open. Still, if you catch the 78-year-old cowboy artist in the studio on a weekday, you can enjoy the collection of his expressive Western paintings, many of which highlight local historical events. Look for a flag in the window and an open door to know if it's OK to drop in.

8 / The Sheffield Loop
Driving west from Ozona, take the short section of SH 290 instead of I-10 to Sheffield for one of the most spectacular views of the Pecos River Valley in the state. The Fort Lancaster Scenic Overlook sits at the drive's high point and overlooks Fort Lancaster. It's an excellent place for a picnic stop and has become popular as overnight RV parking.
Comic Relief
In 2021, the city of Iraan revived its beloved Alley Oop Day at Alley Oop Park and Fantasyland. The unique park was built in honor of Alley Oop, the time-traveling caveman protagonist of the eponymous comic strip. The strip was created in 1932 by local resident V.T. Hamlin. At the height of its popularity, it inspired a chart-topping pop song by The Hollywood Argyles and gave rise to the basketball term. The two-day party runs from May 31 to June 1, 2024, and features a 5K run, games, a golf tournament, a cookoff, live music, and a caveman and cavewoman beauty contest.
The city of Iraan owns and operates three RV parks with full hookups, including a small lot next to Alley Oop Park and the Rocky Top RV Park. But the Landing Park on the south side of town has more space, trees, and views of the surrounding mesas. 300 E.
Second Street, Iraan. 432-639-2301
From the December 2023 issue