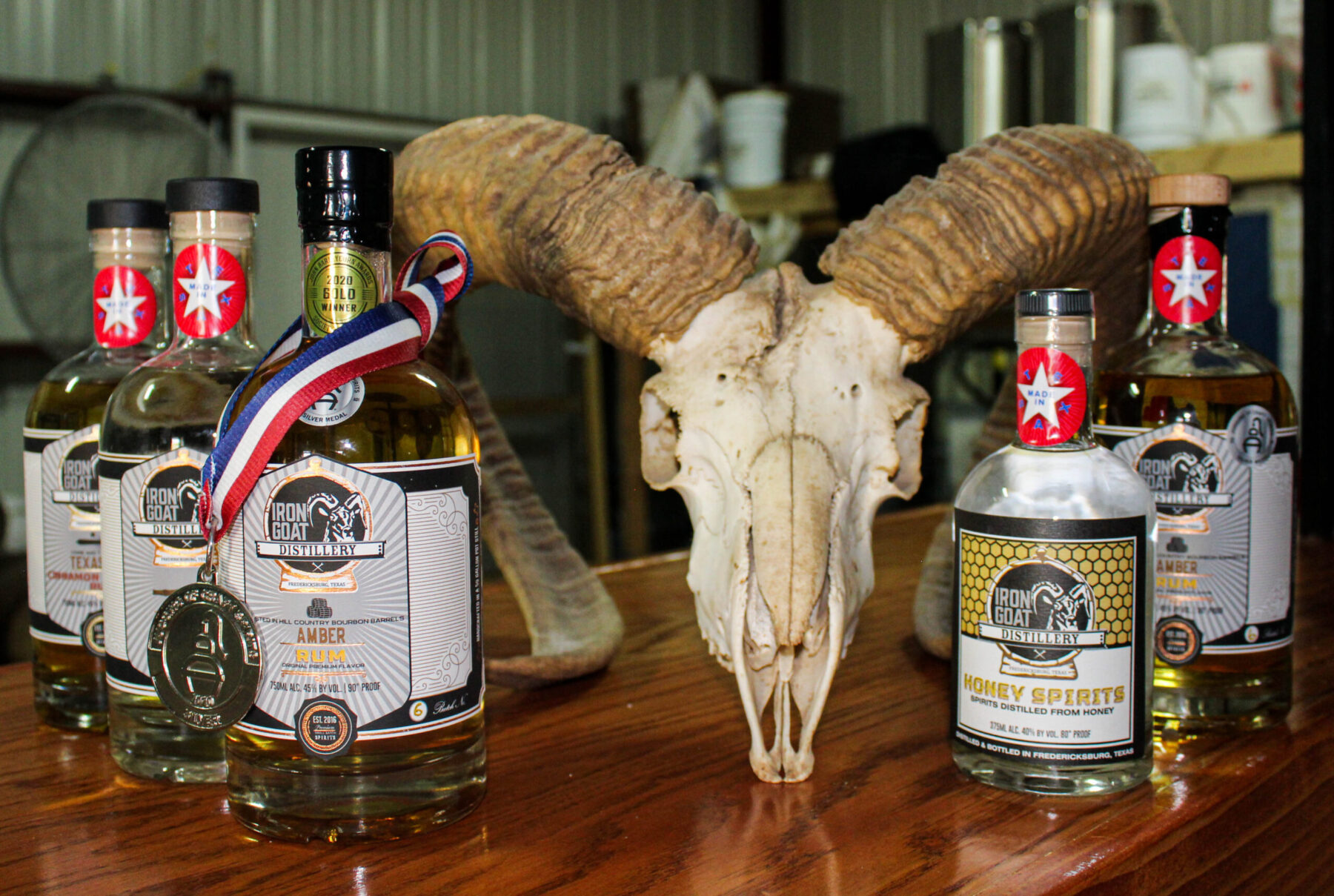 About 10 minutes from Fredericksburg's Main Street, a green retrofitted barn sits on 39 green acres filled with roaming sheep and donkeys.
While the site blends in will with its similarly bucolic surroundings, it's actually the site of Gillespie County's first legal distillery, Iron Goat Distillery.
Run by the Williams family, Iron Goat opened in 2016, and is already racking up awards for its rums (silver, aged, and cinnamon), tequila-like agave spirits (silver and aged), and unique honey-based liquor.
Kerry and Susan Williams, along with their son Preston Williams, moved to Fredericksburg from Chicago in 2015 to open Iron Goat. Kerry and Preston first got into producing their own alcohol by homebrewing beer while living in Chicago. The hobby was just an excuse for them to bond, but it quickly turned into a passion.
After they got the hang of brewing beer, they both wanted something a little more challenging and intensive, so they turned to liquor stilling. After Kerry retired from his job as an ironworker working on some of the Windy City's sky-high structures, he took on an internship at Quincy Street Distillery, while Preston started doing his own research. The family decided it was finally time to create a business of their own.
"We wanted to move somewhere that had the beauty of the country but still had the comforts of a city," Kerry says. "After a quick trip around the Hill Country, we knew Fredericksburg was the place for us."
Once they got to town and secured a license, they decided to focus on rum because they wanted to do something different than Texas whiskey, and rum doesn't require as much equipment as grain-based liquors. But it still took about a year of development before they had any product to sell. "It's a long process testing out yeasts and molasses and trying to find what combination works best," Preston says. "Then once we had the base recipe, we could start aging and experimenting."
Iron Goat has even managed to weave in locally sourced ingredients in two of its most popular spirits. The Amber Rum is made from aging Silver Rum in a barrel from nearby Garrison Brother's Distillery, giving it lingering oak and vanilla notes; and the Honey Spirit is made from fermenting local wildflower honey, giving it a subtly sweet flavor.
Though Iron Goat has only just begun submitting their products to competitions, they've already come back with six awards: A silver medal from American Distilling Institute for their Amber Rum; three gold medals (for their Silver Rum, Amber Rum, and Agave Spirit) and a silver (Texas Heat Cinnamon Rum) from John Barleycorn Spirit Writer's Awards; and one bronze from Bartender Spirits Awards for their Agave Spirit.
You can find Iron Goat products at Total Wine & More, Twin Liquors, Spec's, and Pinkie's.
"It's encouraging because now we know people weren't just being nice to our faces," Kerry says. "People who don't even know us are saying that, 'Hey, this stuff is good.'"
Soon, customers will be able to visit Iron Goat at its first official tasting room opening this fall. The tasting room will be located in the upcoming Grand Market at Milam Street, a grocery store turned indoor mall and lounge area. It's a chance to be an even bigger part of the town they've come to love.
"The bar and stilling community here has been so supportive," Preston says. "Up north, you always hear about southern hospitality, but the people here are nicer than anything we could have imagined."
This story is part of our ongoing coverage of Fredericksburg's 175th anniversary. Read more stories about the beloved Hill Country destination here.