Back in the day—from 1933 to 1958—travelers on the Bankhead Highway were greeted with an unusual sign as they drove through the heart of Palo Pinto County's biggest town. "Welcome to Mineral Wells," read the placard spanning the roadway, "the Home of Crazy." An arrow on the sign pointed toward the seven-story Crazy Hotel, two blocks away. Postcards of the novel greeting often showed the 14-story Baker Hotel towering in the background.
After the city removed the original porcelain sign in 1958, it went missing. Reports of the sign surfaced from places like a Dallas junkyard, but nobody ever found it. But now Mineral Wells residents can once again salute the sign after a local group raised money to erect a replacement earlier this month over State Highway 180.
"We searched and searched for some scrap of the old sign but couldn't find it," says Cory Crenshaw, a local banker who served as president of Mineral Wells Leadership Group #24, the chamber of commerce-sponsored project that raised $125,000 to pay for a replica of the original sign. "We held golf and bowling tournaments, but the biggest contributions came from individuals. The Horne family of Arizona, who recently sold the Baker Hotel to the group that is currently restoring it, was especially helpful."
Fort Worth's Legacy Signs of Texas built the new sign, which is made from aluminum panels, a steel support structure, and LED lights. Legacy owner Roger Chung says the Crazy job was "much more meaningful" than others because it re-creates an important historical landmark.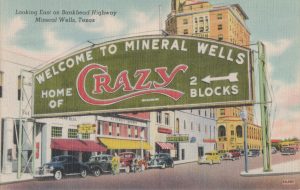 The town's "crazy" designation goes back to the 1880s when, according to local legend, a woman was relieved of a mental affliction by continued quaffs at the "crazy well." As the alkaline water was found to be generally beneficial, the growing town became known as the spot "Where America Drinks Its Way to Health." Folks bathed their way to health, as well.
The "Home of Crazy" sign is only one indication of Mineral Wells' civic rejuvenation. In addition to an ongoing restoration of the Baker Hotel, the Crazy Hotel (aka Crazy Water Hotel) is getting a face lift. And at the Famous Water Company, where you can belly up to an antique mineral water bar and order a shot of Crazy Water, owners recently restored a long-dormant bottling facility.
While plans for an April 18 sign-lighting ceremony are pending, drivers can see the sign from their cars. "People are excited that the sign is back up," Crenshaw says. "Crazy-excited."