This spring, State Rep. Ryan Guillen introduced House Concurrent Resolution 83, which would designate Floresville the Peanut Capital of Texas. Perhaps no one appreciated the designation as much as the Pfeil brothers—Jason, Justin, and Jerrett—third-generation farmers who are considered the last full-time peanut growers in Wilson County. They're maintaining a family tradition that started in the 1930s when their grandfather harvested his first legume.
"We have got to be honored that the gentleman [Rep. Ryan] did what he did, and we give thanks to him," Jason says. "We also have got to be thankful for farmers who are no longer with us who raised all the peanuts through hard work."
Floresville Peanut Festival
Dates: Oct. 10-14
Location: Wilson County Courthouse Square
Admission: Free grounds admission
Website: floresvillepeanut
festival.org
The annual Festival Royalty are named "Queen Tunaep" and "King Reboog" (peanut and goober spelled backwards). This year's court-elect queen and king are Floresville High School students Brenna Baggs and Lane Bodiford. State Rep. Ryan Guillen, author of the Peanut Capital resolution, is scheduled to appear after the annual parade to recognize Floresville's Peanut Capital designation.
Guillen's resolution breezed through the Texas House and Senate in April and May and was signed by Gov. Greg Abbott on June 9, fours month before the 79th annual Floresville Peanut Festival, which attracts 10,000 or more visitors to the town 35 miles southeast of San Antonio every year.
Along with noting that "Floresville's strong historical and commercial association with the peanut has been a source of great pride for generations of area residents," the resolution recounts Wilson County's more-than-a-century history with the crop. The first Peanut Festival took place in 1938 and was initially called the "Peanut Pow Wow" to celebrate that year's harvest. The resolution spotlights the "[p]ioneering growers [who] realized that peanuts were well-suited to the sandy soil of the region." One of those growers was entrepreneur Joe T. Sheehy, who imported peanut seeds in the early 1900s and became known locally as the "Peanut King." His daughter Elizabeth was the first queen of the Peanut Festival pageant, and she was accompanied by the first king, a local farmer's son named John. B. Connally Jr. Yes, the same John B. Connally who would become Texas' 38th governor.
According to the Wilson County Historical Society, the county had more than 150 peanut farmers in the 1930s, including the Pfeil brothers' grandfather Randolph, whose plot was 30 acres. "That was one heck of a field in those days," says the brothers' father, David, now semi-retired. "It all had to be done manually." With mechanization, the Pfeils planted as many as 500 acres of peanuts in the 1950s.
This year's Peanut Festival president, Brenda Trevino, says they "will continue to honor the legacy of peanut farmers, past and present." This includes Tevah Pfeil, Jason's niece, the reigning queen of the festival who helps her family with peanut harvesting and now attends the University of Incarnate Word in San Antonio.
Besides the coronation of Queen Tevah's successor, this year's festival features live entertainment, the opening-day Goober Games for children, the Grand Parade on Oct. 14, and an arts and crafts and food vendors area "offering 'peanut everything' like brittle, cookies, clusters, roasted peanuts, and more," according to Trevino, who also is county auditor of Wilson County.
Mrs. Annie's Peanut Patch, a Floresville institution on B Street, plans to stay open until 8 p.m. with tables piled outside the storefront with Mrs. Annie's signature peanut brittle, peanut patties, rice crispy treats, baked goods, and other products. Founded in 1987 by Annie Sanchez, the Peanut Patch is staffed by three generations of her family including daughter Valerie, the manager; her grandson, Michael, the cook; his wife, Amy; and her sister Ada, who greets visitors at the counter. The shop has shipped as far away as Spain and Germany, and its guest book includes customers from 44 states, many of whom are attracted to the brittle that surprisingly is not too hard. "Basically, the recipes all have the same ingredients," Valerie says. "It's just how you handle it—you can beat it too much and take out the airy bubbles and the crunchiness." (See Mrs. Annie's Peanut Patch Peanut Brittle Sugar Cookie recipe below.)
Texas Peanut Fact
"While Texas may be a small player in the U.S. peanut industry, we're a very important component because we're the only state growing all four types—Runner, Virginia, Spanish and Valencia, both conventionally and organically. We grow high oleic [the fatty acid that may lower cholesterol and reduce inflammation] peanuts, which are healthier and highly sought after. Because our peanuts are under irrigation, we grow a very high-quality peanut, making Texas an ideal market for higher end consumers and export markets."—Shelly Nutt, executive director, Texas Peanut Producers Board
The festival's parade passes by the Wilson County Courthouse in downtown Floresville, where a 6-foot vertical statue of a peanut stands on the lawn. Although similar to Seguin's giant Pecan and Poteet's oversized strawberry, alas, Floresville's is not the largest statue of its kind in the nation. That title belongs to Ashburn, Georgia's 17-foot peanut, which was re-installed earlier this year after being demolished by Hurricane Michael in 2018. It befits Georgia's status as the largest peanut-producing state, with more than half the nation's crop produced here, according to most recent U.S. Department of Agriculture statistics. Texas ranks No. 5, with Gaines County southwest of Lubbock being the state's leading peanut county and reflecting a trend of more peanut production moving to that region.
Founded in 1867 and voted Wilson County seat six years later, Floresville is named for Don Francisco Flores de Abrego, who emigrated from the Canary Islands in the 1700s to establish a ranch near present-day downtown Floresville, well ahead of the arrival of peanuts two centuries later. Today, the town of 7,544 is situated at the far northern end of Rep. Guillen's expansive district, the southern terminus of which is his hometown of Rio Grande City more than 200 miles away. In between, there still is significant peanut production in Atascosa and LaSalle counties and the region's peanut intake plant in Pleasanton. The 2023 Texas Legislative session was Guillen's opportunity to propose Floresville as the state's official Peanut Capital, the town having been moved into his district through redistricting.
The reason to emphasize Floresville's peanut heritage is prompted by its current diminished production, caused partly by intrusion of San Antonio's suburbs along the US 181 corridor cutting through Wilson County. Agriculture economics are another, with peanuts losing out locally to corn, sorghum, and ranching, and federal price supports decreasing 40 percent in the past two decades.
Asked what becoming the official Peanut Capital of Texas means if peanuts no longer dominate local agriculture, David Pfeil thinks of the crop's value in a different way. "It is in our history that we need to carry on," he says. "That's what our country came from and was made of, with the kind of hard work it took."
Less than 50 years ago, Wilson County farmers were planting 15,000 acres of peanuts, compared to the Pfiels' dedicating 70 of their farm operation's 600 acres today as the county's only sizable peanut growers. That supplements a cow-calf operation and crops of sorghum and wheat, the latter rotated with peanuts.
Why keep growing peanuts?  "It's our family legacy," Jason says from the cab of his truck while moving cows from one pasture to another. He then remembers what his father once told a reporter from the Wilson County News: "That is what my parents wanted—keep planting peanuts on this land."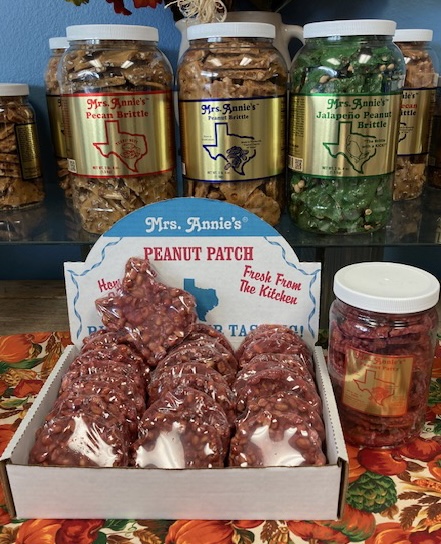 Mrs. Annie's Peanut Brittle Sugar Cookie Recipe
Ingredients
• 1 cup butter
• 1 cup sugar
• 2 egg yolks
• 1 tspn. vanilla
• 1 cup peanut brittle chips
• 2 ½ cups flour
Directions
In a mixing bowl, mix butter until creamy and then add sugar. Continue mixing and add egg yolks and vanilla. Then, stir in peanut brittle chips and finally stir in flour. Separate the dough into dinner spoon-size balls and place on an ungreased cookie sheet, leaving space in between. Once done, use a glass or coffee cup to press the bottom on a plate of sugar and then press down on the cookie dough. Bake at 400 degrees for 10 minutes.
Recipe compliment of Valerie Sanchez of Mrs. Annie's Peanut Patch.