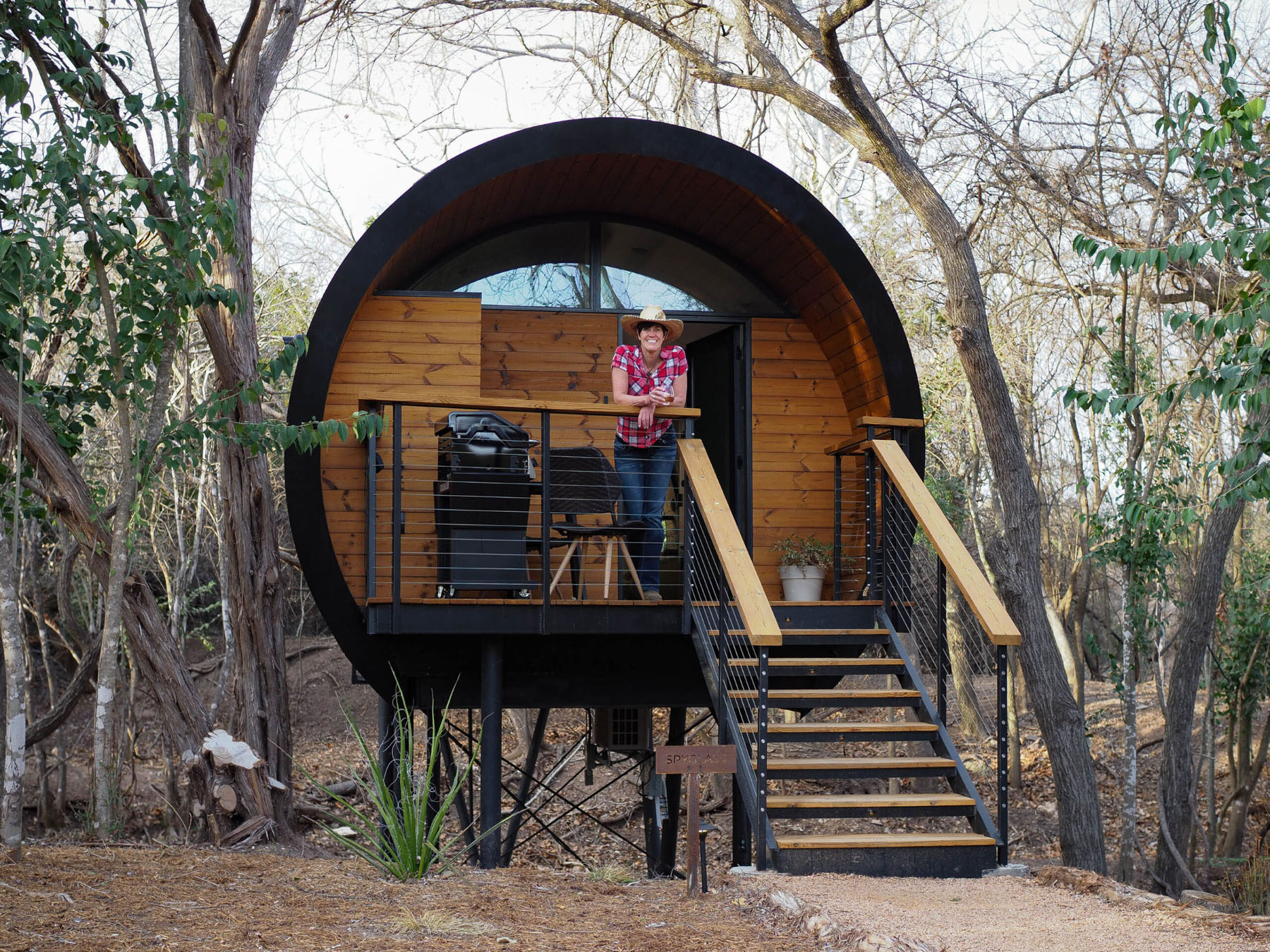 A barrel-shaped building called the Spyglass stands on stilts at the end of a leafy path. A few hundred yards away, the Monarch unit looks like a butterfly, wings poised for flight. And just down a gravel road, the Cocoon vaguely resembles a cabin-sized dollop of whipped cream.
These—plus a safari-style tent, a geodescent dome, an Airstream trailer, and two refurbished shipping containers—make up Onera, an eclectic collection of overnight quarters tucked in the trees outside of Fredericksburg.
It's part of a growing trend toward glamping that accelerated during the pandemic. Yurts, cabins, tiny homes, and other alternative forms of lodging are enjoying a moment.
"I think people are looking for unique places to stay," says Ben Wolff, Onera's developer. "When you think about staying in this versus a box hotel, there's really no comparison."
Onera means "dreams" in Greek, and Wolff says he wanted to create an upscale destination for couples to find reconnection with nature and each other. He and his wife, both former New Yorkers, bought 6.5 acres along Barons Creek on the southwest side of Fredericksburg, a Hill Country town known for its wineries, peaches, German fare, boutiques, and museums. They teamed with Artistree, which designed and built an ethereal cluster of rental treehouses called Cypress Valley on Lake Travis near Austin.
Construction on Onera began in January 2021, and eight units opened last November. Wolff calls it a "landscape hotel."
"There's a romance and magic to the place," he says. "We're trying to create an environment where people feel like they're walking into a dream for a night."
After dark, the structures twinkle in lights. At the Oak Grove tree deck, a tree-shaded communal area, guests can lounge beside a shipping container that has been transformed into a swimming pool, hang in a swinging chair, or relax in a barrel sauna. Each lodging unit has its own gas grill and fire pit, as well as a kitchenette with a refrigerator, a tiled bathroom, and either a cedar hot tub or a stone soaking tub. There's also an electric vehicle charging station.
But a night in this dreamy paradise doesn't come cheap. Rates range from $600 to $1,000 per night, although midweek openings occasionally pop up for closer to $300.
"We don't think there's anything out there at this level like it, and there's demand for it," Wolff said.
He already has purchased a neighboring property and plans to add additional units, and a second location will open in the Hill Country later this year.
If you do stay a night in the Spyglass, heat up the cedar tub on the back deck early in the morning. You might just get a glimpse of the local deer, nibbling on acorns as they stroll through the brush beneath you. They seem to know they're part of the magic.