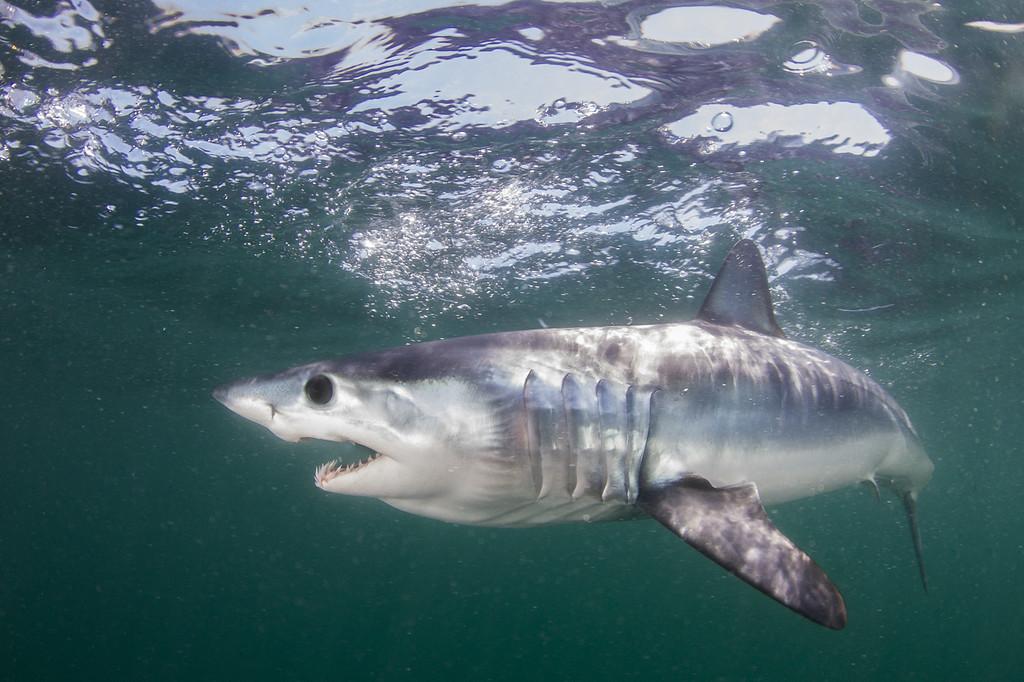 Discovery's annual Shark Week gets underway July 23, with actor Jason Momoa (star of Aquaman) hosting the week's worth of all-things-shark programming. To gear up for Shark Week, check out the podcast hosted by marine biologist Luke Tipple, where he discusses the wide variety of land and life and the ocean.
Premiering in 1988, Shark Week is the longest-running programming event on television, and its ratings keep growing. But what is it about sharks that make them such a huge hit?
Kesley Banks, Ph.D, an associate research scientist for the Sportfish Center in Corpus Christi, believes it has to do with the most fascinating aspect of sharks: the unknown. "We're still in the infancy of shark science," she says. "New information is still being discovered."
There is an assumption that sharks can be dangerous, but Banks says there are things people swimming at beaches can do to help mitigate encounters. First, understand you're entering an animal's environment, and if you encounter a shark, it most likely won't be harmful. However, people shouldn't wear flashy clothes or act like a fish and splash in the water, which attracts sharks. She also says shark bites are mainly provoked: "Sharks are not actively hunting for humans; they just explore their environment with their mouths because they don't have hands."
When fishing on the coast, anglers who hook sharks are encouraged to release their catch, but there are some shark species that can be retained and it's possible to fish for unprohibited sharks in good health. "Texas has one of the healthiest populations of sharks, especially in the Gulf of Mexico," Banks says. You can find information about shark limitations and species identification at the Texas Parks & Wildlife website.
Here in Texas, we're definitely kicking things off early for Shark Week, with a range of shark-themed events and other happenings starting this week.
Stay Jaw-some
According to Kelsey Banks of the Sportfish Center in Corpus Christi, shark sightings are trending up in Texas due to rising shark populations resulting from more protection from overfishing and rising beach attendance.
Unprovoked shark bites are not trending up in Texas, Banks adds, but there is an increased chance due to higher numbers of people at the beach.
Experts refer to "shark attacks" as "shark bites" because "attack" implies that a shark is actively hunting for humans and that is proven false.
The Science Mill, Johnson City
The Science Mill is celebrating its own Shark Week with STEM-education activities for the whole family from July 11 to 18. Learn about the impact of sharks on the environment and the science and culture of sharks at this ocean-themed event that includes three-dimensional films, photo opportunities, and deep-sea robotics. Tickets can be purchased in advance and walk-ins are welcome. sciencemill.org 
Moody Gardens, Galveston
Take a drive down to the Gulf Coast to view Sharks in Depth, an exhibit that explores the facts versus the fictions about sharks. Guests can also visit one of the largest aquariums in the Southwest to get a look at real-life sharks. Additionally, immerse yourself in an award-winning, four-dimensional short film on the species and learn about how the shark navigates an ever-changing environment on a three-dimensional screen with special effects that places you in the middle of the action. moodygardens.com 
Texas State Aquarium, Corpus Christi
Although the public views sharks with fear, the Saving Sharks exhibition sparks curiosity and a better understanding of the complexity of the apex predators, which are carnivores at the top of the food chain that hunt other animals as prey. This is important not just for sharks, but also for other species. "As sharks become vulnerable from a population standpoint, it creates an imbalance in the ecosystem," says Jesse Gilbert, president, CEO, and senior biologist at the Texas State Aquarium.
Building a connection is key, so at the exhibit visitors can interact with the species by safely touching bottom-dwelling sharks and feeling their sandpaper-esque skin; they can also watch the aquarium biologist feed large sharks. To deepen learning and engagement, educational talks with shark and ecosystem conservationists are given throughout each day.
For a separate ticket price, visitors can "Snorkel with a Shark!" This fun opportunity allows getting up close and personal with sandbar sharks and fish species in the large Caribbean Sea exhibit, says Gilbert. The experience provides appreciation for shark size, speed, and appearance. texasstateaquarium.org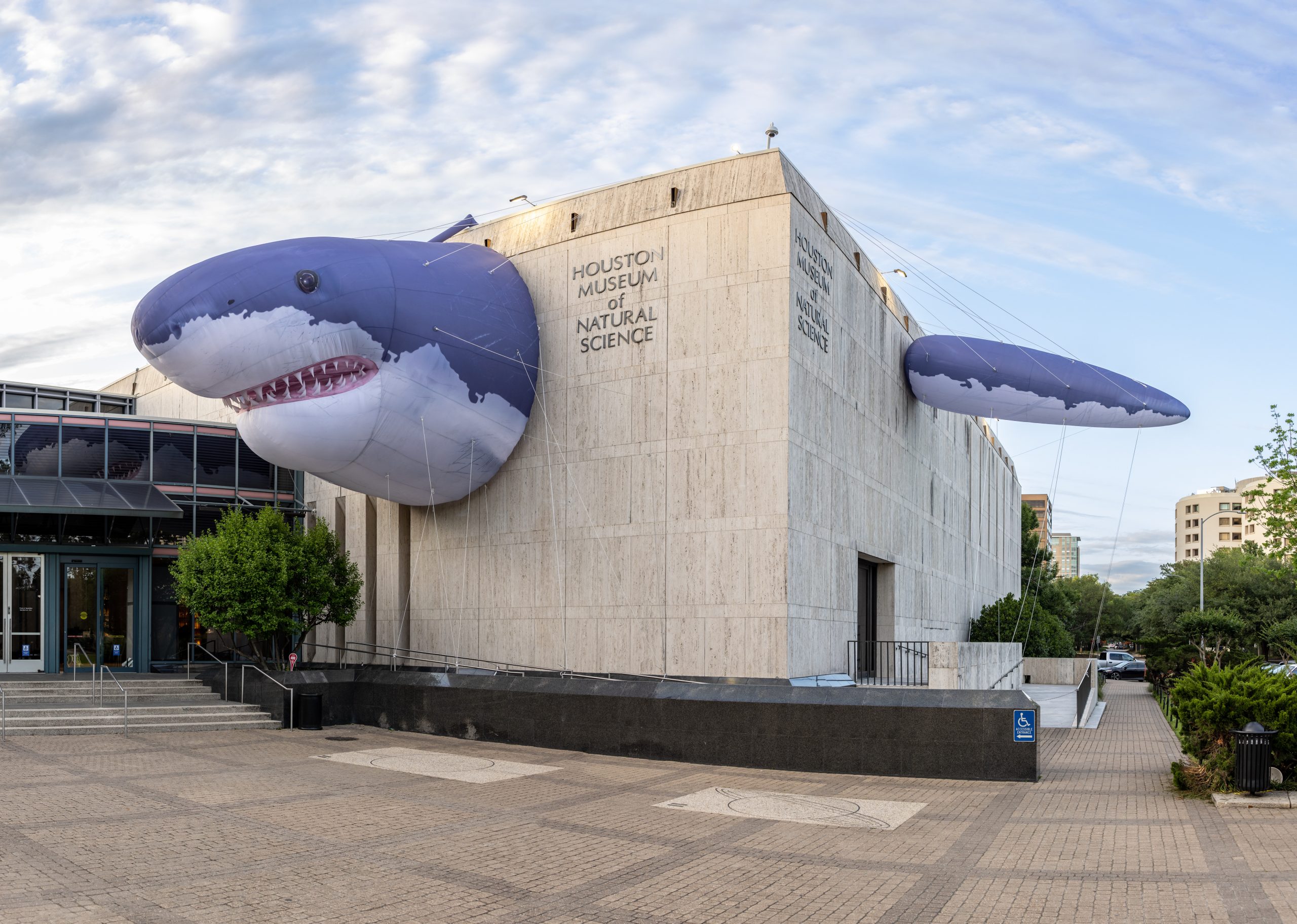 Houston Museum of Natural Science
Immerse yourself in all things sharks at the exhibition Sharks! The Meg, The Monsters, & The Myths. Five themed galleries let the whole family interact, learn, and engage with sharks. "Touching is a very important way for people to make emotional connections with animals," says Nicole Temple, vice president of education and exhibit curator at the Houston Museum of Natural Science. "It allows you to know they exist and that you're willing to take away the lessons on how sharks need to be protected."  
Over 500 different species of sharks are represented in the exhibit. The museum wants guests to leave knowing the importance of sharks and that keeping plastics out of the ocean is the best way a human can take care of sharks, Temple says. hmns.org