Far West Texas is known for its distinctive sense of place, characterized by desert vistas scattered with spiky ocotillo plants and small towns full of dust and quirk. It's in this environment that architectural firm Trost & Trost made its mark in the early 20th century.
Brothers Henry and Gustavus Trost established an architectural firm in El Paso in 1904, and were later joined by brother Adolphus, an engineer. Trost & Trost spent the next 30 years designing hundreds of buildings throughout the Southwest, including four famous West Texas hotels: Hotel Paso del Norte in El Paso, Hotel Paisano in Marfa, Hotel El Capitan in Van Horn, and The Gage Hotel in Marathon. All are still open to guests to this day.
These buildings were designed to fit the landscape and character of their hometowns, says Margaret Smith, granddaughter of Gustavus Trost and the secretary of the Trost Society. "The firm gave each hotel a unique look," she says. "Still having them as working hotels provides revenue, preserves history, and is a source of pride for the community. My family is thankful to those who run the hotels."
The proximity of the hotels to one other—at least in modern terms—and the wealth of activities and attractions around them make for a perfect road trip.
This 10-story hotel in downtown El Paso first opened on Thanksgiving Day in 1912 and was added to the National Register of Historic Places in 1979. It closed for renovation in 2016 and reopened in October 2020 as part of the Marriott Bonvoy Autograph Collection.
The building displays Henry Trost's affinity for Spanish Colonial Revival Style arches, courtyards, wrought iron, tile roofs, colorful interior tile, and decorative exposed ceiling beams. Arches and elaborate detailing encircle an expansive lobby topped by a 25-foot Tiffany-style stained-glass dome. A bar on the top floor opens onto wide verandas with views of the city and nearby Ciudad Juarez, Mexico.
Area attractions: Franklin Mountains State Park, Hueco Tanks State Park, El Paso Mission Trail, Plaza Theater
One of five properties built by the Gateway Hotel chain to encourage tourism within 200 miles of El Paso, this hotel opened in June 1930. It served as home base for Rock Hudson, Elizabeth Taylor, and James Dean during filming of the movie Giant in 1955. From 1977 until about 1987, a Houston real estate developer partially converted the property into timeshare condominiums. It reopened as a hotel in November 2001, now owned by Lanna and Joe Duncan of Fort Davis.
The Paisano features a Giant memorabilia room; Jett's Grill, named for Dean's character in the movie; a courtyard; and classic Trost touches including arches, tile detail, and exposed wood.
Area attractions: Marfa Lights, Chinati Foundation, McDonald Observatory, Davis Mountains State Park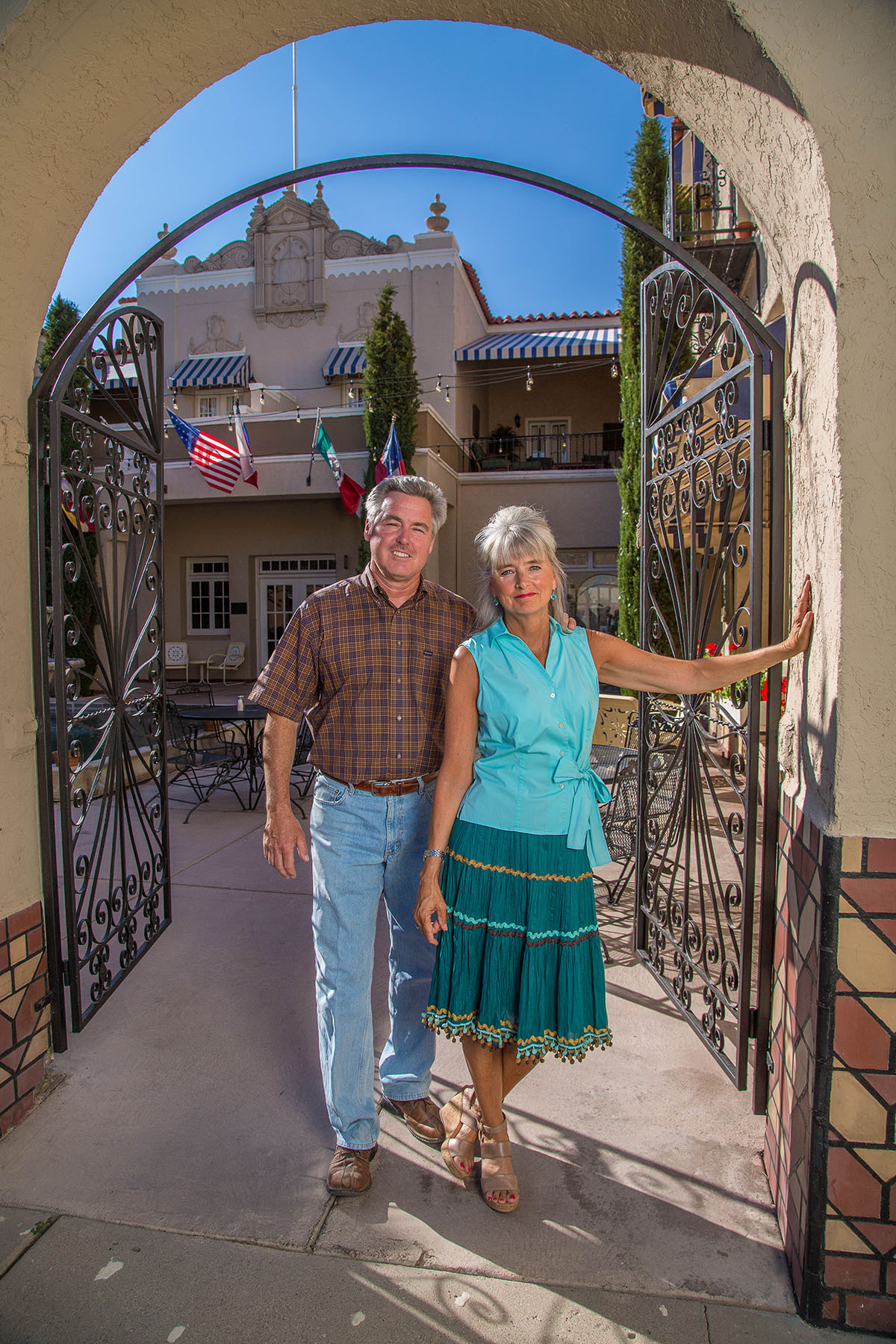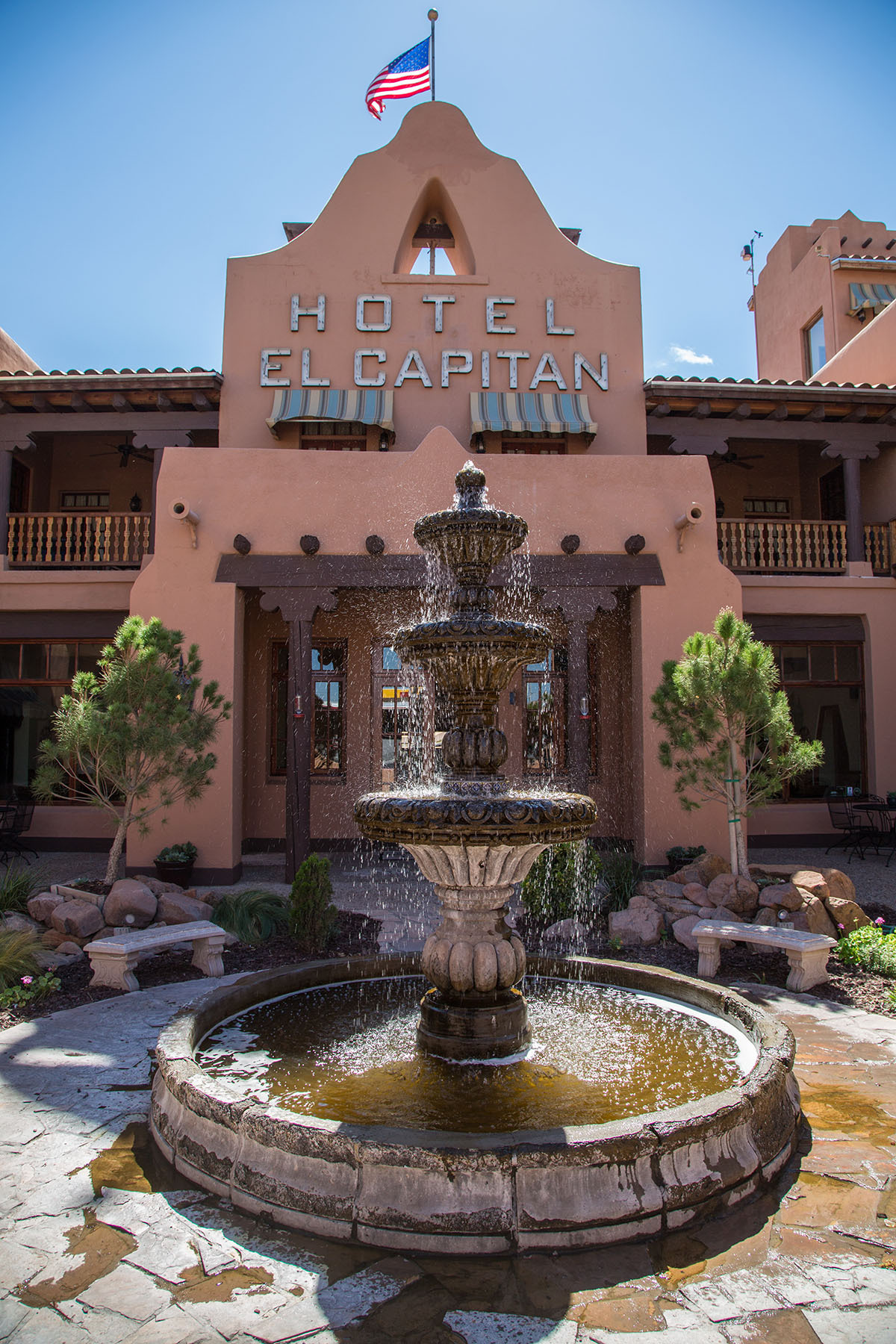 Hotel El Capitan, another Gateway Hotel, was built in 1930 at the crossroads of three soon-to-be-designated national parks: Carlsbad Caverns, Guadalupe Mountains, and Big Bend. El Capitan and the Paisano have nearly identical floor plans and many of the same design touches. The building operated as a hotel until the late 1960s but was converted into Van Horn State Bank in 1973. The Duncans purchased it in 2007 and converted it back into a hotel. The Hotel El Capitan Restaurant and a bar open onto a courtyard, and a rooftop observatory affords views of the mountains and rocket launches from Blue Origin's nearby facility.
Area attractions: Guadalupe Mountains National Park, Balmorhea State Park, Blue Origin Launch Site One
Rancher Alfred S. Gage commissioned this Trost hotel in 1926 as a base for overseeing his vast cattle operation. Over 50 years later, Houston businessman and rancher JP Bryan purchased the hotel in 1978 after it had fallen into disrepair. He restored the historic building and added Los Portales, a collection of 20 pueblo-style rooms around a courtyard. Rooms feature Saltillo tile floors, Western furnishings, and antique Mexican double doors. Bryan also bought adjoining buildings to house 12 Gage, a restaurant serving locally sourced wild game with vegetables and herbs grown on-site, and the White Buffalo Bar, specializing in tequilas.
Area attractions: Star Parties, Post Park, Big Bend National Park, Chihuahaun Desert Nature Center
Bonus hotel: Holland Hotel in Alpine was built in 1908 by rancher John Holland and remodeled by his son Clay in 1927. Clay hired Trost's firm, which added a third story and interior Spanish Revival elements including embossed wood beams, arches, and tile floors.