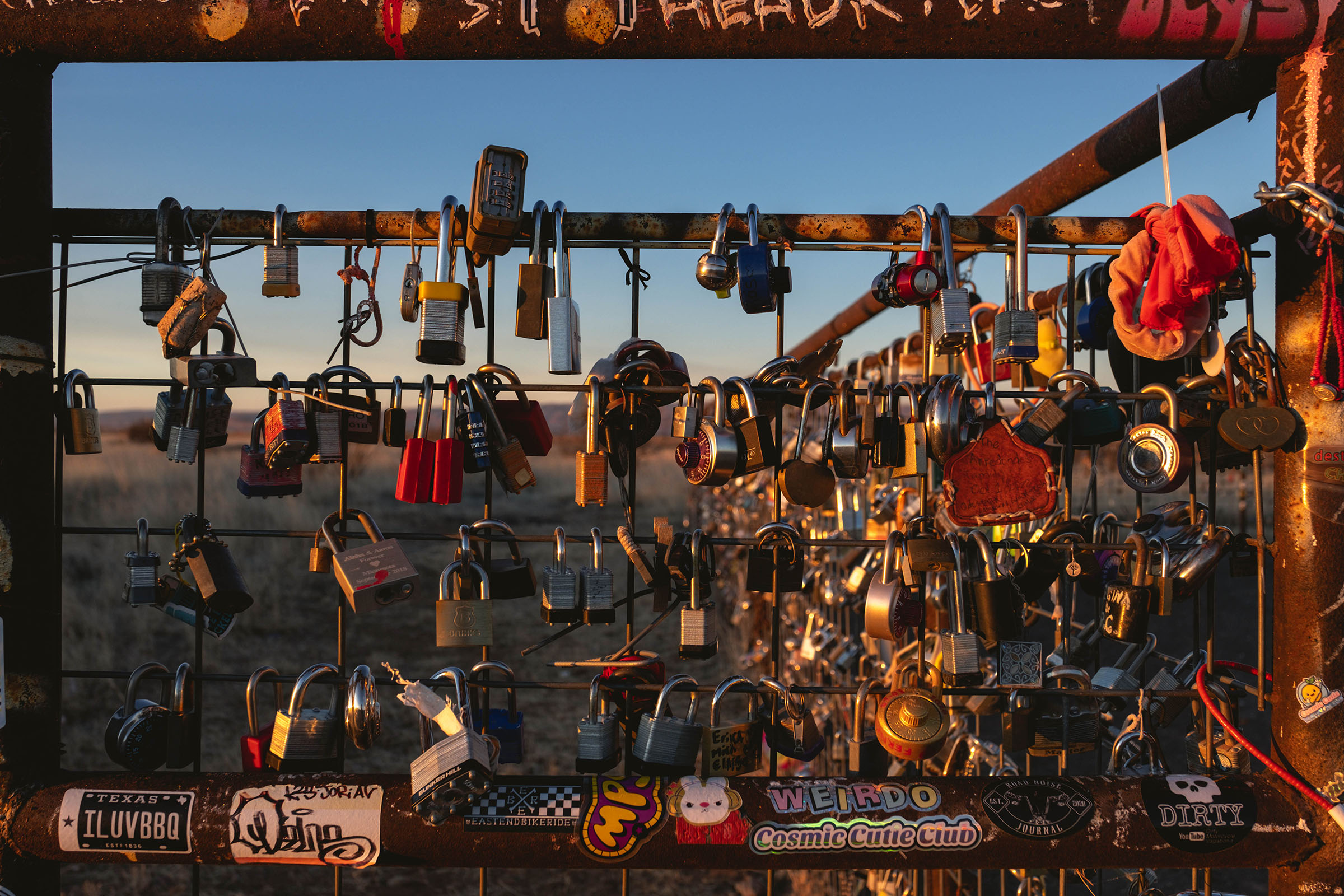 It was a late November evening when Tatjana Vejnovic arrived at Prada Marfa, a permanent art installation on the outskirts of the small West Texas town of Valentine. She stopped along the way to Austin from Los Angeles with her best friend Dinah Bakeer and her cat Sharptooth.
"We weren't sure what to expect, but when we got there, it was about 11 p.m., and we were the only ones there," Vejnovic says.
When they parked, they noticed the padlocks hanging on the wire fence behind the iconic building. Prada Marfa, created by artists Elmgreen and Dragset in 2005 and commissioned by Art Production Fund and Ballroom Marfa, has become a popular tourist destination. Beyonce once posted a photo of herself jumping in front of the fake storefront on Instagram. The Simpsons included the art installation in an episode that later won a Primetime Emmy Award for Outstanding Animated Program. But the story behind the assortment of locks is a lesser-known part of Valentine's history.
In recent years, visitors to Prada Marfa are not only snapping photos of the artwork for their social media—they're also leaving a piece of themselves behind with a "love lock." Similar to the tradition at the famous Pont des Arts love lock bridge in Paris, love locks aren't a novelty around Texas. There are a couple of bridges in Dallas-Fort Worth, one of which was made famous by Netflix's Love is Blind, where people leave their love tokens; in Houston, there is a pedestrian bridge in Eleanor Tinsley Park; and Lufkin is home to a love locks tree. In Valentine, travelers often write their initials or a message on the locks before placing them. Other items have been left at the site, including scrunchies, keychains, and stickers.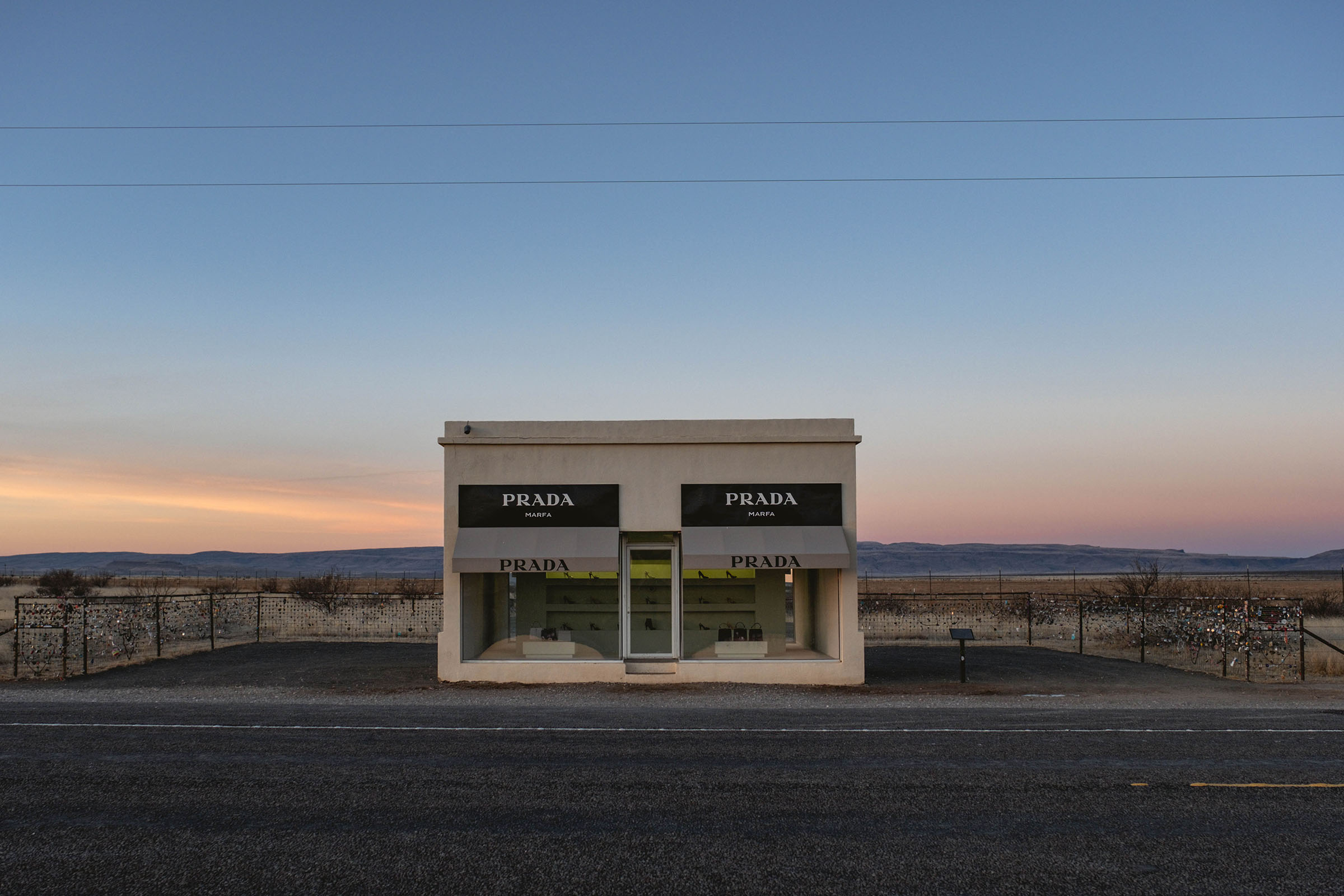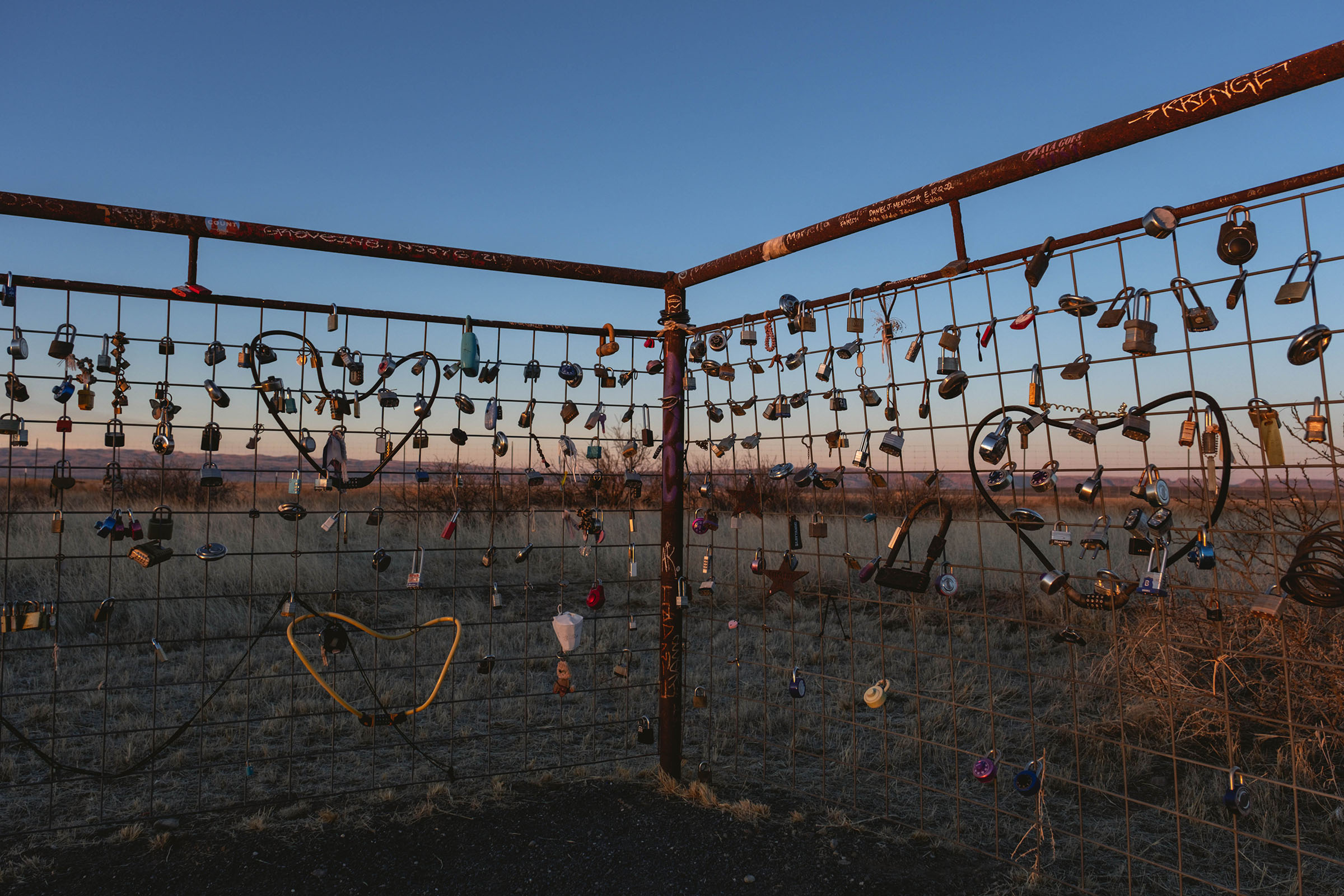 "Then, people throw the key over the fence to lock their love, like everlasting love," says Rita Simpson, a Marfa local.
When Simpson noticed the locks at Prada Marfa, she and her partner Chuck decided to hop on the trend. They bought a lock from the local Dollar General and painted their initials on it with nail polish. They drove out to Valentine, and at sunset, they found a spot for their lock, kissed the keys and tossed them into the desert.
"It was like a cool Saturday of something to do that was totally different," she says.
Though the origins of this tradition remain a West Texas mystery, the first sightings of love locks started in 2016. Valentine resident Lisa Morton, who identifies as the "unofficial caretaker" of the Prada Marfa, drives by the installation on her daily work commute to the Van Horn Advocate newspaper. She started monitoring the number of locks and shared on the newspaper's Facebook page in October 2016 that she counted about 100. Now there are over 1,000.
Vejnovic hadn't heard about Prada Marfa when Bakeer requested they stop during their road trip. When she looked it up, she realized it wasn't much of a detour.
"The exhibit and story behind it were quite fascinating to me, so I thought, why the heck not?" Vejnovic says.
At first, Vejnovic and Bakeer were disappointed they didn't bring a lock to leave on the fence. But then Vejnovic remembered—she had one in her trunk. Using a Sharpie, she wrote "LA to ATX" and added a couple of hearts and stars.
"It was a huge bonding moment for us," Vejnovic says. "Honestly, we both felt oddly empowered by the stop at Prada Marfa."