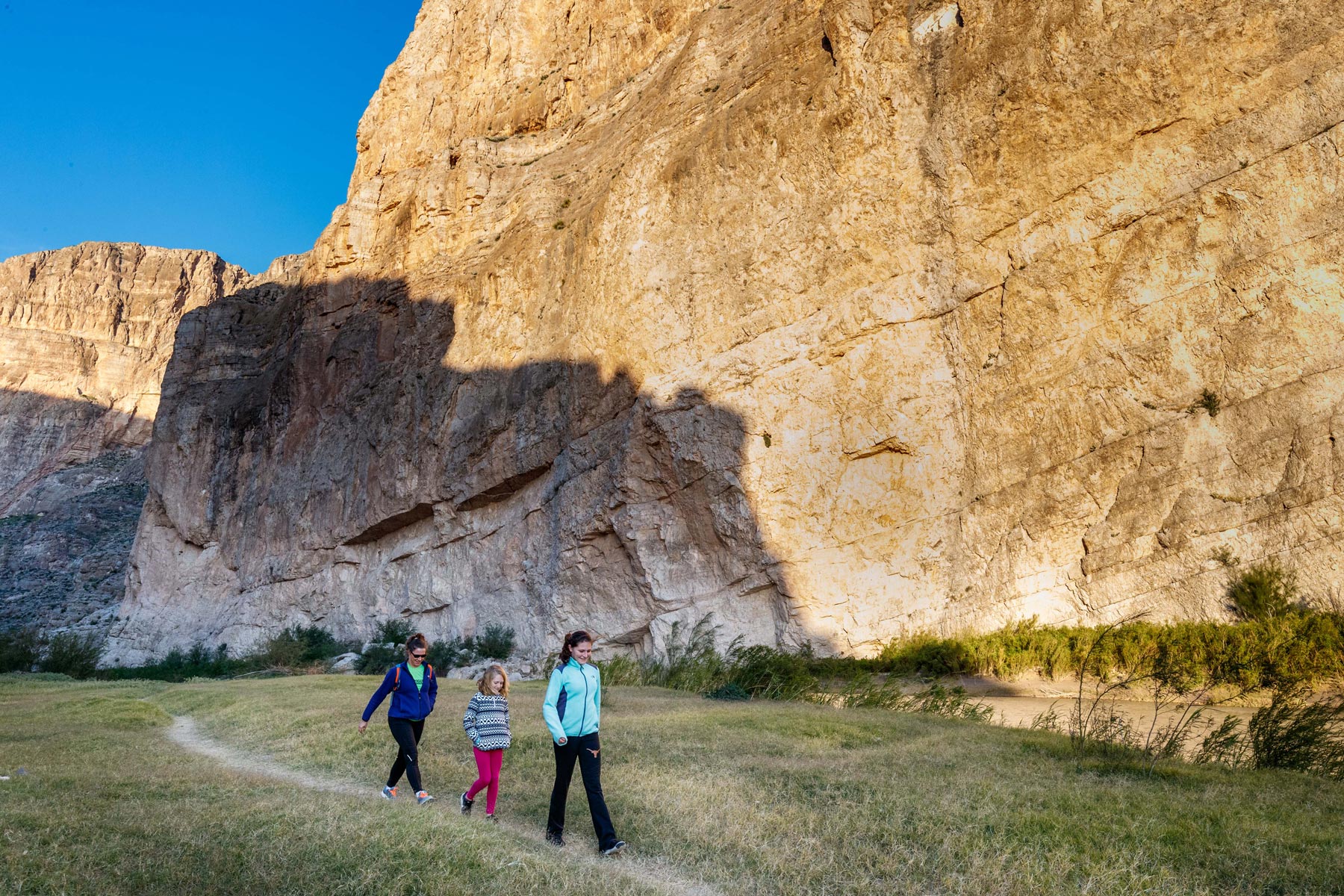 Editor Note: With the government shutdown ending on 1/25, operations have returned to normal at Texas national parks and federal monuments.
You still can't pitch a tent, but at least you can toss your empty trail-mix bag in a trash can and use a proper toilet at Big Bend National Park starting this week.
Under a government directive, park officials tapped into revenue from entrance fees to start paying for basic custodial services like garbage collection and restroom maintenance at the sprawling West Texas park during the ongoing government shutdown.
That allowed the park to reopen Old Maverick Road and the Santa Elena Canyon trail, which had been closed during the shutdown. Officials also reopened the Panther Junction Bookstore, operated by the Big Bend Natural History Association.
It remains mostly business as usual at Chisos Mountains Lodge, which is inside the park but is run by Forever Resorts, a private concessions company. The park's two gas stations and several camp stores are also open, in case you discover yourself short on snacks, drinks, or souvenir T-shirts.
Visitors centers remain closed, however, and no one is allowed to camp overnight, withone exception—the Rio Grande Village RV hookup sites are open. The Chisos Basin, Rio Grande Village, and Cottonwood campgrounds are all closed, and no backcountry permits are being issued.
According to Big Bend Superintendent Bob Krumenaker, the park has seen some stress since the shutdown began Dec. 22.
"Major impacts early on were backcountry camping, illegal campfires, people driving around barricades and off-roading in the desert where they're not supposed to, and lots of confusion," Krumenaker said. "We had people speeding recklessly—one was clocked at 78 in a 45 mph zone."
He also noted no biologists are working, ongoing environmental monitoring has stopped, and most park employees are not getting paid. "Fire season is beginning, and we don't have a fire crew and can't do the prep work we normally due to prevent wild fires," he said.
While Big Bend has not experienced the same problems that made headlines at Joshua Tree National Park, where vandals cut down trees while the park was understaffed, some worry about long-term problems if the shutdown continues.
"I am concerned that visitor safety is at risk," said Courtney Lyons-Garcia, executive director of the Big Bend Conservancy, which raises funds for Big Bend National Park. "Big Bend is a massive space—800,000 acres is huge and as we get into spring, we'll be getting a lot of new visitors who haven't been to the park yet."
With no rangers to provide information, visitors won't receive important tips about carrying enough water and staying safe in a rugged desert environment.
Spurred by frustration among some park visitors because they couldn't pay their park entrance fees, the conservancy has started accepting online donations for the park. Staff will work with Krumenaker to decide the best way to spend those dollars after the shutdown ends, Lyons-Garcia said.
Residents of nearby communities, which have pitched in to help collect trash and remove recyclables during the shutdown, welcomed news of the resumed custodial services, but business owners say they're still seeing a dip in bookings at overnight accommodations.
"Usually the phone is ringing a lot this time of year," said Elaine Berg, president of the Marathon Chamber of Commerce and owner of Eve's Garden Bed and Breakfast. "We've had quite a few cancellations, and the phones are not ringing."
Here's what's happening at other national parks around the state: