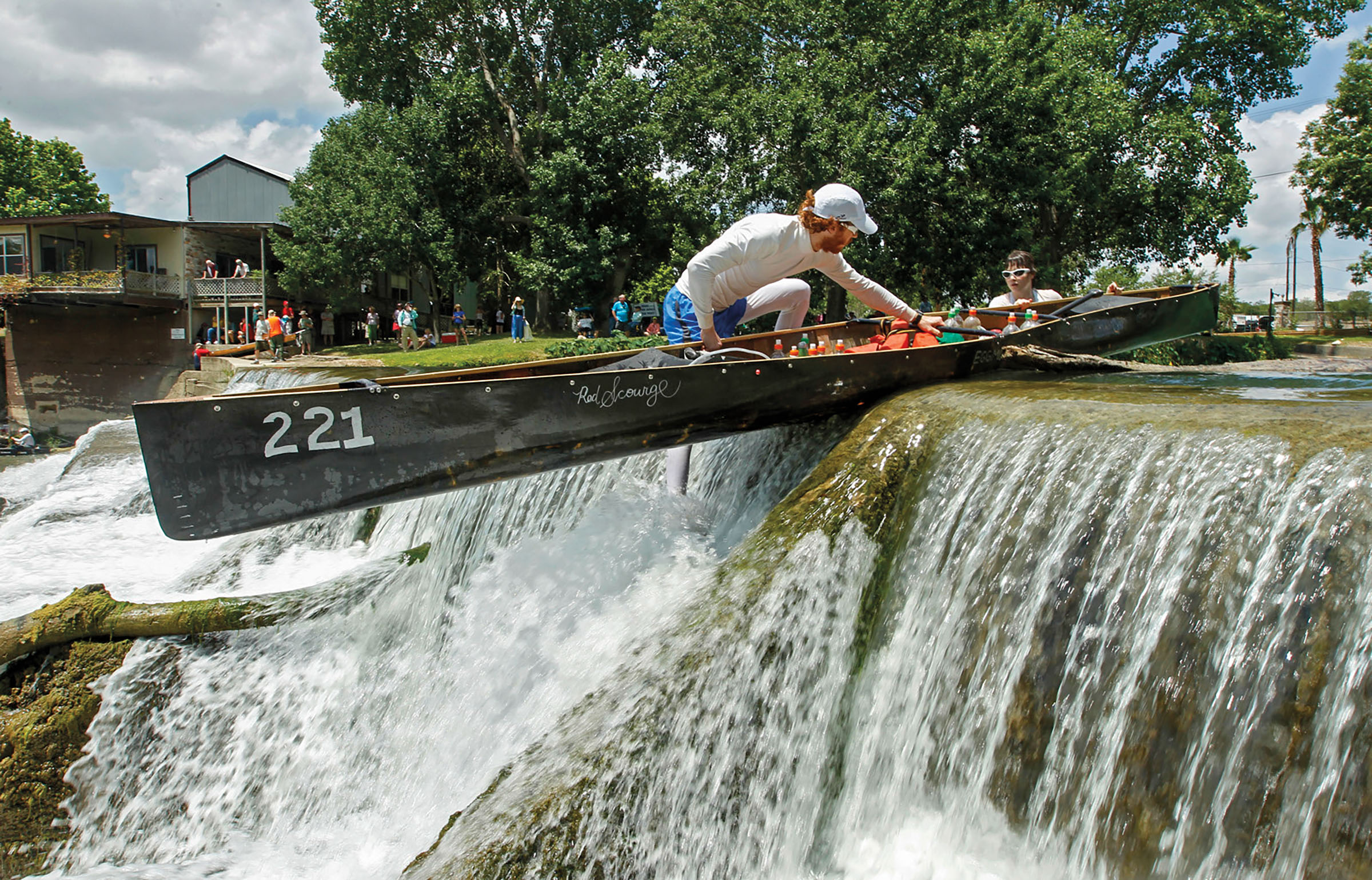 I rolled my eyes when my friend suggested I enter the Texas Water Safari, a 260-mile paddling race from San Marcos to the coast that's fraught with logjams, snakes, and hallucinations. I guess he figured that since I've backpacked the 211-mile John Muir Trail, swum around Manhattan Island as half of a two-woman relay, scuba dived with hammerhead sharks, and run a naked 5K, I'd be eager to paddle to utter exhaustion.
"No way," I said, when he first brought it up years ago. "Stupid. I don't do sleep deprivation, and who paddles that far nonstop for fun?"
Well, I do, apparently, because I agreed to participate when a couple of veteran paddlers, Heather Harrison and Sheila Reiter, invited me to join their team last year. Both women had finished the grueling race multiple times, so I knew they'd do everything in their power to get me down that gauntlet of terrors. And the more I thought about it, the more I wanted to see how much grit I had in me.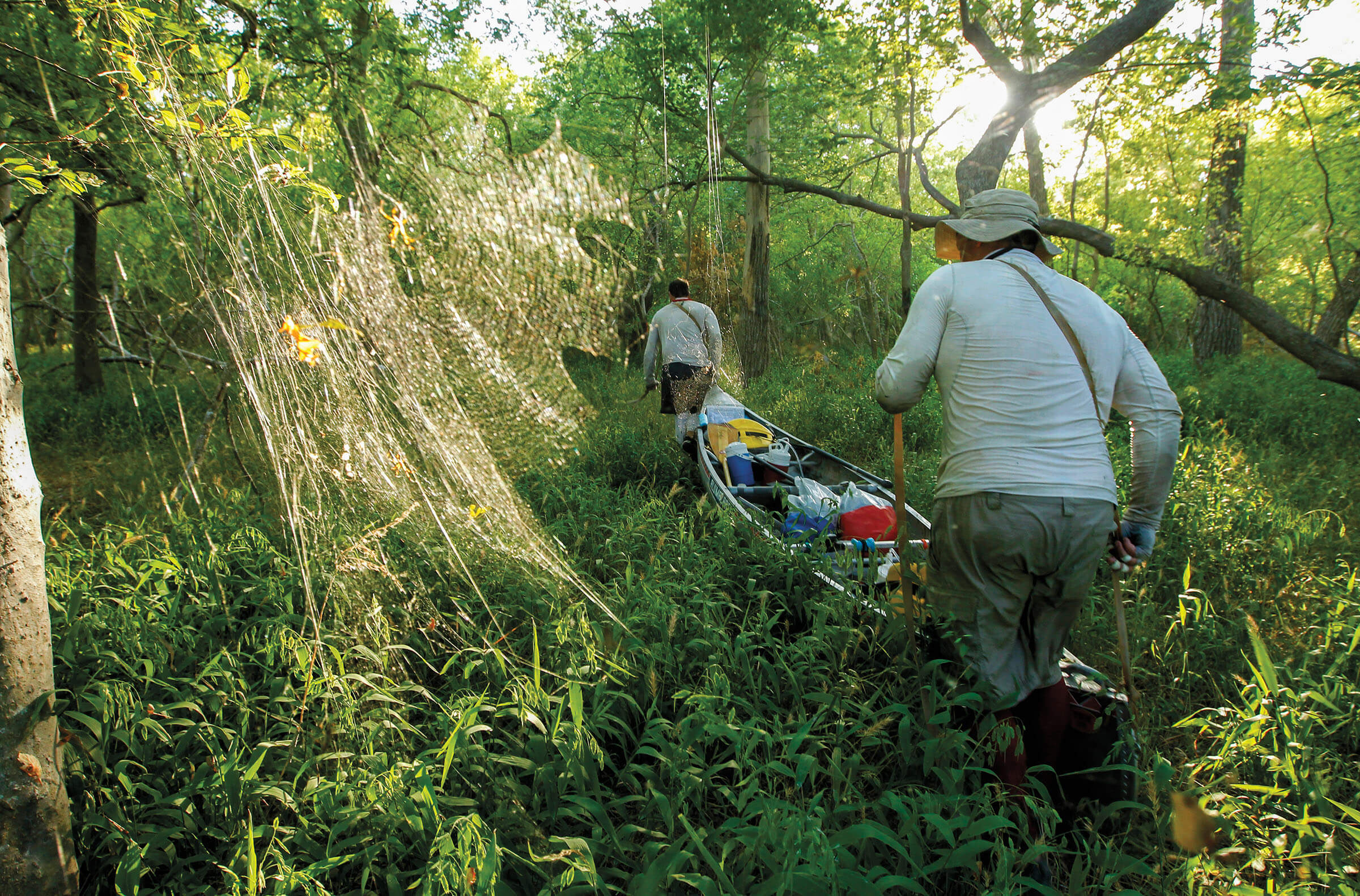 The starting horn blew at 9 a.m. the second Saturday of June, propelling forward 176 competitors mostly in canoes but also the occasional kayak and even one giant stand-up paddleboard carrying half a dozen people. I ignored the temptation to leap out of our canoe, named That's What She Said, as it surged across Spring Lake, the former spot of the Ralph the Swimming Pig attraction from the old Aquarena Springs amusement park. I rode that tippy, 27-foot racing craft—teeming with life preservers, a snake-bite kit, pee cups, emergency flares, and little bottles of Ibuprofen—all the way down the San Marcos River to the Guadalupe and into San Antonio Bay.
There, after a brief marooning on a barrier island with a giant alligator swirling offshore, we paddled to the finish, where I collapsed onto a cot. I began the race not fully believing I'd finish it, but more than two days later I crawled out of that stinking canoe, worn out yet empowered.
Paddlers in the Texas Water Safari, established in 1963, have 100 hours to get to the finish line in Seadrift, a small town about 85 miles north of Corpus Christi. They drag their boats around dams, lug them over bobbing mats of logs, and navigate them through boat-crunching rapids. They endure brutal heat, swarms of hatching mayflies, and patches of poison ivy. Support crews hand them water, ice, and food as they blast past 10 checkpoints, but the fastest paddlers hardly stop, not even getting out of their canoes for bathroom breaks. Things, invariably, go wrong along the way.
The night before our race, one of our support crew members quit in a huff, but we found a last-minute replacement. Less than a mile into the race, we lost a paddle and had to pull out the spare. We made it cleanly through the top of Cottonseed Rapid, a boiling stretch of river about 9 miles from the starting line, where we'd flipped multiple times during training, but then nearly T-boned another boat on the exit.
That first day, crowds gathered on the side of the river, cheering on the passing parade of canoes, eager to watch the carnage at each set of rapids. We were ahead of schedule when we got to Palmetto State Park, where one of our team captains tossed me a baggie of mashed potatoes from the banks of the river. I ripped the corner off with my teeth and squeezed the warm putty into my mouth like I was dispensing frosting from a pastry tube, then crammed in a pouch of pre-crushed potato chips, hardly bothering to chew.
The boat must keep moving.
Harrison sat in the back of the canoe, operating the rudder, and Reiter used her paddle to dodge obstacles from her perch in the front. As the least experienced member of our three-person team, all I had to do from my middle seat was paddle furiously.
Fog made it hard to spot devastating rocks and logs as night fell about 12 hours in, but it dissipated as the sun came out again and the heat index rose to 110 degrees. After 24 hours of paddling, not even ice packs could stop me from wilting like a cheap slice of American cheese. We paused to cool off in the river, but it felt tepid. By late afternoon I got queasy and couldn't eat. The cold cheeseburgers and sausage biscuits our crew tossed into our boat at the next checkpoint made my stomach churn. I couldn't talk. I just paddled and listened to Tim Curry, a solo competitor who pulled up alongside us in his canoe, tell bad jokes.
The sun dropped, the moon rose, and my shoulders were kaput. An alligator gar leaped out of the river and slapped Reiter in the face. We got grumpy and bickered.
I'd been warned about the hallucinations. As the river snaked its way past Victoria, the trees on the banks morphed into leering clowns, graffiti-covered walls, and grinning cartoon characters. We dragged our boat up a bank and over a point of land, where I stepped into thigh-deep mud and lost a sandal. I plunged my arm into the muck and retrieved it, then climbed back aboard. We forged on.
Finally, on Monday morning, we pulled to the side of the river and unfurled the spray skirt that had been neatly shrink-wrapped and tucked in the hatch. We attached the skirt, designed to keep out splashing water that could sink our boat, and pointed ourselves toward the bay—the final leg of the race.
But we weren't as close as we thought. The river spit us into San Antonio Bay just as a chop rose. We detoured to a small island, where I lay on the beach unable to move and wondered if I needed rescuing. I didn't even care about the gator that eyeballed us curiously, then disappeared under a layer of brown brine.
Reiter and Harrison revived me with water, then loaded my wobbling body back into the canoe. We aimed toward Seadrift, stabbed our paddles into the surf for one last burst, and raced to the finish. A little more than 53 hours after we started, a third of that time spent fighting the urge to barf, I flopped out of the boat and crawled up a rickety wooden staircase in Seadrift and told my husband, "I'll never do that again."
Now, nearly a year later, my mind has edited out the worst of the bad parts: the nausea, the pickle juice (electrolytes, people), the cold tortillas stuffed with lunch meat, the way my butt felt like I was sitting on broken glass, and peeing in a moving canoe for the umpteenth time.
All of that's drowned out by the beautiful parts: the roaring cicadas and bellowing frogs, stars that glowed against black velvet, and a deliciously feral feeling that swept over me as I clambered over muddy banks like a wild animal, dragging the canoe. The Texas Water Safari finishers' patch—a scrap of fabric depicting an alligator-like creature battling a devil of sorts—makes me prouder than just about anything else I've earned in my life.
When I face a challenge now, I can look back and remember that no matter how bad I felt, I just kept on paddling.