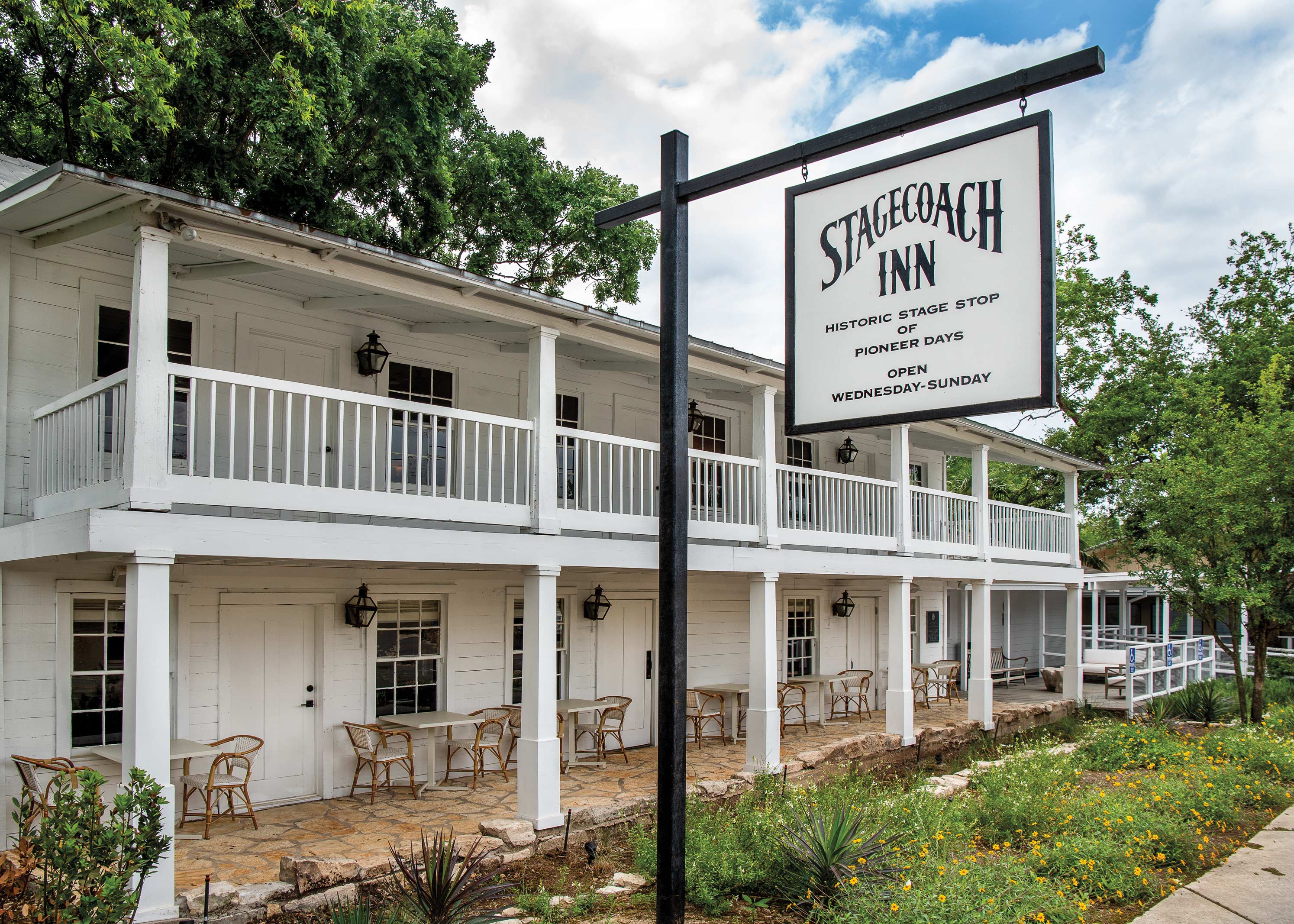 Salado's Stagecoach Inn, founded in 1861, was one of the state's oldest continually operating hotels until it closed for restoration in 2015, although it may be known best for the hushpuppies served at the inn's restaurant.
The Stagecoach Inn
416 S. Main St., Salado
Open for lunch and dinner Wed.-Sun.
Brunch from 11:00am – 3:00pm Saturday and Sunday
254-947-5111
stagecoachsalado.com
Generations of Texas travelers made the Stagecoach a go-to dining spot on the drive between Dallas and Austin, but that ritual came to a lurching halt a few years ago as the aging inn lost its footing and fell into foreclosure—only to be purchased by a high-profile consortium of developers, preservation architects, and Austin's La Corsha Hospitality Group. After two years of planning and restoration, the restaurant reopened last June, and the inn's hotel rooms are set to open later this summer.
Though coats of white paint now cover the old wooden boardwalk that stretches over a creek bed, the exterior of wood and stone is virtually unchanged from the restaurant's debut in 1943. Walking on the polished pine floors during a recent weekday lunch, I gazed through familiar plate-glass windows at the enormous live oak tree—thought to be 275 years old—around which the building was structured. The tree was surely appreciated by the thousands of travelers who made this one of the nation's more famous roadside dining stops in the 1950s and '60s, when it was featured in both Life and Time magazines.
Generations of Texas travelers made the Stagecoach a go-to dining spot on the drive between Dallas and Austin
Claiming a table next to a window, I glimpsed what's now a beautiful bar area taking up part of a former dining room. Adjoining dining areas still have low ceilings and old fireplaces, and the very same Sam Houston portrait hangs over one mantle. Turning to the menu, I was gratified to find dishes featured once upon a time, albeit with some new twists. Helming the Stagecoach dining room's revival is La Corsha's David Bull, a chef who came to fame at The Driskill Hotel in Austin and has continued his food finesse at Second Bar + Kitchen in Austin. But like everyone who fosters tender memories of Stagecoach meals, I had to wonder: Can Bull really get those hushpuppies right?
I chose the beloved hushpuppies as my starter, naturally. The stubby sticks arrived looking just right, evenly golden-brown and firm to the touch. I bit inside with cautious, nervous expectation, and tasted … perfection. A little lighter than a typical cornbread hushpuppy, which has a thick exterior and dense interior, this is more like hot-water cornbread, with a feathery inside that's a tiny bit sweet at the front and a smidge salty at the finish. 
It hadn't been easy to get them right, Bull confessed: Although he and his kitchen team followed recipes originating from past Stagecoach cooks, old-timers complained the hushpuppies were wrong. He and his team worked and worked some more until they declared success. 
The feast continued with tomato aspic, another tradition. The gelled salad may sound strange today, as it's fallen far out of fashion, but even our server—a handsome young man reminding me nothing of the elderly waitresses of yore—said that though he'd been wary when first hearing of tomato aspic, he became a fan at first bite. Its taste reminds me a little of a bloody mary, sans hot spice and vodka; cut into a solid if slightly jiggly rectangle almost the size of two dominoes stacked side by side, it was dusted in a hint of black pepper and rested next to a hillock of arugula-spinach salad, dressed with sliced green olives, pickled carrots, and onion-and-chickpea vinaigrette.
The chicken salad is another example of Bull's way of delivering classics with a twist. Tossed with bits of bacon and served with greens, avocado, tomato, and toasted grainy bread, this was a light and satisfying entree. My husband's chicken-fried steak, placed atop skinny, crisp green beans and a sizable pillow of buttery mashed potatoes, bore a beautifully textured, crunchy exterior. The signature strawberry kiss dessert gives a swirled circle of vanilla meringue a topper of vanilla ice cream, a drizzle of tart strawberry syrup, and an arrangement of fresh strawberries with pink meringue around the base.
After lunch, we wandered the property admiring the old live oaks that include one spreading across a side yard, pointing the way to a cave entrance once known, the story goes, to bandits like Sam Bass who hid stolen treasures down there. Back when the inn was founded during the first year of the Civil War as the Shady Villa Hotel, it was a popular lodging for everyone from Sam Houston and George Custer to the infamous likes of Jesse James. Restoration work now underway will deliver a total of 72 comfortable, contemporary hotel rooms. Once they reopen, we'll be back to indulge in specialty cocktails and make our way to a poolside room for the night, a new ritual for a new Stagecoach. 
From the July 2018 issue