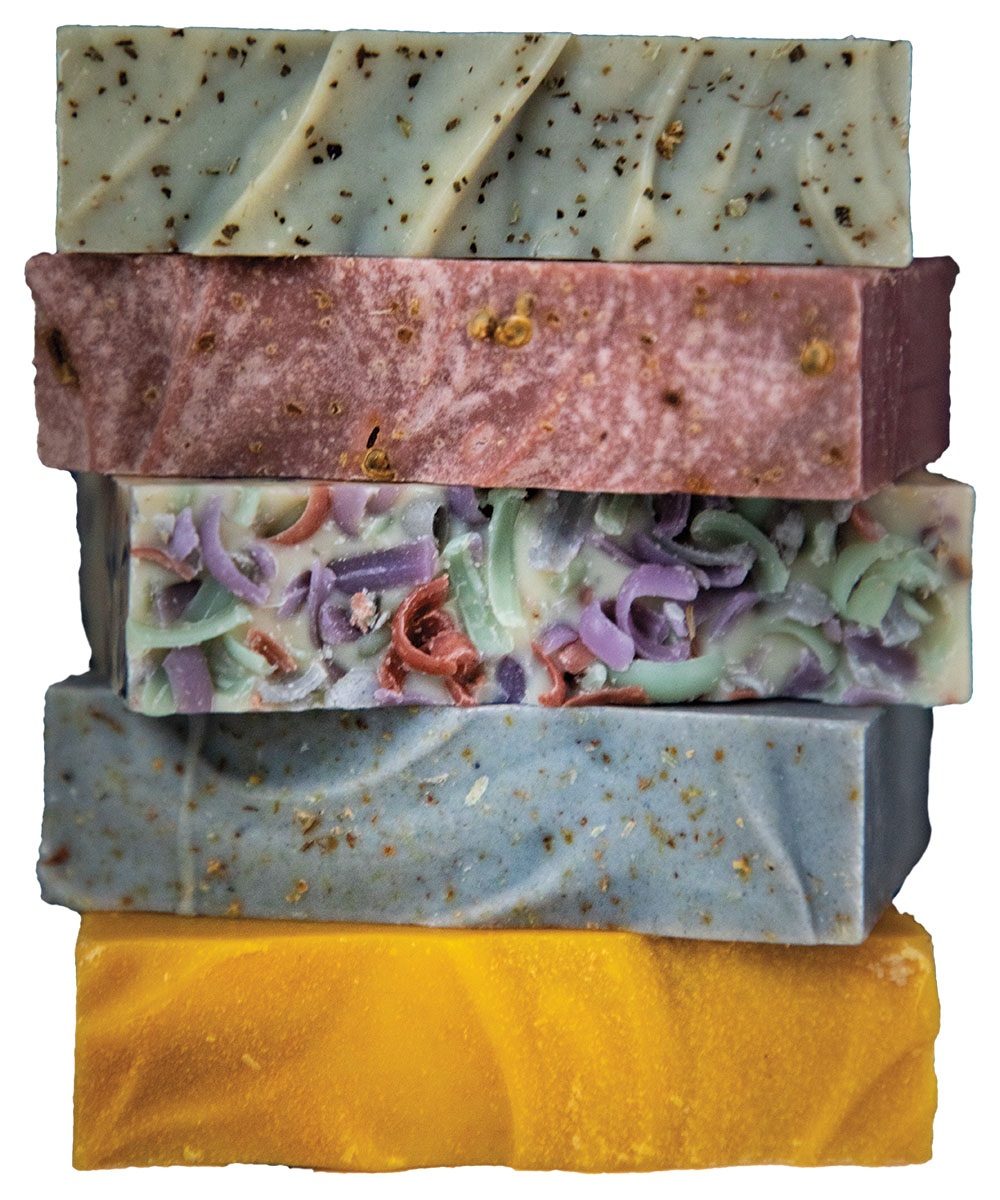 Late each summer, Jory Hanus grabs a 5-gallon bucket and a pair of tongs and sets out on a hunt. He's searching for prickly pear cactus to use in the soap his mom, Maggie Hanus, creates for her company, A Wild Soap Bar. He plucks the fruit from the spiky plants growing around Maggie's home in Manor, just east of Austin. He burns the spines off with a torch and then heads to his family's nearby workshop and dries the fruit out for a few days before grinding them into a fine powder to add to the hand-crafted, all-natural products.
Maggie, 63, grew up on a farm outside of Raymondville, in South Texas. Inspired by the native plants and flowers growing around her home state, she started making soap nearly 25 years ago.
At the time, she worked at the YMCA, directing an after-school program. She loved to make things with her hands, from crochet to pressed flowers, and developed an interest in aromatherapy and scent blending. She picked up a book on soap-making, collected the necessary ingredients, and set to work, turning her kitchen into a laboratory.
"I just thought it was an interesting craft, and I wanted to learn to how to make [soap]," Maggie says.
It took about six months of practice and lots of mistakes—including soap that didn't harden properly—but friends and family reaped the benefits of her experimentation. They stocked their kitchens and bathrooms with bars of soap as she perfected her skills. Then she put her soaps on the market, selling them first to parents of kids she taught at the YMCA, who wanted to give them as gifts. The Lady Bird Johnson Wildflower Center in Austin became her first wholesale client.
As demand grew, Maggie moved her production from her kitchen to a travel trailer, and then built a workshop. These days she turns out about 3,400 bars of soap each week in 21 varieties using beloved Texas flora, from mesquite to bluebonnets and sassafras.
Maggie and her crew of four family members, including Jory, make the soap using vegetable oils, lye, and natural and mineral pigments, which come from the powdered plants and flowers. The mixture is poured into acrylic molds to create 25-pound blocks, then cut into logs which are sliced—"just like cheese," she says—into 3.5-ounce berry-, caramel-, and coffee-colored bars. The bars cure for four to six weeks, hardening and becoming milder and gentler for sensitive skins.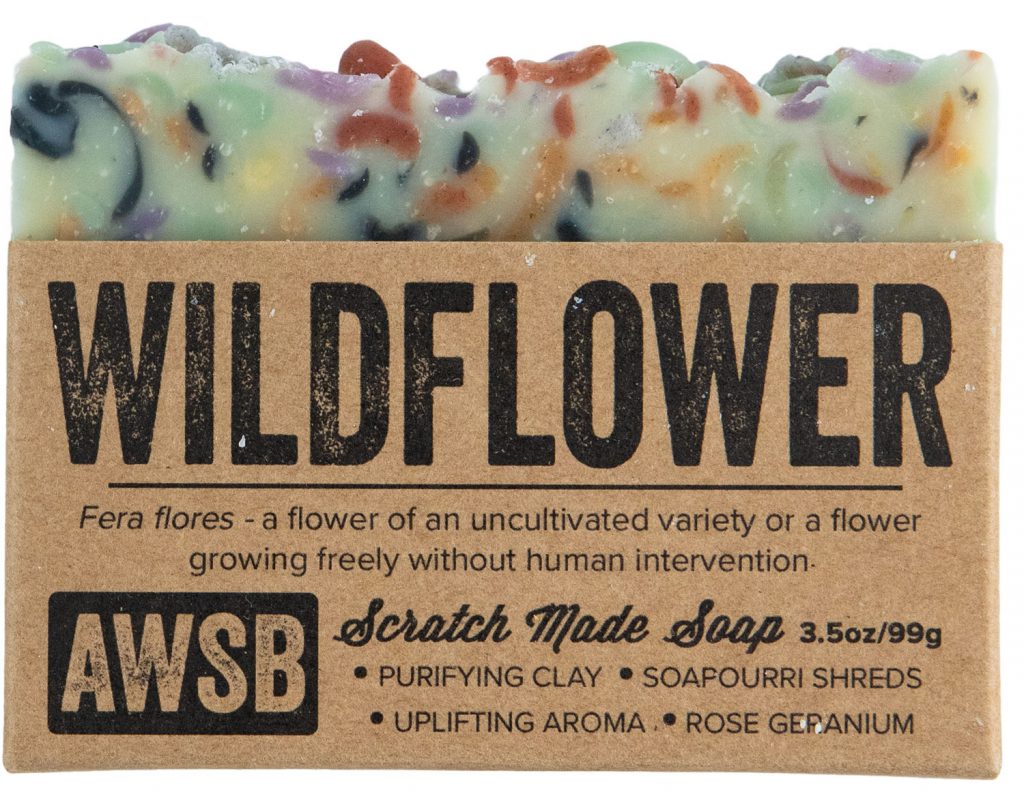 The floral ingredients used in the soaps are sourced from all around the state, with horsemint and prickly pear coming from Maggie's property.
Essential oils are added to the soaps for fragrance because some flowers have a mild aroma, and any natural scent wouldn't be likely to survive the soap-making process. For example, the bluebonnet bar is scented with a lavender blend, and the mesquite uses patchouli as a base note.
"I learned early on if you want to make a really intriguing scent, you've got to play by rules of perfumery, so you blend four or five [scents]," says Maggie, who calls herself a "soap bartender" and is also a member of the Handcrafted Soap and Cosmetic Guild. The flowers and plants also add decorative flair with crumbled mesquite beans, dried bluebonnet petals, and bits of horsemint embedded in the soap. Some even have natural beautifying properties: Customers swear by the black willow soap, a best-seller made from black willow extract, tea tree oil, and activated charcoal, which they say helps control acne.
The soaps, which are available at Central Market, Whole Foods Market, and her website (awildsoapbar.com), are also stocked at the Wildflower Center—a dream realized for Maggie. With a portion of sales going to the center, the bluebonnet and wildflower soaps are popular at the gift shop, according to senior retail manager Nancy Shilling.
"People love to come in and get something to remember their visit here to the Wildflower Center," Shilling says. "And the soap smells so good."
Craft Services
Get your hands dirty—or clean—by making your own soap at these classes around the state.
Deb's Oils in Sachse, north of Garland, offers hands-on classes in cold-process and hot-process soap-making, with tips about scenting with essential oils from a certified aromatherapist.
($99, debsoils.com)
Lyons Luxuries teaches beginner-level group classes in Houston about cold-process soap-making and more advanced techniques like layered soaps.
($75-$150, lyons-luxuries.com)
The Country Soaper in Georgetown offers hands-on classes in basic cold-process soap-making.
($75, thecountrysoaper.com)
Jourdan-Bachman Pioneer Farms in Austin offers demonstration classes in how to make basic scented or unscented soaps.
($50, pioneerfarms.org)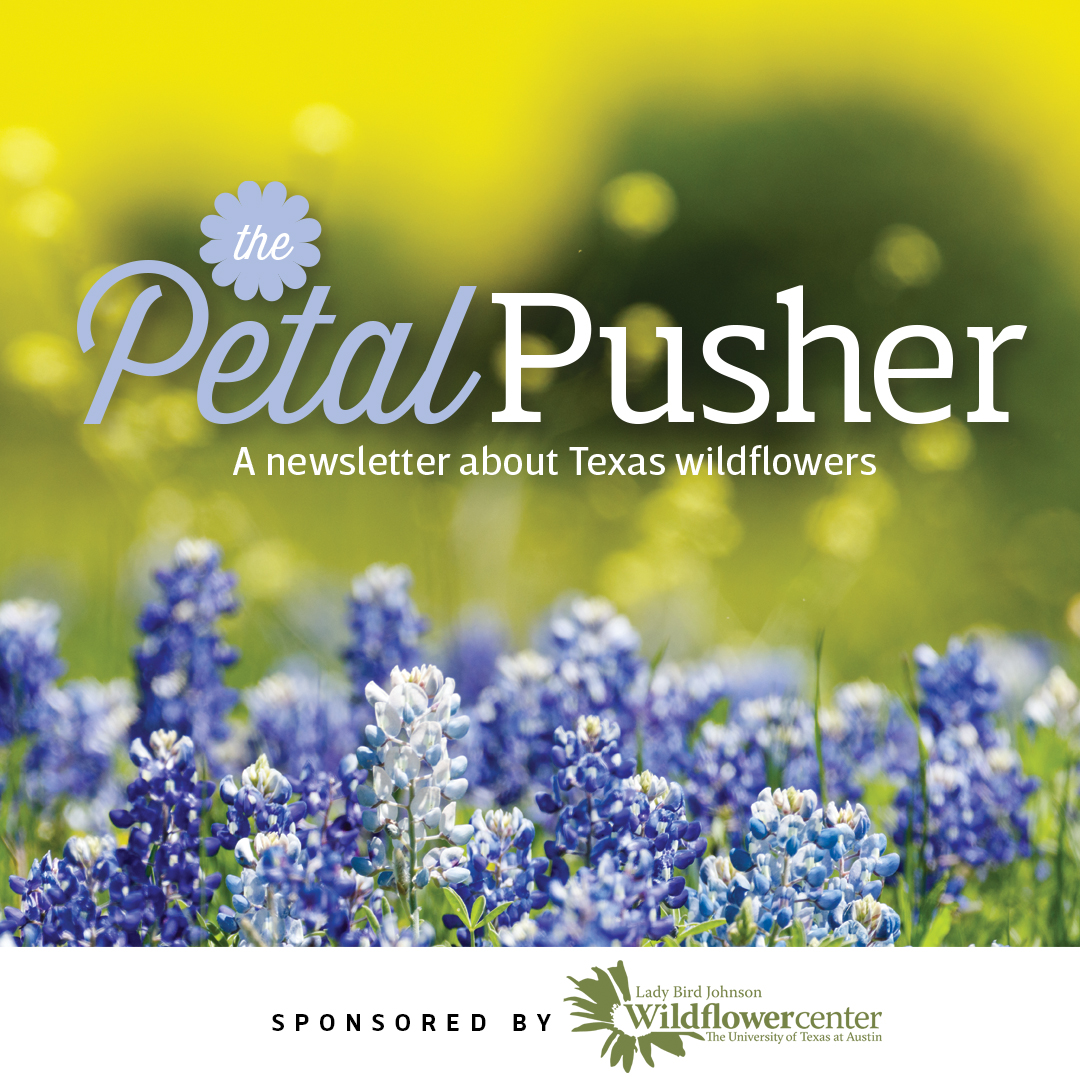 Sign up for our new wildflower newsletter
Sign up for our new email series all about the wildflowers of Texas! You will receive 8 emails (about one per week) about Texas' most abundant blooms, where to find them, and how they became so famous.