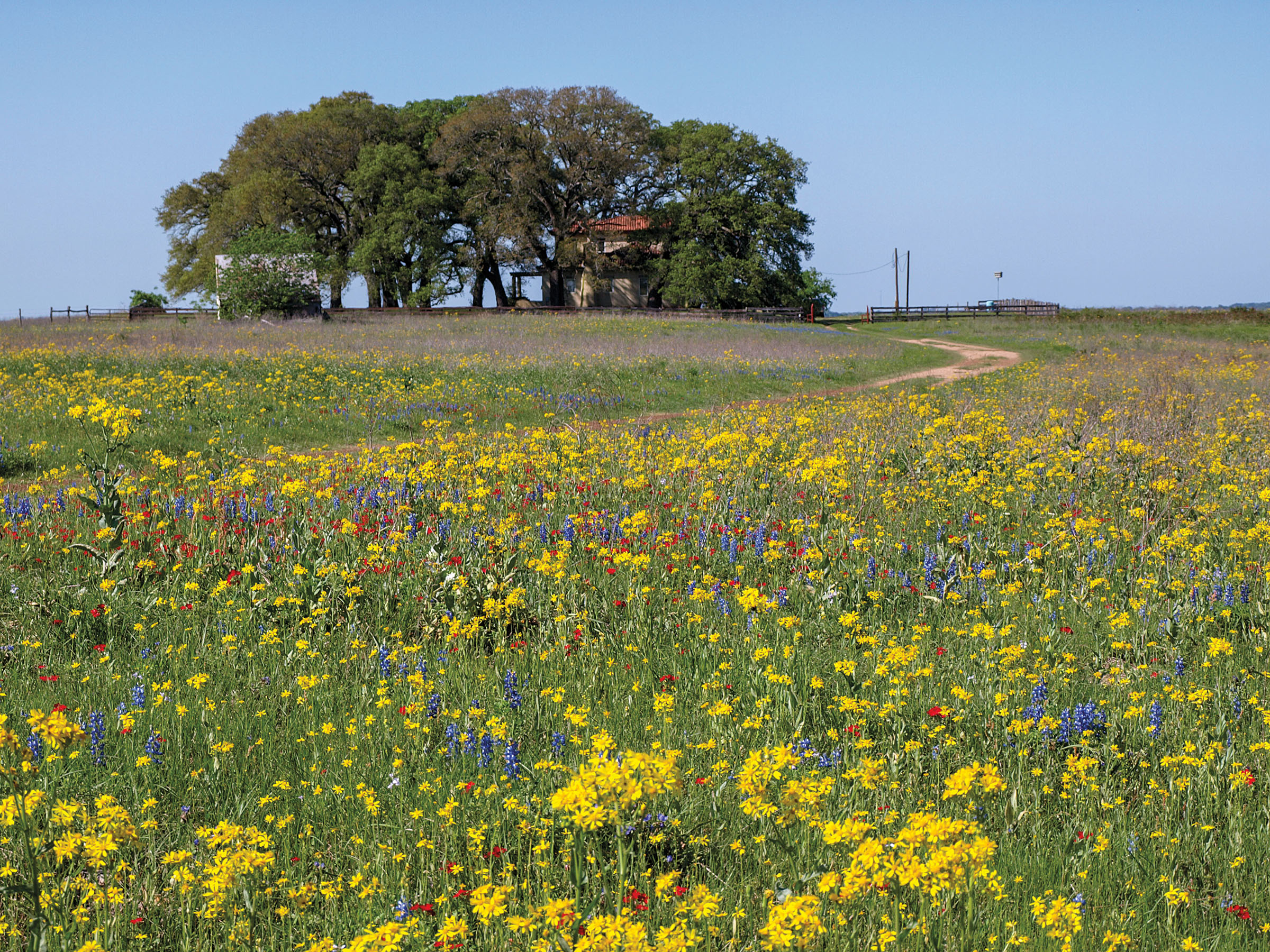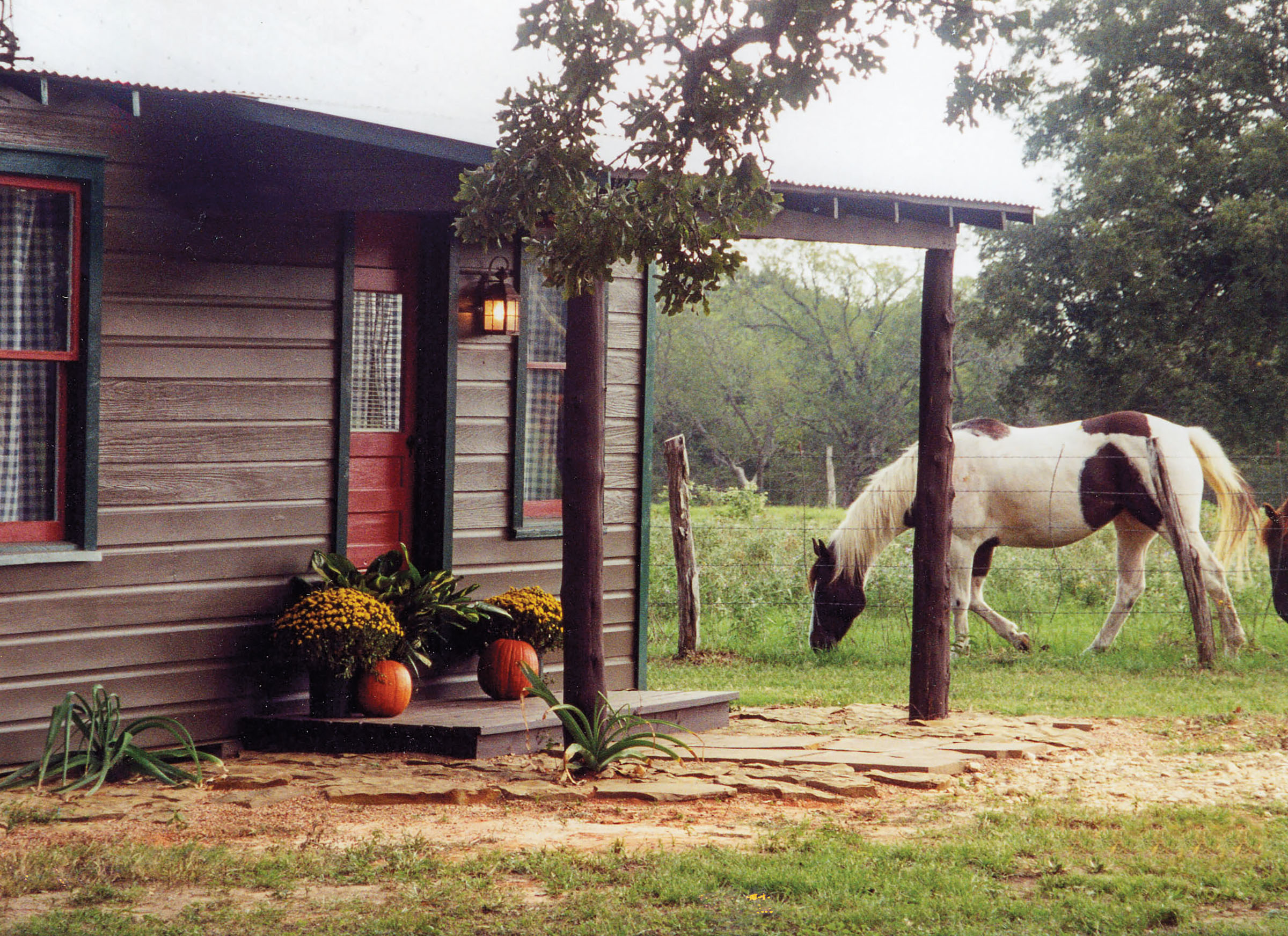 The only downside to wildflower wandering is going home and leaving the blooms behind. Then again, maybe you don't have to: Why not build some overnights into your springtime jaunt, hunkering down into cozy digs amidst the rampant seas of bluebonnets, Indian blankets, and Mexican hats? A selection of cabins and guest houses scattered in wildflower country provides temporary homes near bounties of seasonal color. The bonus? Each is far from city life, so it's just you and the flowers, with a big night sky to keep you company after dark.
Texas Ranch Life, a low-key resort about an hour's drive northwest of Houston, sits on a 1,600-acre spread called Lonesome Pine Ranch in Austin County, about halfway between the towns of Bellville and Chappell Hill. Guests come to ride horses (ranch owner John Elick and ranch cowboy Craig Bauer will teach you how), admire the Longhorn cattle or American Quarter Horses, fish in a 7-acre or 13-acre pond, or just sit in a rocking chair on a guest house porch and take in the scenery. John's wife, Taunia Elick, spent a few years relocating eight nearby historic homes to the ranch and restoring each one, making these particularly comfortable places to spend time with a sweetheart or your family.
"The Cabin," with its tin roof, clawfoot tub, and pie safe (an antique cabinet with a pierced panel that allows pies to cool) imparts a country sweetness. By contrast, "The Lodge" provides two upstairs and two downstairs suites with a total of six bedrooms, along with ample parlor and dining spaces for a crowd.
Whether large or small, the homes provide a wealth of antique furnishings, lavish bed and bath linens, modern kitchen conveniences, and the opportunity to go on long walks or simply relax. Make your meals from goods you bring paired with fresh, free-range eggs and garden vegetables you collect. Wildflower season, naturally, is the ranch's busiest: "Bluebonnets, Indian paintbrush, winecups, and so many other wildflowers grow all over the ranch, and they never seem to be in the same place every year. And the ranch even looks different every day during wildflower season," says Taunia, noting that the cattle and buffalo like eating the wildflowers, thereby redistributing them as they graze.
"We have a lot of weddings during wildflower season, and guests enjoy riding horses through the wildflowers."
Rates start at $560 for two nights;
10906 Cactus Lane, Chappell Hill.
979-865-3649; texasranchlife.com
About 10 miles east of Granbury's beloved courthouse square, The Granbury Cabins at Windy Ridge is a collection of three abodes newly constructed to look like old farmhouses. Situated on 10 woodsy acres, the property allows for plenty of space to find solitude. Within the rustic exteriors, guests can chill in the sitting areas outfitted with comfy furnishings and sleep deeply in luxurious bedding. Well-appointed kitchens include a vintage stove, and bathrooms are thoughtfully equipped with features like farmhouse sinks or rainfall showers.
The "Dilly Dally" cabin has a gas fireplace to cozy up to. Outside, rockers on porches, Adirondack chairs by fire pits, and a hot tub provide extra reasons to enjoy the fresh air. While DVD players make it possible for you to watch films you've brought along, there's no cable or Wi-Fi, meaning it's time to take pleasure in the unplugged life.
"In the spring, visitors see favorites such as bluebonnet and Indian paintbrush, prairie verbena, Indian blanket, cobaea beardtongue, Berlandier's suncups, and redwhisker clammyweed—all are regularly spotted nearby. We also enjoy searching for flowering cacti, which have their own rugged beauty and shouldn't be overlooked," says owner Cassie McPherson, who encourages guests to explore the property on a quarter-mile of walking trails. She also recommends a visit to nearby Acton Nature Center, with its 5 miles of trails, butterfly and hummingbird gardens, and plentiful native plant viewing.
While on flower forays, check out the grave of Elizabeth Crockett (Davy's widow—the statue shows her waiting for him to come home from the Alamo) at Acton State Historic Site, as well as Revolver Brewing, home to Saturday tours, tastings, and live music, both near the cabins.
Rates start at $145 per night;
6350 Windy Ridge Court, Granbury.
682-500-4276; granburycabins.com
As much as Fredericksburg oozes German charm, it also evokes the spirit of the Swiss Alps. Just outside the heart of town, the multiple lodging options at Baron's CreekSide include Swiss log cabins, a Kentucky log cabin, a replica of a Conestoga wagon, and two- and three-bedroom homes. The Swiss cabins, just right for two guests, are situated alongside a creek flowing through the 26-acre spread. Host Daniel Meyer built the retreat after creating the first cabin from doors and windows he salvaged from a 1700s Lucerne farmhouse in his homeland. With the guidance of a Swiss building crew, Meyer fashioned each of his ten romantic cabins with distinctive features so that no two look alike. That said, all have wood-burning fireplaces, king beds, double Jacuzzi tub and shower, kitchenettes, barbecue grills, and rockers on private porches.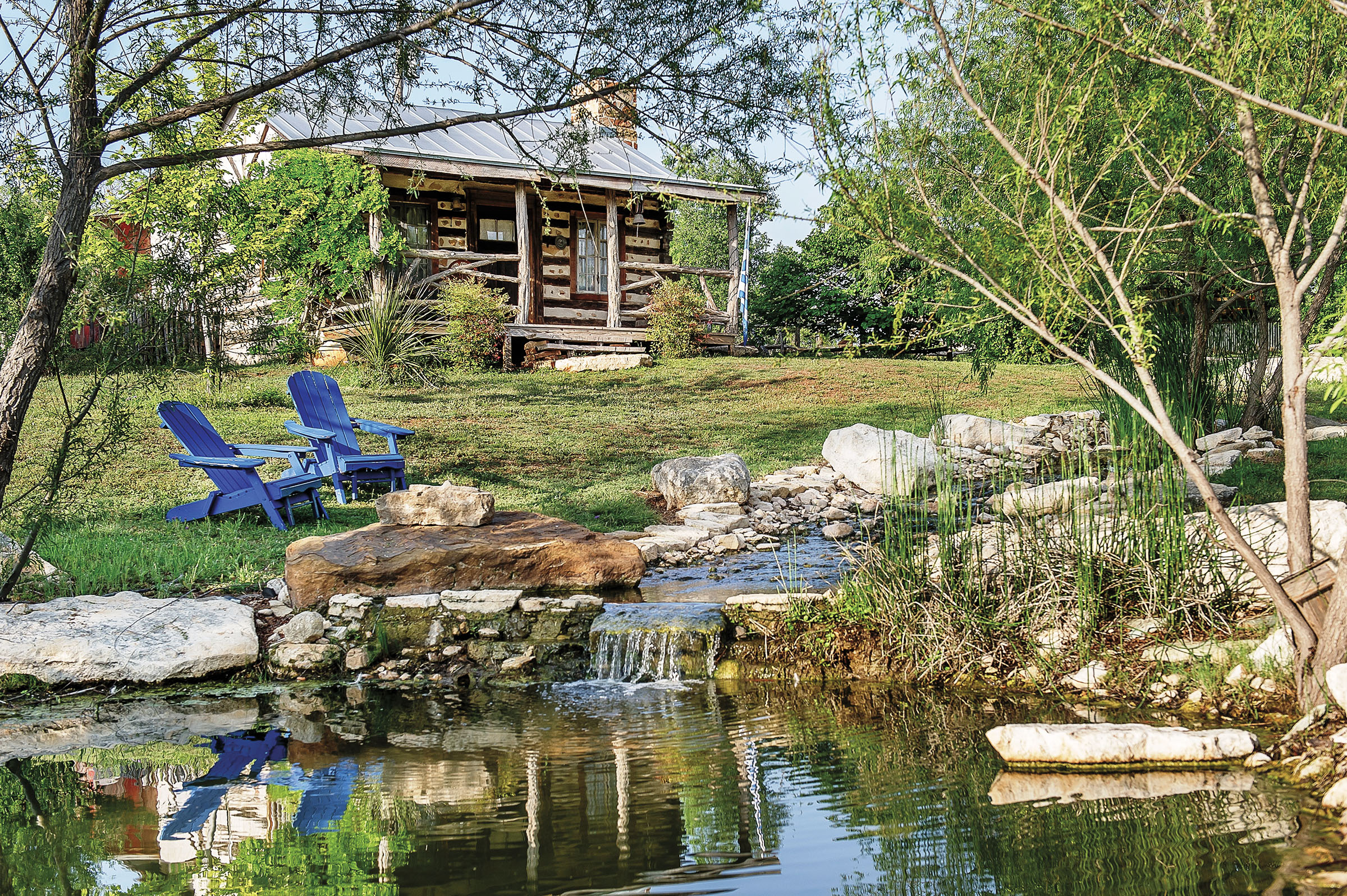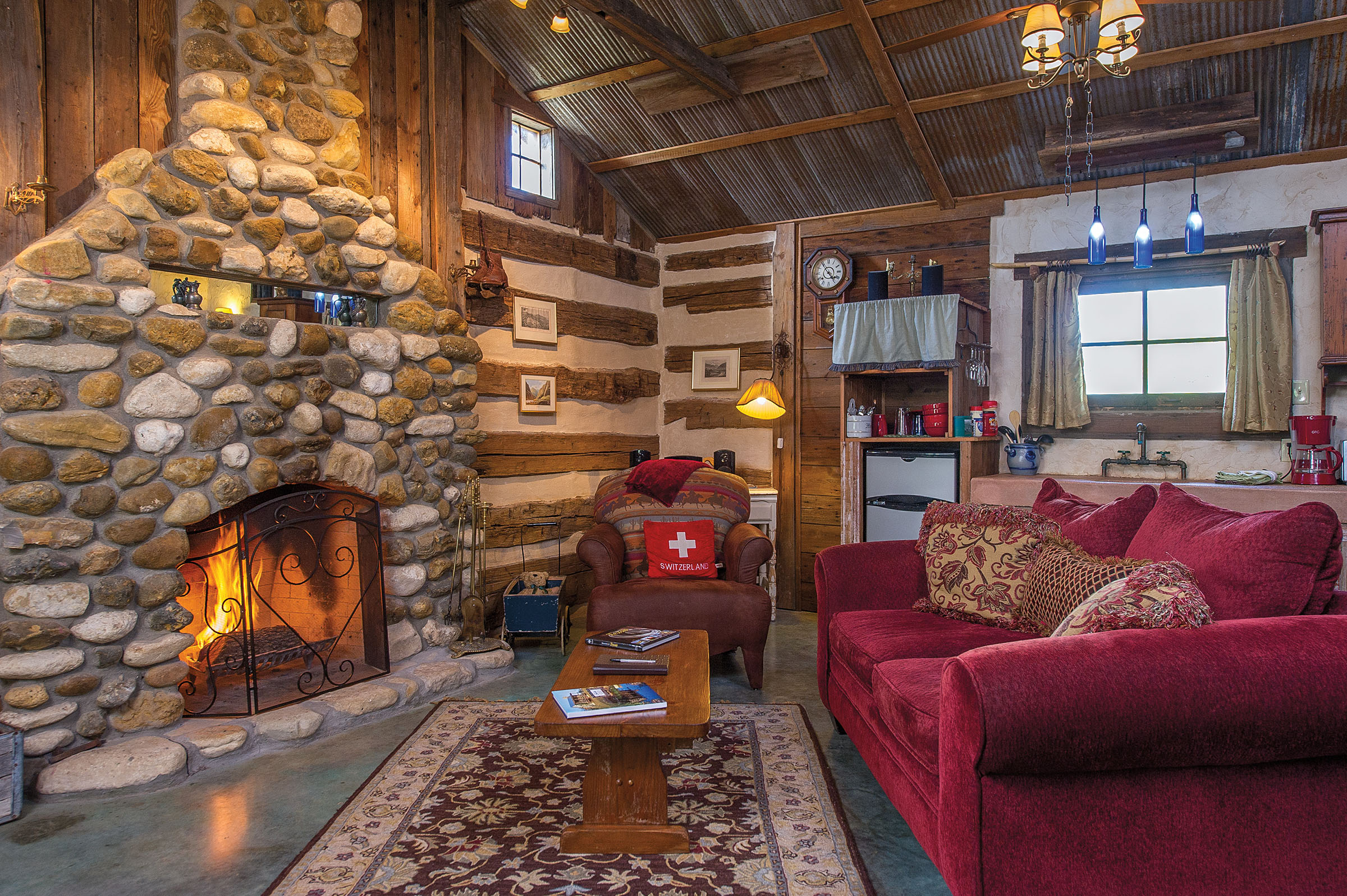 Elsewhere on the property, family lodgings have room for groups of four to nine guests; some have wraparound porches, hot tubs, and are pet-friendly. Even though you're just a couple of minutes from Main Street, the woodsy seclusion gives the feeling of being on a farm in the country.
"We predict this spring will be a spectacular feast of color for the eyes, thanks to the mix of fall rains and winter temperatures. In addition to bluebonnets, wildflowers on our property include Indian paintbrush, firewheel, Mexican hat, winecup, black-eyed Susan, prairie verbena, blackfoot daisy, Engelmann daisy, and Texas thistle," co-owner Deborah Renick says. "And northward, [State] Highway 16 takes you to the Willow City Loop, which should be stunning this spring."
Just a 10-minute drive southeast, Luckenbach provides a diversion worth venturing out for. The tiny burg on FM 1376 usually has an impromptu jam session of guitar pickers in progress, if not a properly scheduled band playing at the Luckenbach Texas dance hall. Drop by for a cold beer, a souvenir from the General Store (who can resist a "God bless Johnny Cash" sticker?), or a new cowboy hat from one of the local vendors.
Rates start at $189 per night;
316 Goehmann Lane, Fredericksburg.
830-990-4048; baronscreekside.com
Choosing between the three cottages at Star of Texas Bed & Breakfast, about five minutes from downtown Brownwood, is the only challenge in visiting this 20-acre hideaway in the northwestern Hill Country. Hosts Deb and Don Morelock crafted each with utterly different personalities—and with such romantic appeal that the place is a popular elopement destination; it helps that Don is a chaplain. Tucked away in thick stands of oaks with loads of privacy, each one sits in easy reach of a hilly, somewhat rugged nature trail perfect for a mile-long walk with birdsong, deer and turkey sightings, bottle trees (good for hiding love notes), and rock formations to keep you company. "The Oak Cottage's" rustic porch faces the woods, "The Wildrose Retreat" bears a shabby-chic design and has a sleeping loft, and "Willowbend" offers a brighter French country modern look. Each one has its own hot tub, mini-kitchenette, and room for lounging.
Each morning, Don delivers a beautiful breakfast tray with Deb's creations, such as stuffed French toast, elegant croissant egg sandwiches, or huevos rancheros. Special touches go a long way here, too, including spa treatments, and wine and cheese platters on request. "Our bluebonnets should be beautiful this year with all the rains we've had," says Deb, noting that Mexican hat, paintbrush, coreopsis, winecups, and evening primrose are typical at various blooming times. "Spring brings a time of new life around here with baby deer, turkey, grey fox, and other wildlife. It's the best season for seeing and experiencing our property and the area."
At lunch and dinner, excellent meals await in Brownwood at places like Tres Leches (get the shrimp tacos), Steves' Market & Deli (try the turkey-apple-brie sandwich), and The Turtle (go for the butternut squash pasta and grilled quail).
Rates are $199-$229 per night;
650 Morelock Lane, Brownwood.
325-646-4128; star-of-texas.com
On the westernmost Hill Country reaches, a treasure trove for nature-loving escapists awaits right outside of Junction. On one corner of a 300-acre farm called Native American Seed, the "Cool River Cabin" welcomes guests to enjoy a simple but wonderfully comfortable home found just a short walk from the Llano River, where kayaking is a pleasant afternoon activity.
The Neiman family provides all the scenery one could want as it farms dozens of assorted wildflowers, native grasses, and plants on 75 acres dedicated to harvesting seeds that are shipped all over Texas and surrounding states. Host Emily Neiman says many guests seek out the farm for the wildflower experience, among plenty of natural joys.
"Guests enjoy an evolving ecological restoration of river hardwood forest, mesquite flats, and upland rolling hill country. With wildlife viewing, birding, photography, swimming, canoeing, and stargazing, our farm is a great motivator for adventures," she says, noting winecup blooms are prevalent in April and May, and the spectacular red flowering standing cypress attracts butterflies and hummingbirds in late spring.
Summer to fall, the cowpen daisy patch behind the cabin brings migrating monarch butterflies by the thousands. Emily's dad and farm founder, Bill Neiman, adds that roads around the farm provide prime wildflower vistas: "Take Hext Road as a scenic route as it crosses the San Saba River north of us. You can also make a big loop, going all the way up to US 190 westward to Menard and Fort McKavett, and back down to Junction," he says.
In most seasons, visitors can wander past the blooming fields or take a ride with Emily on a golf cart to see the property and its myriad, far-flung buildings. Typically during the walk or ride, you're joined by one or all of the three friendly farm dogs—Bruno, Blanco, and Lucy—and they may join you as you sit to watch the sun set on the cabin porch or drink coffee in the morning beside the flowering bushes.
Between the mesquite and cedar elm trees surrounding the cabin, artfully repurposed tank heads serve as water features, which reflect moonlight on clear nights, when the sparkling canopy above seems so close you can touch it. Inside, wood floors connect two bedrooms, a sleeping loft (perfect for kids), two bathrooms, and a huge living room—good for reading, playing Scrabble, or working on a jigsaw puzzle.
Be sure to pick up groceries in Junction; the fully equipped, spacious kitchen begs for big breakfast preparations, and the outside grill means a steak supper is in order.
Rates start at $199 per night;
5 miles north of Interstate 10 on US 377, Junction.
866-417-4837; seedsource.com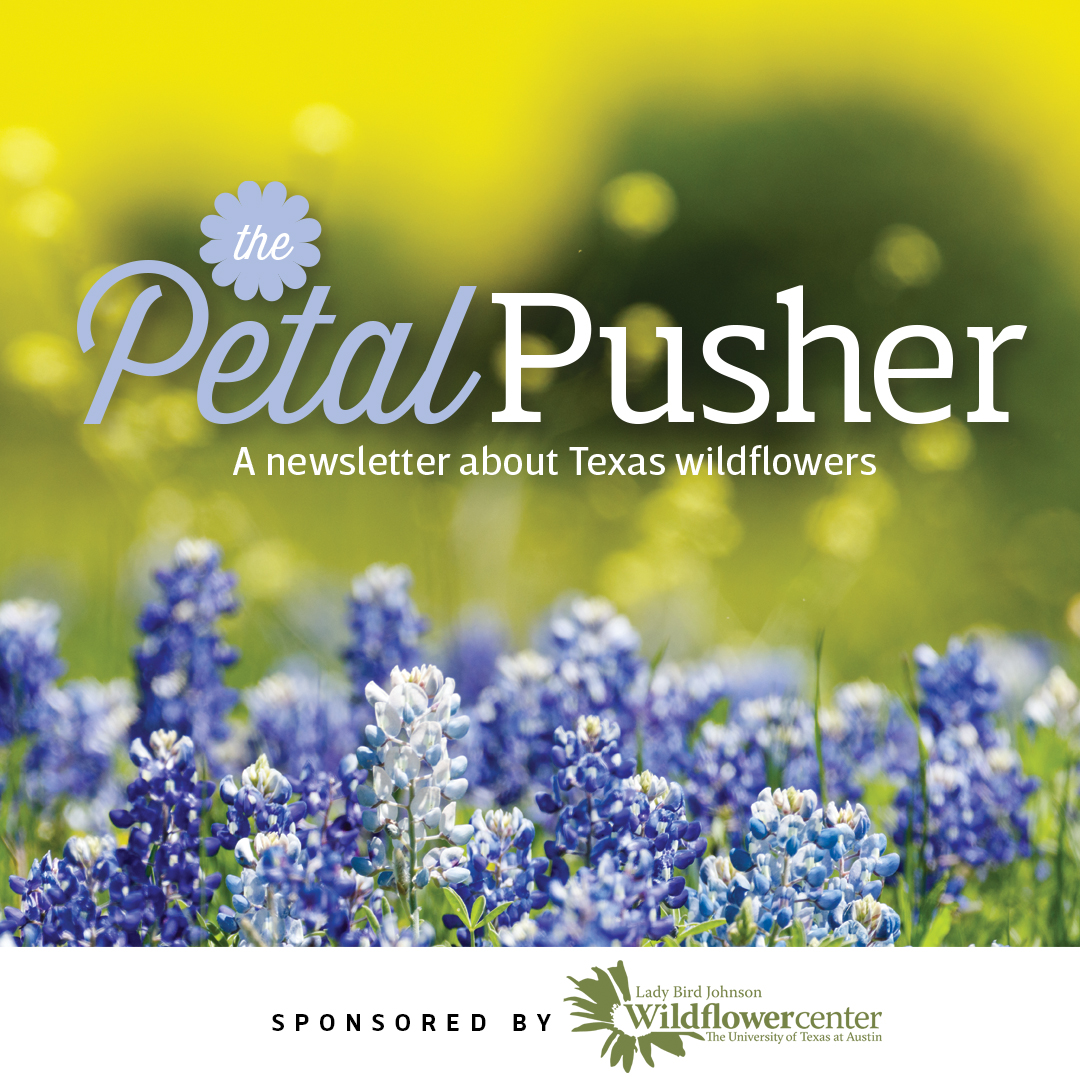 Sign up for our new wildflower newsletter
Sign up for our new email series all about the wildflowers of Texas! You will receive 8 emails (about one per week) about Texas' most abundant blooms, where to find them, and how they became so famous.