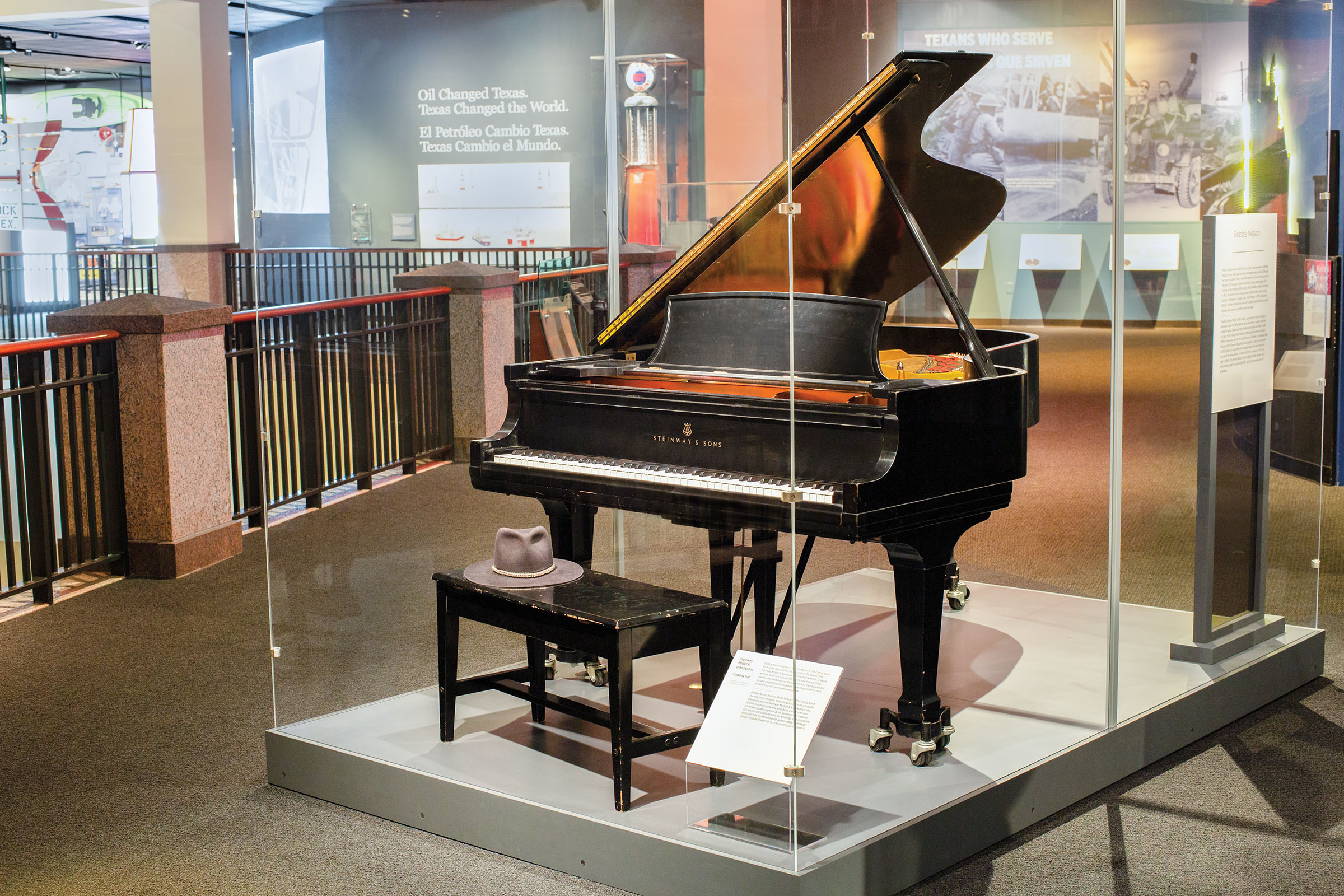 After Bobbie Nelson passed away in March 2022 at age 91, her son Freddy Fletcher inherited the grand piano she had played on tour with her younger brother, Willie Nelson. That's approximately 9,000 concerts since 1974, including Bobbie's last one in October 2021 at Whitewater Amphitheater in New Braunfels. Fletcher had a final resting place in mind for this half-ton of musical history. "And we agreed," said Margaret Koch, director of the Bullock Texas State History Museum in Austin.
The Steinway Model B, with Sister Bobbie's trademark black cowboy hat on the bench, bestows simple elegance to the Bullock's cultural wing. Just a few steps away, a minitheater shows clips of the PBS show Austin City Limits, including the 1974 pilot episode featuring Willie with Bobbie and the band.
"Doing 200 dates a year, my mom spent more time with that piano than with anything or anyone else," Fletcher said. "Well, anyone but Willie." The siblings from Abbott started playing together when Bobbie was 6 and Willie, who turns 90 in April, was 4. When Willie went to Nashville in the late '50s to make his name as the writer of such No. 1 hits as "Crazy" for Patsy Cline and "Hello Walls" for Faron Young, Bobbie stayed in Texas, demonstrating Hammond organs and playing piano in lounges.
She longed to perform again with Willie, whose records were made in Nashville with studio musicians chosen by the producers. Willie broke free from the Nashville establishment in '73 as the first country act signed to Atlantic Records in New York. In total creative control, he sent for Bobbie, a 42-year-old empty nester who took her first airplane flight for the New York sessions that produced Shotgun Willie, one of the earliest blasts of outlaw country. The band Willie called Family now truly was one.
Fifty years later, Bobbie is celebrated at her favorite museum. Fletcher, who built Arlyn Studios and helped Uncle Willie run Pedernales Recording Studios for a while, got choked up at the exhibit's attention to detail. "The bench is slightly tilted," he said, "like she'd just gotten up from the piano to leave the stage." For more information, visit thestoryoftexas.com.
From the March 2023 issue