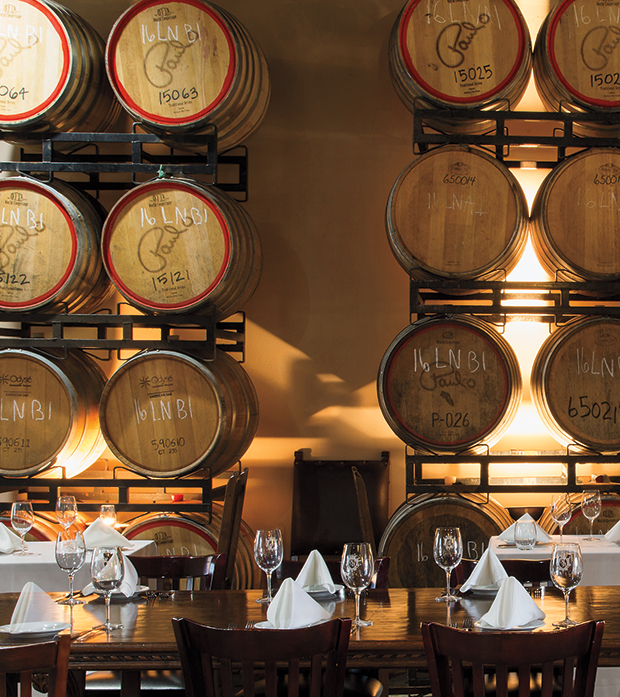 On an uncharacteristically cool and overcast August morning, rows and rows of Lenoir grapes grow fat on the vines at the Messina Hof vineyard in Bryan. At sunrise, visitors armed with grape hooks will descend upon them, eager for the experience of squishing the grapes between their toes during the winery's annual grape harvest tradition.
Messina Hof Winery (the flagship location) is at 4545 Old Reliance Road in Bryan. For details about the tasting room, restaurant, villa, annual events, and outposts in Fredericksburg and Grapevine, call 800/736-9463.
Lenoir grapes, also known as Black Spanish or Jaquez grapes, are resistant to phylloxera (root rot), which plagues many grapes grown in Texas. But Paul and Merrill Bonarrigo, two pioneers in the state's winemaking industry, didn't know that when they ventured out to stake a few vines 40 years ago on their acreage in Bryan.
In the 1970s, Merrill remembers, a farmer driving his tractor down what was then called Poor Farm Road pulled over to watch her label the dormant vines. "He said, 'Honey, what are you doing? Don't you know grapes can't grow here?' That was an epiphany moment for me," she says. "I grew up in a family where 'can't' was a forbidden word."
The Bonarrigos continued to grow Lenoir grapes, in addition to several other varieties, participating in a Texas A&M University research project on grape-growing in Texas. By 1982, Messina Hof (Paul's family hails from Messina, Italy; Merrill's from Hof, Germany) had eight acres of vines. Paul soon began making wine with equipment they purchased from a dairy that was going out of business, aging his first barrels in a carport.
These days, the grapes—some of them from those same vines planted four decades ago—stand as a testament to the love, care, and faith that fortified the Bonarrigos. The couple's 100-acre estate winery in Bryan now includes a tasting room, restaurant, gift shop, and bed-and-breakfast. They've also expanded to locations in Fredericksburg and Grapevine. The Fredericksburg outpost includes the Manor Haüs Bed and Breakfast, as well as a tasting room; Grapevine's urban winery, housed in the historic Wallis Hotel, offers nine wines on tap.
Often dressed in a leopard-print button-down shirt and red beret (a tradition among winemakers in his ancestral home of Messina), the Bronx-born Paul Bonarrigo is a flamboyant and outspoken counterpart to his wife. The two met when Merrill, working as a real estate agent in Bryan, helped Paul sell his house.
"I had never met such a positive and optimistic person in my life," Paul remembers of their first meeting. "She was just a light."
Their son Paul Jr. (known as Paul Mitchell) is the seventh generation of family winemakers to wear that traditional red beret. Paul Mitchell and his wife, Karen, now operate the winery's three locations.
Messina Hof produced 144,000 gallons of wine in 2016, making it the state's fourth-largest winery, according to data from the Texas Alcoholic Beverage Commission. In 2013, Messina Hof was named the Top All-Around Winery at the Houston Livestock Show and Rodeo's International Wine Competition, beating out nearly 1,000 wineries from around the world.
Messina Hof regularly earns awards for its wines, including three 2017 double golds in that same competition for its Chenin Blanc, Sparkling Almond, and Petit Verdot. It turns out the Lenoir grape makes a delicious port, and the Bonarrigos' Papa Paulo Private Reserve Port is a luxurious finale to a special meal.
The Bonarrigos pride themselves on creating an atmosphere where people connect to one another. When I visit in August, the winery's employees are chattering about the man who proposed to his girlfriend in the middle of the previous day's raucous grape-stomping festivities. Evidently he kneeled down in a bucket of crushed grapes, popping the question while they stomped in the slurry.
"She did say yes, and it was because she wanted to get out," Paul Sr. jokes with the visitors assembled to hear his pre-picking orientation, which includes information about the winery's history. Paul Sr. relishes his time in the spotlight, telling the group about a couple who have been married 50 years and enjoy a weekly glass of Messina Hof's sparkling wine. "They toast to their marriage and all the blessings they've received," he says.
The winery is a popular spot for weddings and anniversaries. The on-site villa at Messina Hof includes 11 rooms that can be reserved individually or as a group for the night or weekend. Each has its own theme ("Romeo & Juliet," "Messina," and "Thomas Jefferson," among others) and is decorated with antiques collect-ed by the Bonarrigos over the years. Employee Jean Butler, who manages the villa's reservations, says it's her mission to "spoil guests and make people happy." Overnight guests enjoy chocolates at bedtime and delectable hot breakfasts with mimosas in the morning.
Some of the Bonarrigos' most loyal fans—known as The VIPs—join the couple on annual winery trips outside Texas and celebrate with them at special winery events. But you don't have to be a VIP to tap into the family vibe. All it takes is a chat with Paul Sr. and a warm smile from Merrill, and you'll feel truly and authentically welcome.
From the April 2017 issue