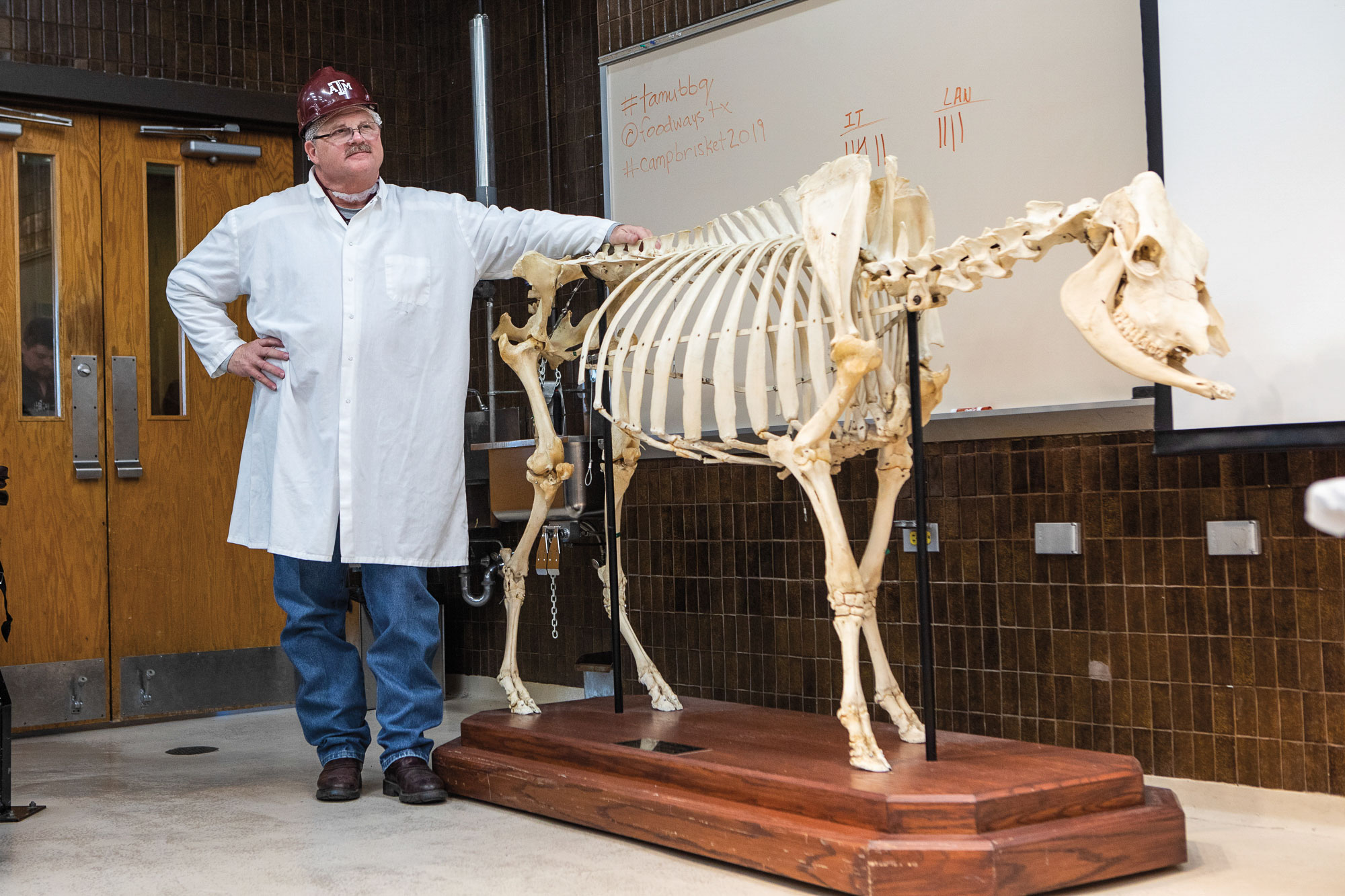 On the first morning of Camp Brisket, professor Davey Griffin begins to sharpen his knives before a rapt audience of barbecue aficionados. Griffin is wearing thick safety glasses, blue Kevlar gloves, and two aprons tied around his waist—a white apron on top of another one made of chainmail. On Griffin's head is an Aggie-maroon hardhat.
Safety first, brisket second.
"OK," Griffin says. "We're gonna cut one of these guys up and let you see the muscles."
Camp Brisket

To enter the lottery for tickets, you must be a member of Foodways Texas. For more information and lottery dates, visit foodwaystexas.org.
Watching his demonstration of brisket anatomy and trimming techniques are about 70 campers who literally won a lottery just to be here on a bright but cool January day at a lecture hall on the College Station campus. Griffin, a meat scholar, slices through about 15 pounds of raw, packer-cut brisket to reveal its two parts, the leaner flat and the fattier point.
Jeff Savell, one of Griffin's Texas A&M colleagues, shakes his head ruefully at the sight of the defaced beef sacrificed to education rather than being destined for the smokers outside.
"That's one of those crimes against the brisket," Savell says.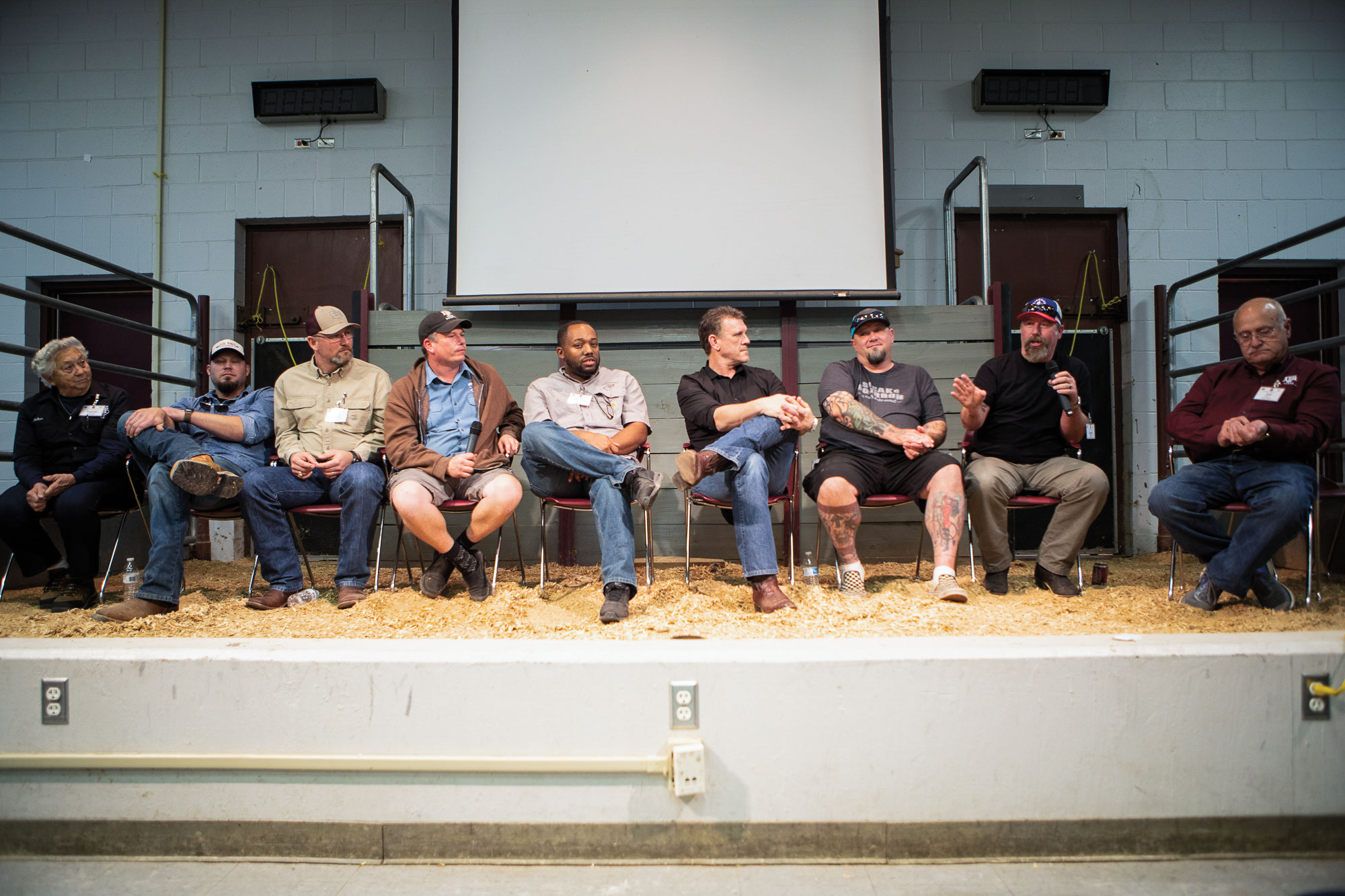 You certainly don't want to commit a crime against the undisputed king of Texas-style barbecue. Sausage and ribs have their place, of course, but a pitmaster stakes his or her reputation on slices of smoky, salty, bark-encrusted beef cooked low and slow from indirect heat. In the 20th century, meat markets and humble roadside joints in Central Texas developed the deceptively simple techniques that have conquered other regional variations in recent years. Now, with pitmasters like Aaron Franklin attaining celebrity status, the Texas style is colonizing restaurants and backyard barbecues around the globe.
They gorge themselves on smoked meat—that almost goes without saying—but the meals are also teaching moments.
Looking for secrets in the smoke or entrée into the tightknit barbecue community, campers have flocked to Camp Brisket since its debut in 2013. For 2019, several hundred people entered a lottery for a spot at the two-day camp, which brings together aspiring and professional pitmasters, weekend warriors who tend backyard smokers, meat science students and educators, and barbecue royalty. When Tootsie Tomanetz, the pitmaster of award-winning Snow's BBQ in Lexington, shows up, she's greeted by enthusiastic cheers. "Ms. Tootsie needs no introduction," Savell tells the campers.
Over the course of two days—the first in the lecture hall; the second at Texas A&M's Beef Cattle Center just outside College Station—campers rub elbows with Tomanetz and other barbecue legends. They learn all things brisket: from grading raw beef to knife selection and carving; building and maintaining a fire; types of pits; and the wobbly feel of a properly cooked brisket. And they gorge themselves on smoked meat—that almost goes without saying—but the meals are also teaching moments. For lunch on the first day, campers taste different grades of brisket and evaluate them for tenderness, juiciness, and flavor. Unsurprisingly, wagyu brisket is the clear winner; the differences between prime, choice, and select grades are subtler.
There are no secrets at Camp Brisket: Pitmasters let their advice flow as freely as barbecue sauce (just kidding; there's no sauce). About midway through the cooking process, many barbecue hobbyists wrap their briskets in foil to preserve moisture—a technique called the "Texas crutch." But the foil causes the meat to steam, damaging the highly prized and flavorful bark that encases the meat. Instead, campers learn to wrap the meat in butcher paper, which is more porous.
Camp Brisket—plus the three-day Barbecue Summer Camp held in June—is co-hosted by Foodways Texas, a nonprofit organization that preserves and promotes the state's diverse food cultures, and the Meat Science Section of Texas A&M University's Department of Animal Science. Nearly everyone at this Camp Brisket hails from Texas, but Lone Star-style 'cue has a long reach: A few have traveled from much farther distances, including countries like Bolivia and New Zealand.
"Here, there is a passion to not only eat the best barbecue but to prepare the best barbecue for your friends and family."
"I entered the lottery three times and finally got it this time," says Joe Walters, who owns Texas Joe's Slow Smoked Meats, a barbecue joint and bar near Tower Bridge in London, England—5,000 miles from the small Texas coastal town of Portland, where he grew up.
"We're pretty 'trad' down to the piece of white bread on the plate, which most English can't figure out," Walters says of his restaurant. "It sort of starts out as a novelty, but then people just realize it's a good, basic, simple food with high-quality ingredients." As for the ambience, he adds, "I get to create a fantasy version of Texas in London. It's kind of got a vintage-y vibe. You don't hear much music beyond, say, 1975, and it plays up the myth and lore of Texas and old movie posters and the Battle of the Alamo."
Walters' main takeaway from Camp Brisket? After you pull the meat from the pit, let it rest as long as you can stand it, allowing the juices to redistribute, a crucial step that softens the meat before you slice it.
People always come to Camp Brisket to learn specific things, Savell says, but they leave with much broader knowledge. "I don't know that they can cook briskets any better than they did before they came, but it opens them up to the whole world of Texas barbecue and gives them an idea of the community of people involved in this," he says. "Here, there is a passion to not only eat the best barbecue but to prepare the best barbecue for your friends and family."
It's about good food, in other words. But it's mostly about camaraderie.
"You could have a Camp Brisket reunion," Savell says, "and everyone would want to come."
Life as a Pitmaster
At Camp Brisket, some of the state's top pitmasters shared their insights and experiences.
"I got into the barbecue business in 1966. My husband worked at the meat market in Giddings, and they were shorthanded at the pit. … Later we had our own meat market in Lexington, and we barbecued on Saturdays. … I lost my husband in December of 2015 and my son in March of 2016. If it were not for my barbecue family, I don't know where I'd be today. It still hurts, but y'all have given me strength."
—Tootsie Tomanetz, pitmaster of Snow's BBQ in Lexington
"I'm a third-generation, grease-slinging, smoky-smelling, dirt-dragging, wood-chucking sweaty dude. That's me every day. … Giving someone a bite of brisket at the counter who's never had that before and watching them dance and sing and just see the joy come over their entire body and get to experience this multiple times a day? It's addictive."
—Wayne Mueller, third-generation owner and pitmaster of Louie Mueller Barbecue in Taylor
"This is the golden age of barbecue. For my grandpa, his whole life it was a job. For my dad, it was a job. Now it's cool. We're making better barbecue than we ever have."—Bryan Bracewell, third-generation owner of Southside Market & Barbeque in Elgin and Bastrop.
From the July 2019 issue