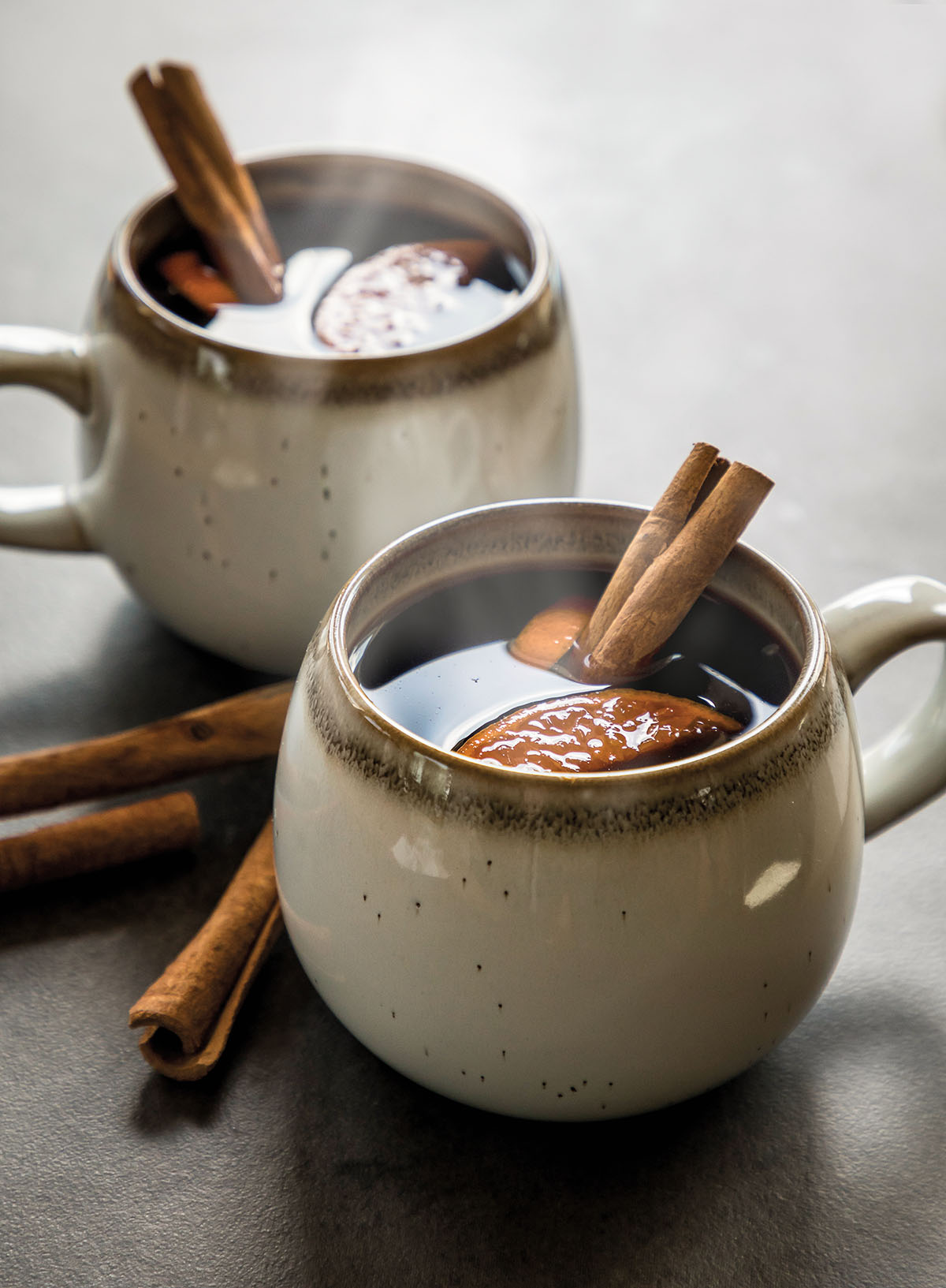 Germans immigrating to Texas in the mid-1800s brought much from their homeland that we still enjoy today—sausage, beer, sauerkraut, polka, and Oktoberfest. During the Christmas season, German heritage is often celebrated with glühwein, a warm beverage featuring red wine heated with sugar, citrus, and spices like cinnamon, nutmeg, and cloves.
While glühwein translates to "glow wine," accounts vary on its etymology. Some say the term "glow wine" comes from the red-hot irons used to heat the wine hundreds of years ago, while others believe it is derived from the glowing feeling brought on by a glass of the hot, spiced beverage.
Glühwein's origin dates to the ancient Egyptians. Around 300 B.C. they made warm, spiced wine and called it "the elixir of the afterlife." Greek philosopher Hippocrates prescribed spiced wine as a medicinal tonic, as did Roman philosopher Pliny the Elder. Romans were known to heat wine to ward off sickness during cold winters, and they brought mulled wine along with them as they conquered much of Europe in the second century. During the Middle Ages, Europeans called mulled wine "Hippocras," in honor of Hippocrates, and mixed the hot drink with bay leaves, cardamom, saffron, and long pepper. The oldest known glühwein tankard dates to 1420 and belonged to a German nobleman. Around the late 1800s, glühwein became associated with Christmas due to the drink's popularity at German Christmas markets known as Christkindlmarkts. As Germans came to Texas during the 1800s and early 1900s, they brought the glühwein tradition with them.
"Every Christmas market in Germany has its own collectible glühwein cup that you can keep, a tradition also found at some Texas Christmas markets," says Christopher Markley, executive director of the German-Texan Heritage Society. Markley also notes that Julius Schütze, a German immigrant and the first teacher at the German Free School in Austin, referenced drinking hot, spiced wine during the Christmas holidays in his diaries from the late 1880s.
Due to the pandemic, many holiday events that serve glühwein have been canceled this year. But you can still purchase the drink—or similar varieties—from wineries across the state. Pedernales Cellars sells glögg (a Swedish-style mulled wine with brandy) in its tasting room in Stonewall and online, as a nod to the owners' Swedish ancestry. The winery plans to produce 1,500 bottles this year, starting in late October. "It's like the pumpkin spice latte of wine," co-owner Julie Kuhlken says.
"It's like the pumpkin spice latte of wine," co-owner Julie Kuhlken says.
Messina Hof sells mulling spices on-site and online, and mulled wine in its tasting rooms in Bryan and Fredericksburg. In Ennis, Sugar Ridge Winery has white and red glühweins available; and Fairhaven Vineyards in Hawkins sells glühwein as well. "Glühwein tends to bring people together," Markley says. "You have a nice, warm drink, and before you know it you're glowing from the inside out and having a good time."
Not ready to cook right now? Enter your email to have this recipe sent to you:
By entering your email, you agree to receive email communications from Texas Highways Magazine as described on the newsletter page.
The recipe has been sent to .
Glühwein
This recipe comes from German-Texan Heritage Society member Petra Mueller. Her family recipe is served at the organization's annual German Christmas Market.
Ingredients:
1 bottle of red wine
2 cinnamon sticks
1 orange cut into slices
10 whole cloves
1 teaspoon of vanilla extract
2 tablespoons of brown sugar
Directions:
Put all of the ingredients in one pot. Heat to medium-high, but don't let it boil or the alcohol will dissipate. Let the flavors soak into the wine for at least 30 minutes. Strain into a cup and enjoy warm on a cold winter night.
From the December 2020 issue