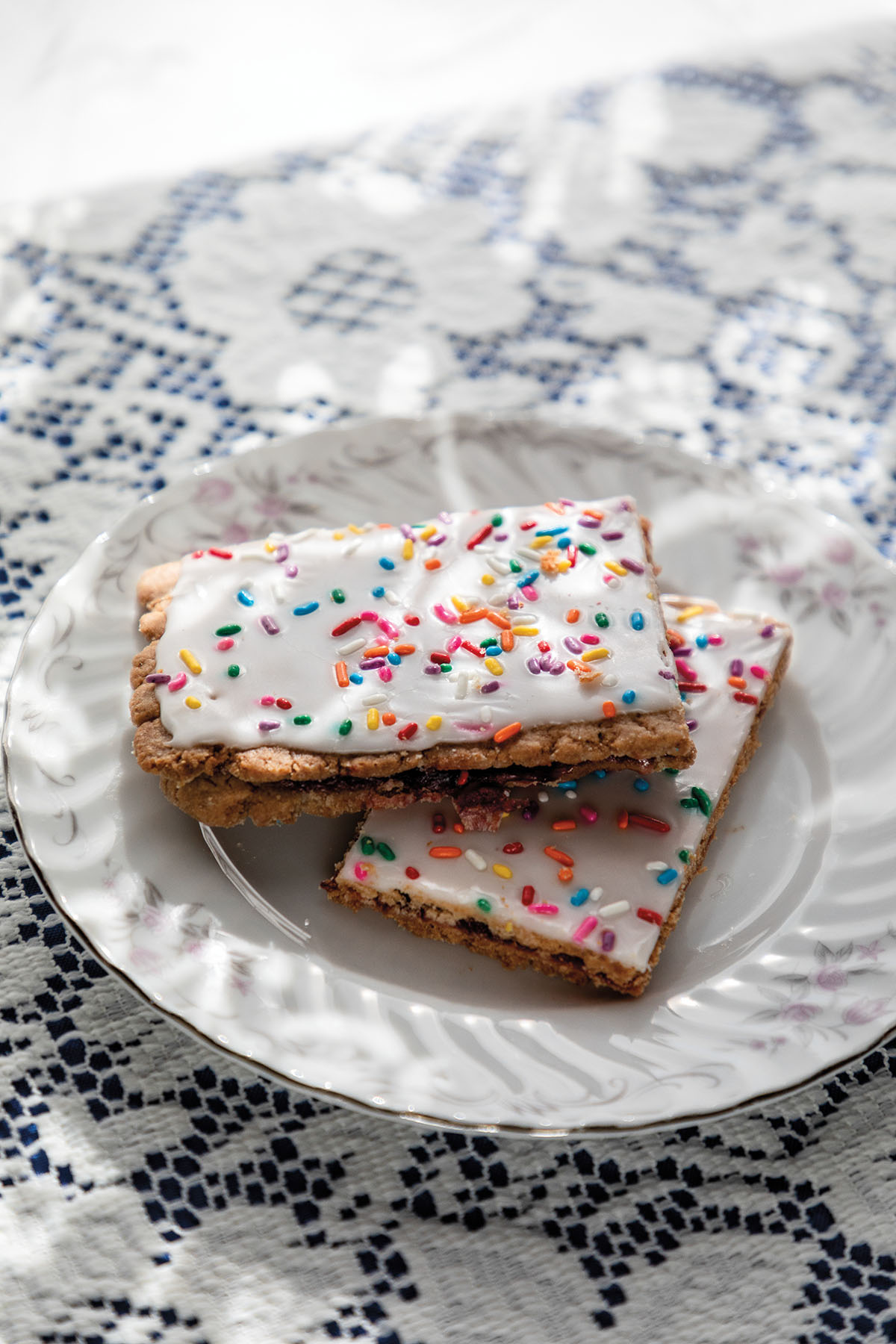 On the first Friday and Saturday of each month, a steady stream of customers parks at the back gate of a yellow Victorian bed-and-breakfast in Fort Worth's Near Southside neighborhood. People walk past a big pecan tree and step inside the small storefront of Three Danes Baking Company to claim a box or tray laden with pastries bearing names they probably can't pronounce.
The pandemic undercut the Three Danes Inn, home of the bakery, as guests stopped traveling, but co-owner and pastry chef Darlene Marks found a silver lining. When the world went into lockdown, patrons new and old rediscovered a passion for sweets. Their zeal for Three Danes' baked goods kept the inn and bakery afloat amid the pandemic storm.
"People craved sugar, and that kept us in business," says Marks, whose bakery sits on the ground floor of the bed-and-breakfast. "Everyone wanted treats, and many were buying big trays of baked goods for caregivers at hospitals and for firefighters and police officers."
In a city with plenty of doughnut shops, Three Danes offers an Old World alternative: traditional European goodies. Though Three Danes opened in 2017, customers clamored anew for the indulgent flavors and textures of smørkage (butter cake); frøsnapper (twisted puff pastry filled with buttercream and topped with poppy and sesame seeds); mazarinkage (almond-butter cake dipped in chocolate); and hindbaersnitte (rectangular Danish butter cookies filled with raspberry jam and topped with rainbow-sprinkled vanilla glaze). And there's the perennial favorite, kringle—a layering of pastry, sugar frosting, and almonds, stuffed with macaroon fillings like cinnamon-pecan or chocolate-buttercream.
Bringing such joys to the market was a gradual process for Marks, a first-generation Danish American. Her father, a Midwesterner, was stationed in Germany with the U.S. military when he fell in love on a visit to Denmark and swept his Danish bride back with him stateside. The couple had Marks and her sister, Melissa, in the Midwest before moving to Fort Worth when the girls were young. Marks earned her bachelor's and master's degrees in vocal performance at the University of Texas at Arlington and Louisiana State University, respectively. She also studied voice for two years in Copenhagen, where she became enamored with her ancestral culture and its food.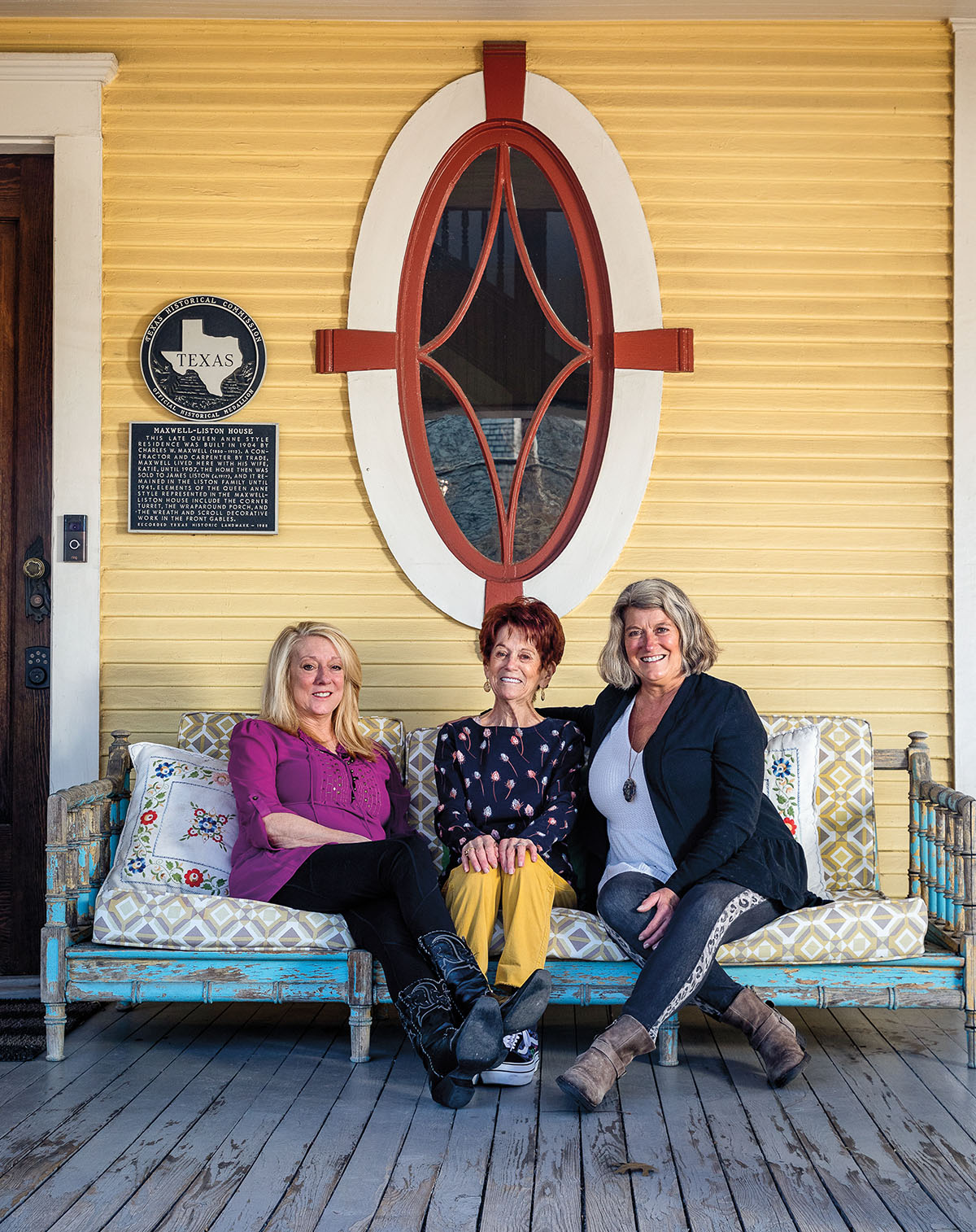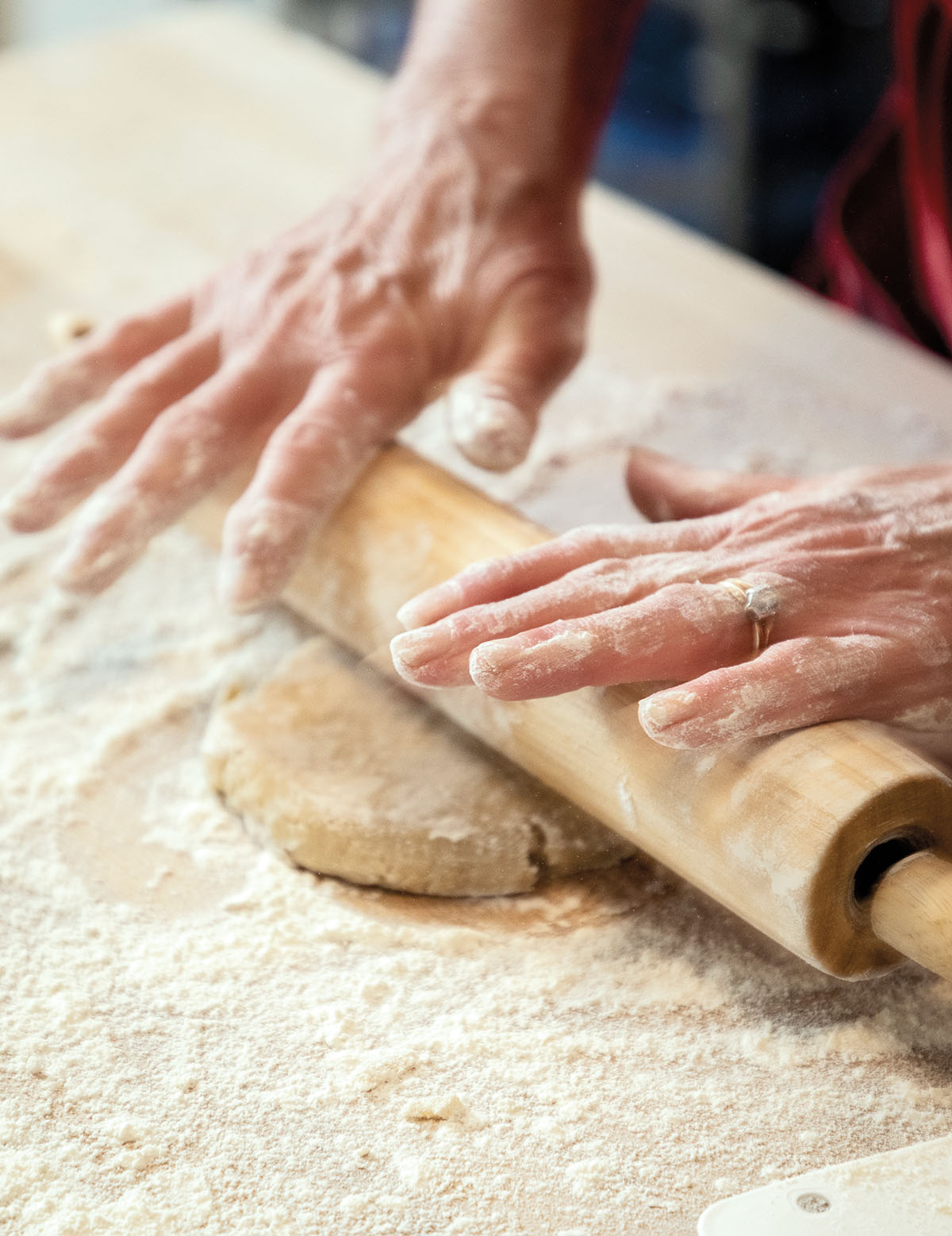 During her career as a voice professor and coach in Fort Worth, Marks kept crafting Danish pastries. Her mom, Erna Marks, added much to her repertoire, and Darlene Marks continued teaching herself. Friends loved her baking so much that Marks started a cottage business at home in 2015. In short order, she and her husband, Jim Johnson, expanded the bakery with the purchase of a two-story Victorian home.
That Victorian was already a bed-and-breakfast, and Marks and Johnson became innkeepers while conducting a renovation, starting with building the commercial kitchen she needed. With mom Erna; sister, Melissa Cates; and housekeeper Jessica Martinez helping in the bakery and the five-bedroom inn, the Three Danes were in business.
"Our first guests were a wedding group, and people kept finding us," Marks says. "We got busier and busier and were set to have our best year yet in 2020. The cancellations were just devastating. Things are turning around now."
Marks delights at welcoming visitors from Belgium, Italy, France, Brazil, Australia, and, of course, Denmark. (Rates start at $115/night.) Guests are drawn in part by the inn's location just south of downtown—a short drive to both the Cultural District and the profusion of restaurants and galleries on nearby South Main Street and Magnolia Avenue.
Three Danes is where Cowtowners discover the true meaning of hygge, pronounced "hue-guh," the Danish term that encompasses comfortable, cozy contentment. It's easy to sink into the overstuffed couches and chairs when surrounded by the inn's beautiful wooden floors and rooms bathed in sunlight.
"You have to love people and having them in your space to love doing this because running the inn is a 24/7 occupation," Marks says. "We get family groups and a lot of wedding groups, like the young baker who worked in our kitchen and staged his proposal here."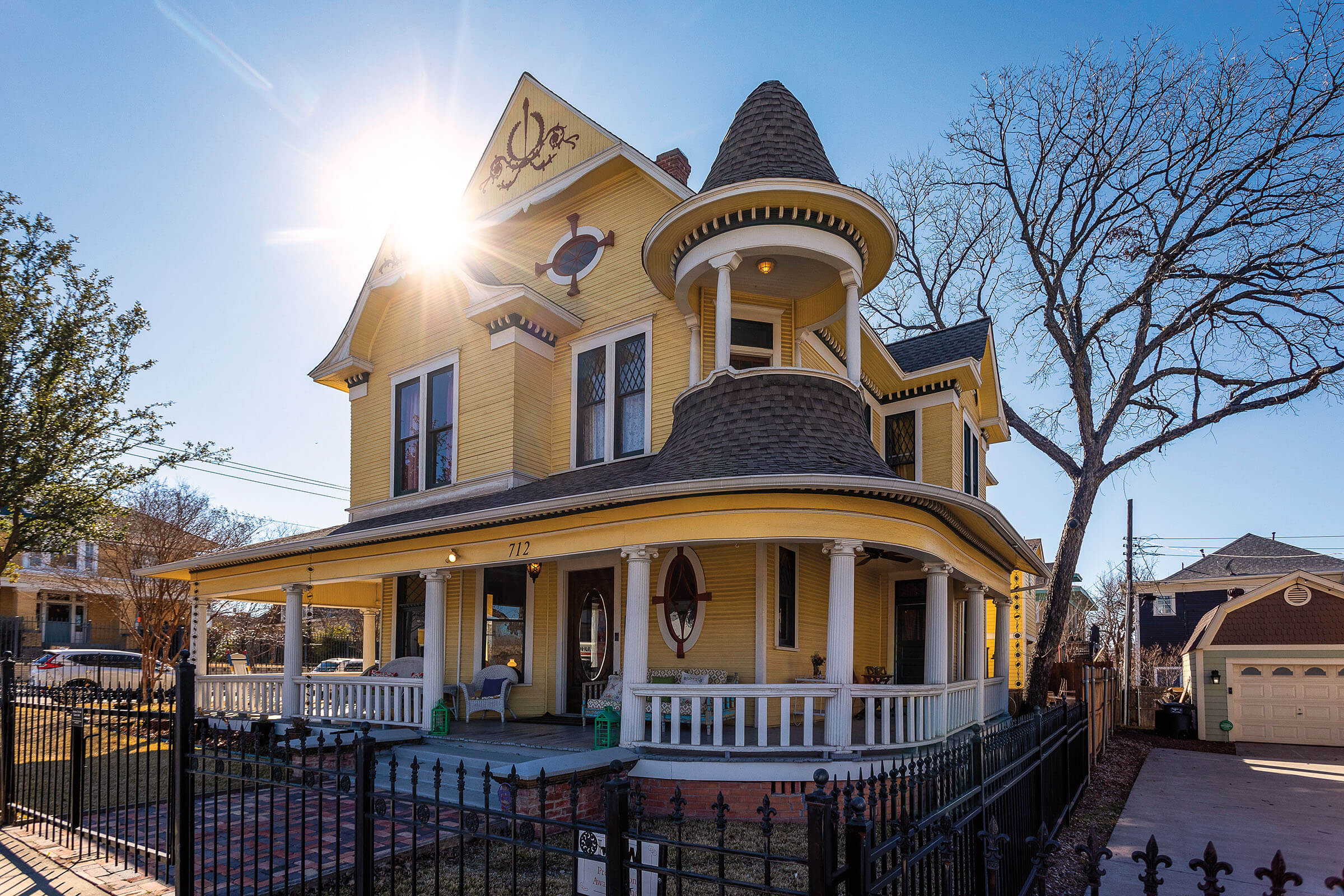 Collaborating with the surrounding community remains a priority for Marks. She supplies pastries for Leaves Book and Tea Shop and for the Lobby Café at Stage West Theatre. And she enjoys sharing the Three Danes space with fellow local entrepreneurs.
"Not only does Darlene make yummy food, she and Jim are invested in helping fellow business owners," says Julie Fairley, owner of JuJu Knits, a yarn store and knitting center. Before Fairley secured her knitting goods trailer and a brick-and-mortar store, Marks welcomed JuJu Knits to hold events in the inn's courtyard at no charge.
Fairley sees the popularity of Three Danes' baked goods as a natural extension of the business' abundance of positive energy. "We love the pastries," she adds. "We often message an order for $20 worth of savories and sweets and love whatever surprises she puts together for us."
Three Danes Baking Company opens its storefront at the rear of the inn on the first Friday and Saturday of each month, 8 a.m.-2 p.m. or until goods are sold out. Special orders are accommodated throughout the month, with 48-hour notice. By Tuesday evenings, the bakery posts a menu of items available each week, inviting customers to place orders to be picked up at week's end.
Lessons learned in the age of COVID-19 reshaped business for Three Danes. During the pandemic, the inn shifted from dining-room breakfasts to offering complimentary pastries, coffee, and tea, no matter the time of day. The bakery's curbside business remains popular, prompting Marks to cut back storefront hours from every weekend to once a month. Having reduced storefront hours gives Marks more time to sleep—baking days begin at 12:30 a.m. on those storefront weekends—and freedom to mind the inn and cook big Danish meals with Erna, now 85, who still helps in the bakery, and Cates, who runs the inn with her sister.
"We've learned a lot of important things in the past two years, like how to adapt and how to work in ways that make more sense," Marks says. "And we're looking for new ways to entertain. An outdoor kitchen and live music events outdoors are some thoughts."
Whatever the future holds, we can count on Danish baked goods being the most popular items enjoyed on the porches of the yellow Victorian inn.
From the July 2022 issue