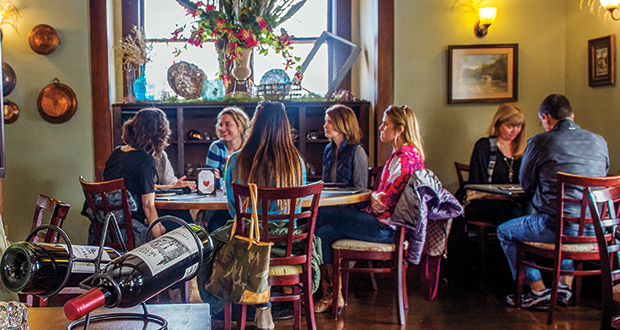 Since my husband and I moved from Fort Worth to a ranch south of Glen Rose a decade ago, we've be-come impromptu tour guides to friends visiting the area for its hilly scenery along the Paluxy River, numerous bed-and-breakfasts, Fossil Rim Wildlife Center, and other nearby attractions. They inevitably ask us where they should eat, and we always recommend our go-to place, the Riverhouse Grill.
Riverhouse Grill Orange Vinaigrette

Makes 2 cups

2 teaspoons salt

1 teaspoon black pepper

2 minced garlic cloves

1/2 teaspoon mustard powder

1 tablespoon fresh grated ginger

1 teaspoon horseradish

1 cup orange marmalade

1/2 cup white balsamic vinegar

3/4 cup olive oil

Whisk ingredients together, and serve.
Riverhouse GrillRiverhouse Grill is at 210 S.W. Barnard St. in Glen Rose. Call 254/898-8514. Hours: Wed-Sat 11 a.m.-2 p.m. and 5-9 p.m.; Sun 11 a.m.-2 p.m. Reservations encouraged on weekends.
No restaurant embodies Glen Rose's small-town historic charm better. The white two-story structure dates to the early 1900s, with a wide front porch and an enclosed balcony upstairs. Inside, the two downstairs dining rooms feature high ceilings, hardwood floors, lovely carved woodwork, and sconces that glow with soft light. The windows still sport their original rippled glass.
The late Mary Olejnik and her husband, Milan, started the Riverhouse Grill in 2009. But their story in the restaurant business began a half-world away in the former Czechoslovakia, where Mary and Milan were born. As young adults in the late 1960s, they fled violence and Communist party rule and came separately to the United States to start new lives.
When Mary—born Maria Jurkova—arrived in New York in 1969 at age 19, she spoke no English and carried only a suitcase and a few dollars. She soon reconnected with family friend Milan Olejnik, and the couple married and embarked on careers in the restaurant and hospitality industry. Their path ventually led to Glen Rose, where they found work at local resorts and ranches.
One day while strolling around town, they spotted a "for sale" sign on the former historic Milam House on Barnard Street, the road that follows the meandering Paluxy River. They had a vision of opening a family restaurant, invited their son Milan Jr. to join them from California, and opened the Riverhouse Grill in 2009.
Mary died in January 2016, and while Milan Sr. still stops by the restaurant on occasion to help out, Milan Jr. and his fiancée, Kelli Ponder Peebles, run the show these days. Milan spends most of his time in the kitchen as chef, and Kelli runs the dining rooms as general manager. They both continue Mary's tradition of friendly hugs and smiles for locals and first-time visitors alike. "Mary never met a stranger," Kelli says. "She made everyone feel like family."
Under the stewardship of Milan and Kelli, the Riverhouse Grill still serves many of the dishes Mary brought to Glen Rose, including chicken Marsala ($16) and grilled pork chops ($19). Milan brings new dimension to the classics with sauces and salad dressings, such as the popular house-made orange vinaigrette.
At lunch, my favorite appetizer is the harvest flatbread layered with a blue cheese spread, thinly sliced pears, crushed pecans, and a balsamic glaze. It's a perfect balance of sweet, savory, and tart.
My husband often opts for a sandwich—a favorite is the smoked turkey panini with bacon, pesto mayonnaise, and provolone. I usually choose the daily special, and on a recent lunch visit, the grilled shrimp salad special arrived with five succulent shrimp atop a bed of baby spinach, sliced red onion, feta cheese, and a sprinkling of dried cranberries and chopped pecans. The house-made orange vinaigrette dressing made the dish pop; Kelli tells me some regulars ask to buy the dressing to use at home, and soon she hopes to oblige them. (Until then, see the recipe on the next page.)
In warm weather, we like to dine on the front porch, which has flower boxes hung from the railings. The upstairs dining rooms can be reserved for private parties.
While the entire setting feels bright and airy by day, at night flickering candles and lights in the tall trees outside conjure a romantic ambiance. Many locals and visitors celebrate birthdays, anniversaries, and special occasions such as Valentine's Day at the restaurant, so it's not unusual to see a server carrying a dessert speared with a glowing candle.
Although the space feels elegant, you don't have to dress up to dine at the Riverhouse Grill. Tourists often show up in hiking or biking clothes, and families with children can come straight from a day at Fossil Rim without having to change clothes.
Despite the Olejniks' Czech heritage, the food is mostly upscale American without being fussy. Milan says he tries to buy vegetables and fruits locally, and an herb garden behind the restaurant provides rosemary, mint, basil, and cilantro.
Dinner specials often feature fish, such as blackened catfish with shrimp étouffée, or seasonal dishes such as seared maple-leaf duck breast with black cherry sauce. Steak-lovers can't go wrong with the grilled cowboy rib-eye seasoned with a house-made rub. We love the steak, but we keep going back for the baked salmon ($22). Milan dresses it up with a white butter sauce and serves it on a bed of garlic-lime rice. The lightly sautéed vegetables that accompany it—yellow squash, carrots, and zucchini—arrive sprinkled with garden herbs.
Desserts change seasonally. My favorite remains the gooey chocolate-chip bread pudding with caramel sauce; the serving is large enough for two to share. Key lime pie and flourless chocolate cake with raspberry sauce also make a fine ending.
The Riverhouse Grill brings gourmet flair to Glen Rose. I hear many visitors comment on their surprise to find a restaurant of such high caliber in town, and one they feel so welcome at. That is Mary's legacy—extending the kind of warmth that goes way beyond food.
From the April 2017 issue