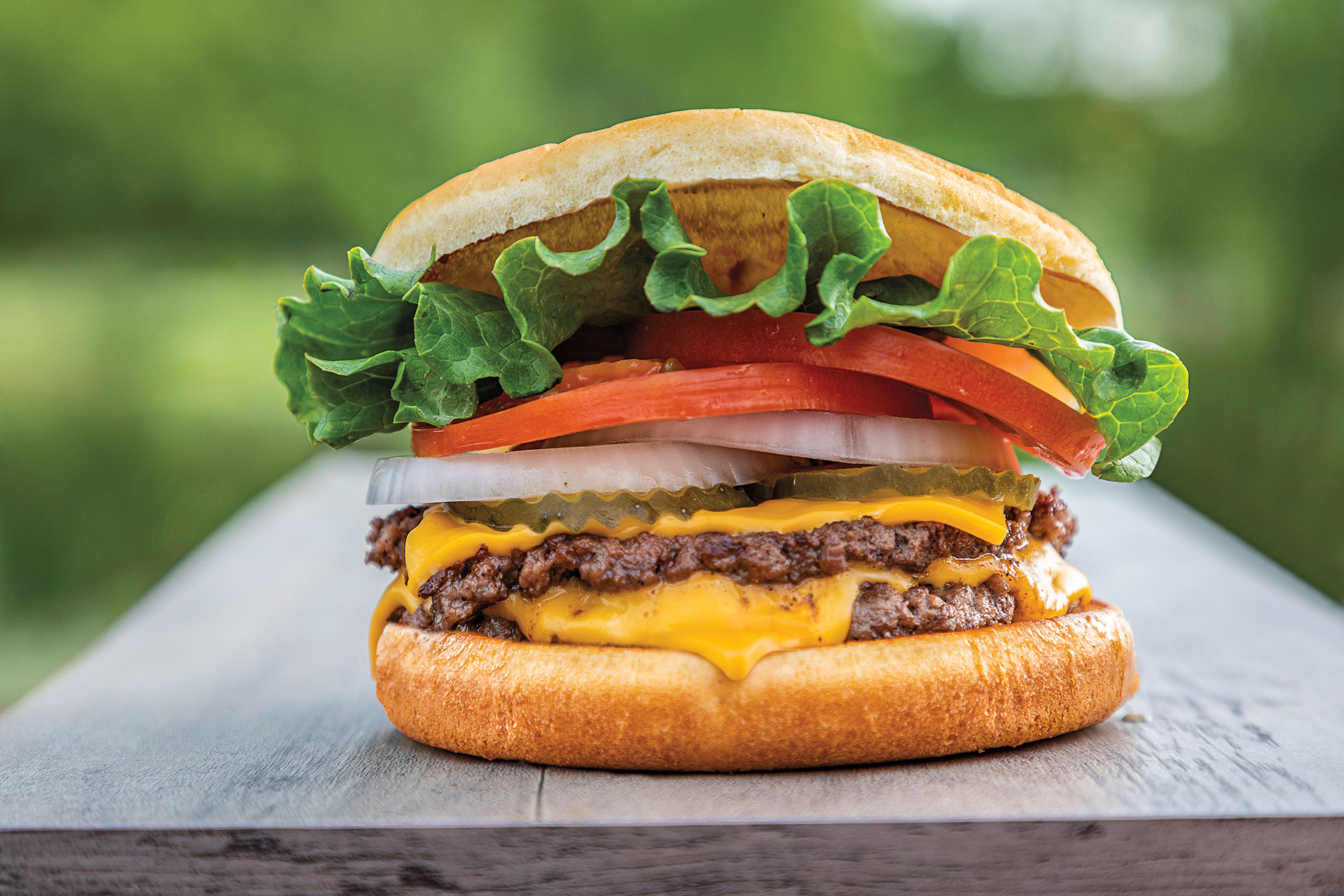 There's nothing like a Texas-made burger found on roads less traveled: hand-formed patties jutting out beyond the shelter of toasted buns, elevated by a simple assortment of toppings and American cheese. This handful of fried glory comes served atop red-and-white checkerboard paper in a primary colored basket. And to complete the meal, a bag of potato chips and a canned or bottled soda come with it.
The burgers found at mom and pop joints sprinkled throughout the state are in a class by themselves, and they're increasingly difficult to find. Over time, the interstate system has steered travel away from smaller roads, making it less likely for travelers to happen upon a local treasure. Chains such as Sonic, Dairy Queen, and even Whataburger—which got its start as a Corpus Christi burger stand—have taken over the small towns. Add to that the rise of barbecue's popularity; a hamburger stand might provide you a decent living and even a little fame, but revered pitmasters are now regarded as local celebrities.
Recently, I was speaking with John Barry Williams, a veteran government official in Austin. He filled me in on his struggle to find burger joints like those from his childhood summers in Ballinger, where his grandmother would gather the kids and her friends and head to the local eatery. Just a few years ago, on a trip from the northeast Texas town of Jefferson to Austin with his wife, Williams spent nearly five hours searching for a burger stand of yore. But no luck. "I thought, 'What a lovely piece of Texana that has been lost,'" he said.
Maybe the next generation has less interest in taking over the family business, or doesn't have the means to do so. Or, new blood takes the establishment in a new direction, upgrading it to a full-size restaurant. Coupled with the pandemic, which has been rougher on these businesses than national brands, and looming supply chain issues, these problems may seem insurmountable for independent locales.
But surely, not all has been lost. I set out on a hunt for the types of burger stands Williams and I had discussed. I defined a hamburger stand as a restaurant serving little more than hamburgers and, occasionally, shakes or snow cones. There should be almost no indoor seating, and outdoor should be minimal—a picnic table or two. In many cases, potato chips and canned or bottled drinks are the only sides available. It's all about the griddle, after all.
The Standard Bearer
When Herd's Hamburgers opened in 1916 in the North Texas town of Jacksboro, the Ford Model T was just 8 years old and what would become the state's highways were little more than rutted dirt tracks. Not much has changed about the burgers since. In fact, nationally renowned hamburger historian George Motz deemed the offerings at Herd's "primary source" burgers, meaning they're akin to America's earliest kind ever offered.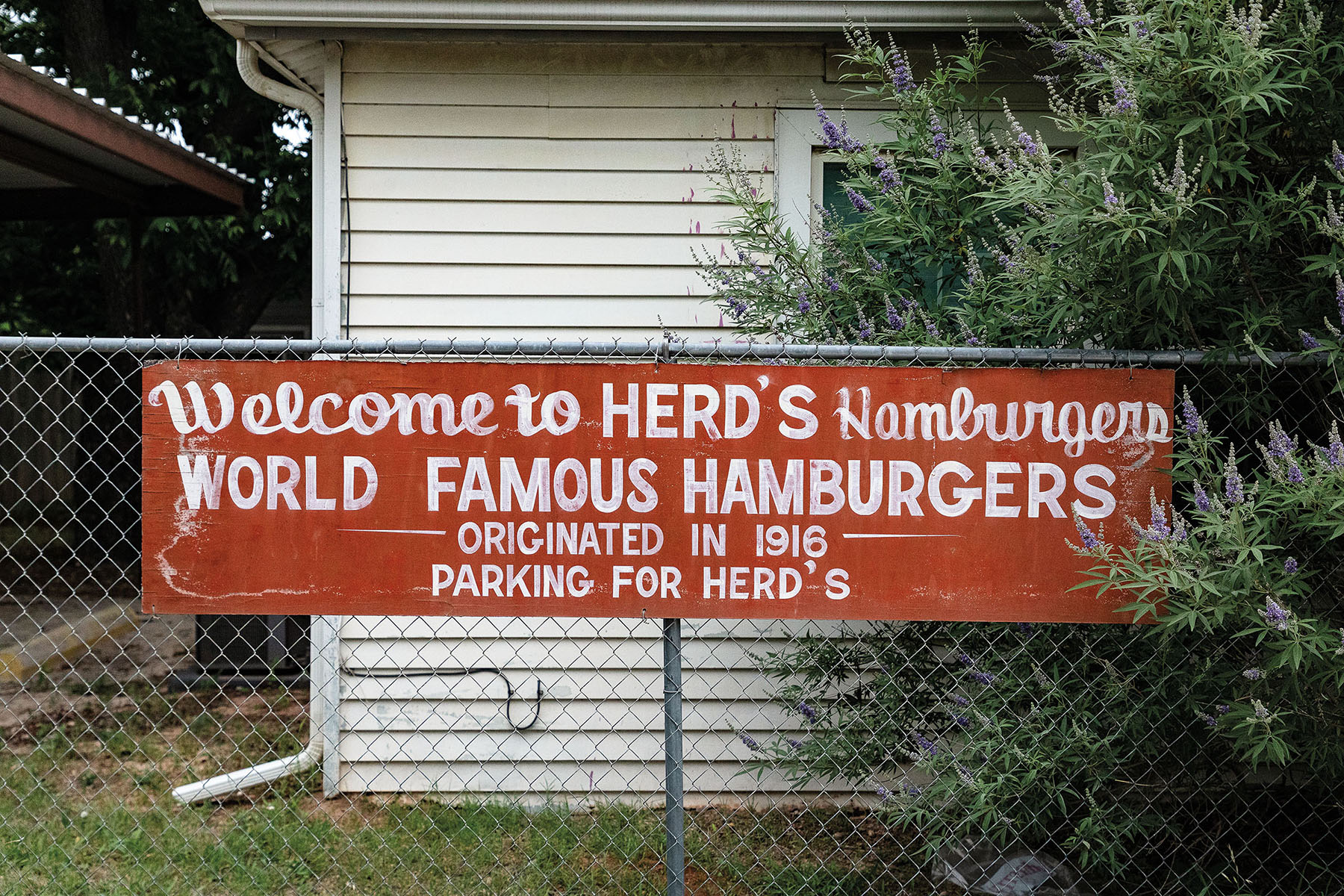 Though the joint moved from its original spot into its current location in 1980, the patties are still cooked on a cast-iron griddle. Once the patty is flipped, it's topped with a bun, giving the bread a chance to soak up some of the grease. The toppings and condiments are your basic salt, mustard, cheese, onions, pickles, and lettuce. French fries can't be found on the menu. There might be a phone on the premises, but they won't answer it (because they don't need to). And a member of the Herd family still runs it, just as it was during the Woodrow Wilson administration.
Herd's has been passed down through family members for generations. Danny Herd, the current owner, took the business over from his parents in 2008. They had taken the torch from his grandparents, who in turn had taken over the establishment in 1946, from great-aunt Ella Gafford.
What is Danny Herd's secret to success? He says, "Don't change a thing." According to him, his ancestors gifted him with everything he needed to continue the Herd's legacy: the cast-iron griddle that has been in use for over 50 years.
"You just don't get the same flavor out of a stainless steel grill, you know?" Herd says.
Herd gets emotional thinking back over the history of the family business. "When you take pride in your product the way we do, you just think about what puts food on your table and a roof over your head and how to take good care of your customers," he says.
Herd's Hamburgers
401 N. Main, Jacksboro
The Modernizer
At Sandeez Hamburger Hut in Lakeway, about 40 minutes northwest of Austin, picnic tables are scattered among a grove of oak trees. The smell of hand-cut fries and hand-formed burgers wafts through the air. On Friday afternoons, restaurant-goers can find entertainment through car shows that have everything from classics and hot rods to Porsches, Ferraris, and Formula 1 race cars. The whole production brings an American Graffiti vibe to the establishment.
Opened by a family named Finnegan in 1979, Sandeez was originally known simply as the Hamburger Hut and was just a small walk-up on Lake Travis. The burger joint prospered enough to warrant a move to its current location on Ranch Road 620 near the Mansfield Dam in 1984.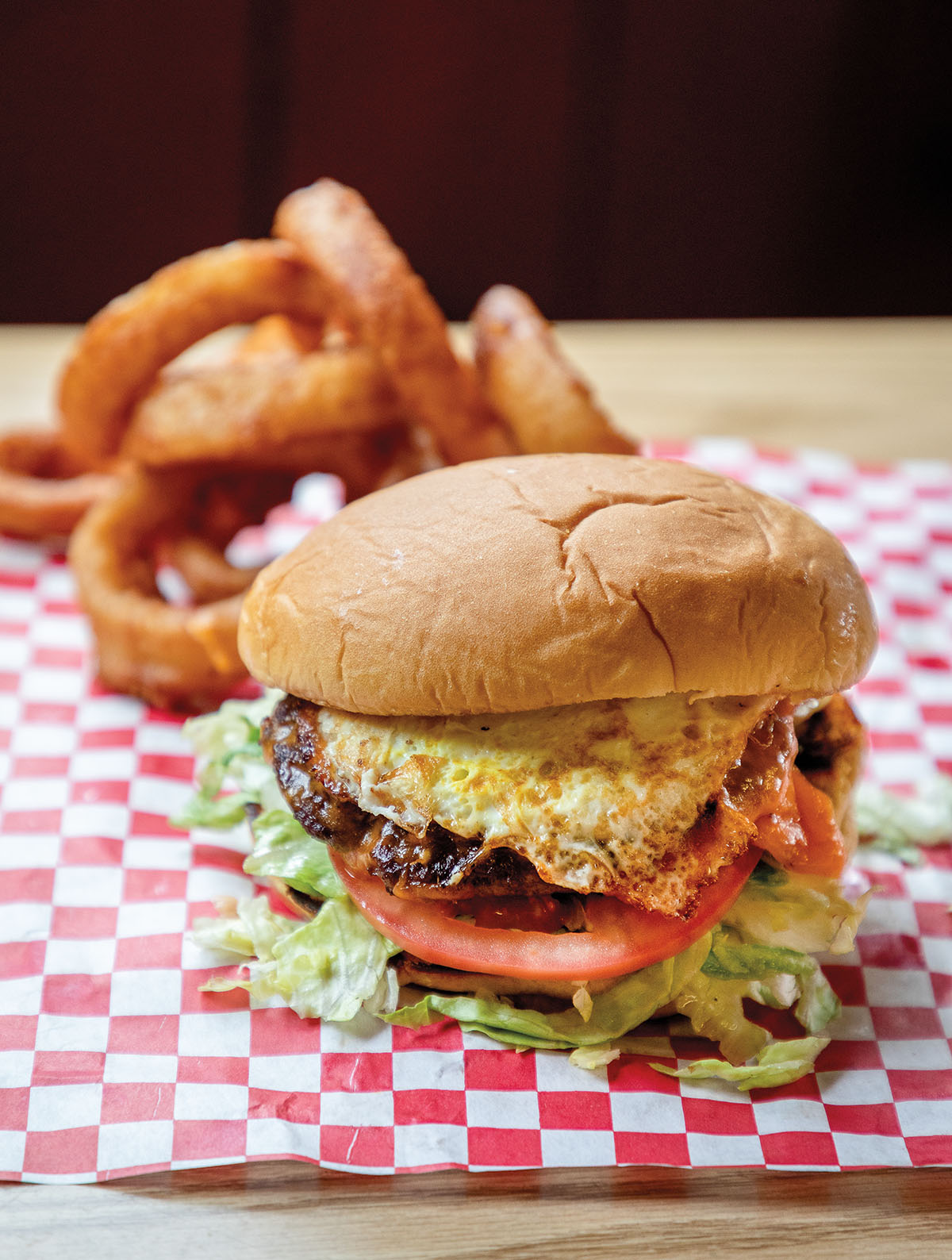 Ten years later, they sold to Sandy Lairsen, a Dallas-bred transplant to Lakeway, who brought about many of the changes that make Sandeez what it is today. Now, the business is owned by Kelly and Adib Khoury, who bought the place from Lairsen four years ago.
According to former manager Addyson Eargle, Sandeez gets its beef exclusively from Johnny G's Meat Market in Austin, which in turn gets its meat from the coastal plains down around San Antonio and Corpus Christi.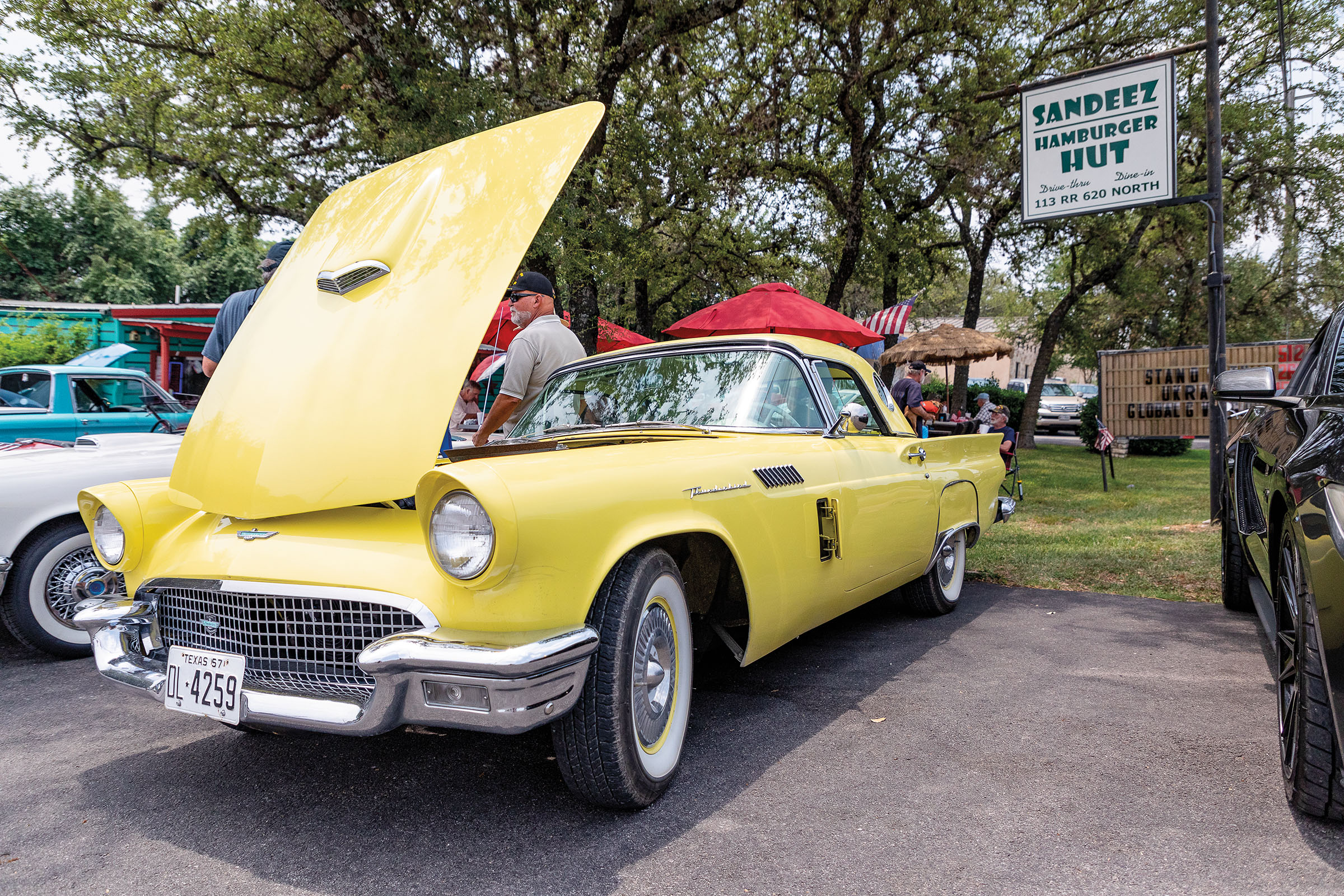 The menu at Sandeez isn't super traditional. They sell beer and even have a full breakfast menu. And the burger options are specialty-driven. Eargle boasts about their self-described "Bucket List" made up of unusual varieties—mango and pineapple; queso and guacamole; and the Heisenburger," a Breaking Bad-inspired meal topped with nopales, jalapeño ranch, and blue cheese crumbles.
Eargle says the Savvy Melt rules them all: double meat, double cheese, bacon, grilled onions, and their secret savvy sauce. "It's mayo-based with a little ketchup and cayenne pepper—a little tangy and a little spicy," she says. "I put it on everything."
Sandeez Hamburger Hut

113 Ranch Road 620 N., Lakeway.
512-266-1524
The Neo-Traditionalist
There are many things that make Kelly Family Farms, a burger joint in semirural Parker, different from the rest on this list. For one, it's got wheels. For another, as the name suggests, it's an outlet for the Kelly family's ranch in Bonham and their beef made from grass-fed, free-range cattle that are also raised free of pesticides, antibiotics, and growth hormones.
Given all those specifications, you might well imagine a big city food truck, where a patty burger would start at $15. But at Kelly Family Farms it's a mere $10, and that price includes chips and a drink.
"Everything's a combo," co-owner Chris Kelly says. "That keeps everything simple and the line moving fast."
Kelly Family Farms is parked on a busy road northeast of Plano, where the Dallas-Fort Worth exurbs are still interspersed with pasturelands. Behind the fence line, horses and cattle still graze; across the highway, there's a bustling Walmart.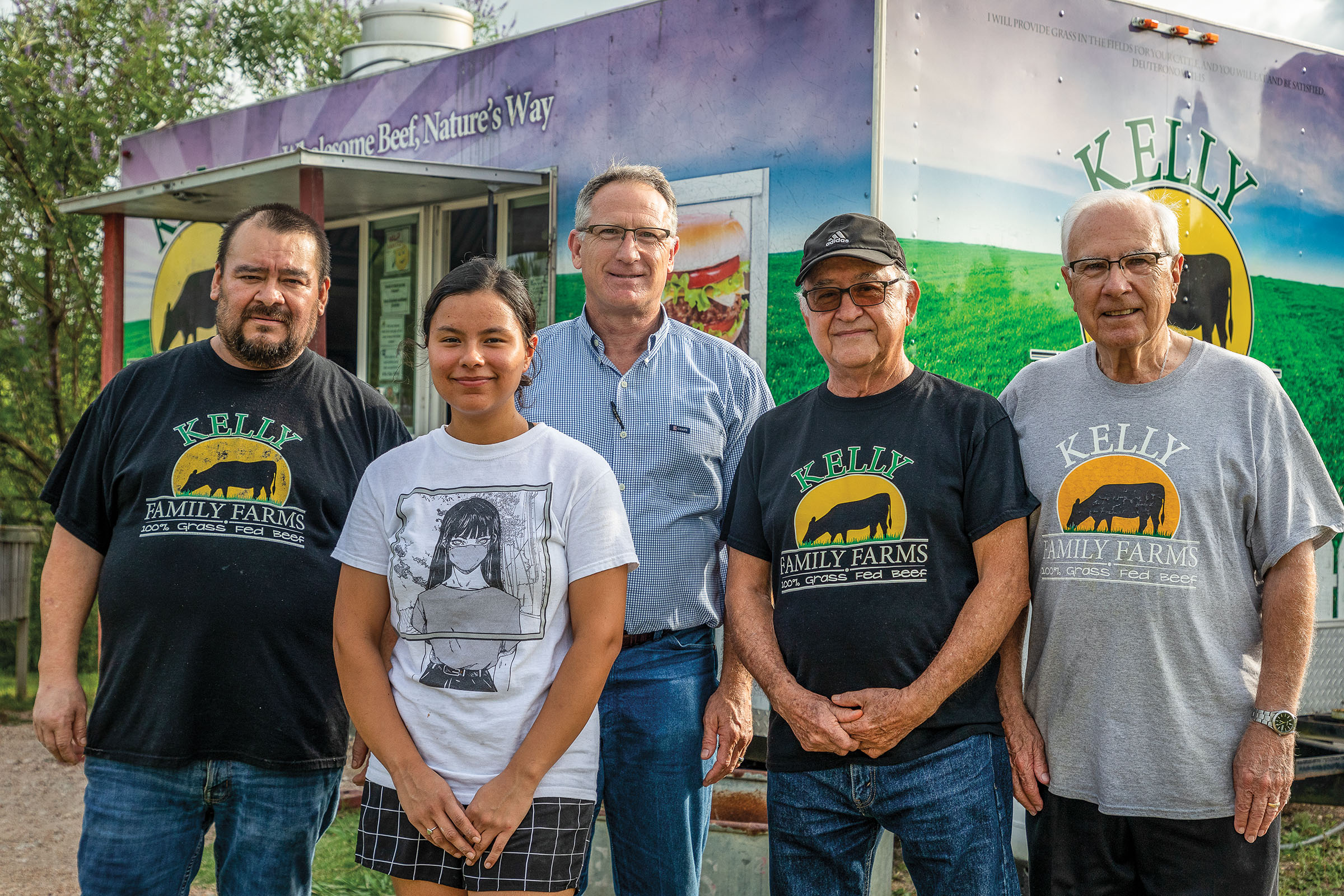 Open since 2014, there's enough lawn for some guests to enjoy their burgers at shaded picnic tables. Though the owners concede a kid's grilled cheese and a chicken sandwich, the rest of the menu is made up of simple permutations of a traditional burger with traditional condiments. There is no soda fountain, and no deep fryer.'
What keeps North Texans, and increasingly "burger tourists," flocking to Kelly Family Farms is the beef within the buns. The family sources all their beef from their Bonham ranch. You can purchase some in as small a quantity as a single-patty burger or in bulk.
"I've had people tell me our burgers remind them of what burgers tasted like when they were a child," Kelly says. "That is always neat to hear."
The Purist
The Burger Bar has served up burgers from inside a tiny building over 100 years old in Cleburne since 1949. Almost as purist in its traditionalism as Herd's in Jacksboro, Burger Bar makes most of its food on a little ivory-handled cast-iron griddle even older than the building. As owner Casey Waits said, "It's a local favorite of everyone from railroad work-ers to judges."
Burger Bar has indoor seating for all of three people at its countertop. Drinks come from a cooler, not a fountain. Burgers are pretty much the only thing on the menu, though a patty melt and a BLT are available, and vegetarians can order a grilled cheese or veggie burger patty. And though the Burger Bar is only open five hours per day, that doesn't stop them from selling around 600 burgers a week.
The venue serves up eight burgers on its year-round menu, ranging in prices from $6.50 to $8.50. The burgers are named after local landmarks, former employees, and customers. There's the "Elmore," which is a classic that includes lettuce, tomato, onion, pickle, and your choice of condiments. If you add cheese to that, you'd have an "Anglin."
From there, entrées get a little more exotic—from the the "Bledsoe" topped with crispy onion strings and a dab of barbecue sauce to the fiery "Santa Fe," starring house-made pico, pepper jack cheese, and Cholula sauce.
Burger Bar also offers fries so fresh, the cooks pull out a whole potato for each customer and prepare it straight on the fry cutter hanging on the wall. According to Burger Bar's marketing manager, Nealie Sanchez, "People really, really love it."
Burger Bar 1949

109 N. Anglin St., Cleburne.
817-645-9031
From the August 2022 issue