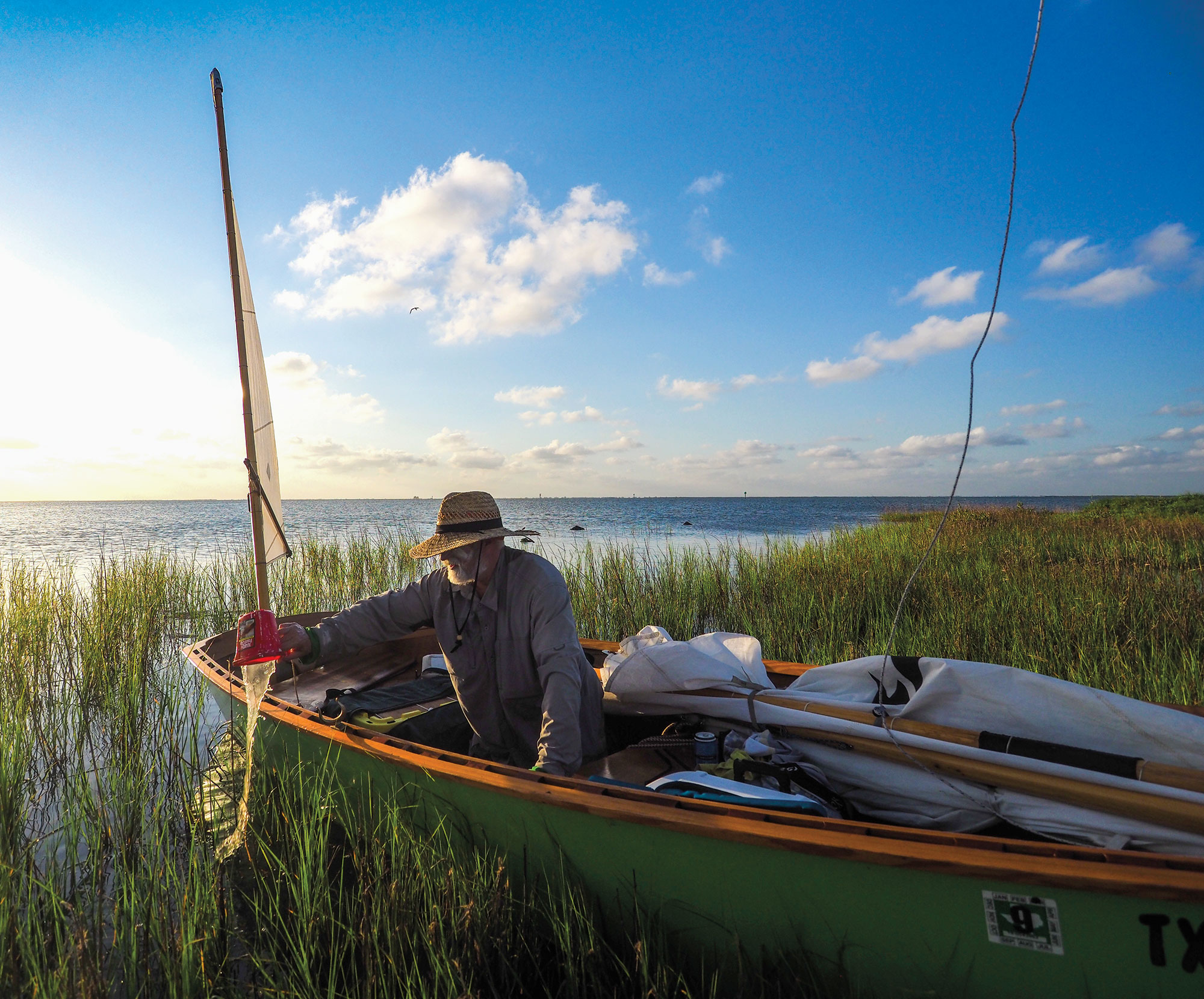 They say the Texas 200 eats rudders.
And if you ask Rachel Doss, who headed into the bay near Port Mansfield on her 13-foot sailboat last year, she'd probably agree. Before the sun set on Day 1 of the five-day floating convoy up the Texas coast, she had to give in to the whims of Mother Nature.
Her little boat, named Guppy, was skimming right along on wind gusts of up to 37 mph when its rudder popped out of place. Doss, now 35, dropped the sail, and Guppy lurched wildly before she and her teammate managed to get it under control. That's when they noticed a hairline fracture where the boat's tiller connected to its rudder.
The 12th annual trip is June 10-14 from Port Mansfield to Port Lavaca
"I should have been scared, but I was strangely calm until the boat started breaking," she says.
The team called for assistance, and another nearby boat they dubbed Mama Bird swooped in to provide a neighborly tow to shore.
This year marks the 12th edition of the Texas 200, a self-described "rolling messabout" up 200 miles of Lone Star coast June 10-14. Boats of all types and sizes, many built in garages, cruise in company through bays, cuts, and bayous and into the Intracoastal Waterway.
The journey begins in Port Mansfield, a fishing village on the Laguna Madre, and ends at Magnolia Beach near Port Lavaca. It's a mashup of beautiful scenery, discomfort, adventure, and near disaster.
Washington state-based boat builder Chuck Leinweber created the Texas 200 after completing a similar event in Florida called the Everglades Challenge. The Texas event now draws about 50 boats each year, plus 75 or 100 intrepid sailors who pitch tents on islands along the way.
The rustic overnights include places like Army Hole, where jackrabbits as big as Labradors hop among tents, and swarms of turkey vultures patrol a long-abandoned runway.
The Texas 200 is a mashup of beautiful scenery, discomfort, adventure, and near disaster.
Participants swat mosquitos, slather sunscreen, look for dolphins, and sweat buckets. More than anything, they say, it's an exercise in learning how to fix whatever breaks on your boat. One year a man rowed the entire distance, and in 2017 a team paid $200 for a sailboat, sight unseen, and kept it afloat for the duration. It's not a race, organizers say. "That's the official line, anyway," says Christopher Breaux, 57, of Missouri City. "It's not a race, except when there are two sailboats in the same body of water. Then it's a race."
Breaux will head to the starting line for the 10th time this June. "Maybe I'm a glutton for punishment," he says.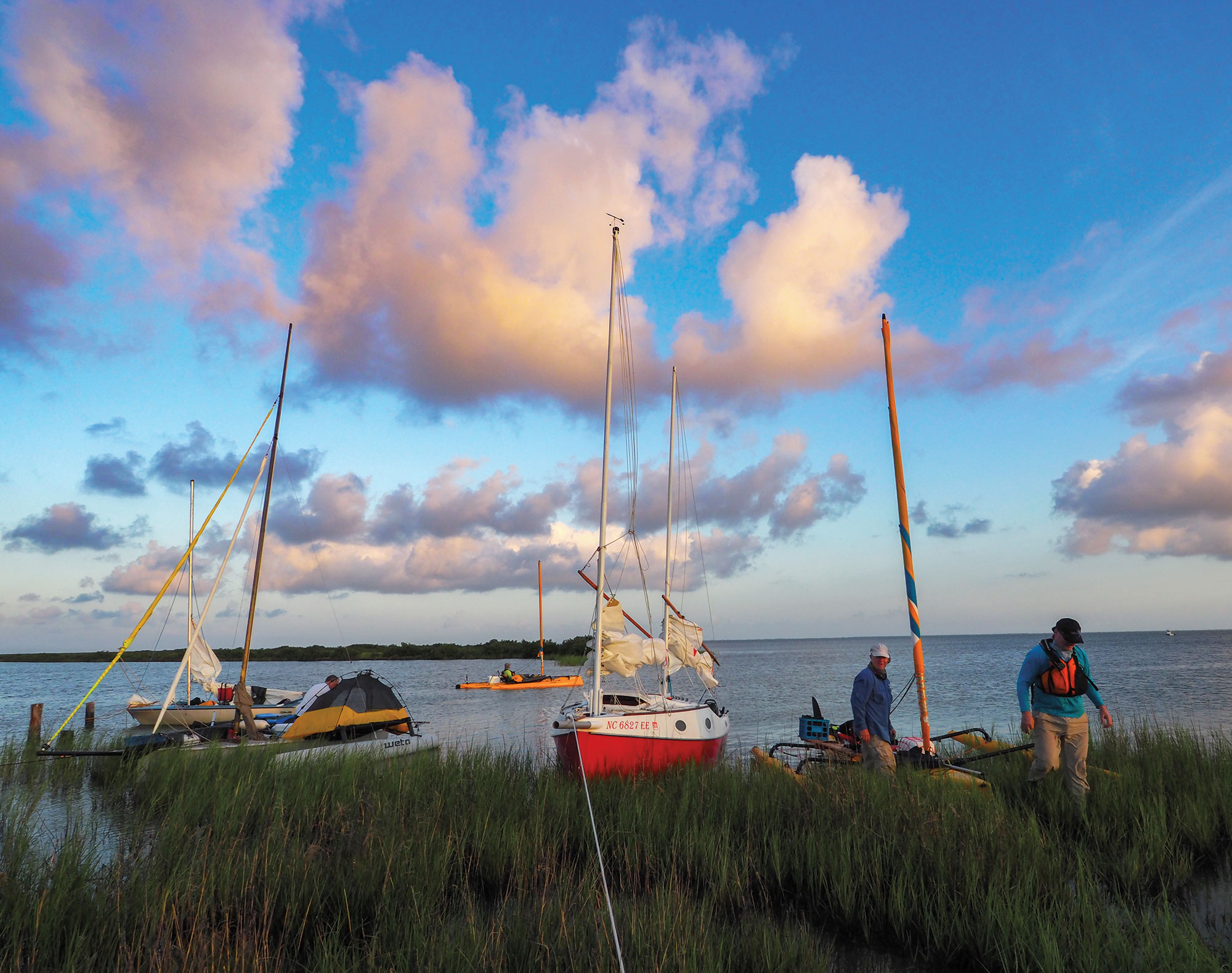 This time he won't be sailing his 31-foot folding schooner, the Elsie B, which looks like an extra-long canoe with sails and folds in half for transport. He's loaning that craft to a friend for the event, while he mans the helm of another homemade boat, this one modeled after a shrimping trawler.
"It's a chance to see a part of Texas that most people will never see. You've just got to be out there on a boat to see it."
No telling what challenges await.
"Two years ago, we had what we refer to as a gentle swamping," Breaux says. "We pulled up to a bulkhead, and waves flooded the boat. The year before that we jumped out of the boat, and just about everyone got gashes on their hands or feet from oysters."
He keeps coming back, though, because he can't resist the sound of waves slapping the hull.
"That, and it's a chance to see a part of Texas that most people will never see," Breaux says. "You've just got to be out there on a boat to see it."
John Hippe, 54, of Milwaukee, has sailed the Texas 200 three times. Two years ago, his daughters Hannah, now 16, and Kaitlyn, now 17, endured heat, humidity, and up to 10 straight hours of blazing Texas sunshine for rewards in the form of companionship and scenic beauty.
"We wouldn't be able to see what we were seeing if we weren't taking on the challenge of the environment," John says.
It doesn't matter that Kaitlyn is blind; both teenagers pitch in along the way, loading and unloading the sailboat and setting up camp.
"She's very capable," John says of Kaitlyn. "She knows how to get around the boat and schlep stuff in and out. I believe very strongly in providing kids opportunity, and I believe risk is a part of life."
Boats navigate around oil rigs and oyster reefs. They face blasting winds or no wind, and equipment malfunctions. Booms snap, masts crack, and boats run into sandbars. One year, without a breath of wind, sailors had to slog through sticky mud for hours to reach shore. Another year, so many boats broke participants called it "Carnage on the Coast."
That's just part of the fun.
This June, lucky spectators can catch glimpses of the flotilla from the John F. Kennedy Memorial Causeway in Corpus Christi and the ferry crossing between Aransas Pass and Port Aransas.
As for Doss and Guppy, the Texas 200 has not seen the last of them.
"I think we did pretty well, all things considered," Doss says. "It might not be everybody's cup of tea, but for me I really loved every second. It's cool to see what we really can do."
From the June 2019 issue