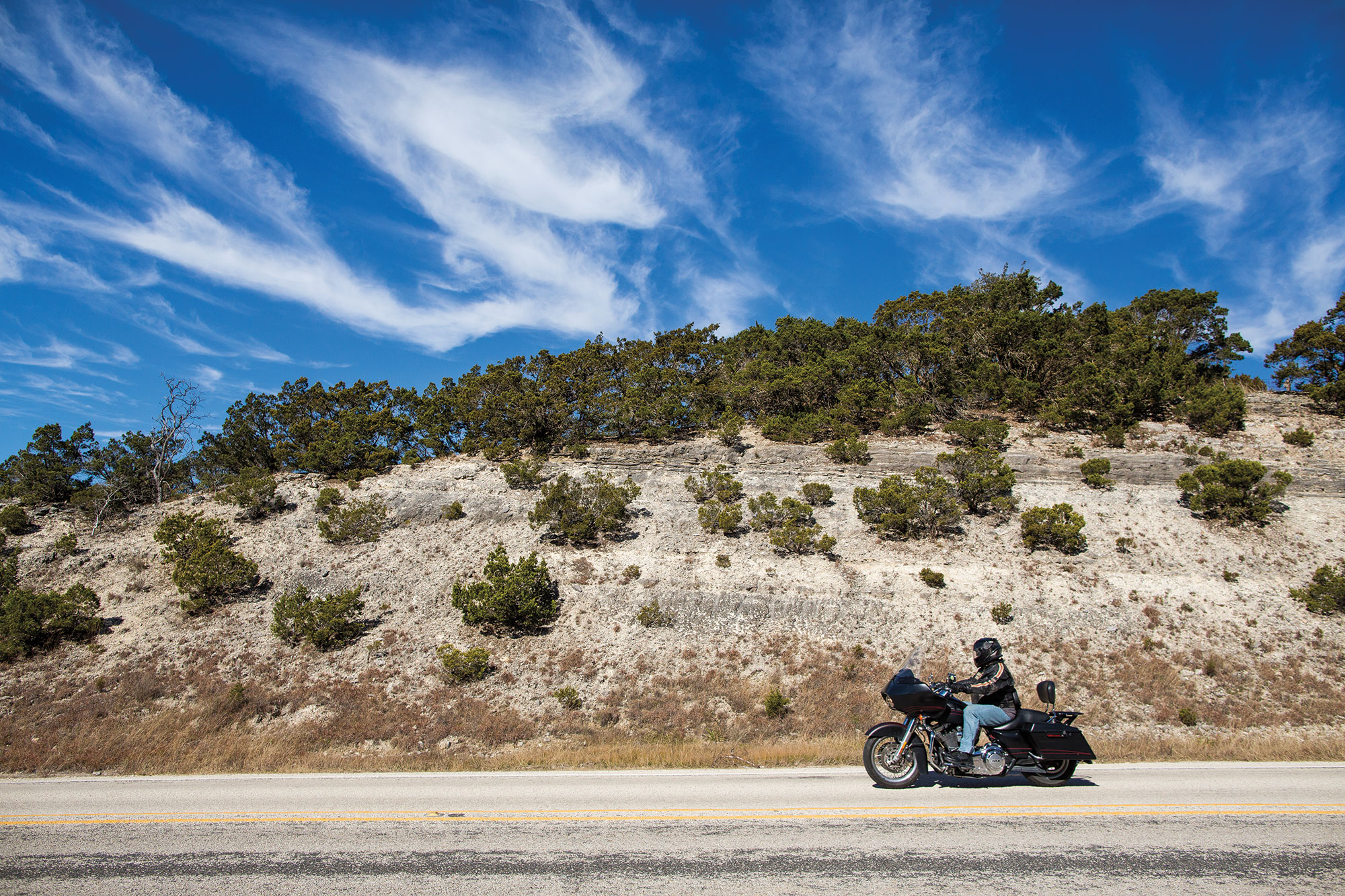 After a rainy spell, a sunny Sunday morning window opens up: a perfect day for a Hill Country ride. My motorcycle, a silver BMW sport-touring machine, is ready to roll. Jacket, gloves, and helmet on, I hit the ignition. The engine rumbles to life and warms up. I shift into first gear and ease through Austin's Zilker Park.
I sneak out of the city, skirting congestion, following a path of least resistance like flowing water. After a brief freeway dash, circuitous backroads lead to Dripping Springs. Beyond the suburban sprawl and signal lights, I'm home free. The traffic abates, and the open road beckons.

West of town, FM 165 turns south to Blanco. I've traveled this country road countless times. Like replaying a favorite old tune, I never tire of it. The two-lane blacktop meanders through rolling ranchland and pastures lush with recent rains. Bright-yellow sunflowers dapple the roadside. The low hills rise to a crest, and the road abruptly opens up to a divide that delights with a skyline view of southern Blanco County and the Twin Sisters Peaks on the horizon.
Cruising along, I wave to several oncoming riders. "The wave" is unique to motorcycling, a brief expression of camaraderie signaling "we're in this together." We have another saying, too: "It's all about the ride. The destination is the excuse."
Crossing the Blanco River and rolling into Blanco's town square, I pass two favorite diners—the Blanco Bowling Club Café and Redbud Café—and admire the Old Blanco County Courthouse.
After a southward turn onto US 281, I throttle past the turnoff for FM 32, the scenic Devil's Backbone route to historic Fischer and artsy Wimberley. Instead, I turn west onto FM 473, a twisty, two-lane road perfect for motorcycling. A pair of bikes are parked in Kendalia, where their riders are admiring the 1903 Kendalia Halle. Hein and Alita, a South African couple, recently moved to the area from the Northwest to escape the dreary winters. "We love it here," Hein says. "We can ride year round, and the roads are fantastic for motorcycling."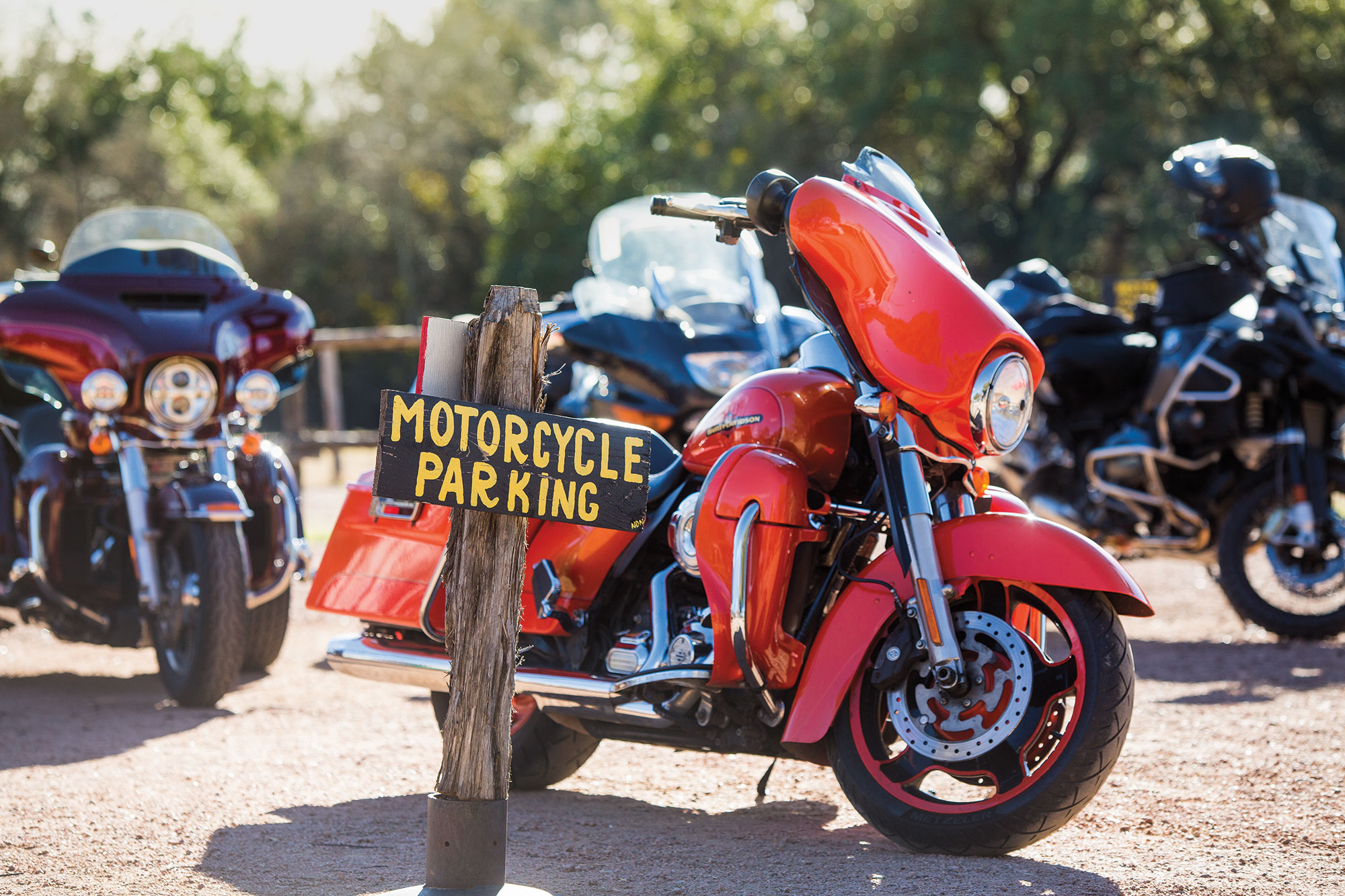 From Kendalia, wide-open ranchland sweeps south to Bergheim. Heading west into the historic heart of Boerne, the busy highway turns into languid River Road, a shady parkside stretch along Cibolo Creek. While it's tempting to linger along Main Street for lunch and antiquing, I head north on Sisterdale Road (FM 1376), another gorgeous Hill Country ramble.
The Road More Traveled

Not into riding solo? The annual Republic of Texas Rally in Austin is the nation's largest biker event of its kind. June 13-16.
rotrally.com
Crossing the Guadalupe River, a limpid blue ribbon lined by cypresses, I stop at Sister Creek Vineyards in Sisterdale, a charming hamlet settled by free-thinking Germans in the mid-19th century. Vineyard employee Doug Ballard greets me in the tasting room, an old cotton gin turned winery renowned for its award-winning Muscat Canelli and other fine reds and whites. "I love motorcycles and still have a dirt bike," admits Doug, who rode a 1968 Triumph Bonneville years ago. "I can't stay off of them."
On the road again, I ride north to Luckenbach along the wildest, prettiest stretch of 1376. This is cycletherapy at its best. No other vehicle engages the senses, body, mind, and soul like a motorcycle. Work and life stress melts away as I zoom along, focusing on sharp curves, abrupt climbs, and plunging dips. It's a sensation of flying over an undulating landscape with two wheels hugging the road, my boots inches above the blacktop.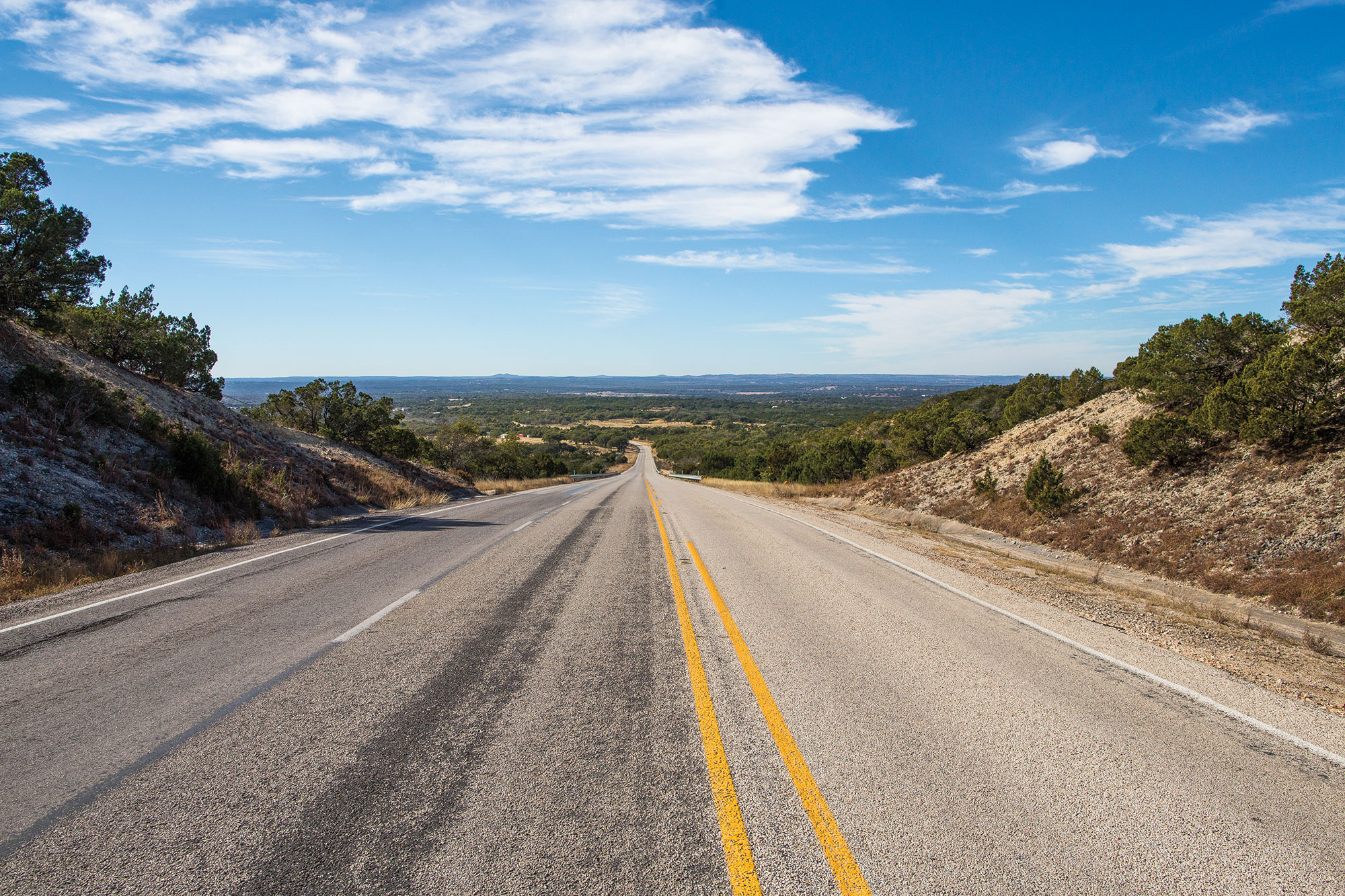 Riding past South Grape Creek, I slow down, turn left, and coast into downtown Luckenbach. It's a perfect Sunday afternoon in the place where "everybody's somebody," especially those who ride. Harleys, Gold Wings, Japanese cruisers, and European sport bikes pack the motorcycle parking area, while melodic Texas troubadours serenade a longneck-sipping audience gathered around the oak-shaded stage. Before leaving, I chat with a wizened, wiry rider, age 77, astride an enormous black Harley. He tells me he's enjoying a Sunday ride with his daughter piloting her own hog.
Homeward bound, I know the 75-mile route from Luckenbach to Austin by muscle memory and auto pilot. Avoiding the winery-infused traffic of US 290, I backtrack south and head east on a series of familiar roads with sweeping curves and little traffic, rolling across bucolic ranchland, back to Blanco, and beyond to Wimberley.
Before reaching the busy village square, I turn left onto Jacob's Well Road and wind past a nature preserve. Suddenly, I spot a fawn by the road and brake firmly as it jumps a fence and disappears into the brush, a gentle reminder to obey a motorcycling mantra: pay attention. Given the risks, why ride at all? Motorcycles are the perfect escape vehicle, the embodiment of adventure, speed, adrenaline, camaraderie, and freedom of the open road.
Cruising north of Wimberley, I turn right onto Elder Hill Road, a zigzagging lane ending at photogenic Driftwood. Then FM 1826, a pilgrimage route to crowd-pleasing Salt Lick BBQ, leads me home. After 200 miles and hours of riding across six counties, I'm at rest—yet restless. A line from Robert Pirsig's Zen and the Art of Motorcycle Maintenance captures the mood: "Sometimes it's a little better to travel than to arrive."
A Motorcycle Museum Tour
Less than a mile south of Lost Maples State Natural Area, the Lone Star Motorcycle Museum displays machines dating to the 1910s, including a red 1917 Indian Model O.
36517 FM 187, Vanderpool
830-966-6103
lonestarmotorcyclemuseum.com
The South Texas Motorcycle Museum preserves dozens of motorcycles; the showstopper is a four-cylinder bike manufactured by Henderson, which operated from 1912 to 1931.
4403 E. Richardson Road, Edinburg
956-292-0770
stxmm.net
The Haas Moto Museum immerses visitors in more than a century of motorcycle history and displays more than 180 bikes, including a late 1920s-era Majestic, one of just 100 produced.
1201 Oak Lawn Ave, Suite 110, Dallas
972-685 3051
haasmotomuseum.com
From the March 2019 issue