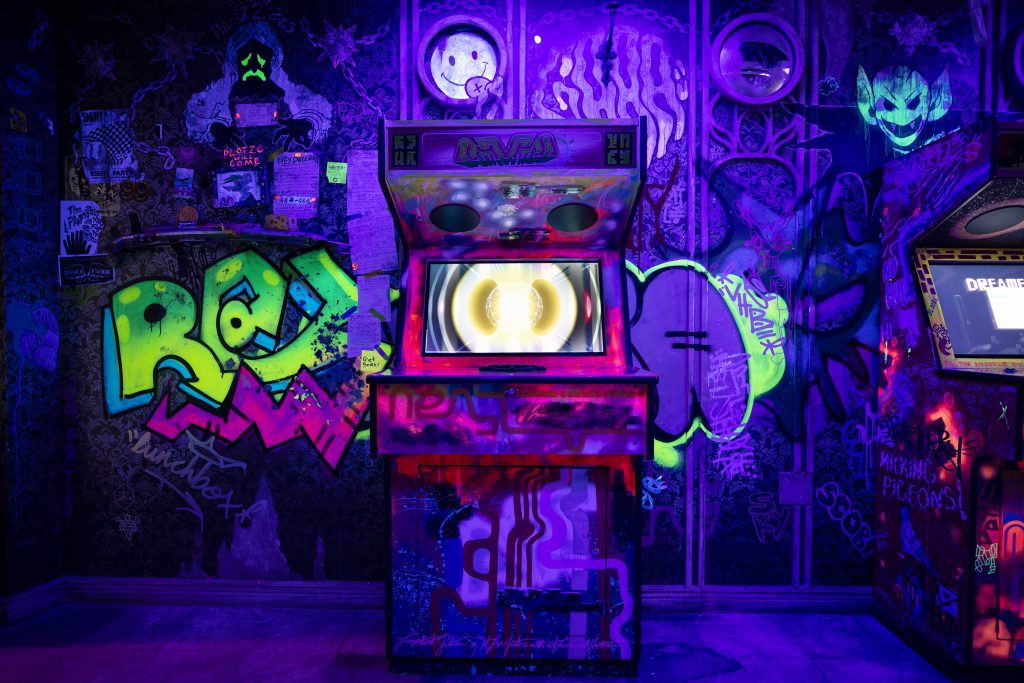 Nothing is as it seems under the multicolored neon lights at Meow Wolf Grapevine, the long-awaited immersive art exhibition that just opened in Texas. What looks like a conventional suburban house is really an entrance to an imaginary world. A refrigerator leads to dozens of kaleidoscope art installations. Paintings of anthropomorphic paletas adorn a room with flashing strobe lights.
Titled The Real Unreal, the exhibit is something between an art gallery, carnival, and escape room. What makes it even more of a trip is its location: the inside of a gutted Bed Bath & Beyond at Grapevine Mills Mall.
Meow Wolf, which has been described as an "unlikely art juggernaut," is a multi-million dollar company that launched in Santa Fe in 2008. Over the last few years, it opened additional locations in Las Vegas, Denver, and now Grapevine, which is part of the Dallas-Fort Worth Metropolitan area. The Grapevine installation is the company's first venture in Texas, with a second one planned for Houston in 2024.
A mall might seem a strange place for a permanent exhibition like this. Grapevine Mills, opened in the late 1990s, was where my family went to kill an hour or two after driving to DFW Airport, only to find that a relative's flight had been delayed. While other local malls like Collin Creek or Valley View have shuttered, now Grapevine Mills is expected to see thousands more visitors every year thanks to Meow Wolf.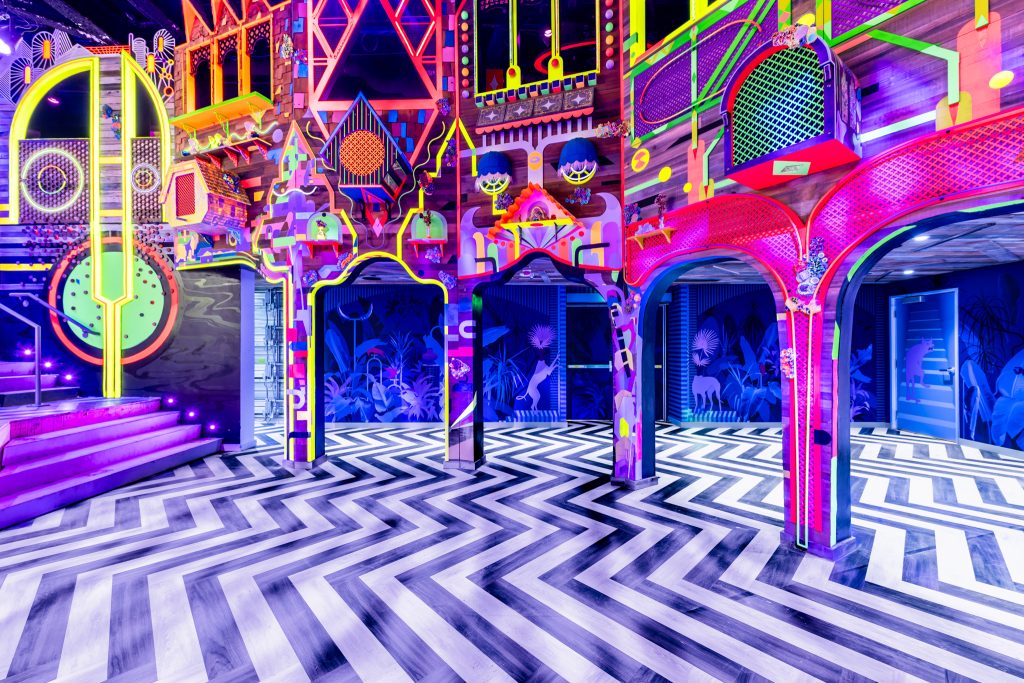 Four years in the making, the Grapevine exhibit features installations from four dozen local artists. Visitors will enter the exhibit through a recreation of a suburban house with all the paraphernalia scattered about: Think colorful plastic magnets on a fridge door, oak furniture, and china cabinets. There are clues scattered around that form a narrative thread: a missing person case, and portals that open into other dimensions. It's a space that, according to staff members, can be fun for families with small children or groups of 20-something art aficionados alike. The price of admission, at $45, is a bit steeper than a traditional museum. But you're not usually allowed to slide down hidden vents into secret rooms in a museum. 
Local artists are behind majority of the installations at Meow Wolf. Oak Cliff-born painter and UT Arlington professor Carlos Donjuan, Austin-based game designer Temitope Olujobi, and Dallas muralist Wheron are among some of the artists featured in the space. But the exhibits themselves are sparse on written plaques and captions that might explain what you're seeing in each room and who created it. A kiosk at the entrance provides some of that information.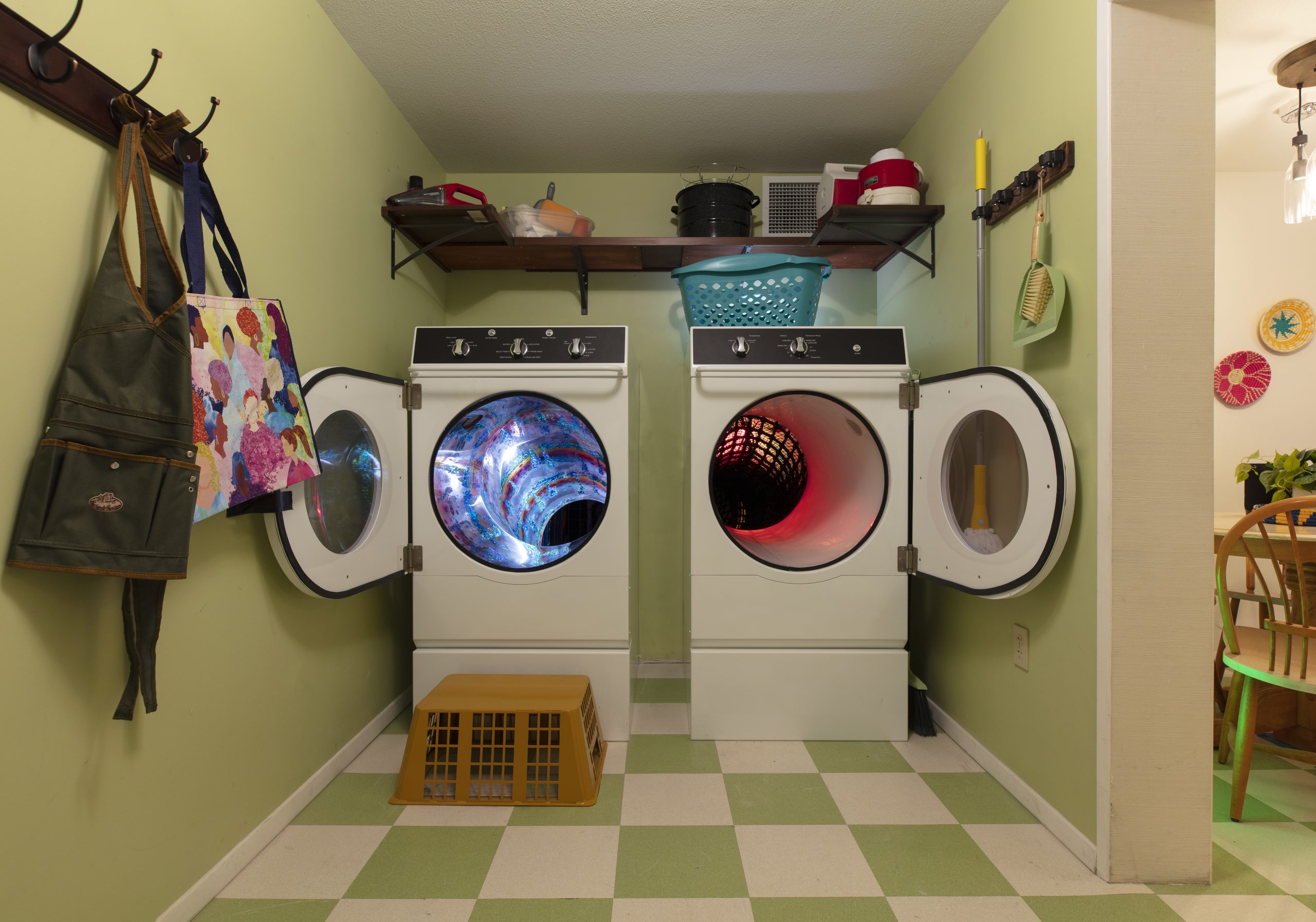 While visitors are encouraged to spend hours exploring the space's hidden portals and easter eggs, I felt overstimulated after about 45 minutes as we moved from sculptural masterpieces to boldly colored murals and flashing neon lights. It's particularly jarring to exit the bright, geometrically patterned gift shop, and walk into the mall's beige halls. Once I was greeted with the flat, endless expanse of gray concrete parking lots outside, I found myself feeling like I really had been transported into another dimension as my eyes adjusted to the muted colors of the real world. 
In some ways malls have always been a vehicle for passing time during endless summer days, a portal into another dimension with endless possibilities to consume. It's a lot more fun meandering through Meow Wolf's exhibit than picking out sheets, towels, or small kitchen appliances with your parents at the old Bed Bath & Beyond.