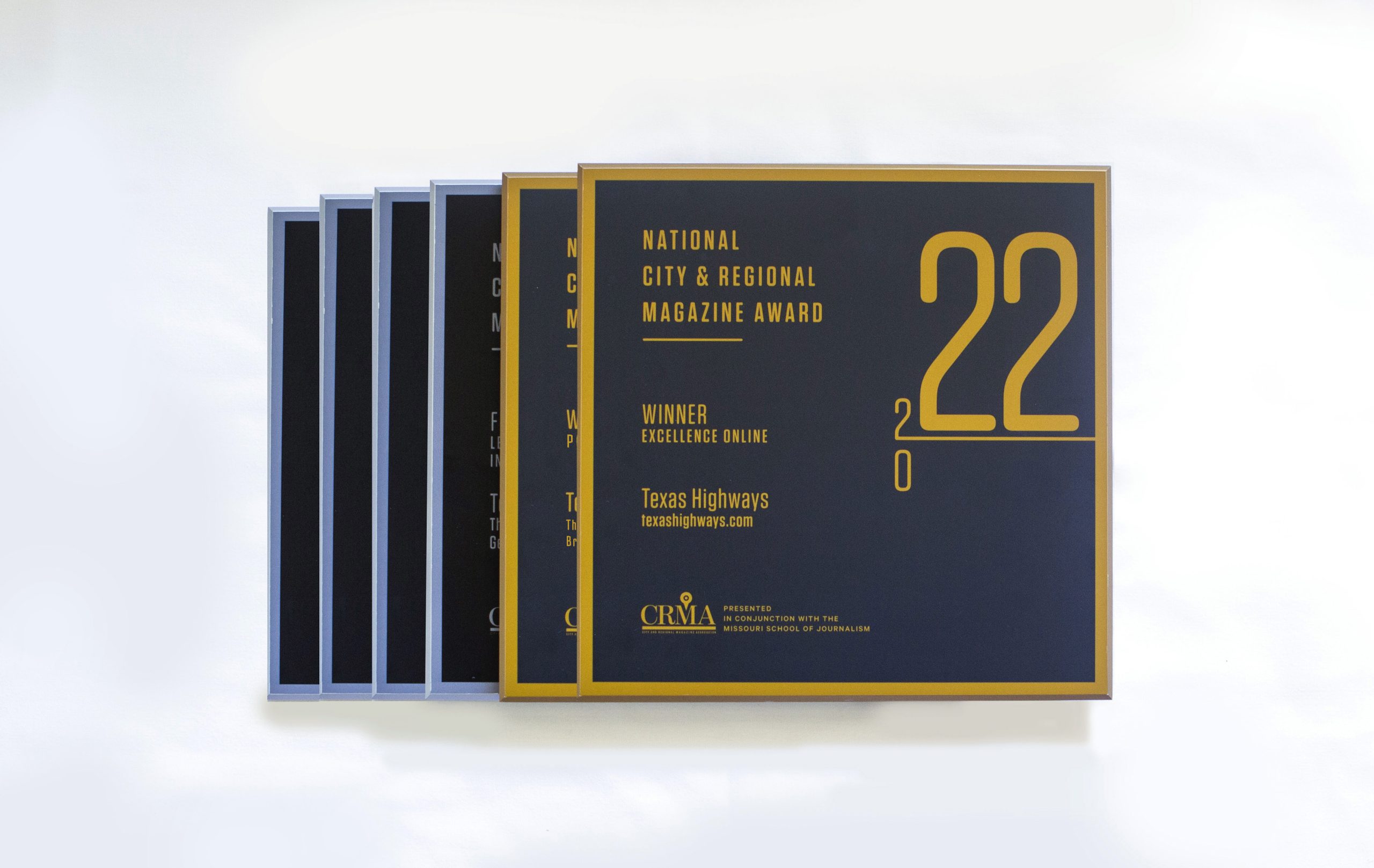 Spring is awards season for magazines, and Texas Highways garnered a record number of prizes this year.
Texas Highways received two City and Regional Magazine Awards, one National Magazine Award nomination, and 11 International Regional Magazine Association gold prizes, along with numerous finalist finishes.
This is the second straight year Texas Highways has been nominated for a National Magazine Award, or Ellie Award. It is considered the nation's most prestigious magazine journalism award.
The nomination came in the Lifestyle Journalism category for three stories from "The Cowboy Issue" published in September 2021, including Katie Gutierrez's sweeping history of vaqueros and Sarah Hepola's ode to the Texas cowgirl. The other outlets nominated for the award were 5280, AARP The Magazine, Eater, Insider, New York and The New Yorker. Eater took home the prize.
Texas Highways' CRMA wins were for photography and excellence online.
"Our staff has worked incredibly hard this year, and it's gratifying to see them recognized at this level," editor in chief Emily Roberts Stone says. "I'm particularly pleased to see our two-person digital team honored for the innovative work they've done on our website over the last year."
Joel Salcido won the CRMA photography award for his photo essay "The Origins of Magic" published in the July 2021 issue.
A native of the El Paso-Juárez borderland, Salcido returned home in October 2020 to photograph the area for the Hunt Collection. Upon his arrival during the pandemic, Salcido struggled to find the nostalgia amidst the subdued city. So Salcido, who transitioned from a documentary photographer to a fine art photographer decades ago, got creative to represent the El Paso he knows and loves.
He says his victory is "exponentially full of sweetness."
"It's a reaffirmation that I made the right choice more than 30 years ago," Salcido says. "To be able to share this through the medium of Texas Highways is a privilege and an honor quite honestly."
The magazine also received finalist nods for online column, leisure/lifestyle interests, special issue, and feature design for a magazine with a circulation over 60,000.
At the IRMA award ceremony in Ottawa, Canada on May 16, Texas Highways was the big winner, claiming prizes in 25 of 38 total categories.
In addition to 11 gold prizes, Texas Highways received seven silver awards, six bronzes and one award of merit.
Gutierrez took home the gold prize for Writer of the Year for her story on vaqueros as well as an essay on  the empowerment she feels from riding a motorcycle and her family's first trip to Padre Island National Seashore. The San Antonio-based writer's debut novel More Than You'll Ever Know will be released June 7.
"Katie Gutierrez artfully incorporates local, personal detail within greater narratives," the judges wrote. "She is a stylistically ambitious and versatile writer."
Other gold prize finishes included Public Issues, Historical Feature, Travel Feature, Recreation Feature, Illustration, Department, Photo Series, Travel Package, Special Focus, and Digital Presence.