I'll confess that I have never been a big zoo fan—until recently, that is. I blame the small, sad zoos that I visited as a kid, where skinny, world-weary animals paced in tight quarters. Thankfully, matters have changed dramatically since then, as I discovered during a recent trip to Houston.
Modern urban zoos are spacious, sophisticated habitats, staffed by animal keepers devoted to the welfare of their prestigious residents. That 's certainly the case at the Houston Zoo, which moved to Hermann Park in 1922 when the city designated two acres for its development. Over time, the zoo has evolved into 55 lush, manicured acres, with varied experiences that range from "zoo sleepovers" to birthday parties, a calendar of wildlife speakers, and even a travel program that leads small groups to exotic locales to see animals in their natural settings.
"The changes over the last 50 or 60 years have been major," says Brian Hill, the Houston Zoo's director of public affairs. "These days, the best zoos are mission-oriented places where conservation and education are paramount, if not more so than entertainment."
As someone who loves to peek behind the curtain to understand how things come together, I was particularly excited about one of the Houston Zoo's latest offerings: insider tours that provide insight into the daily lives of the animals and their keepers, back-of-house operations , and exactly what it takes to keep everyone happy and healthy. The 45-minute tours focus on elephants on Fridays, rhinos on Saturdays, and lions or tigers on Sundays. Similarly, the zoo's "Up Close Experiences" tours, which require advance booking, are your best bet if you've ever wanted to, say, hang with a mob of meerkats, have salad with a giraffe, or share kisses with a sea lion. So I packed up the kids, hit the highway, and told them to prepare to make some new friends.
Decked out in comfortable walking shoes, we met Brian on a recent morning for a sampling of the tours' highlights. Our first stop was the massive commissary where food is stored and prepared for more than 6,000 animals (suddenly grocery shopping for my family of four didn't seem so daunting). We were greeted by the familiar Texas perfume of alfalfa and hay, but these bales, housed in an enormous barn, were bound for elephants, not horses.
It was cold inside the commercial kitchens, where workers prepare salads, fruit popsicles, and other nourishing goodies for the animals. We were able to see firsthand the nutritional needs of a broad range of animals. The walk-in freezer is not for the faint of heart-sealed bags of white rats, for instance, contain future snacks for the Komodo dragon. A wall of bins holding granola-like grains and cereals-including the "Crushed Monkey Crunch" mix of ground corn, ground wheat, soybean meal, wheat germ, dried eggs, brewers dried yeast, and vitamins and minerals—reminded me of the bulk cereal section of Whole Foods.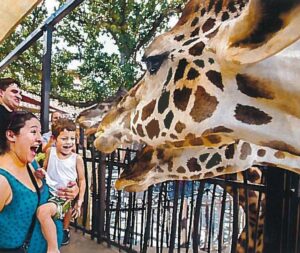 Our next stop was the giraffe area, where we climbed a flight of stairs to the barn catwalk to be eye-level for feeding time. We were given buckets of romaine leaves (so fresh and crisp I would have happily tossed them with ranch dressing), and sections of sweet potatoes. The giraffes sauntered over, nosed in, and extended their long, black tongues (the color is to protect them from sunburn while snacking, we
learned). It's more or less like feeding an apple to a horse. Extend your hand, flatten your fingers, and try not to laugh when you inevitably get licked. The striking pattern of their coats and the elegance of their unbelievably long necks make giraffes hypnotic to watch, but it's even more interesting when their keeper shares their names, and some of their personality traits. For example, Neema loves people and is attracted to "bling," and while Mtembei is the largest in the herd, coy, young Miles noses him out during feeding time.
We ended our tour with a visit to those perennial show-stealers, the sea lions. Jonah, a 10-year-old male, welcomed us with beautiful manners , shaking our hands, offering moist kisses on the cheek, and catching each fish that my kids tossed his way. Brett Posey, Jonah's gregarious trainer, explained that the ultimate benefit of these tours is that hopefully people will learn about the complex, completely individual personalities of the animals. In other words, the more people who understand the intelligence of Jonah, the more sensitive they might be to his brothers in the wild and the environment that sustains them.
For the remainder of the afternoon, we ambled around the zoo at our leisure. We cooled down at the Water Play Park (don't forget a change of clothes), rode the colorful leopards and lions on the Wildlife Carousel, and visited the animals we hadn't seen yet. We ended with the mandatory stops on any zoo tour: ice cream and the souvenir shop.
When I asked my kids what they liked best , my four-year-old son said, "seeing the giraffes' super-duper long necks." My six-year-old daughter, I must confess, chose shopping. "I liked getting the swirly suckers and the cheetah necklace," she replied, admiring her new accessory. It was just the kind of day you hope to share with your children—a bit of learning, a lot of laughs, and the opportunity to witness the wild creatures of the world with awe and wonder.
From the January 2014 issue