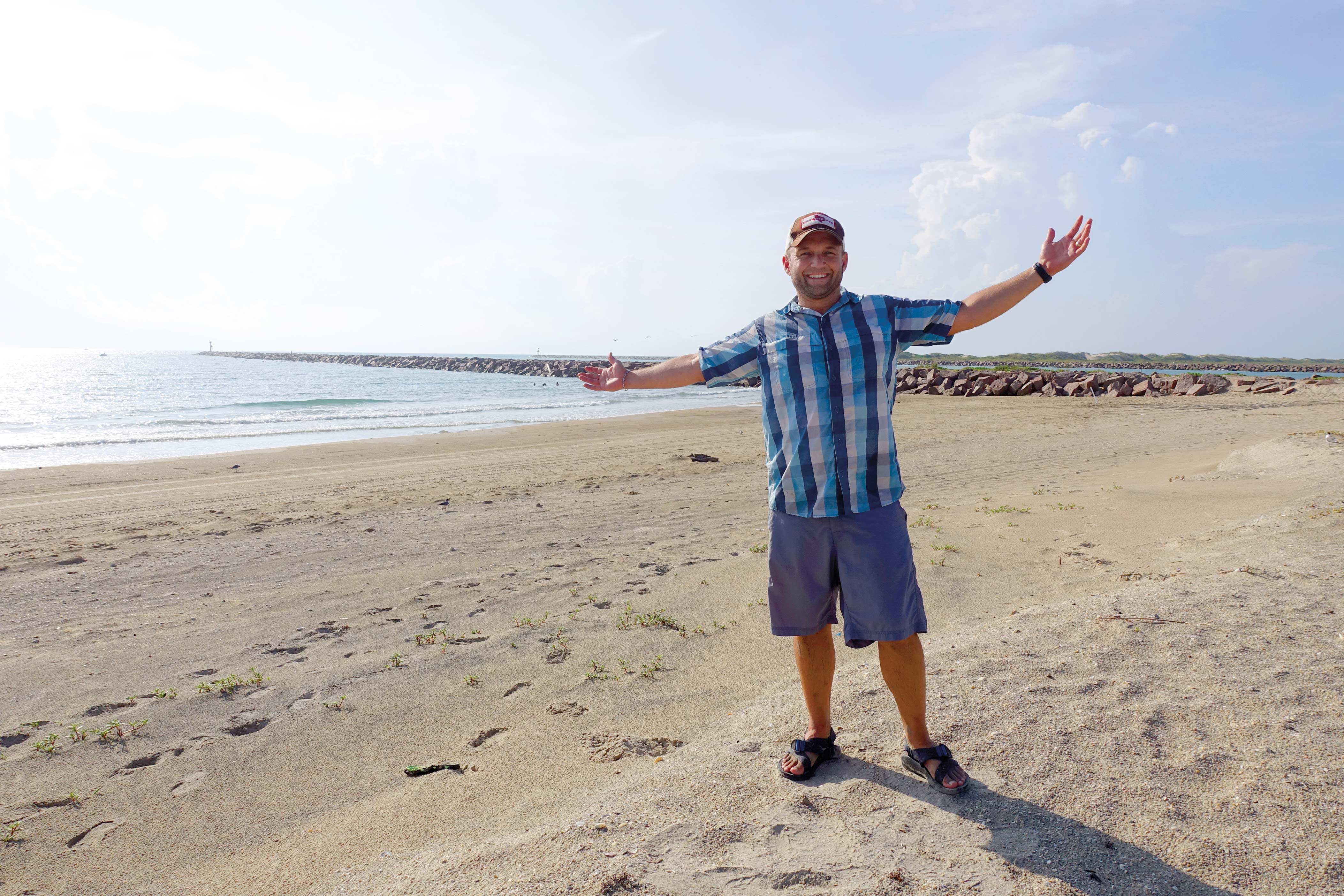 Few know that the longest stretch of undeveloped barrier island in the world is just beyond Corpus Christi. And while its southern counterpart may get more attention, North Padre Island provides the perfect mix of fun and middle-of-nowhere abandon. I followed the sun in search of a little bit of both.
Contact the Corpus Christi Visitor Information Center at 361-561-2000
visitcorpuschristitx.org
6:30 a.m. My morning started bright and early as I crossed into the Padre Island National Seashore. Run by the National Park Service, PINS (as it's affectionately called by the public) is one of our country's greatest treasures. I arrived at dawn to witness something truly special—a baby sea turtle release. The crowd gathered on the beach as the park rangers set down more than 100 tiny Kemp's ridley sea turtles. The hatchlings flopped toward the crashing waves as we collectively let out a giant "awww." Everyone cheered as the last turtle made it through the surf.
8 a.m. With the morning entertainment over, I cruised back to civilization in search of breakfast. The developed part of North Padre Island (which is Corpus Christi by address) is a typical mix of surf shops and tourist attractions. However, for a bite of the unexpected, I grabbed a slice of apple strudel and a cup of fresh-roasted coffee at JB's German Bakery & Cafe. This authentic old-world bakery was already packed with sandal-sporting tourists fueling up for the day. After one bite, I understood why they were willing to wait in line so long.
9:30 a.m. With a fresh coat of sunscreen, I headed back to the beach and straight to the Malaquite Visitors Center at PINS. There, I learned a barrier island is a thin stretch of sand built by nature that serves to protect the mainland. The ecosystem provides oceanfront for animals like turtles, dunes for coyotes and deer, and a bayside for fish and birds. I was eager to see all of it.
10:30 a.m. On the bayside of the park, I met up with the folks of Worldwinds Windsurfing. PINS is one of the top windsport destinations in the world due to the constant breeze, so I signed up for a windsurfing lesson. My first few tries left me very, very wet as I repeatedly face-planted into the water. Eventually I learned how to harness the breeze and zipped off into the bay. I was having so much fun that I could have stayed out on the water all day.
Chet Garner is the host of The Daytripper® travel show on PBS. To view the North Padre Island episode visit thedaytripper.com
1:30 p.m. As a bonafide surfer (yeah, right), I headed back into town to join my brethren at the Surfside Sandwich Shoppe. Specializing in handcrafted sandwiches stuffed with everything from roasted pork to salmon, this joint does "coastal Texan" just right. I opted for seared ahi tuna tacos topped with coleslaw and a spicy sauce.
2:30 p.m. I was ready to get adventurous and see just how "undeveloped" this barrier island was, so I topped off the gas tank and headed back into PINS. Birds and beachgoers lined the beach as I drove south. Soon the cars and trucks faded away, and I was left with the beach all to myself. I pulled over and dove into the waves. It was crazy to be the only person in sight, but it made for a mighty relaxin' nap by the dunes.
4:30 p.m. Back in my car, I kept trekkin' to see what else I could find. Around Mile Marker 25, I noticed the sand had turned to shells beneath my tires, which meant I had arrived at the famed Big Shell Beach. Not only is it a great spot to find rare shells, but it's also an ideal spot for fishing. I dropped a line into the ocean. Within a few hours, I had nabbed a speckled trout. It was time to find a place to cook it!
7:30 p.m. I headed to Doc's Seafood and Steaks, known for whipping up some of the best seafood on the island. Best of all: they'll cook the fish you catch. I grabbed a seat overlooking the intracoastal waterway, sipped my cold beer, and munched on my blackened trout with sautéed veggies.
As the sun set over the water, I couldn't have imagined a better closing to the day. I was a little sunburned and tired, but happy. So whether you follow my footsteps or forge your own path, I hope to see you on the road.
From the June 2018 issue