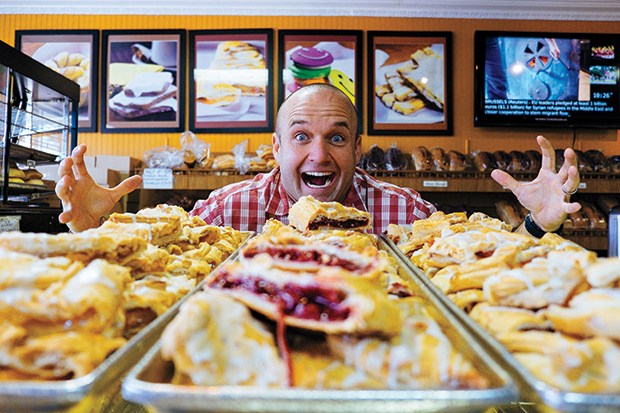 Natives and visitors love New Braunfels for its crystal-clear rivers and the thrilling slides of Schlitterbahn. And while these top tourist attractions are great reasons to go tripping, there's much more to this German burg than many people know. I decided to take a trip to this Texas-style Bavaria and see what I could uncover.
Contact New Braunfels Chamber of Commerce at 800/572-2626.

Chet Garner is the host of The Daytripper® travel show on PBS, where you can view the New Braunfels episode.
9 a.m. To start my day, I needed a breakfast as historic as New Braunfels itself and headed to Naegelin's Bakery. Touted as the "Oldest Bakery in Texas," this institution has served up authentic German-style baked goods for over 100 years. My warm apple strudel practically melted in my mouth, and my pfeffernuesse cookies were like an anise-laden trip to Germany for my stomach.
10 a.m. Eager to learn how New Braunfels got its rich German roots, I headed to the Sophienburg Museum and Archives and learned the story of Prince Solms-Braunfels, who sailed to Texas to establish a new German utopia. He picked the location and name (of course) but then headed back to Germany never to return again. However, despite his absence this town thrived and the museum is proof, displaying the artifacts and early traditions of New Braunfels, many of which are still practiced today.
11 a.m. The day began to heat up, and I knew the river would soon be packed with tubers. To beat the rush, I headed straight for Prince Solms Park, rented a tube from Rockin' River Rides, and headed toward the Comal River. I stood on the bank and readied myself for the hardest part—getting in the frigid, spring-fed water. But with a deep breath and a dose of courage, I plunged in and let out the obligatory scream, "Wooohooooo!" I tell you this water is better than coffee. The next hour consisted of nothing more than sitting in an inflated tube and letting the current push me along—a ritual that should be part of every proper Texas summer.
1 p.m. I emerged from the Comal starving and headed to Krause's Biergaten & Cafe to quiet my growling stomach. Originally opened in 1938, this icon of the New Braunfels dining scene is now back after a 20-year hiatus. I opted to sit in the giant bierhalle where I devoured a crisp jägerschnitzel and washed it down with a frosty German beverage. Prost!
2:30 p.m. Not quite ready to leave the water and sunshine behind, I headed to the Texas Ski Ranch. Using an innovative cable-system to pull riders around a circular lake, this park helps visitors learn to wakeboard without a boat. I quickly realized that it isn't as easy at it looks. But after a few face plants and water injections up my nose, I flew around the loop with style.
5:30 p.m. I decided to stay on the highway and visit one of Texas' most well-known roadside attractions—Animal World and Snake Farm Zoo. I could feel the black mamba, king cobra, and pythons watching my every move, which made me very thankful for the barrier of glass between us. Soon it was dinner time in the gator pit, where I watched the tour guide hand-feed raw chicken to a dozen or so massive alligators. It was awesome but reminded me it was dinner time for this tripper, too.
6:30 p.m. To end my day, I opted for a truly Texan meal at the downtown Phoenix Saloon. Among its historic accolades, this bar is reported to be the first in Texas to officially serve women and the spot where chili powder was invented in 1894 by proprietor William Gebhardt. I ordered up a big bowl of "double shot" red chili that came topped with fresh jalapeños and habaneros. It stung like a rattlesnake bite to the face, but in the best of ways.
No town in Texas has the same mix of history, food, and adventure that trippers can find in New Braunfels. From authentic grub to relaxing river floats, my trip through this German utopia was truly das beste. So whether you follow my footsteps or forge your own path, I hope to see you on the road.
From the June 2017 issue