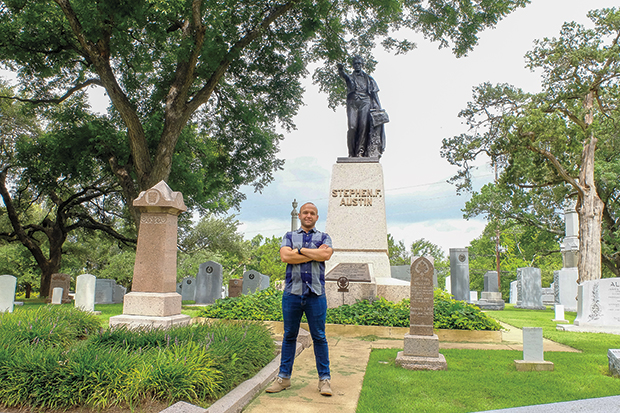 Austin is no stranger to DAY-trippin'. But while travelers in the past may have stopped their explorations west of Interstate 35, over the last few years Austin's East Side has become a popular destination in its own right. And it's not hard to see why—the history's iconic, the culture's weird, and the vibe is laid-back, making for one funky day trip!
Contact the Austin Convention & Visitors Bureau at 800/926-2282.

Chet Garner is the host of The Daytripper® travel show on PBS. To view the East Austin episode visit thedaytripper.com.
8 a.m.: I started my trip by grabbing my bike and taking a scenic ride through McKinney Falls State Park. Despite being very close to the airport, this park feels like it's tucked away in the remote reaches of Texas with nothing but the occasional drone of an overhead plane to remind you otherwise. Very soon I found myself staring at the park's waterfalls along Onion Creek. Luckily I had brought my swimsuit for just such an occasion and dove in.
10:30 a.m.: Ready for a pick-me-up, I headed into town to Cuvée Coffee Bar for a little extra energy. I ordered a breakfast taco and a glass of their signature "Black and Blue" cold-brew coffee poured from a beer tap. My coffee was creamy like a draft beer, yet sweet, making for a heavenly combination to keep me moving.
11:30 a.m.: Ready to walk on the "weird" side, I headed to the Museum of Natural and Artificial Ephemerata inside the home of Jen and Scott Webel (appointment only). "Ephemerata" means things intended to be thrown away. I "oohed" at what's said to be Marilyn Monroe's last cigarette (complete with red lipstick stain) and "ahhed" at a lock of Elvis' hair. But as the stories became stranger and stranger (Yetis, narwhal teeth, jackalopes…), I began to feel as if I were part of an exhibit myself, and the items had come to see me. I needed some fresh air.
1:30 p.m.: There is no quieter or cleaner park in Austin than the Texas State Cemetery. I grabbed a handheld audio tour and walked rows and rows of tombstones as I listened to the amazing stories of the Texans who have come before me. From politicians like Barbara Jordan to soldiers like Chris Kyle, I became even more proud to call Texas home. Most impressive was the grave of the "Father of Texas" himself, Stephen F. Austin, whose statue stands tall above the landscape as he surveys his adopted homeland.
3:30 p.m.: Eager for more history, I headed to the French Legation Museum, which sits inside one of the oldest homes in Austin, built in 1841 for Alphonse Dubois, the French chargé d'affaires to the Republic of Texas. I wandered through the rooms and imagined what life was like as a French diplomat on the Texas frontier. There certainly wouldn't have been the stunning view of downtown that we now see from the museum's courtyard.
5 p.m.: Feeling the need to blow through some adrenaline, I headed to MYLO Obstacle Fitness. This outdoor gym is composed of multiple obstacle courses used to train athletes for races like the Tough Mudder or Spartan Race. Luckily it's also open to folks who just need to blow off some steam. After a few hours climbing ropes, scaling walls, and throwing javelins, I was back to my old self again.
7 p.m.: Over the past few years, East Austin has experienced an explosion of new restaurants, including many on wheels. For dinner, I decided to try out one of its best, Thai Kun at Whisler's, offering authentic Thai street food on the patio of the cocktail bar. My "waterfall pork" hit me like a flavorful punch to the face. Before I knew it, I was back in line and ordering the entire menu.
After a day spent studying Texas history, swimming below waterfalls, eating Thai food, and admiring Elvis' hair, it finally struck me why folks love East Austin so much. It doesn't matter if you're an art aficionado, a jock, a foodie, a history nerd, or just a "weirdo" tripper—you're sure to fit right in. So whether you follow my footsteps or forge your own path, I hope to see you on the road.
From the April 2017 issue