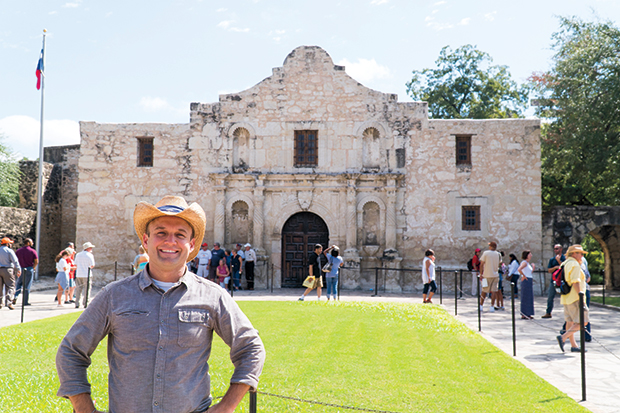 If you follow my travels you know that I spend most of my time off the beaten path. While this philosophy lends itself to new discoveries, sometimes I end up neglecting well-traveled tourist destinations. In order to buck my own trend, I headed to Texas' most-visited city—San Antonio—for an epic day trip directly on the city's beaten paths.
Contact Visit San Antonio at 800-447-3372.

Chet Garner is the host of The Daytripper® travel show on PBS. To view the San Antonio episode visit thedaytripper.com
8:30 a.m.: No trip to this city would be complete without Tex-Mex, so I followed my stomach (and the crowds) to Mi Tierra, a 24-hour institution serving its signature dishes around the clock. The walls were decked with Christmas lights, flags, and piñatas of every shape and color—almost as bright as the 50-foot-long case of fresh Mexican pastries. I ordered a concha and coffee, which served as a nice
appetizer for the huevos rancheros I devoured after my table was ready.
10 a.m.: I stepped outside and onto the Historic Market Square, which was bustling with sights, sounds, and smells that felt imported straight from the streets of Mexico. Inside El Mercado I explored an authentic Mexican-style artisan market with booth after booth of handmade goods and even bought some new luchador masks for my collection.
11 a.m.: I continued walking and found myself at the Spanish Governor's Palace, built in 1749 and now the last remaining piece of the Presidio San Antonio de Béxar, which was built to secure Spain's claim on Texas and protect the many missions in the area. One might expect a "palace" to be laced with gold and pomp, but stepping inside this quaint adobe building proved that life on the Texas frontier was humble and hard for all.
Noon: Next I explored the beautiful San Fernando Cathedral, a marvel that would make some European churches pale in comparison. Inside, I found a ceiling and altar laden with gold, and frescoes that were as stunning as they were historic. In the foyer, a coffin holds the ashes of the fallen Alamo defenders, collected by Tejano revolutionary Juan Seguín and hidden in this church. I took a moment of silence to honor some of the bravest men to ever grace Texas.
1 p.m.: It was finally time to visit the most famous mission in Texas, maybe the world: The Alamo. I walked a few blocks and stood in front of the famous chapel where heroes like William B. Travis, Davy Crockett, Jim Bowie, and approximately 180 others gave their lives for Texas freedom. Living history demonstrations showcased everything from firing an 1830s rifle to baking biscuits in a Dutch oven. While the story remains the same, the Alamo's way of telling it keeps getting better and better.
3 p.m.: I traded in traveling by foot for traveling by boat on a Rio San Antonio Cruise. We floated through the River Walk past shops, buildings, and restaurants as our educated guide shared the stories of the city along with plenty of corny jokes. I learned lots of new 41 p.m.: Way overdue for lunch, I decided on Casa Rio, the first restaurant on the River Walk back when its shores were nothing but dirt and branches. Inside I found classic Tex-Mex dishes like enchiladas and tamales that seemed untouched by time. This family has stuck to tradition since 1946, and I hope they never change—it's muy bueno.
7 p.m.: I rolled into The Menger Bar, which sits inside the oldest continually operated hotel west of the Mississippi. Modeled after a famous London pub, this bar was notorious for attracting a rough crowd, which is why Teddy Roosevelt visited in the 1890s to recruit the Rough Riders. It's now a great place to grab a drink and some of the hotel's famous mango ice cream. Both served as a great finale to the day.
The unique culture and history of San Antonio attract visitors from all over the world. And while the crowds can be immense, sometimes the road most traveled is the road best traveled. So whether you follow my footsteps or forge your own path, I hope to see you on the road.
From the August 2017 issue