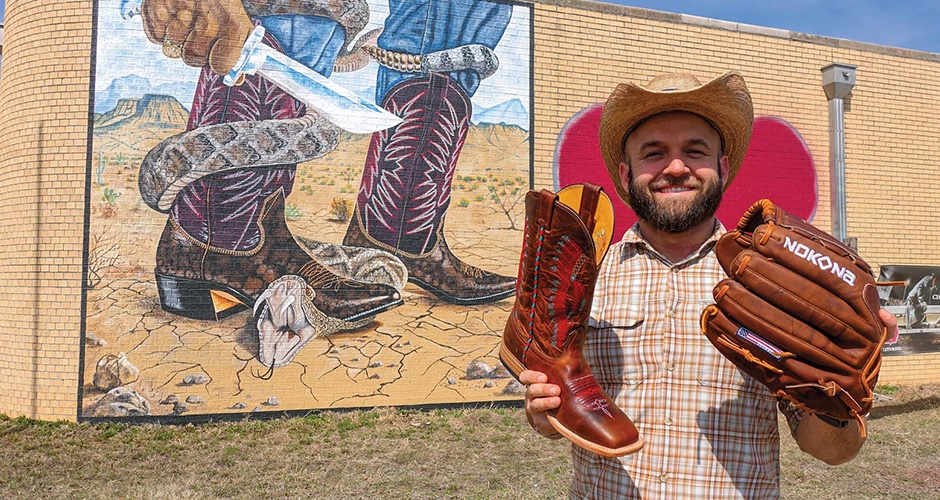 I don't go trippin' to North Texas as much as I'd like to, so in the hopes of finding a new adventure I hopped on the highway and drove as far north as it would take me (without landing in Oklahoma). And what I found was Nocona, a fascinating town with a storied leatherworking tradition.
Nocona Chamber of Commerce
940-825-3526
nocona.org
9 a.m.
I cruised into  historic downtown  and noticed the New Orleans-inspired architecture that gives this district a French flair. Among the shops, restaurants, and bars, I spotted the ruins of the factory where HJ Justin and Sons (founded in 1879), later known as Justin Boots, once made its world-famous footwear. Turns out that Nocona has been making handcrafted boots for longer than just about any other Texas town.
9:30 a.m.
Across the street from the factory, which the town is renovating into a community center, I discovered Fenoglio Boot Co. keeping this time-honored tradition alive. I browsed rows of locally made boots of every shape and color, including ones with exotic leathers like Amazon arapaima and elephant. A brown pair in the corner called my name. They were embroidered with an ornate Native American headdress that seemed appropriate given the town's namesake, a Comanche chief.
10:30 a.m.
My trip continued to the east side of town at Nocona Boot Factory. While the facility no longer makes boots, inside was Nokona American Ballgloves—the last major American-made baseball glove company. I hopped on a tour and was amazed at the rooms of workers sewing, tying, and building gloves by hand. While my chances of becoming a pro baller are slim to none, I couldn't pass up the chance to own a genuine piece of Texas artwork. My old-man softball league better get ready!
Chet Garner is the host of The Daytripper® travel show on PBS.
To view the Nocona episode visit thedaytripper.com.
12:30 p.m.
For lunch, I perused the menu at Fenoglio's BBQ until I noticed its signature item, the "Ultimate Bowl of Crap." With an appetizing name like that, I couldn't pass it up. To my pleasant surprise, the bowl was filled with a tasty array of sausage, brisket, hamburger meat, onions, peppers, and beans.
1:30 p.m.
Cruising downtown, I noticed a number of bright signs that led me to L G Lemons Artist Gallery and Studio. Local artist Larry G. Lemons' work is colorful, quirky, and very Texan—almost every painting incorporates the Lone Star flag. My favorite was a flag-painted armadillo standing below a starry sky.
2 p.m.
Lured in by neon signs, I found myself in the Horton Classic Car Museum with three huge rooms packed bumper-to-bumper with vintage autos. There were pristine cars of every make and design. Most fascinating were the 36 Chevy Corvettes, including a one-of-a-kind Corvette station wagon.
3:30 p.m.
Eager for more history, I headed to the Tales 'N' Trails Museum, which boasts a collection of more than 5,000 arrowheads. Multiple rooms paid tribute to Nocona's leather history, including one with an 8-foot-wide tooled leather diorama of Leonardo da Vinci's The Last Supper. 
6 p.m.
For dinner, I found Italian heaven at Red River Pizzeria. I went straight for the Murph, a thin-crust pizza piled high with meats and veggies. Then, I filled what little room I had left in my stomach with the Rico Road, a dessert pizza smothered in chocolate, caramel, marshmallows, cookie bites, and Nutella.
7:30 p.m.
Afterward, I stopped into the old Nocona Boot Factory once more, but this time for a nightcap at Nocona Beer and Brewery. I grabbed a Nocona Sunset Amber Ale and found a spot on the patio to watch the real thing.
It seemed fitting that my day full of leather and Texas traditions should come to an end in an old boot factory. It was clear that Nocona has the perfect mix of historic past and bright future. So whether you follow my footsteps or forge your own path, I hope to see you on the road.
From the September 2018 issue